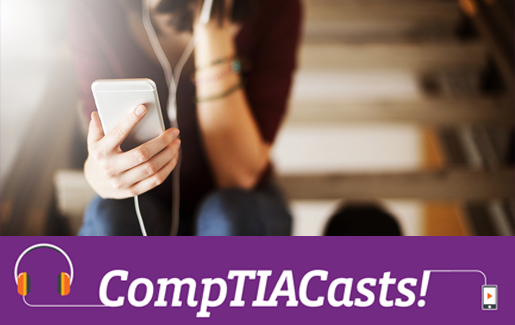 During Cybersecurity Awareness Month, CompTIA podcasts tackled a range of related topic—from how tech firms are meeting new security challenges to the world of cybercrimes and more. We also talked digital transformation and kicked off a season of tech with Volley's annual holiday episode. Here's what we overheard on CompTIACasts in October, then check out all of our podcasts.
Cybersecurity Top-of-Mind for Tech Firms

BizTech podcast focused much of Cybersecurity Awareness Month on the topic at hand. First, Jeff Dawley, president and founder of Cybersecurity Compliance Corp., and Adam Proulx, senior manager of member communities at CompTIA, discussed how the pandemic has forced security experts to change the way they implement security measures.
"The challenge is always, there's network and there are endpoints, and you've got a virus checker and maybe there's a VPN tunnel, and that's all great—but you've opened your computer and on the whiteboard behind you is the name of your kids. Well, one of those kids names is actually your password, so bang, somebody zoom bombs you, they've got your password, socially engineered through your whiteboard. It is that simple to be compromised."
Jeff Dawley, President and Founder, Cybersecurity Compliance Corp.
Listen to the episode.

Later in the month, Community managers Adam Proulx and Miles Jobgen talked with Ken Muir, chief security officer, LCM Security Inc. They covered the world of cybercrimes, how hackers are using emerging technologies to outsmart their targets, and how the pandemic has impacted cybersecurity.
"There's a couple of reasons why ransomware works the way it does: One, [cybercriminals] don't activate straight away because they want you to run backups for several weeks, because they know when you run the restores it's going to re-infect the system. And two, people don't patch. I see the same thing over and over again. I find out what ransomware it is and say, 'This patch came out two years ago and your entire operation is down because you didn't patch for this.'"
Ken Muir, Chief Security Officer, LCM Security Inc

Listen to the episode.

Finally, at the end of Cybersecurity Awareness Month, Miles Jobgen welcomed Kevin McDonald, cybersecurity practitioner, presenter, trainer, and COO and CISO at Alvaka Networks, to discuss ransomware attacks. Kevin shared his perspective on the biggest threat to IT solution providers today and provided insight and applicable steps to help everyone rise to the ransomware challenge.

"You can't pretend to do security. You can't kind of do security."
Kevin McDonald, COO and CISO, Alvaka Networks
Listen to the episode.

Volley also covered cybersecurity with James Stanger, chief technology evangelist at CompTIA joining hosts and CompTIA research analysts Carolyn April and Seth Robinson, to discuss findings in CompTIA's latest research, including the structure of today's security teams and the adoption of a zero trust framework. He also covered how companies are dealing with privacy as they rely more and more on data for their offerings and products.

"The whole idea behind zero trust is it takes out this assumption whenever you make any sort of connection... Imagine in a model where you actually have to prove your endpoint; you have to prove your place of login, even before you begin to get the most basic of services. So basically, it's an inspection of the state of your computer. At what point do we trust it or not trust it?"
James Stanger, Chief Technology Evangelist, CompTIA

Now is the Time for Digital Transformation
Taking a break from cybersecurity, Miles Jobgen spoke with Joshua Liberman, Executive Council member and president of Net Sciences, Inc., about having a plan ready to execute when clients ask how their IT services can play a role in keeping their business viable and secure.
"We've obliterated the (security) perimeter, it's no longer just a firewall on the edge, it is now this probabilistic cloud of problems you have to deal with."
Joshua Liberman, President, Net Sciences, Inc.
Volley Kicks off the Holidays

Closing out the month on Volley, hosts Carolyn April and Seth Robinson were joined by Randy Gross, CompTIA CIO and executive vice president of certification operations, for the annual holiday episode, sharing with us, for Halloween, what scares them; for Thanksgiving, what they are thankful for; and for the winter holidays, what's on their wish lists.
"Because we have the technological capabilities to be able to pivot to working from home, and I've been really impressed by the resiliency and the flexibility that technology has allowed people to be able to function and workers have responded to it. It's actually presented in some cases an opportunity for providers in the tech space, specifically in the channel, for instance, to create new businesses that are able to support all these people that are now working from home. So, we hear about the downsides—the unemployment and people who have lost their jobs and that is very real. But without the tech tools that we have in place now that this would be far worse in terms of in terms of the unemployment hit so I'm thankful for that."

Carolyn April, Senior Director, Industry Analysis, CompTIA

Listen to the episode
.