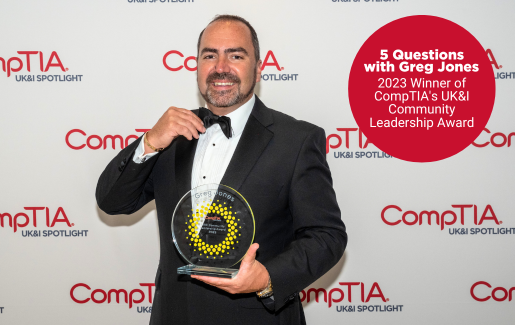 Greg Jones is not afraid to strike up a conversation or go outside his comfort zone if it will help him learn how to be a better business leader—or help someone else do the same.
The vice president of business development, EMEA, for Datto/Kaseya, says it's important to always be listening and to listen to others. For his contributions supporting CompTIA's UK & Ireland Community, Jones was awarded CompTIA's UK&I Community Leadership Spotlight Award for 2023 for demonstrating outstanding leadership and impact to the community.
Jones recently shared his business advice for MSPs, why cybersecurity should be a priority for all companies, and how CompTIA members can help elevate the IT industry. Here's what he had to say.
What are you most proud of in your career and what's helped get you to where you are now?
As vice president of business development in a global multi-billion-dollar technology company, I feel very grateful that my career has led me to my current position and the opportunities that have come with it. Right now, I am most proud of the awards I have received this year, including the CompTIA UK&I Community Leadership Spotlight Award, Cyber Security Leader of the Year at the 2023 IT Europa Channel Awards and being named as a top Channel Influencer by Channel Futures. I always try to give back as much as I can to the MSP community and it's great to get this recognition for the work I do.
As well as setting myself clearly defined goals and targets, I owe where I am now to all the people that I have come into contact with over the years. Almost everyone I have met has influenced my path by challenging me, teaching me something new or making me see things differently. I have been lucky enough to work with a large number of mentors –some real legends from inside and outside the industry—there are too many to list them here! They challenge me, push me, and keep me grounded. And of course, I have the amazing team at Datto and Kaseya to thank, too.
What advice do you have for MSPs and other tech businesses to be more successful?
My advice is quite simple: allocate time within your business—and as an individual—for continual professional development, education and training. There is a vast amount of great content out there, from vendors as well as from across the MSP landscape, which is worth mining. Additionally, joining a peer group is a great way to see how others are advancing their business, how they can help you grow your own ideas and take your business to the next level.
It's also important to get outside of your comfort zone and meet with other MSPs, vendors, other directors and CEOs. Try to stretch yourself, surround yourself with inspirational people and new challenges. If you are the cleverest person in the room, then you are in the wrong room. And finally, always listen more than you talk.
Why is volunteering for CompTIA so important to you and what goals do you have for the Community/Committees?
Being part of CompTIA is hugely important to me. I currently have three roles: as executive council leader of the UK and Ireland Community; as chair of the UK&I Cybersecurity Committee; and as acting advisor for the Advancing Women in Technology board. People helped me early on in my career and volunteering is how I can give back, as well as contributing to shaping the future of our industry.
My main goal is to leave the councils in a better place than I found them. We are only on a board or committee for a relatively short period of time, and I want to do the most I can while in these roles. With the work I do, I hope to impact not just the CompTIA members but also to raise the bar for the industry as a whole.
What challenges/trends do you want to raise more attention/awareness for in your UK&I Community role?
Cybersecurity and cyber resilience are two big topics I want to highlight. For businesses, they can seem truly daunting challenges, something that is very complex to achieve. The truth is, you don't need huge budgets or cutting-edge technology to make your organization more resilient. I want to draw more attention to the importance of good training, of employee education, and of allocating enough time for engineers and security teams to do their jobs.
No matter the size of your business and no matter the size of your security budget, the primary risk is always the same: the human factor. There is a lot that organizations can do to improve their security posture and it centers around training and development. With so many free resources and guides available, whether from CompTIA or vendors, it doesn't have to be difficult or cost the earth. The key is not to overburden yourself and not to make it overly complex.
How are you working with CompTIA to address those issues and promote more awareness
I am challenging everyone to make security simple and to take it back to the basics. We don't need a lot of acronyms or technical language. We also don't need to be experts in the latest security technology. We hold webinars on how you can move the needle with no budget at all, simply by training and investing in people. Because, when it comes to cybersecurity, humans are both our greatest asset and our weakest link.
Besides this, I am hoping to elevate the bar for everyone in the IT industry. To keep innovating and succeeding, we must attract a varied and broad pool of candidates. We should all be working on breaking down barriers, both visible and invisible ones. The fact is that you can never know where the best talent might come from; and if you don't have a wide-open mind, you risk restricting your opportunities. At CompTIA, we are striving to be inclusive in everything we do. We are being more open and changing the way we communicate, so everyone feels welcome. No matter their background, there is a place for everyone in the industry.