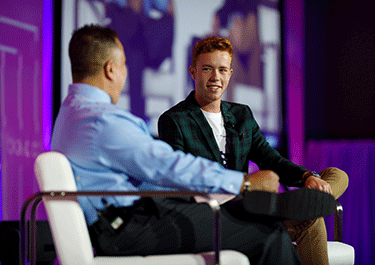 At age 17, most of us are still adjusting to the responsibility that comes with getting a driver's license. But Alex Taylor has already moved beyond roads and taken to the sky, becoming the youngest commercial drone pilot in the U.S. last year and founding his own drone company – Wind Craft Aviation.
Taylor spoke on day three of CompTIA ChannelCon 2018 earlier this month at Marriott Wardham Park in Washington, D.C., interviewed onstage by Frank Segarra, CEO of ConnexiCore. Both Taylor and Segarra are members of CompTIA's Drone Advisory Council.
The session began with a look at Sally Jean, an electric, hydrogen-powered, vertical take-off and landing transition vehicle capable of going over 185 mph to a range of 100 nautical miles. It's basically a drone you can get in and go somewhere, and that's what Wind Craft aims to make a reality. "We're motivated by the need to fly," he said.
Taylor had "a very deep connection with aviation" from a young age. His first memory is of flying from California to Istanbul, where he spent a portion of his childhood. Growing up, he said, he didn't have the money or resources to get aviation training, so he had to improvise. This led him to drones.
"When we're talking about drones we're talking about us," he said, asserting that a drone becomes an extension of the person on the ground. "It's the evolution of aviation. We want to make aviation available and affordable and right now it's neither of those things." He pointed out that established aviation companies aren't incentivized as such. "We spell progress r-i-s-k at Wind Craft," he said. "Boeing doesn't take that risk."
Perhaps not surprisingly, Taylor finds school frustrating. "Imagine how you would feel if you had to do something for eight hours a day and it wasn't substantial," he said. The same goes for grades. "At the end of the day, it's a letter."
Even while impressing the audience with his entrepreneurial spirit, Taylor stressed that he's just like any other kid, using this to underscore the potential of today's youth. "I don't want you to think I'm special in any way," he said. "There are kids like me in every classroom. They just need an opportunity."
Toward that end, he urged the business owners in the audience to hire young people who aren't qualified to allow them to grow into the workforce. Taylor admitted he's not qualified for most jobs. "I couldn't get a job at McDonald's, even though I wanted one," he said.
Taylor acknowledged someone his age addressing an audience at a business conference was unique. "I'm talking to a bunch of people who I should not be talking to right now at all," he said. "Wisdom from a 17-year-old might not be wisdom at all, but it's insight."
Segarra commented, "I wish I'd been like that when I was 17. I joined the Army." Taylor responded, "Hey that's good. You're doing OK," drawing laughs from the crowd.
Segarra opened the floor up for questions from the audience, which expressed mild disbelief. The parents in attendance debated the challenges of raising a generation with such promise and disregard for barriers to entering business, airspaces and beyond.
Taylor said, "I didn't know this would turn into a parenting seminar but I'm all for it because you're raising my future employees."
Click here to get full coverage of ChannelCon 2018 and here to learn about CompTIA's Drone Advisory Council.

Enjoy reading Alex's tech story? Share yours and inspire others to join our industry! Record a video telling the world what makes you passionate about technology – in five minutes or less. Email your video to Kelly Stone at ksto[email protected] or tweet @CompTIA using the hashtag #MyTechStory.