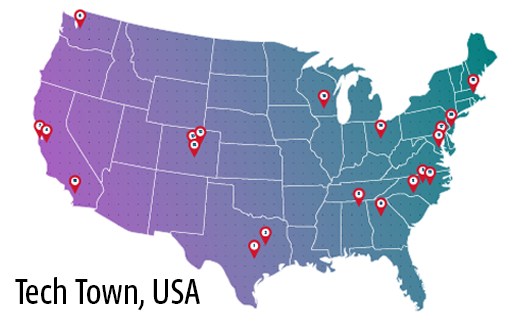 Landing a spot on CompTIA's annual Tech Town Index isn't just about IT jobs—though that's a big part of it. Being named one of the top 20 cities in the U.S. for tech professionals also considers future job growth as well as quality of life factors like cost of living—and plenty of variables can play into those numbers. And while the Tech Town Index can help IT pros identify where their skills are sought after, what does it mean for tech companies, or for that matter, other professionals working in the business of technology?

A lot—that's for sure.
It's not uncommon for Tech Towns to boast business and start-up friendly policies from local governments eager to attract and keep these companies in the area. In addition, technology organizations rely on an ecosystem of jobs, not just technical—sales, marketing, data analytics, communications, customer service, accounting, and so on—in order to ensure success. While you may not be at answering help desk tickets or coding the software, if you want to work in the tech sector, a Tech Town may be for you.
Recently, members of CompTIA's Industry Advisory Councils shared their perspectives on what it is like to live in a Tech Town. Kathleen Glass (San Diego, No. 19), CEO of Oinkodomeo; Kaladhar Voruganti (San Jose, No. 5), vice president of technology innovation at Equinix ; and Angus Robertson (Denver, No. 10), CMO at Chief Outsiders, joined Kelly Stone, senior director of global social media at CompTIA, to discuss how living and working in a Tech Town has had a positive impact on their career and businesses.

In the video, you'll hear how cities that were traditionally hubs for defense, healthcare, finance and others have turned into Tech Towns; how access to innovation means access to opportunity for a variety of businesses that support technology companies; and how companies looking to recruit talent in Tech Towns should embrace their city's identity and culture to appeal to professionals looking for opportunities.