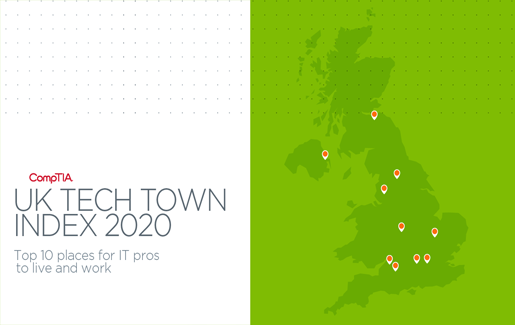 Like countries all over the world—no one could have predicted the disruption that 2020 had in store for the UK. A global pandemic, political unrest and widespread economic downturns, changed the landscape of nearly everything. Technology provided a lifeline for students, families, workers and businesses to continue operating, working, learning and connecting. And like the in the US, employment opportunities in technology remained a bright spot for the UK economy.
Amid these unprecedented circumstances, CompTIA's 2nd annual UK Tech Town Index looked at the landscape of employment opportunities, livability factors and opportunity costs to rank the top 10 cities for IT pros to live and work in 2020. Factors such as the number of locally posted IT job postings, projected job growth and reported cost of living in travel to work areas (TTWAs) across the UK were evaluated.
Here is the complete UK Tech Town Index 2020 with 2019 ranking in parentheses.
Leeds (3)
Birmingham (4)
Belfast (NR)
Manchester (1)
Cambridge (6)
Edinburgh (7)
London (5)
Bristol (2)
Reading (10)
Bath (8)
Leeds Leads the Way
This year, Leeds took the top spot on the UK Tech Town Index, thanks to its lower cost of living, booming IT jobs scene, and overall affordability. Last year's top Tech Town, Manchester, fell to No. 4 in 2020.
From September 2019 to August 2020, 11,348 IT jobs were posted in the Leeds travel-to-work area with positions for programmers and software development professionals in high demand, along with IT business analysts and systems designers. The cost of living in Leeds is relatively low compared with other cities on the list (it ranks No. 4 overall for cost of living factors), with the average house priced at £197,026, compared to the UK average of £239,196. That affordability is combined with a healthy median wage of £41,360. While not the highest salary on the list, when compared to £51,748 in London where the average house is nearly 2.5x more, Leeds IT pros find that their salary stretches a bit farther. Also contributing is the growth of jobs here. From 2020 to 2021, 2.1% job growth is expected, putting it first place for this factor alone.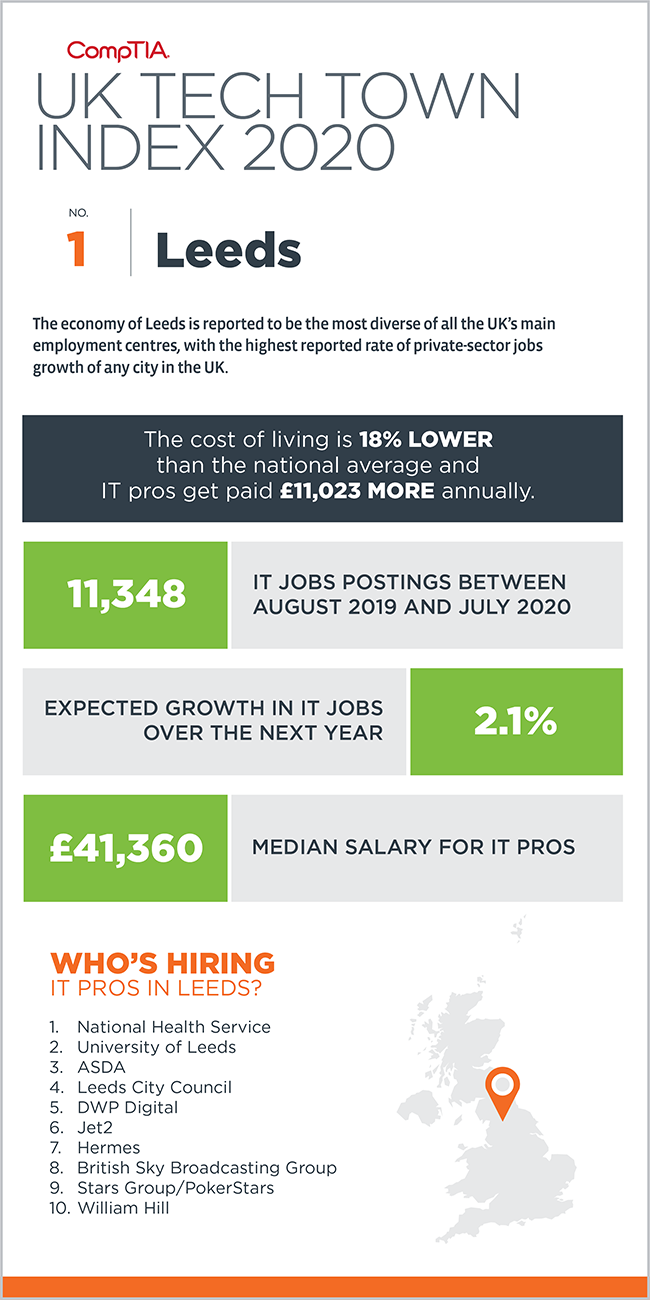 Read about all 10 Tech Towns when you download the full report.

Belfast Debuts on The List
Birmingham claimed the second spot this year, up from fourth in 2019, while the sole newcomer to the list, Belfast, debuts at No. 3.
With an active startup scene, a healthy job market and an enviable cost of living, it's no surprise that this Northern Irish city has jumped to the top of the list. In the past year, more than 11,000 IT jobs were posted across Belfast, with programmers, software development professionals, and IT business analysts and architects in high demand. Corporations Citigroup, Allstate Northern Ireland, Deloitte and PwC are among the city's top employers advertising IT jobs, reflecting Belfast's appeal as an investment hub. With the average home price at just £135,523—compared to the London average of £489,159 or the Edinburgh average of £284,654—this places Belfast at No. 1 on our list for affordability alone. When you consider that the median annual IT wages here (£38,278) are 26% greater than the national average across all occupations, the attraction of the city for tech workers is clear.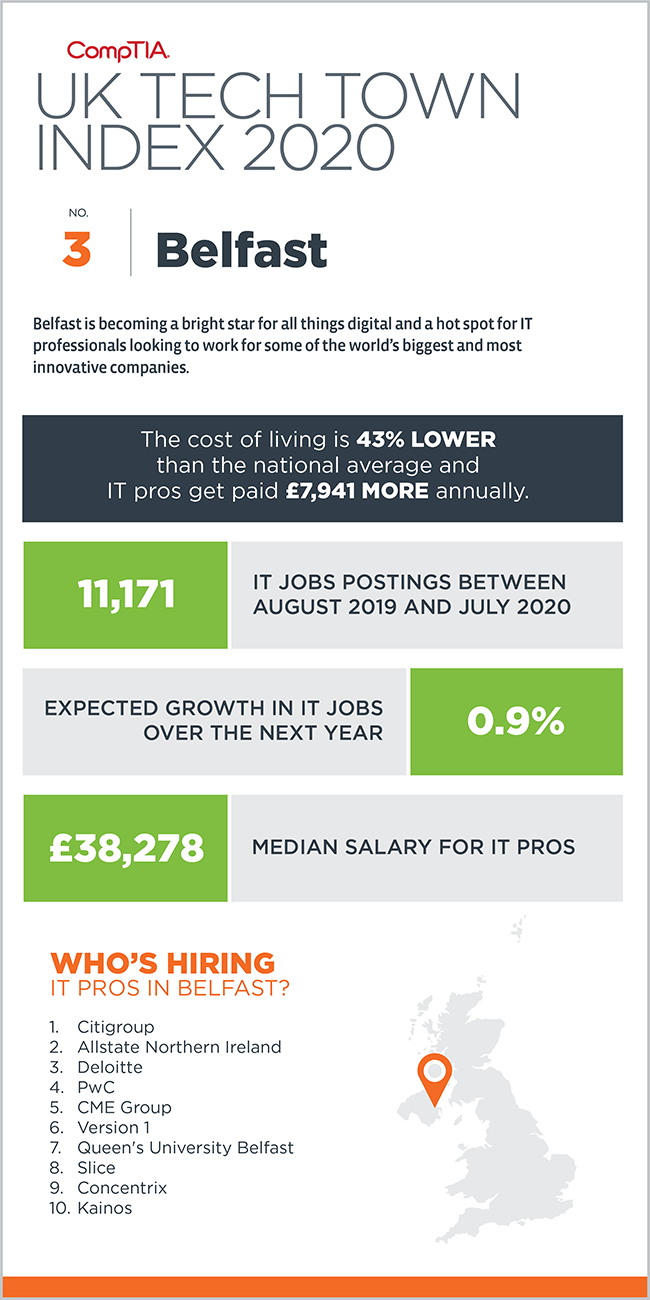 The Remote Work Factor
It's impossible to consider job opportunities for IT pros without discussing the UK's work-from-home and remote jobs landscape. COVID has profoundly disrupted the ways in which we've all become accustomed to working. Now, after months of "working from home" en masse, many companies have indicated that trend will continue even beyond the pandemic with some going so far as to permanently close offices. In other words, remote work is likely to continue growing in popularity, and it has a LOT of things going for it like flexibility of location and zero commute.
In the past year alone, approximately 88,000 IT jobs were posted in the UK using keywords "remote", "WFH", or "work from home." The number of postings rose steadily quarter-on-quarter and rose dramatically from 2019. Around 19,000 "WFH" jobs were posted in Q1 of 2020 (compared to just 11,000 posted in Q1 of 2019), around 24,000 were posted in Q2 of 2020, and an impressive 42,240 jobs were posted in Q3 of 2020 (compared to only 13,000 posted in Q3 of 2019). Of those jobs, the median advertised salary was £47,500, which is slightly higher than the average of £44,500 across all IT job postings.
These jobs offer the flexibility (in theory) to work from anywhere in the UK, but around 21,000 of those jobs were posted by companies in the travel-to-work area for London, and the rest were fairly evenly distributed across the other major cities on our list. Still, with more than 200 work areas in the UK, there are many fantastic locations for IT pros to work and live that don't appear on this list. For instance, employers around Nottingham, Glasgow, Sheffield, Liverpool, and Cardiff were also advertising IT job opportunities, including remote postings.
As many begin to believe an end to the pandemic is in sight in 2021, the world is still grappling with COVID-19, and it's impossible to determine the widespread impact to businesses, the overall economy and IT jobs as we move into the next year. But CompTIA's UK Tech Towns Index can continue to provide some guidance on locations to consider a tech job and opportunities that exist beyond specific cities.
Download the complete report now.