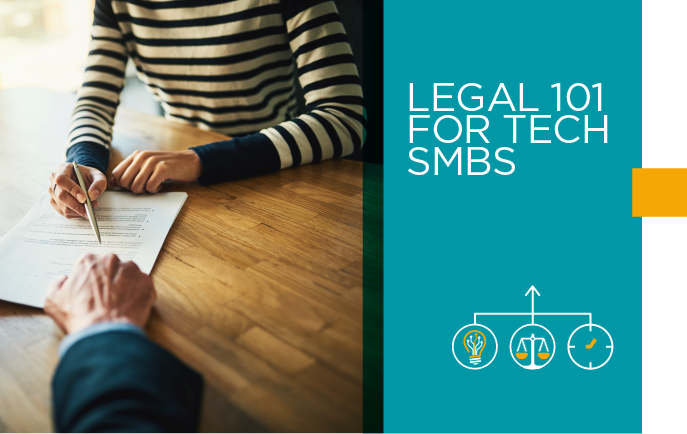 As a technology solution provider, choosing a legal representative can be a complex process, but it is one of the most important investments you can make in your business. You want someone who is an expert in their field, who gives you and your business the right amount of attention, and someone who you feel comfortable discussing matters than concern your livelihood. It's not as easy as a Google search or a referral from a friend.

It's important that technology business owners don't wait to contact an attorney until there is a significant legal issue. Establishing a relationship with legal counsel for more routine services gives you the opportunity to evaluate how you and the attorney work together. Not sure where to start? In Legal Resources for Tech SMBs, a CompTIA members-only toolkit, we provide guidance that includes how to select legal counsel.

Not a CompTIA Member? No problem. Join here to gain access to members-only resources like Legal Resources for Tech SMBs.
Hiring Legal Representation: Getting Started
Traditional word-of-mouth referrals and recommendations are a good place to start, but it should be the first step of many in your quest to find the right attorney specializing in IT business law. In addition, consider resources such as the National Association of Women and Minority Owned Law Firms and your local bar association.

After you've identified a few potential attorneys, set up initial meetings with each one. Many attorneys do not charge for an introductory meeting, but some may—make sure you ask before scheduling. Do not decline a meeting with a prospect because they charge a fee for their time.
You'll want to approach meetings prepared to talk about your business and ask questions that will help you determine the right legal fit. In Legal Resources for Tech SMBs, CompTIA members will find a checklist outlining what to do before, during and after your initial meetings, including what questions you should be asking potential attorneys and what questions you should be prepared to answer. If you think of your legal counsel as a business partner, you'll be more successful in your search.
Do I Need an Attorney? Frequently Asked Questions
If you're faced with a legal situation and you're unsure if you should handle it on your own or would be better off consulting a lawyer, it's time to do some research. Often, SMBs have questions about contracts. Questions about the legality of service agreements if they're not in writing, what kinds of terms should be included in a service-level agreement (SLA) and the difference between a master services agreement (MSA) and a statement of work (SOW) are pretty common.
Legal Resources for Tech SMBs answers these FAQs among others including billing questions and concerns about liability insurance coverage. It's a good idea to review these questions before you sit down with prospective attorneys. Doing your due diligence may help you become aware of scenarios you hadn't considered before.

Your business attorney is your ally. Finding that perfect firm or person isn't easy, but it will be worth the work you put into the process. To get you started, Legal Resources for Tech SMBs includes access to a list of CompTIA-reviewed legal providers who specialize in employment, privacy, corporate, transactions, litigations, intellectual property, real estate and tax law.

With CompTIA's help, finding and retaining the right lawyer for your IT business doesn't have to be complicated.

Download Legal Resources for Tech SMBs and access a free list of CompTIA-reviewed legal providers as well as a free master service agreement (MSA) template.