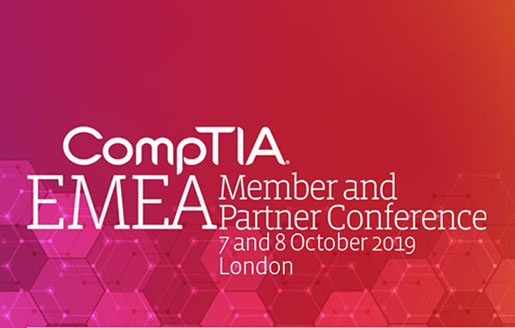 The agenda for the CompTIA 2019 EMEA Member and Partner Conference is packed with more than 30 sessions designed to provide the valuable insights and analysis needed to begin solving tomorrow's business problems today.
This two-day event — which provides attendees with a variety of ways to build CPD credits required by their organisations and industries — features two programme tracks: Business of Technology and Transforming Tech Talent. Here are five sessions you don't want to miss:
One of the most influential, high-profile and respected female business leaders in the U.K., Baroness Brady of Knightsbridge CBE has been voted Business Woman of the Year, Ultimate Entrepreneur and rated among the 50 most inspirational people in the world.
Here's a little bit more about her:
Brady is CEO of West Ham United Football Club, one of the leading London Premier League football clubs and currently valued at £800 million.
She has previously been a consultant for Syco Entertainment, a company jointly owned by Simon Cowell and Sony Music Entertainment.
The Prime Minister made Lady Brady a life peer; she entered the House of Lords in 2014 and received a CBE from the Queen for her services to business, entrepreneurship and women in business.
Brady was appointed managing director of Birmingham City Football Club when she was 23 years old. Four years later, she became the youngest Managing Director of a UK plc, when she floated the club on the London Stock Exchange. She sold the club for £82,000,000 in 2019.
Not every town is ideal to build a successful tech career. Before leaving everything behind to move into a new area, IT pros should consider the following: career opportunity; projected IT job growth; and cost of living. Even when they're unsure of what lies ahead career-wise, IT pros can gain a better grasp of what they're in for when they become aware of what a market geographically can provide them.
During this session, Nancy Hammervik, executive president of industry relations at CompTIA, reviews lessons learned from the IT research firm's newly released U.K. Tech Towns Index, which ranks U.K. cities based on potential opportunities, among other contributing market factors, for IT pros.
"I'm really excited to bring our Tech Towns research to the U.K. for the first time," she said. "We're going to talk about what cities rank where in terms of IT career opportunity, job growth and the cost of living. It's great insight for both young people starting their careers and companies looking to recruit top tech talent."
She'll highlight key insights from the index; discuss the latest dynamics in building your talent pool; and explore best practices in finding, recruiting and retaining top tech talent.
Today, there are so many industries driving innovating through technology, including agriculture, construction and energy. These sectors are leveraging emerging technologies — such as IoT, AI and drones — to generate new revenue streams by providing cutting-edge services to new customers.
Join Steven Capper, CIO of Royal BAM Group, as he reveals the latest technologies and trends being adopted in non-tech environments. His presentation will provide you with food for thought on how this can relate to your business or sector.
"I hope people walk away inspired to open their minds on what is possible with the current tech trends," he said. "Also, how they might apply a new way of working in their existing organisation or look at a way of generating a new revenue stream that hasn't been thought of before."
Acquiring knowledge in any field is easier today with the vast amount of information available at our fingertips, but there are ways to make information even more accessible to employees. Businesses of all sizes are investing in their teams by developing, building and implementing training programmes designed to create opportunities for everybody involved.
Hear from four corporate giants about how and why they've used learning pathways to develop internal training programmes, set performance benchmarks and career progression expectations.
Panelists include Clem Craven, CSIRT training lead for BT Security; Andy Lowe, senior manager of knowledge and capability management at NTT Security; Aaron Saxton of UKFast; and Zaharia Cristian of security operations manager at Secureworks.
"An 18-year-old apprentice that joined us six years ago is now the most senior network engineer in the business," Saxton said. "This is why we believe investing in your team and growing your own talent is key to a business's success."
In a world where deep fakes are rising, it can be harder to separate fact from fiction. Just like any other industry, the tech field has its own fabrications, which have grown over time. But with technologies changing so quickly, dispelling these myths is necessary if we want to progress.
"There are so many common myths and clichés that haunt cybersecurity implementations today," said James Stanger, chief technology evangelist at CompTIA. "We're going to use this session to start an interactive, lively discussion that aims to smack down and deconstruct some of those myths and focus on the useful narratives that solution providers and businesses need to know to secure emerging tech. Our panelists will be ready to share some candid insights and explode a few assumptions that most people may have about security."
Panelists include Gary Fildes, cybersecurity and information security principal inspector for Office for Nuclear Regulation; and Chris Hodson, chief information security officer (CISO) of EMEA at Tanium.
You can get more details on even more session by clicking here to view the full agenda.
CJ Arlotta is managing member of CJ Media Solutions, LLC