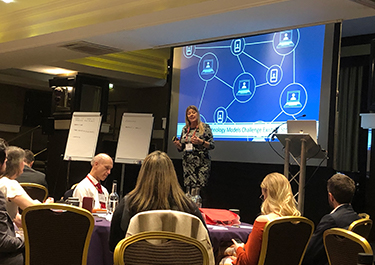 The theme of this year's UKCC Meeting in Manchester, held on the 5 and 6 March, focused on how to build a better business, treating attendees to an end-to-end look at how to take that next step to realize the goal that all companies aspire to. This was delivered through a packed agenda that included one-to-one mentoring in the Sales Genius café, interesting breakout sessions, keynote speakers and tied together with an engaging panel session.
A common thread that ran throughout the meeting was people. How do people play an essential role in building a better business? Where do we find these people? How do we know we're hiring the right people and how do we ensure they'll stick around? It was something that certainly struck a chord with attendees coming from far and wide to attend the meeting.
Fantastic people and where to find them.

Martin Bannister, managing director of cyber security firm Kogo, talked through the initial hiring process; how to make sure you source the right candidates; and where to find them, whether that is through apprenticeships, LinkedIn or industry conferences. Bannister challenged businesses to maintain an organized list of candidates on your radar for potential roles. They could be right under your nose. Do you have a record of candidates you once interviewed that seemed a good fit for the company but weren't right for the particular role you were hiring for at the time? Something to consider.

Prepare a job description, not a job advert.

Selling the perks of the role and enticing potential employees is one thing, however a key way of maximizing your chances of hiring the right people once you've found them is having a clear job description at the interview stage; something that is beneficial to both parties. This is a more in-depth summary that gives an accurate reflection of what day-to-day life in the role will look like. Being up front about what life is like behind the curtain leads to hires who really want to join your business and feel passionate about it, according to Bannister.

Use industry trends to inform your training requirements and hiring strategy.

Sue Gilkes, MD of Your Impact, took to the podium to deliver a keynote discussing the value of having an awareness of industry trends. According to Gilkes, knowledge of what's on the horizon for an industry can help inform a company's hiring and training strategy and give you the clarity you need to make correct decisions for the business.

Talking through CompTIA's IT Industry Outlook 2019, she noted that although emerging technology is helping to grow businesses, the research also found that a key challenge for the industry is still finding staff with the right skills. Despite the number of IT job postings increasing, the actual hire rates are much lower because candidates do not have the emerging technology skills to meet businesses' requirement. Training staff to deal with emerging tech can ensure you avoid a last minute panic hire that isn't necessarily the right fit for your company.

Build a culture that motivates the workforce.

A key aspect of the panel session moderated by Chris Ward, director at Vermont Systems Ltd. with Bruce Penson, MD of Pro Drive IT, and Faye Pressly, COO at Vanti, was around how to motivate staff once you've already hired them in order to help build a better business. Faye had some interesting insights into building a culture that motivates the workforce. The key takeaway was for each business to strive to be a purpose-led business, not just a profit-led business to ensure your team understands the company's value and how they fit into the overall purpose.

Jonathan Bowers, MD at UKFast, closed the event with the final keynote of the day, also echoing this, discussing how continuous professional development and staff training is critical to creating a world-class culture, saying effective leadership is all about creating a framework through which people thrive. This comes down to motivating your greatest assets, owning and controlling primary assets, and having a tough attitude towards standards but being kind to people.

Inspirational leadership – trust and empower your employees.
Bowers also focused on what it takes to be an inspirational leader and why this led to good employees sticking around, using his experience of taking UKFast from £5,000 to £405 million, as well as using leadership examples from everyone from Richard Branson to John Timpson. Fiona Challis, sales transformation expert and founder of The Next Gen Sales Acceleration Academy, spoke about resisting the urge to take control of everything yourself. According to Fiona, good leaders make staff feel empowered, trusting staff when they might be only 80 percent certain they can complete the task. For her, also recognizing that your employees may also be better equipped or have a more appropriate skillset to do the job can also bring huge benefits, allowing employers to get the best out of staff while focusing on the bigger picture in building a better business.
Click here to learn more about the CompTIA UK Channel Community.