For the past several years, the technology industry has been grappling with the implications of digital transformation. "Every company is a tech company" means that there is a wider audience for technology solutions, especially among those firms that have lagged in their technology adoption. However, the nature of those solutions is also changing. Compared to earlier days of on-prem installations and relatively simple stacks, today's enterprise technology is an amalgamation of many components, some of which are well-established and some that are cutting-edge. To meet new objectives and compete in new markets, companies are eagerly exploring emerging technologies that can accelerate their IT strategy.
CompTIA's Emerging Tech community wants to enable those businesses that are helping clients navigate the complex emerging tech environment. Since the launch of the community in 2017, one of its main initiatives has been the creation of a framework that would provide guidance for new trends. The first edition of the community's Top 10 Emerging Technologies was released in 2018, and now the group is releasing a second edition that came out of a rigorous process. Rather than simply stating which technologies had the most hype, the community wanted to zero in on those technologies that would have the most impact for the business of technology.
The foundation for both lists was original research conducted by CompTIA. Using an online survey that crossed multiple industries and included companies of all sizes, CompTIA's research team determined which emerging technologies had the highest adoption rates. This information was provided to a subgroup of the EmTech community composed of experts in managed services and the delivery of technology. This group further analyzed each technology from a tech enablement perspective: Beyond adoption, which technologies had the most significant revenue opportunity or the best chance to revolutionize business practices? Using this approach, a preliminary top 10 list was established.
Finalizing the list required input from the broader community. At CompTIA's Communities and Councils Forum in March, the attendees of the EmTech community meeting deliberated further, adding personal experiences to better define short- and long-term potential. After discussing all the evidence, the community cast their votes, and the 2019 Top 10 Emerging Technology list was set.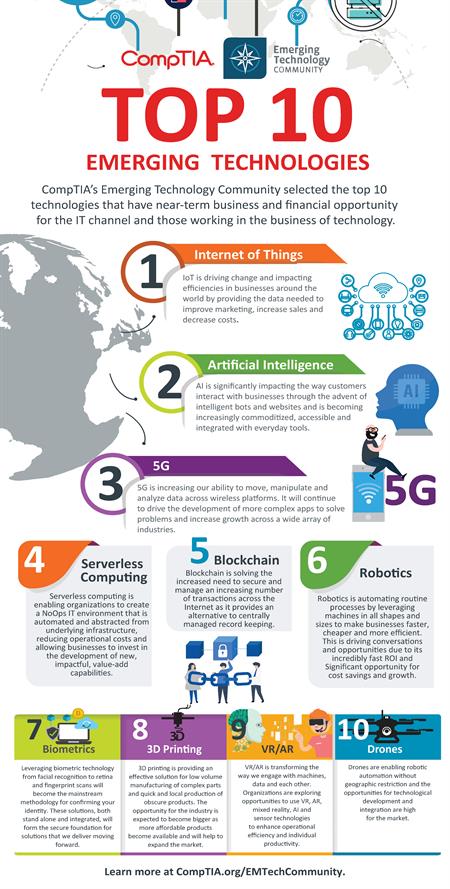 The new list represents many different aspects of emerging technology. Internet of things (IoT) and artificial intelligence (AI) have perhaps the greatest potential to blend technology initiatives with business objectives. 5G and blockchain are enabling technologies that could launch a brand new wave of applications. Robotics, 3D printing and drones are currently niche domains that are finding broader use cases.
The reason the full list is so fascinating is that any one of these technologies—or any combination of them—could prove to be a valuable solution for a given company or vertical segment. As CompTIA's 2019 IT Industry Outlook described, there is no single "next big thing" that will be sold or supported. Instead, companies are exploring and experimenting with many things at once, hoping to find a unique approach that will deliver impressive results.
The challenge, of course, is finding the right skills to understand and blend all these new ingredients. Especially for smaller businesses or those that have not invested heavily in technology, there will be some challenges in getting up to speed. This is why third parties can play a larger role in this new era of enterprise technology. The complexity of solutions and the scarcity of expertise can drive demand for outside help.

Throughout the year, the Emerging Tech Community will dive deeper into each of these technologies to describe why they are so disruptive and how companies can move forward with either implementation, sales or support. Keep an eye out for all the new content, or join the community to be right in the middle of the action.