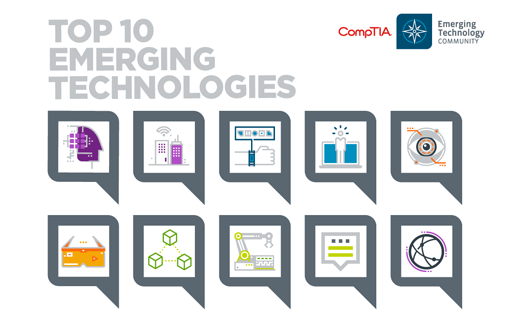 Since the CompTIA Emerging Technology Community was launched three years ago, its flagship initiative has been releasing an annual Top 10 Emerging Technologies list, focused on identifying which emerging technologies have the most potential for near-term business impact.

"Think of the Emerging Technologies Top 10 as our Emerging Technology Community's collective view and collective ranking of what we see as the top emerging technologies that offer a measurable, one-to-three year opportunity for both customers who are implementing these technologies as solutions to their challenges or market opportunities and to IT channel companies who are building those solutions to deliver to the companies," said Mike Haines, director of partner incentive strategy at Microsoft and chair of the Emerging Technology Community's Executive Council, during a recent episode of the CompTIA Biz Tech Podcast where he provided an in-depth overview of this year's list.

Listen to the Biz Tech Podcast episode on the Top 10 Emerging Technologies.

The Emerging Technology Community developed this year's list by forming a subcommittee that was tasked with researching the technology landscape, assessing the marketplace, and determining if an emerging technology had near-term opportunity for solution providers. The 2020 Emerging Technologies list includes:

1. Artificial Intelligence
2. 5G
3. Internet of Things
4. Serverless Computing
5. Biometrics
6. Augmented Reality / Virtual Reality
7. Blockchain
8. Robotics
9. Natural Language Processing
10. Quantum Computing

"That process was fun because it made us question what technologies are becoming more mainstream. Which ones are coming onto the horizon that we haven't seen before? What are we hearing from our customers? What are we hearing from research? And then that leads to a really good discussion of the value of each of these and what companies can do with them," said Haines.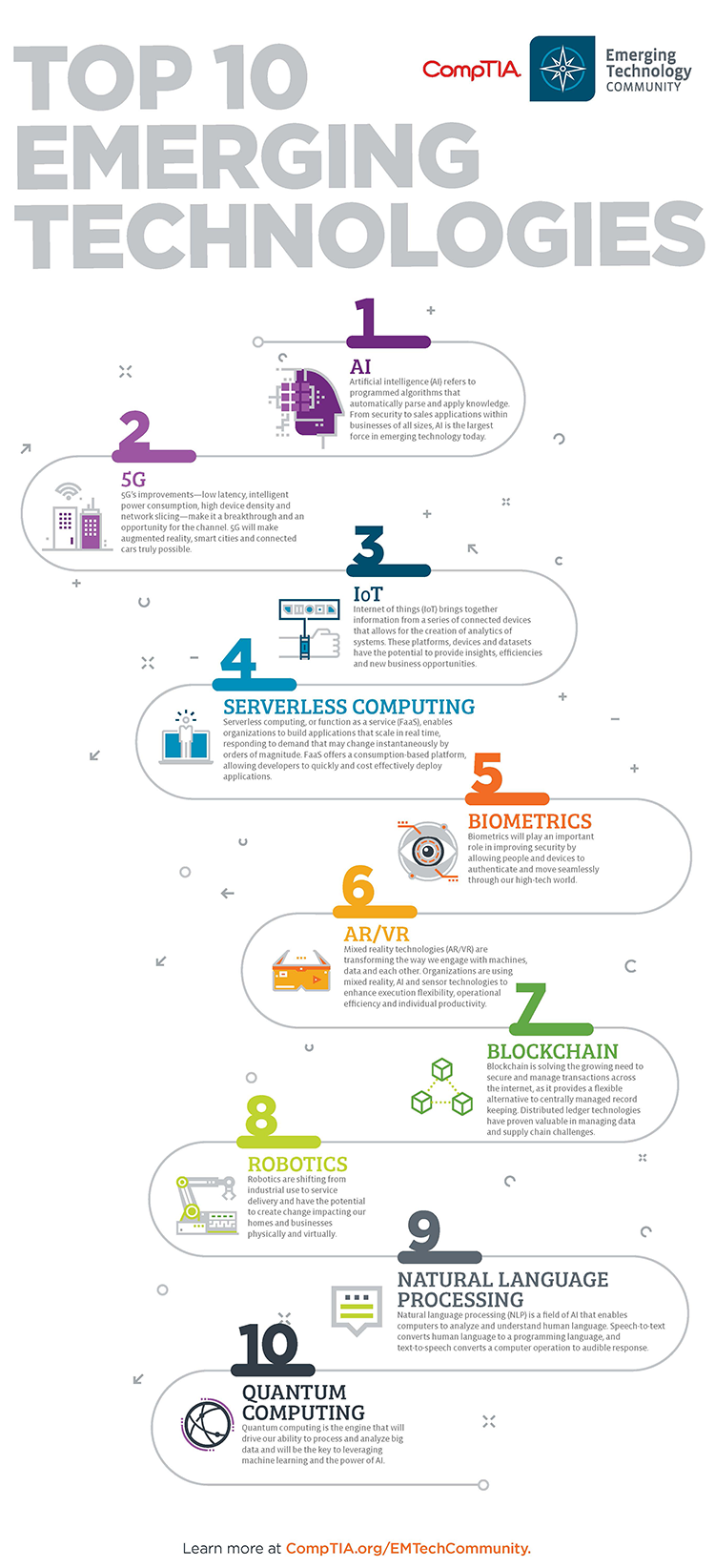 AI Continues to Show Promise

The top technologies on the list shifted only slightly from 2019 to 2020—with artificial intelligence (AI), 5G and internet of things (IoT) sitting at numbers one, two and three, respectively. In 2019, IoT was number one followed by AI and 5G. In 2018, when the community released its first list, AI ranked third.
"We always saw the marvelous opportunity in AI," said Haines. "It's literally been moving up the list. It's one of those interesting ones to watch. AI is now being evaluated as we see it by nearly every organization for possible application to drive insights and better solutions."
According to Haines, solution providers can leverage AI in a variety of ways—from chatbots to automating tasks to virtual assistants and much more.
"Among the biggest opportunities for IT solution providers are applying robotic process automation using onscreen agents to replicate human action and starting to replace some data entry and repetitive tasks. Improving enterprise processes, such as sales or marketing or customer service by integrating customer data with prebuilt cloud-based AI services also represents a really rich opportunity," said Haines.
Haines added that the key to AI claiming the top spot is that solutions are not only implementable, but also will resonate with customers, providing solution providers with near-term revenue opportunities.
Emerging Tech or Mainstream?

Over the past three years, many technologies have appeared on the list repeatedly, but every year a few technologies move off the list, and new ones take their place. This year, 3-D printing and drones, both on the 2019 list, were not included. In this case, the Emerging Technology Community questioned whether the technologies still qualified as "emerging."
"They are still very important technologies that have tremendous application, but we are seeing them as increasingly moving towards mainstream," said Haines.
With two open spots, natural language computing and quantum computing were added to this year's Emerging Technologies Top 10 list.
"You might say, that [natural language processing] has been a technology in development for years. In a way it has. But getting it to a point where the technologies behind the scenes enabled advancements in it are literally now creating a true opportunity that we see as an emerging technology category," said Haines.
Quantum computing first debuted on the list in 2018 but wasn't included in 2019. According to Haines, it's not because it wasn't emerging, but in 2019 the community determined that the technology's potential business opportunity was too far off to make the list.
"We try to place technologies on the list that have a window of opportunity for channel companies of around three years or so. Now we saw quantum computing, there have been some good advancements that it's likely we're going to start to see some real impact back into that window, which is going to support a lot of other technology solution enablement," said Haines.
Leveraging Multiple Emerging Technologies

For Haines, no one technology stands out on its own—the real opportunity lies in leveraging multiple technologies for powerful solutions.
"The innovation that will be delivered by these technologies, especially as I said, when they're leveraged in tandem will be staggering over the next few years and will enable customer solutions that will actually have paradigm shifting impact for those that act on them. They'll also provide some great new opportunities for IT companies and IT solution providers that decide to build offers around them," said Haines.
Ultimately, the list is a starting place for debate and discussion as well as a chance for companies to examine if they are ready to innovate with emerging technologies.
"What I like about it a lot is that people will disagree with the list. They'll say, 'Oh, well I think this one ought to be in there or that one ought to be in there.' And you know what? That's really one of the reasons for the list—it's a living document. It's the view of this community, but it fosters great discussion," said Haines. "It becomes a good vehicle for channel companies to use to assess their own possible opportunities and to make sure that they're considering emerging technologies that they could build solutions around."
Download the Top 10 Emerging Technologies infographic now
.