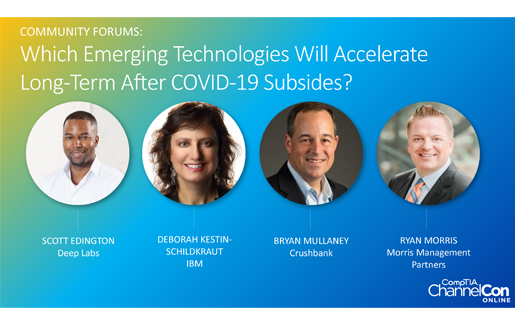 Economists describe COVID-19 as the ultimate marketplace disruptor. In a matter of weeks, the threat of a growing pandemic and looming recession turned what was considered "business as usual" upside down. In the process, these conditions also accelerated the application of emerging technologies, including artificial intelligence (AI), blockchain and biometrics, according to a panel of IT experts at ChannelCon Online.
Quick Pivot
As Brian Mullaney, chief revenue officer at CrushBank, put it, "The speed to which the marketplace was forced to respond is otherworldly. From March 10 to April 15 was just this crazy dial where you're changing all of my clients' paradigms—seven days a week for four weeks."
For Deborah Kestin-Schildkraut, IBM blockchain and global alliances ecosystem marketing leader, rapidly evolving client needs necessitated a quick pivot for a blockchain solution: "A lot of the technology aspects of blockchain got pushed to the forefront. Where we saw the most need was around supply chain [in healthcare]. What we did is create a blockchain network around emergency supplies needed for hospitals and healthcare providers. We pivoted specifically to focus on the emergency need at hand."
In the financial services and payments industry, the spike in online transactions increased the need to manage payment risk and fraud. Scott Edington, CEO of DeepLabs, explained the use case for behavioral biometrics, "You can imagine how an increase in ecommerce transactions would wreak havoc on risk systems as companies try to determine whether it really is Scott making a purchase or someone's stolen Scott's credentials. Understanding whether or not it really is Scott who types a certain way or is it a bot who is moving a mouse across the screen? Biometrics have gotten that advanced."
Inefficiencies of Existing Processes and Technologies
While the pandemic and an economic recession forced managed service providers, vendors and solution providers to adapt quickly to a new normal, these conditions also exposed the inefficiencies of existing processes and technologies.
For IT help desks—a service industry that relies on effective knowledge and document management—existing ways of troubleshooting technical issues no longer make the grade. Mullaney explained, "Fifty percent of engineers' time is spent finding the information to begin to troubleshoot. Where we can use AI, machine learning and cognitive search at the point of effort or point of challenge, everyone's more effective. The customer experience is a lot better. And the employee is a lot more effective and efficient. And a lot more dynamic."
For public health officials handling COVID-19 cases, a significant roadblock is the technology used to share data. Kestin-Schildkraut noted, "One of my business partners was talking about how the healthcare industry is sharing information via fax. It's still stuck in early '80s technology. She couldn't believe it. And she said, 'This is the whole reason why we need to execute something here using blockchain.'"
The Use Case for Emerging Tech is Now

All three panelists agreed that the pandemic catalyzed clients to apply emerging technologies as practical business solutions. For banking companies needing advanced online identity verification tools, risk-based decisioning involving behavioral biometrics is one approach.
"The reality is now that new accounts are opening online. And so, the ability for a financial services company to onboard a new customer tends to use biometrics," said Edington. "It's everything from you have to present your passport or driver's license and then behind the scenes they're providing a facial recognition scan against that picture in the driver's license. They're also running behavioral scans to make sure the laptop you're using and how you actually interact with that service is, again, something you'd expect from a man or woman in a certain age range."
Mullaney has found IT help desk clients evaluating AI platforms to solve short- and long-term challenges. "The urgent still happens. I've seen a lot of folks that have had a lot of turnover. External and internal, in some cases," he said. "If clients have to make a decision, they're going to make a decision… The challenge for all of us—and AI has a big place to play in this—is to be critical. To be urgent. To be important in the way an organization looks at the next 12 months and saying, 'If I don't do some of these things, I could be in trouble.' And then the question as an executive is, 'What are those things?' We think AI is certainly one of them."
How to Add Emerging Tech to Your Portfolio

Mullaney, Kestin-Schildkraut and Edington offer practical advice for vendors and solution providers wanting to incorporate emerging tech into their portfolios:
Get up-to-speed on the technologies available and how they are applied. "The good news is that biometrics is here and has been for a number of years," Edington said, "And there are a number of packages you can train on. For example, [one solution] allows you to test out facial recognition in real time, for pennies on the dollar. You can learn—and apply—within minutes,"
Contribute to open-source projects. Developers can use the cloud, data, AI and blockchain to help solve pressing issues. "Blockchain started with open-source hyperledger fabric kinds of architecture, so we've got a lot of tools and roadmaps of resources where people can start to play in the sandbox," Kestin-Schildkraut said.
Consider boxed solutions, even if they don't meet all of your requirements. Mullaney shared, "You're seeing a lot more startup or dynamic AI solutions that might bite off one piece of what you're looking for. Maybe the sentiment of the tickets you're dealing with or something along those lines. As you start to look at places like ChannelCon or other networking opportunities, you'll see this ecosystem of AI providers that makes it easier for a small business to adopt it."