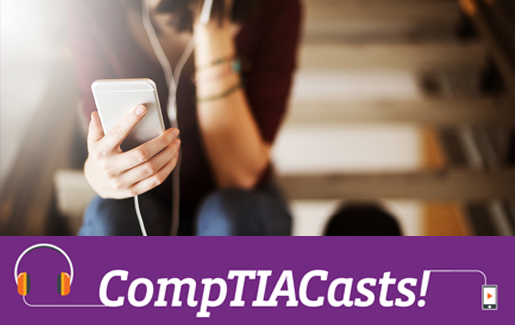 October is Cybersecurity Awareness Month and CompTIA podcasts tackled a wide spectrum of related topics—from defining and developing new roles in the cybersecurity realm to navigating how MSPs are meeting new security challenges and much more. Take a look at what we overheard on CompTIACasts in October, then check out all of our podcasts. Subscribe and start listening today.

What is Cyber Range and What Does It Mean for Women in Tech?
In this month's podcast, Women TechCast, CompTIA Community Manager Kathleen Martin talks to Sheri Piper, a cyber range master for Tech Data, about what cyber range—a virtual environment used for training, education, testing and other simulated threats in an environment—means in modern tech applications, what skills are shaping the cybersecurity landscape and burgeoning opportunities for women as cybersecurity specialists.
"To understand first and foremost what the security aspect is of the business, you have to understand and predict the bad guys, which isn't an easy task… A lot of my work is training, education and being exposed to what's out there. I learn something every single day that I'm in this realm and that's exciting."
—Sheri Piper, Cyber Range Master for Tech Data
Curating a Living Resume

In a later episode, Martin talks with author and coach Karl Palachuk about creating, maintaining and optimizing a LinkedIn presence with a living resume. Palachuk notes the three ways to highlight a professional presence, as well as the three "deadly sins" of an online representation. For women transitioning into or around the tech industry, this advice is helpful, insightful and evergreen.

"All of the connections and things you mention inside your profile should talk about your industry. If you have a hobby—like beekeeping or whatever—you can mention it but know that it dilutes your branding a bit. If you're all about IT, then LinkedIn wants you to be all about IT."
—Karl Palachuk, author, speaker, trainer and community leader
Making Sense of the Tech Skills Gap—Truth vs. Myths
According to latest buzz, there will be more jobs in the IT industry than there are people to fill it, which is good news for qualified job hunters. However, the perceptions, biases and myths around the tech skills gap—and what it means for employees and employers—does not match up. Check out Technologist Talk to hear what CEO, social innovator and award-winning author Charles Eaton has to say about truth vs. reality of IT workforce trends.
"I think it's the lack of experience that holds so many people back; there's a confidence gap. They worry they won't succeed if they don't see people like themselves succeeding. Companies that are willing to accept a different person who doesn't have the years of experience or the education background that they've typically hired from, people coming from a nontraditional source or background, end up having more diverse and inclusive cultures that attract others."
—Charles Eaton, CEO, Creating IT Futures and EVP, Social Innovation at CompTIA
Tapping the Resources and Benefits for Students and Professional Memberships
This month on Volley, hosts and CompTIA research analysts Carolyn April and Seth Robinson talk with Spencer Bone, director of marketing at CompTIA, to discuss the new individual membership programs at CompTIA, including what's on the horizon for professional and student chapters.
"In technology, you're working with people—solving problems, collaborating, honing presentation, sales and general communication skills. What we offer through our chapters is to connect in a safe environment, for folks to take some risks in presenting where they're not risking their job or future careers. It's a chance to gain those skills and practice, to network with peers in their area, to get feedback, to build those soft and business skills outside of the technical skills."
—Spencer Bone, Director of Marketing, CompTIA
Highlighting the Culture, Successes, Challenges and Desires for MSPs
Breaking Barriers is back with a new series that spotlights MSPs. In this episode, Community Director Miles Jobgen talks with Michael Goldstein of LAN Infotech to discuss how customer relationships have changed in the past 20 years, bringing IT into the special education community and why it is so crucial to properly navigate cybersecurity—for both companies and their clients.
"With cybersecurity, we've made it a little harder for ourselves but we see the threats and the challenges. It's an epidemic around the world and us, as the holders of the keys for our clients, we are definitely targets and we have to take that seriously. It's the biggest thing we've been focusing on."
— Michael Goldstein, President and CEO, LAN Infotech