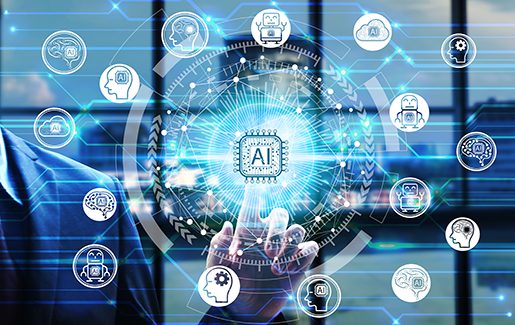 It's hard not to be bullish about the business opportunities surrounding artificial intelligence in 2020. After all, 70% of executives believe AI will impact every facet of business. AI was in use by more companies in 2019 compared to the prior year. And global spending on AI systems will grow 37% compounded annually through 2022.
It's also one of the reasons CompTIA has launched the AI Advisory Council for 2020, a group of industry leaders committed to building strategies and resources that help CompTIA members and businesses leverage AI to be more successful.
The AI Advisory Council will be co-chaired by Lloyd Danzig, founder and chairman of ICEDAI.org, a non-profit organization dedicated to ethical issues in the AI space, and Rama Akkiraju, distinguished engineer and IBM Fellow, IBM Watson. Uday Tatiraju, principal software engineer at Oracle, is the vice chair. Other council members represent Cuesta Partners, Equinix, Facebook, HP Enterprise, InfoVision, Intel, Publicis Sapient, SAS, and Sirius Computer Solutions.
The full council will meet for the first time at CompTIA's Communities & Councils Forum, March 16-18 in Chicago to work on 2020 goals and objectives, some of which was discussed at CompTIA's Year-End Planning Meeting last November in New Mexico, and on subsequent phone calls and remote meetings.
What Can Artificial Intelligence Do?
Overall, the council's primary goal is to raise awareness of what artificial intelligence and machine learning can do, through use cases, education, research—whatever it takes, according to Danzig.
"We need to start spreading awareness of what AI can do for businesses, not only to executive decision makers but also to young people, younger than college. We need to start developing and embedding the quantitative and analytics skill sets that will be needed for jobs that will be available over the next decade or so," Danzig said. "We could really inspire a larger generation of skilled workers."
One of the council's first projects is developing an infographic identifying the barriers and accelerators to AI Adoption, similar to what other councils have created. That should be published in the first quarter and it's only the beginning, Tatiraju said.
"I'd like to see us detail and standardize the AI lifecycle, specifically the machine-learning lifecycle, starting from data gathering and cleansing all the way to production––which entails serving models, monitoring the models and a continuous feedback loop," he said. "We should be able to identify various roles within a lifecycle and then perhaps work on corresponding certifications for those roles."
Standardization of machine-learning lifecycles would also be critical in getting buy-in from big technology companies looking to implement AI, Tatiraju said.
"Overall, we're looking to accelerate AI adoption and demonstrate value, and also maybe tackle issues such as removing barriers to adoption, including ethical considerations, and addressing the lack of guardrails," he said. "For example, there was a recent AI competition where someone found a way to cheat to get to the top of the leaderboard. Machine learning models may allow us to analyze things like that and be more deliberate or proactive in our approach to put in some guard rails and have meaningful discussions that discourage that behavior."
Explaining AI and Machine Learning
AI is unique compared to other emerging technologies such as internet of things, drones or robotics because progress and innovation isn't as visible, happening more "behind the scenes," said Danzig. Two examples are chatbots and the automation of customer service and guiding a customer through a customer journey, both of which leverage AI to provide great value to businesses and customers.
The council can also help vendors, solution providers and customers recognize the absurdist view that AI can do more damage than create value, the so-called "killer robot theory" that theorizes AI will take over our lives.
"Look, we haven't achieved artificial general intelligence (AGI), not even close. That's not a big concern. That said, there are definitely some issues to address in terms of privacy, AI ethics and the social impact," Tatiraju said. "For example, new generation machine learning models are being used to generate deep fake videos and images now. How do we combat this and identify what's real and fake? Generative adversarial networks help with that to an extent. There are issues around reproducibility and explainability as well. For instance, in healthcare where questions of accountability and transparency are particularly important, it is paramount that the machine learning models' decisions are explainable and reproducible. Chasing the next benchmark, GLUE score, or SOTA (state of the art) vs. focusing on AGI, and some of these issues needs to be balanced too."
There are other misconceptions too. For example, in the finance industry many people assume that AI solutions pile through numbers to identify profitable trading patterns. And, while that is a valid application and one that is of interest, it is not even close to topping the list of ways in which AI adds value to financial services companies, Danzig said.
"AI is used far more frequently for operations, for the actual execution of trades. Suppose you needed to offload a $100 million block of shares in a single company. You certainly would not simply offer up the entire block all at once, as this would result in the market moving away from you and cannibalizing your own profits," he said. "Instead, AI is leveraged not only to send out small test orders, but also to incorporate information that arises from the market's reaction to future orders – how quickly it was executed, at what price, and so on. The ability to automate, streamline, and remove human emotion from this process is one of the most compelling ways in which fund managers use AI to deliver excess returns to their clients."
More Trends to Watch in 2020
That's not to say AI doesn't have some "cool factor" examples too. One innovation reportedly close to development would allow two people streaming a movie to get more personalized content, such as different product placements—depending on any known analysis of their previous buying habits, Danzig said.
"You might see someone eat Cinnamon Toast Crunch. I might see Frosted Flakes. In reality, it's green screen technology being used, but in the exact shape and size of a cereal box, so customers wouldn't even be aware or notice it until they start talking with their peers," he said. "The streaming provider would use the robust data profile it keeps on all of its users to serve product placements with the highest expected value based on a confluence of factors, all best analyzed and optimized by AI. That's just one micro example of using AI to deliver a more personalized experience to the end user."
Other big AI trends the council may look at this year including the applicability of intellectual property patents to something that is created by AI. Should AI-generated concepts be patented? A European Patent Office recently rejected the notion, but there's still a lot of questions to be answered.
"If a machine-learning model generates a song, or writes a book, can it be copyrighted? That's going to happen this year," Tatiraju said. "Another trend is machine-learning coding assistance. Enabling your machine learning application to do intelligent auto-complete or provide recommendations based on what your engineers are coding and helping with application development overall is something interesting too."
Solution providers thinking of building a practice around AI technology should get to know the technology, talk to peers, and know what AI can do—and can't do, Tatiraju said.
"AI is a vast ecosystem. There are many disciplines, techniques with interesting resolutions. What's important is to know that AI is not a one-size-fits-all solution. Don't fall for the hype and don't set unrealistic expectations. Find specific problems and look to answer those effectively with existing data and using machine-learning models. It will be incredibly useful to have an AI playbook that you can use to develop a game plan of sorts," he said. "Also, address security and privacy right from the get-go."
In some cases, AI may be injected into existing processes without tremendous effort, said Tatiraju.
"AI and machine learning absolutely lends itself to existing services and solutions. It may make sense to see how your current services can be augmented through machine-learning techniques. Let's say you process invoices. Can you enhance that process with image recognition and visual search? Or for instance, you have an IVR system or an IT helpdesk and you may want to augment that with conversational AI. You can augment those kinds of solutions with AI and provide more value to customers."
Click here for more information on the AI Council, and don't forget to visit our Artificial Intelligence resource hub.