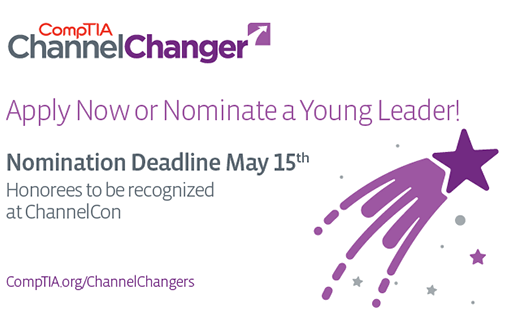 What does industry recognition mean to a young professional just getting started in the tech community? While beginning a tech career can be challenging, there are some who jump right into the fray and outperform expectations. Those individuals not only support the efforts of their peers, but strive to lead and set the best example possible for those with similar ambitions.
Five years ago, CompTIA created the ChannelChangers award. The association bestows this honor on a select group of young professionals who are making their mark within member companies, have shown success or originality as entrepreneurs, or have positively impacted the industry in other ways.
What does it mean to be named a ChannelChanger? Two members of the CompTIA Future Leaders Community Executive Council – Jennifer Bodell ,vice president of channel for Pax8, and Chris Fabes, national director of channels (Canada) for Lenovo – discussed that question with a couple of recent honorees:
2018 ChannelChanger Jessie Devine, community engagement manager for QuoteWerks
2017 ChannelChanger Heather Ptak, director of field marketing for ConnectWise and chair of the CompTIA Future Leaders Community
What does it mean to you to be named a CompTIA ChannelChanger?
Jessie: Being a ChannelChanger means going above your assigned duties and pushing the boundaries within your company and our industry. In a community working toward more diversity, I am very proud to have been recognized with two other women (Mackenzie Heddy and Hannah Lloyd). The award also validates the hard work that I have put into my career.
Heather: It is an honor to be named one of CompTIA's ChannelChangers and a privilege to be a role model to the future leaders of our industry. It means that I've been able to show innovation and entrepreneurship in my career – two qualities that I truly live by every day.
How did your company and co-workers respond to the news?
Jessie: I have been lucky to work among very supportive colleagues and bosses [check out their press release]. QuoteWerks understands that building good leaders comes from supporting our interests beyond just the duties of our positions. In a recent review, my supervisors recognized the value I bring to the company and want to help grow my position and responsibilities.
Heather: ConnectWise was ecstatic that a member of our team was recognized. It was the first time in history for us to have a future leader recognized in this space. We also used this as a platform for our career pathing initiatives and as a speaking opportunity at a few of our career fairs.
What is your role as a ChannelChanger?
Jessie: My role as a ChannelChanger is to continue to set a positive example on behalf of our peers. I think our generation gets a bad rap from a few spoiled apples, and I'd like to be the change to stop the stereotypes. Additionally, I feel part of the role is to help open the doors of possibility for young professionals to join and thrive in the channel.
Heather: My role as a ChannelChanger is always to strive to move the industry forward, promote future leadership among my peers and the younger generations, and to stay innovative in our space.
What would you like to accomplish as a ChannelChanger?
Jessie: It is really important that we continue to promote to young individuals to join the channel. As a ChannelChanger, I'd like to help promote the industry to these future professionals and be a channel evangelizer!
Heather: Three things:
Promote youth in technology: I'm passionate about speaking to younger generations about how cool tech really can be and surprise, you don't always have to be technical to have a job in tech.
Encourage others to take risks in their careers: Dream big and fail fast, but always take risks.
Build leadership material to prepare our future leaders and speak about my experiences.
What are your long-term career goals?
Jessie: My long-term goal is to be a company executive and make major business decisions. I recently gave birth to my daughter, and I'd like to set a good example for her of a professional working woman.
Heather: My long-term career goals would be to work at an incubator running the marketing department. I love working in the technology industry and specifically with entrepreneurs and startups, and I have a passion for helping smaller companies grow their marketing, events and revenue.
How do you think your ChannelChanger status will affect those aspirations?
Jessie: I think being awarded the ChannelChangers award validates my work in the industry. Sometimes all you need is a small spark to reignite a fire within to work even harder toward your goals, and that is what the ChannelChangers honor did for me.
Heather: I think it's always important to show leadership skills and qualities. The ChannelChanger award is an acknowledgment of that accomplishment.
What's the most valuable thing about being a CompTIA member?
Jessie: Being a CompTIA member is an investment in your career. Not only do you gain valuable knowledge and insights from experts within the industry, but it is a great networking tool. You can interact with like-minded individuals working toward bettering our industry.
Heather: I love being able to meet others in the CompTIA community who have a passion for our technology industry. Not to mention networking! We're able to collaborate, connect on issues and share best practices.
Why should other young professionals aspire to become a ChannelChanger?
Jessie: Don't be afraid to market yourself and be your own advocate. Work hard, get noticed and be the change! Young professionals should aspire to become a ChannelChanger to create their own personal brand.
Heather: ChannelChangers are identified in our community as those who demonstrate great leadership skills, innovation and creative entrepreneurship. Being a ChannelChanger helps build your brand and grow your professional connections.
Do you know a similarly motivated young professional who is making a mark in their CompTIA member company? Nominate them today to be a 2019 ChannelChanger! The deadline to nominate is May 15!