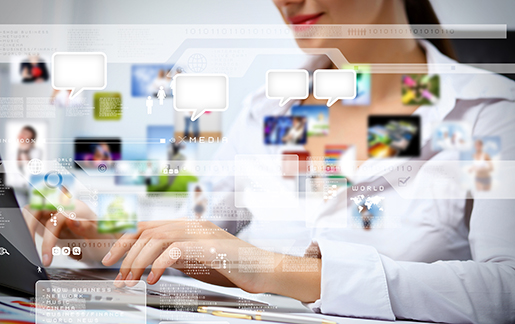 In light of ongoing concerns about COVID-19 (coronavirus), CompTIA is taking its CompTIA Communities & Councils Forum (CCF) virtual. Although attendees won't be able to enjoy all that downtown Chicago has to offer—including seeing the Chicago River turn green on St. Patrick's Day—they won't have to miss out on all the great content and sessions planned for CCF.
CCF Online will take place Tuesday, March 17, from 11 am to 3 pm CT.
"Our top priority is the health and well-being of our members, staff, and the community at large," said Nancy Hammervik, executive vice president of industry relations at CompTIA. "But we are excited to be able to meet virtually to discuss dynamics in the industry and workforce and how critical a role emerging technologies will play going forward."
Register now to secure your virtual seat and not miss any sessions, including:
How Emerging Technologies are Delivering Business Outcomes
CompTIA's Chief Technology Evangelist, James Stanger, will moderated a panel featuring several members of our Industry Advisory Councils to discuss how they're leveraging IoT, AI, drones and blockchain to deliver innovative business solutions. The conversation will provide actionable insight and give attendees fresh ideas on how to open doors to new revenue streams, said Debbie Kestin-Schildkraut, IBM Blockchain & Global Alliances Ecosystem Marketing leader.
"I am thrilled to have the opportunity to share insights and use cases around blockchain," Kestin-Schildkraut said. "Many people have pre-conceived notions about what it is and what it can do, and many think it is just for financial services. I want people to better understand how blockchain can help them redefine and enhance their important business relationships, by having trust, transparency and newfound collaboration. I hope people will learn something new, or get beyond a pre-conceived perception about what technology can do to improve business outcomes."

Advancing Tech Talent & Diversity Community Launch
CompTIA's latest community combines the aggregate power and passion of four previously separate communities – Advancing Diversity, Advancing Women, Future Leaders and Technology Lifecycle Services. The new community is designed to shape tech workforce cultures that meet evolving marketplace demands, attract top talent and give your company a competitive edge.
"This is an exciting moment for CompTIA and the industry at-large," said Val Haskell, president of Generation 5 and chair of the new council. "Talent acquisition and diversity are critical business issues. The community is energized to provide thought leadership and actionable assets to the industry on these topics. Our goal is to see the tech industry stronger than ever because it is the most inclusive it's ever been."
When Your Plan Meets Reality: MSP Security
Cybercriminals seem to always find a way in. You can plan a security and business continuity strategy, but what happens when a breach happens? A solid incident response plan can go a long way to stop or minimize the damage. In this session, executives from High Wire Networks will share important steps for effective security planning.
"We've all seen it too often—a company thought they were protected but they weren't. Your ability to help your customers through this difficult time will build a lot of loyalty and trust. We'll cover some useful techniques and strategies to help your customers when they need you most," said Mark Porter, CEO at High Wire Networks.
Social Media Best Practices
Kelly Stone, senior director of global social media at CompTIA shares tips and tricks on social media practices.
"Social media has become an integral component of any company's marketing strategy and its visibility in the market. It can be the first place that potential customers go to learn more about you, so knowing how to maximize their interaction with you there is important. I'll review social media features people may not be familiar with but will make them look like veterans."
Making the Decision to Build a Technology Channel
A successful channel strategy can do wonders for a company, but many vendors still find themselves stuck in neutral, or worse, when it comes to engaging with partners. This discussion spearheaded by Gary Bixler, principal at PartnerPath, will help companies better understand what it takes to build a channel program, including an overview of IT channel structures, the potential advantages of channels, associated investments and time required to build an effective channel.
"Partners are a critical component to almost any business because they let you reach a broader swath of customers than you could possibly achieve on your own in the same amount of time," Bixler said. "This session will talk about how to make the most of your channel relationships—those you have now and those you want to build."
The Ultimate AI Power Panel
Our power panel of thought leaders from our inspiring Artificial Intelligence Advisory Council - executives from Google, Facebook, and Oracle - will explore the latest trends, top solutions and implementation challenges facing this exciting field.
"There's a lot to talk about because there's a lot of innovation happening around AI," said James Stanger, moderator of the panel and CompTIA's chief technology evangelist. "From the top solutions such as conversational AI (chatbots, voice recognition) and recommendation engines (shopping functions) to trends accelerating business like big data and U.S. government investment, we'll cover a lot of ground and look forward to the live Q&A."
Coronavirus prevent CompTIA members from meeting in Chicago, but it hasn't stopped their mission of evangelizing how technology can help businesses be more productive, efficient and competitive.
"In times of uncertainty, it is important to demonstrate innovative leadership, responsibility, and flexibility to adjust and move things forward," Kestin-Schildkraut said. "I'm so impressed with how quickly and smoothly CompTIA transformed CCF into a virtual event that is manageable and meaningful."

Click here for more information, including a detailed agenda, or to register for the virtual Communities & Councils Forum.