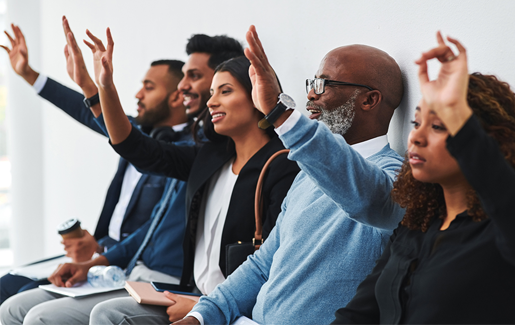 CompTIA is dedicated to advancing the tech industry—from supporting technology companies to ensure they evolve to meet new customer demands to providing thought leadership on the latest emerging technology solutions to training the IT workforce of tomorrow. But none of this work would be possible without the contributions of our dedicated volunteers, such as our community and council members.
Long-time CompTIA volunteers Susanne Tedrick, cloud infrastructure specialist at Microsoft, and member of the Advancing Tech Talent and Diversity Community's executive council; and Greg Plum, Channel Chief, Mobile Solutions, and chair of the Emerging Technology Community, recently discussed their experiences as CompTIA Community members. Here's what they had to say about the top benefits of giving their time and talents to CompTIA's mission.

Pay Your Success Forward

Every person who has had success in the tech industry can probably name at least a few mentors who helped them along the way and played a role in getting them to where they are now. Tedrick remembers that early in her career numerous people devoted their time and resources to make her "a better technologist, a better leader, and a better person."

CompTIA membership gives you the opportunity to meet up-and-coming professionals looking for mentors and sponsors to help them make the next step in their career. And the commitment is worth the time and effort, according to Tedrick who shared that there is a sense of fulfillment in being a part of someone's journey and shaping the next generation of industry professionals and technologists.
Develop as a Professional
When Tedrick graduated from college, she was concerned that employers might see her as highly educated, but lacking in practical, hands-on experience. She possessed the knowledge but needed to know how to apply those skills to real-world business situations. Participating as a CompTIA Community member helped her gain that experience.

CompTIA provides opportunities for professional development and career advancement. CompTIA communities are full of service-minded industry professionals eager to provide mentorship—giving members the unique opportunity to learn from the best in the industry. CompTIA members also have access to gain experience working on real-world projects. They can network and build important relationships that will help their careers flourish. These professional growth opportunities are invaluable even for seasoned professionals.

Access to a Quality Tech Industry Community

When volunteering at CompTIA, the opportunities for personal and professional growth, building important connections, and learning new things are endless. This is because of the unmatched quality of CompTIA's members.

"You get to know them on a different level," Plum said, referring to the genuine relationships he forged at CompTIA. He loves that CompTIA offers the opportunity to share a seat at the table with top leaders in the IT industry, join discussions about cutting-edge technology, and work together toward a better IT community.

Similarly, Tedrick describes CompTIA as one of the first IT realms where she felt welcomed and her contributions were appreciated. No matter where a person is in their career, their ideas and contributions will be encouraged and respected at CompTIA.

Discover Your Passion
Tedrick sees volunteering as a great way to explore one's interests. By volunteering for various projects, one can discover a new passion or career, or simply discover that they enjoy helping others. Plum agreed, reciting the quote, "Life happens while you're busy making your plans." He encourages people to get out there and volunteer for different projects, and somewhere along the way, they might discover what truly "feeds [their] souls."

There is no shortage of opportunities through CompTIA membership and getting involved with different projects is a great way to figure out one's interests. There are opportunities for all skillsets and experience levels. The possibilities are endless.

Participate in Projects Big or Small
CompTIA communities have projects for all levels of time commitment. Tedrick recommends what she calls "micro-volunteering," such as volunteering for a single project or event. This type of volunteering is an excellent starting point for people who want to get involved, but aren't sure what area they're interested in or how much time they can commit.

CompTIA also has opportunities for people who are able and willing to dedicate more time. Leadership roles within CompTIA membership, while a lot of work, can be fulfilling for those who thrive off serving the community in a meaningful way. Greg warns that these leadership roles will keep a person busy, but that if you're passionate about the work, the reward will be worth the commitment. "It's work, but it's good work," Tedrick agreed.

Get Involved Today!

CompTIA membership provides opportunities to help others and the tech industry while also working on your own professional development—whether you're a newcomer or an established professional. Join us during CompTIA Connect Week, May 25-27, 2021, to learn more about projects you can get involved with now.