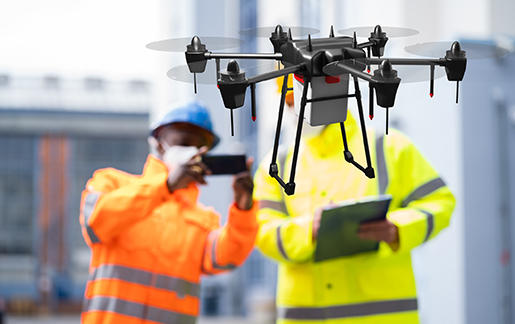 The market for drones and unmanned aerial vehicles (UAV) is growing—including commercial opportunities for MSPs and solution providers to integrate the technology into their current offerings. Drones are a great topic to start a conversation with customers, many of whom may not even be aware how they can be used to solve their current business problems.
But many MSPs are in the same boat—they don't realize how drones can be used in the field. Now's the time to learn how UAV can make businesses more productive, efficient, and profitable, according to Adam Gittins, general manager of HTS Ag and a member of CompTIA's Drone Advisory Council.
"Most of the time, customers are aware of one or two things they can do with the drone and are really excited about it, but after discussing with them, we usually uncover much more than they even knew was possible," Gittins said. "I think this is much like any other technology sale. A customer might want a computer for email, but then they learn that it can also be used for spreadsheets, PowerPoint, surfing the internet, etc."
The potential opportunity for MSPs entering the UAV market is significant. The UAV market is expected to reach $58.4 billion by 2026, with a CAGR of 16.4%, according to a Markets and Markets report. If they can deliver UAV services successfully, MSPs will generate more revenue and increase their perceived value with customers.
Here are five reasons why MSPs should consider offering UAV services to customers, explained by members of the Drone Advisory Council.
1. Integration with IT Networks, Systems, Security
In some ways, UAVs are similar to other nodes on the network.
"Solution providers such as IT solution providers and MSPs are often experts at handling data and creating and managing systems for the data and information," said Robert Dahlstrom, CEO of Appelix and member of the Drone Advisory Council. "They should look to drones as just another component on the network. As a node on the network, a drone needs MSP support and an MSP's expertise to set up systems and the security of those systems for the drone node."
That said, a drone is not a typical network node, Dahlstrom said. UAVs should be treated slightly differently than other pieces of hardware on a client's network, for it has some unique needs.
"First, it is mobile and travels in the real world, often gathering vast quantities of data in the form of video and images," he said. "Second, the data from the drone may be transmitted while it is flying via mobile phone or other networks or services or it may upload data post-flight. MSPs need to support these needs from these somewhat unique mobile network nodes."
2. Plenty of Use Cases, Applications, Verticals
Drones may be leveraged by more businesses today than ever before, but they're not always being used to their full potential—and that's something MSPs can help address.
"It is hard to imagine any vertical where UA cannot provide force multiplication, safety buffers, efficient use of time, or provide meaningful services that humans would prefer to not do," said Douglas Spotted Eagle, instructor/examiner UAV,
at Sundance Media Group and member of the Drone Advisory Council.
Among the most popular vertical markets for drone solutions include agriculture, construction, energy, and public safety—but that is by no means a definitive list.
"Drones have proved their value in providing a view from above for many different industries," Gittins said. "For agriculture, we are able to see things in distant parts of the fields that previously would only have been possible to see from an airplane. Photogrammetry, or stitching many images together to make a high-resolution map of an area provides high-quality imagery on demand and makes it low cost. These high-resolution maps can then be analyzed to understand crop health and density of plants, just to get started."
Offering UAV services to customers allows MSPs to showcase their breadth of knowledge in their customers' industries, added Dahlstrom.
"MSPs can now 'get out of the office' by providing services to the verticals that are utilizing the new use cases such as drones that spray paint structures or pressure wash elevated municipal water towers," he said. "Another rapidly growing vertical for drones is industrial inspections."
3. Create Additional Services Opportunities
MSPs' customers aren't the only ones who benefit from UAV solutions. MSPs providing these offerings often acquire new opportunities as a result. Servicing one industry parlays into new services opportunities in another.
"We quickly learned that the same photogrammetry techniques used in agriculture apply to public safety, construction, insurance, and several other industries," Gittins said. "This has allowed our company to grow into additional markets, expanding our customer base. We now serve several law enforcement agencies and fire departments."
Oftentimes, MSPs use the same UAV equipment to service several industries. Instead of investing more money to purchase additional tools to deliver UAV services to more than one industry, MSPs can use the same equipment to learn the ins and outs of numerous verticals they service.
"They can utilize the same hardware and software, allowing accidents and crime scenes to be cleared more quickly, while documenting an exact map of what the scene looks like, and providing situational awareness on short notice," he said. "We have also found customers in construction, insurance companies, appraisers, photography, and even people that want a drone for recreational/hobby use."
4. Expanded Customer Base
For MSPs, providing UAV services opens up additional opportunities to expand their customer bases in ways that weren't possible before. For instance, a UAV offering can act as a gateway for an MSP to deliver data processing services.
"MSPs and other SPs have the potential to expand their customer base with drones," Dahlstrom said. "For example, drones are often used in agriculture. Drones may fly a pre-programmed raster pattern over a field of crops and capture video and other data. The information, once processed, can be turned into a fertilizer and irrigation plan for a farmer. As you can imagine, this is a lot of data and a lot of data processing, something MSPs excel at and are good at setting up processes and systems for."
Understanding how UAVs enable MSPs to process data in a deeper way in a particular industry is key to delivering exceptional services.
"Agriculture is not typically known as a digital or data-intensive industry, this is changing with drones," he said. "The same is occurring in other areas including municipalities, construction, facilities operations and security, and others. All offering SPs the potential to expand their customer base."
5. Differentiate from the Competition
MSPs are constantly trying to differentiate themselves from one another. Delivering UAV services does just that for MSPs, as it shows customers how MSPs can deliver business value instead of only technology services.
"By 'thinking outside the office' and offering services to companies that use drones and drone data, MSPs have the opportunity to be a first-mover as there are not many MSPs currently offering their services for drone data," Dahlstrom said.
UA solutions are still maturing in many markets, added Spotted Eagle, but companies of all sizes are leveraging the technology to create their own niche.
"Whether it's construction, inspection, surveys, package deliveries, mapping, health, etc., all are on their own unique timelines and paths. Early adopters are experiencing growth and positive revenue from their investments," he said.