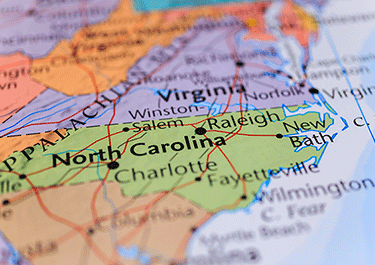 When people think of tech hubs, certain names likely come to mind. Silicon Valley. Seattle. Austin. But a new state is coming to dominate the conversation around tech – North Carolina.
The state has long been attractive to a wide range of people; from students to those looking to start a career and family to retirees. N.C. is geologically diverse, with a long coast on its east and mountain ranges to the west, home to numerous prestigious universities and, perhaps most important, attractive to all types of industries. But it's much more than that driving the confluence of technology in the Tar Heel State. When you crunch the numbers, it's clearly a tech magnet.
CompTIA compiled job posting data over a 12-month period starting in summer 2017 focusing on 20 metropolitan areas with populations greater than 250,000 where demand for tech workers is greatest. The association then ranked the cities based on cost of living, number of open IT positions, and projected job growth over the next 12 months and the next five years. The resultant list is called the Tech Towns Index.
N.C. dominated the list; snagging the number one and two slots, as well as number 15.
Now, this isn't to say we suggest immediately moving your business to N.C. if you're not there already. But the swell of tech talent there means any opportunity or venture will likely be supported by great tech talent, and it's a space to watch for innovation in the business of technology.
So, let's take a look at N.C.'s tech towns!
Charlotte
Tucked in the southwest corner of the state, Charlotte might be termed N.C.'s only big city, as it's the most populous in the state and boasts urban status symbols like a professional basketball team. It's also a giant banking hub, which is one of the reasons the Charlotte, Concord and Gastonia area placed first on the Tech Towns Index. The study identifies Wells Fargo and Bank of America as top among those hiring IT professionals. Nearly 45,000 IT positions were posted here in a year and IT jobs here are expected to grow 11 percent over the next five years.
"It has a lot of business with a high need for technological support and innovation," said Victor Johnston, CompTIA's Member of the Year and a resident of Fayetteville, N.C. "Bank of America is a great example. They do a lot of development and facilitate a lot of cross-industry pollination."
According to Johnston, rents are high in Charlotte, but salaries here are in line with that. Tech Towns confirms this; the median salary for IT pros here is $88,000 and the cost of living is actually a bit lower than the national average. "It's good for young people," he said. "It has an active nightlife; a lot of breweries." Its proximity to the South Carolina border also means lots of options when choosing where to live near a tech job in Charlotte.
Raleigh
The biggest thing that places Raleigh at number two among tech towns is surely Research Triangle Park (RTP), the largest research park in the U.S., founded in 1959. As such, companies engaged in tech hiring here are big names like IBM and SAS.
But that's not all that makes Raleigh a hub for technology today. Sitting in the middle of the state, Raleigh is home to North Carolina State University, a land-grant school with an enormous campus – so much so that it's difficult to tell where it begins and ends – and an emphasis on engineering. Further, this is N.C.'s capital, meaning lots of opportunity in the government sector.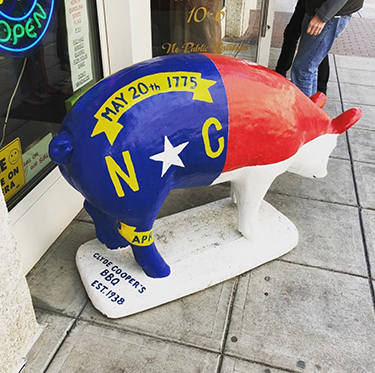 According to the Tech Towns study, the median salary here for IT pros is $87,000; not far behind Charlotte. With nearly 27,000 IT jobs posted yearly and 11 percent growth projected in IT jobs over the next five years, Raleigh is "absolutely a tech hub," Johnston said. "It's more affordable." Tech Towns, again, confirms this; the cost of living here is 3.5 percent below the national average.
"There's tremendous opportunity from entry-level through executive," he said. "The opportunities for mentorship and sponsorship are through the roof. No matter what you do in tech you have a home there."
Believe it or not, a hotly contested topic in North Carolina is barbecue. The state is so long that you'll find two distinct styles of barbecue in travelling from east to west, and types of barbecue from other states are generally loathed. If you're visiting Raleigh, on tech business or otherwise, you'd do well to visit Clyde Cooper's downtown, an institution founded in 1938 – decades before RTP – and named one of the best barbecue places in the U.S. by Conde Nast Traveler.
Durham/Chapel Hill
It's interesting to find what many would point to as the hip place to live in N.C. far further down the Tech Towns Index at number 15, but not surprising. It's smaller and not quite as easy to access as Raleigh and Charlotte. From Raleigh, Chapel Hill is a short jaunt west on I-40 and Durham is just a bit further north. Johnston points out that Durham and Chapel Hill's proximity to RTP makes it not that different than Raleigh when it comes to tech job opportunities. Nearly 11,000 tech jobs are posted here yearly and the area is expected to see four percent job growth over the next five years.
But there's something else going on here – academia. Chapel Hill and Durham are home to the University of North Carolina at Chapel Hill and Duke University, respectfully, and, of course, the Tech Towns study cites both as top IT hirers. Johnston notes this makes the area a hotbed not just for tech hiring but tech training.
According to Tech Towns, the median salary for IT pros here is $84,000 – but no one ever said living here is cheap. The cost of living here is just 0.2 percent under the national average. Living here costs about as much as a big city.
Why? Lots of reasons. First of all, it's a hotbed of college basketball – UNC was named NCAA Tournament champions as recently as 2017 and Duke as recently as 2015 (and NCSU down the road as recently as… 1983). And Chapel Hill, with its quirky cuisine and shopping and numerous small live music venues, is one of the most vibrant college towns in the nation – it's pretty much Ann Arbor without the snow.
This is the most liberal part of N.C., something Johnston said is a strength. "The tech sector is very liberal," he said.
Click here to download the entire Tech Towns Index
and learn more about what makes N.C. so competitive in tech – and see where your state fits in.