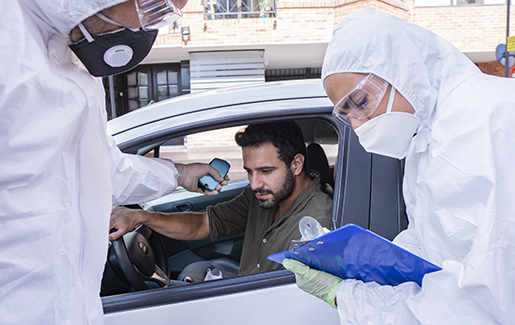 Health care is serious business at Sirius Computer Solutions. The San Antonio-based solutions integrator has a large, dedicated health care practice that includes C-level executives from across the industry to better understand the challenges facing doctors, hospitals, and administrators, and develops technology solutions to help alleviate those pain points.
That experience served the company well earlier this year when a large health care network in Southern California had a unique request to help them stand up temporary, remote COVID-19 testing facilities in just a matter of days.
The network was a longtime client, but Sirius knew that the project could provide a template for other providers—and that more importantly, it could also help save lives. The Sirius team sprang into action.
"We're always looking at what's important from a clinical perspective. We're looking to solve a health care problem, not a technology problem," said Imran Salim, senior vice president of Health care Strategy and Solutions at Sirius. "They told us what they were experiencing, and we jumped in to start working the right tech stack for them."
Planning, Teamwork Were Critical
The primary mission was to create an environment in which medical staff could administer COVID-19 tests and send the data securely and wirelessly back to a data center for analysis and response. The solution would require exceptional security, redundancy, and flexibility, and was likely to be temporary.
Sirius assembled a project team of security engineers, infrastructure engineers, network engineers and health care experts to go over requirements and develop a plan. They analyzed current equipment and connections and proposed a solution that would provide a secure connection, meet bandwidth needs, and offer a user experience that would allow medical professionals to function efficiently in a stressful environment.
"This isn't just about connecting laptops, carts and printers. We needed to have power available at the site, and we needed the devices to connect securely over a connection to a primary data center," said Marty Momdjian, a health care solutions advisor at Sirius. "The No. 1 priority was giving clinicians secure, consistent and reliable access to core clinical systems from the field."
Equipment started shipping the next day. Sirius engineers tested the equipment and implemented two LTE networks (to ensure a stable connection in case one carrier's network had issues) as well as Wi-Fi.
"Out of the gate, we needed to treat this as a critical environment with network connectivity that had to be fully redundant at all times," Momdjian said. "Three weeks from now, they may have multiple remote environments, so we needed to be ready to solve for that. In this particular case, they're close enough to the data center that latency is not an issue. But if it had been, we would have looked at other solutions to overcome that."
Redundancy, Responsiveness Are Key
Expediency was also a primary factor in the project. The client needed the testing facilities up and running immediately, so Sirius Health care went to its tech partners and distributors to find out what was available and what could be used as alternatives.
According to Momdjian, "We wanted something we could test, verify and roll out as soon as possible. As the equipment came in, we started testing VPN, user access and workflows to make sure we were not missing anything. We also had to make sure we could build it offsite from any location, so that way we could reproduce it for any other health care organizations facing the same challenge."
The first testing facility was ready within 48 hours, Salim said. That was partially possible because Sirius keeps full-time engineers at the client's main facility, who were very familiar with their existing infrastructure.
"If we didn't know that, I still think we could build it in four to five days," Salim said. "A typical plan would include a day of discovery, another day to put devices together, and then testing to ensure the solution fits within existing infrastructure, security policies and governance," he added.
Creating a Template for Future Success
Sirius also worked with vendor support teams to fix any issues before going live. "You don't want the client to have to worry about that or to have problems in the field with any equipment," Salim said.
The project gained a lot of interest and exposure for Sirius; one article about it was the top Google search result for "networking COVID-19 standup facilities." The client has stood up more than 20 additional units since going live with the first remote testing facility, allowing their team to better manage the intake and handling of COVID-19 patients.
It's also helped Sirius Health care gain more business and prospects for similar situations.
"We've had clients and non-clients use this as guidance to set up their own testing facilities," Salim said. "They've reached out to us and asked us come in and do this for them. The challenge is the amount of time they have, and the discovery we have the ability to do."
Although the first wave of COVID-19 has waned in California, the testing facilities are still in use. If or when a second wave comes, Sirius will again be ready for action again, said Salim.
"The conversation with our team was that we want to help clients through this difficult process of managing COVID-19, and not be looking to sell something," he said. "I'm sure we'll see some long-term payback from this experience, but that wasn't our primary concern going through it."
For more information and resources, visit CompTIA's COVID-19 Forum.