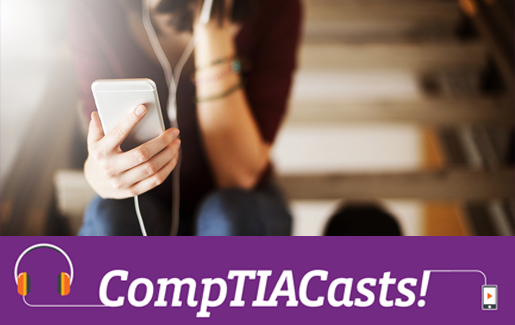 This month, CompTIA podcasts covered a range of topics with member-experts and CompTIA staff providing insight into today's most talked about tech topics—from marketing tips for MSPs, automation, workforce enablement, and much more. Find out what we overheard on CompTIACasts in September then check out all of our podcasts. Subscribe and start listening today.

The Trajectory of Technology
In September, Volley wrapped up its three-part series of episodes on the Trajectory of Technology. In part two, CompTIA research analysts Carolyn April and Seth Robinson discussed automation as companies look to both maximize their workforce efforts and create resiliency in their operations.
"In a lot of cases, we are trying to automate something that has some complexity to it. You can obviously automate very simple tasks. I think that's where you think about automation happening on a manufacturing floor that's meant to be the same thing over and over and over again. But when you increase the complexity a little bit, all of a sudden there are different things that could be happening in different scenarios that might not be able to get programmed in. That's where automation has been difficult. I think that the reason that automation is going to see renewed interest now is because of emerging technology, specifically artificial intelligence."
Seth Robinson, Senior Director, Technology Analysis, CompTIA
Part three covered the hot topic of workforce enablement. As companies find their remote workforces to be productive, they can't always get the same level of innovation or networking. Moving forward, businesses will have to make decisions about their strategy and their culture, then they will have to find technology that enables both productivity and the pieces that typically come from face to face interactions.
"I think that it's quite possible to have innovation [when working remote] and maybe it's about the tech tools. Maybe they haven't caught up to the ability that humans could have to be very innovative, not in the same setting. But I think we're at some sort of inflection point right now where we haven't figured that out mapping the tech tools to the people."
Carolyn April, Senior Director, Industry Analysis, CompTIA
MSP Marketing Strategies for 2020 and Beyond
Hartland Ross, founder and president, and Devin Rose, vice president of digital marketing, at eBridge Marketing Solutions joined host Miles Jobgen of CompTIA, to breakdown marketing strategies for IT solution providers. During the conversation, they covered how to determine your business' priorities, deciding what strategies to invest in, and marketing tactics for MSPs.
"To me, that underscores the importance of having a good strategy during these times. Then once you understand the strategy for your MSP, you can start slot in the tactics that makes sense towards that goal."
Devin Rose, Vice President of Digital Marketing, eBridge Marketing Solutions
The Culture Shift Continues
The Advancing Tech Talent and Diversity Community continued their four-part Culture Shift series with episodes two and three focusing on building a talent advantage and the road to equity for all, respectively. Listen in as guests Paige Reh, human resources director, Strategic Communications; Cal Jackson, director, diversity & inclusion, global programs, Tech Data; Cassandra Allen, director, talent management, vCom; and Susanne Tedrick, cloud engineer, IBM, join Yvette Steele, director of the Advancing Tech Talent and Diversity Community at CompTIA, to discuss the growing the culture shift of equity for all.

"For managers and leaders, some of the barriers they have are the fact that they're coming from a place of not understanding this unique lens that Black people and other people of color are coming from and the years of things you've had to shoulder—the bias, micro aggressions. It is incumbent on managers and leaders to really educate themselves. I would say that there might be a healthy degree of skepticism from communities of color about whether or not these managers are truly going to be allies or advocates or if this is part of a—for lack of a better term—marketing ploy. And I think again, that skepticism is a fairly healthy one. I would say to managers and leaders, expect that there may be push back and that there might be some raised eyebrows, but that if you are committed to being an advocate and an ally, educating yourself and listening and pushing your understanding of what these communities have gone through is a very important thing."

Susanne Tedrick, Cloud Engineer, IBM

Running a Tech Business During COVID-19
Finally in September, Estelle Johannes, director of CompTIA's UK Business Technology Community, lead a discussion with Mark Williams of Pensar, Melissa Rambridge of Sweethaven Limited, and Steven Tytgat of Tyneso NV. During the podcast, they reflected on what they have learned about running a technology business since COVID-19 stay-at-home orders were instituted. Hear about the new normal of doing business and how the pandemic has impacted performance management and the mental health of employees.