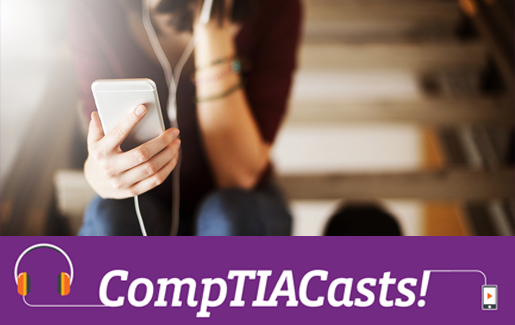 CompTIA's November podcasts ushered in the end-of-year reflections and looking into the future, including holiday-themed discussions and a deep dive into the 2020 IT Industry Outlook report. An interview with TechGirlz founder and director about the future of women in tech dispels myths, while a robust chat on Technologist Talk debates how the gap in cybersecurity professionals is playing out in the government and private sector. Check out what we overheard on CompTIACasts in November then subscribe and start listening today.

Diving into the Holiday Season and Analyzing the Industry Outlook Report
On Volley, hosts and CompTIA research analysts Carolyn April and Seth Robinson are joined by Randy Gross, CompTIA CIO and executive vice president of certification operations, for the annual holiday episode. For Halloween, the trio discuss what scares them about the impact of tech in the real world; for Thanksgiving, Carolyn, Seth and Randy talk about what—or rather, who—they are thankful for; and as gifts to themselves, the group shares what tech-related news is on their holiday wish lists.
"The one thing I think most people may not know about CompTIA is the actual volunteers and the sacrifice that people make to build all these instruments and assessments. We have a bank of 400-plus subject matter experts from all over the world who come in—taking their own time, their own vacations to help build exams. Let that settle in your brain for a second. The passion they have to make this stuff work is amazing. And it has had a tremendous impact for decades. It's those little decisions that the industry has supported that has put CompTIA where it is and the industry where it is. This is not billionaires sitting in Silicon Valley, these are people who really know what they are doing and it's a real testament to the industry."
— Randy Gross, CIO and EVP of Certification Operations, CompTIA
In a later episode, Carolyn and Seth review CompTIA's IT Industry Outlook 2020. Carolyn and Seth walk through the report, covering top trends for the upcoming year, including new aspects of workforce diversity, the need to avoid tech-washing, the difference between the impact tech is having and financial growth, the importance of foundational skills for IT pros, and the new challenges tech firms are facing.
"The role of IT has changed as it is no longer just having those hard skills, those technical skills, but one thing this report highlights is the need for those soft skills. It's increasingly important for those employees who are dealing with technology to also have good communication skills, understand how to collaborate well, foster teamwork across different departments—that's critically important now. It's not just about if you're a really good coder or know how to do data analysis, but it's really important to have those soft skills."
— Carolyn April, Senior Director, Industry Analysis, CompTIA
Cybersecurity in the Private and Public Tech Sectors
A recent report from a senior official with the Department of Homeland Security claimed that the shortage of cybersecurity professionals is one of the leading threats to national security. In this episode of Technologist Talk, Randi Parker, senior director at Creating IT Futures, an attorney and long-time advocate for cybersecurity workforce development on Capitol Hill, shares what she thinks are the biggest points to consider about cybersecurity professionals in the public and private tech sectors.
"We've seen that cybersecurity has continued to be this hot topic and has become more mainstream, that we are very much in the same place when it comes to professionalizing that workforce. We've seen changes on the certification side of things, and we're seeing more companies start to rely on certifications but there's still not a clear path what you have to do to get into cybersecurity. It's a double-edged sword: There's not one straight way to get into cybersecurity, which is great but also complicates things with so many points of entry."
— Randi Parker, senior director, Creating IT Futures
Showing Girls the Possibilities in Tech

In this episode of the Women TechCast, CompTIA community leader Kathleen Martin talks to TechGirlz founder Tracey Welson Rossman and Amy Cliett, director of TechGirlz. With fun, hands-on interactive workshops, the non-profit organization aims to inspire middle school girls to explore the possibilities of technology to empower their future careers. Tracey and Amy share how the program started, how they see it impacting young girls, and where they see the future of women in tech heading.
"Why TechGirlz works so well and will continue to work well is that we believe that technology is not just about software and coding; technology is so much broader and wider and keeps changing. Letting girls see what's available is part of why we're able to attract so many volunteers and girls who are interested."
— Tracey Welson Rossmann, founder of TechGirlz