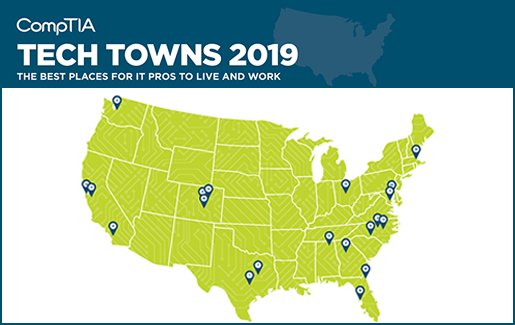 As new and emerging technologies infiltrate our daily life, jobs in technology are soaring, and we have the data to prove it. The second annual CompTIA Tech Town Index takes a deep dive into metropolitan areas across the country and analyzes where companies are hiring, estimated projected job growth, median annual salary and average cost of living. The result is a ranked list of the 20 top cities for tech jobs where current and future IT pros can confidently find work, earn a lucrative salary and seek out a rewarding lifestyle.
The 2019 Index includes predictable top tech cities like San Jose (no. 3) and San Francisco (no. 5) and up-and-comers like Columbus (no. 12), San Diego (no. 17) and Tampa (no. 19) as well as some surprises, like Jacksonville (no. 18). But the headliner this year is Austin, Texas. Download the report.
Austin Revealed as CompTIA's Top Tech Town
Job growth is what put Austin at the top of our list with a projected 16% job growth rate over the next 5 years and an equally impressive estimated 4% increase in jobs in just the next 12 months. With those numbers it comes as no surprise that the Austin Chamber of Commerce recorded 46 tech company relocations to the area in 2018 alone. While the cost of living is just slightly lower than the national average here (3.5% lower to be exact), increasing popularity in the city means prices are bound to go up.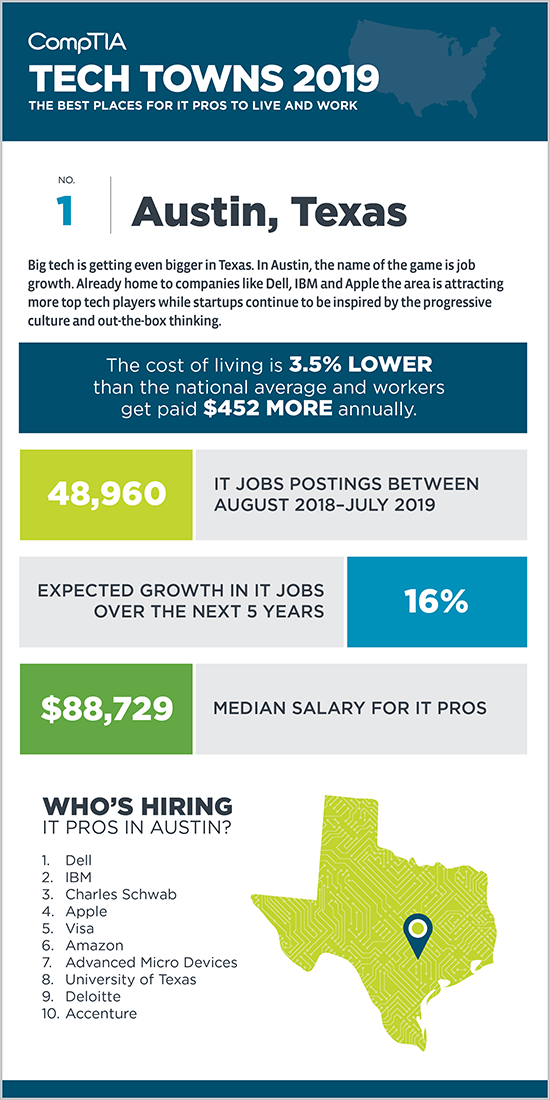 Again claiming second place on the list, Raleigh, North Carolina remains consistent, with a mix of coastal and southern cities rounding out the top 10 best places for tech jobs, including Seattle, Charlotte (our 2018 no. 1 tech town), Dallas, Atlanta, Huntsville and Denver.

Top 20 Places in the US for IT Pros to Live and Work
Austin, TX
Raleigh, NC
San Jose, CA
Seattle, WA
San Francisco, CA
Charlotte, NC
Dallas, TX
Atlanta, GA
Denver, CO
Huntsville, AL
Washington, DC
Columbus, OH
Durham, NC
Boulder, CO
Boston, MA
Colorado Springs, CO
San Diego, CA
Jacksonville, FL
Tampa, FL
Baltimore, MD
To determine this year's top tech towns, CompTIA looked at 20 metropolitan areas with populations over 250,000, where demand for tech workers is greatest, based on job posting data over a 12-month period (August 2018-July 2019). The cities were then ranked based on the following factors:
Cost of Living: Columbus, OH is no. 1 with a cost of living approximately 5% below the national average.
Number of Open IT Positions: Washington, DC is no. 1 with nearly 192,000 tech jobs posted between August 2018 and July 2019.
Projected Job Growth in 1 Year: Austin, TX is no. 1 with projected 4% job growth.
Projected Job Growth in 5 Years: Austin, TX is no. 1 with projected 16% job growth.
Analyzed as a whole, the data begets a unique list of top tech cities where opportunity exists in both the job growth and quality of life categories. For example, $129,365 is the median salary for a tech worker in San Jose, California—the highest figure on our list. But the San Jose area's cost of living is a whopping 45% higher than the national average, ranking no. 19 in that individual category. Whereas, in Huntsville, Alabama, workers earn an annual median salary of $95,597 while enjoying a cost of living that is just 4% above the national average—meaning an IT salary on Huntsville goes further than any other city on the list.
Washington, DC continues to be a hot spot for IT opportunity. Between August 2018 and July 2019, nearly 192,000 IT jobs were posted in DC, more than any other city on our list. Those numbers may continue to grow in the coming year as Amazon's HQ2 sets up shop in Arlington's Crystal City neighborhood.
And then there are the newcomers. First timers on the Tech Town Index include: Columbus, Ohio; San Diego, California; Jacksonville, Florida; and Tampa, Florida. Columbus—the only Midwestern city to make the top 20—has made efforts to prioritize technology, higher education and smart manufacturing. Those efforts have paid off, resulting in nearly 45,000 tech jobs posted in Columbus last year alone. Combine that with the lowest cost of living on our list and Columbus comes in at a solid no. 12.
San Diego (no. 17) has been growing into a booming software metropolis in its own right, earning well-deserved recognition for its acceleration in biotech, genomics, healthcare and aerospace. Jacksonville (no. 18) is home to the ZIP code attracting the most millennial-aged young adults in the country, and Tampa (no. 19) has been hard at work putting attractive tax structures in place and developing innovative research centers to entice tech businesses. Of course, four newcomers mean that four cities from the 2018 index fell off the list: Trenton, NJ; Madison, WI; Des Moines, IA; and Lansing, MI.
Ultimately, the new CompTIA Tech Town Index illustrates that IT pros are in demand and have nearly endless options when choosing where to live and work. It's an encouraging sign of the times for those looking to embark on an IT career, those looking for a change of scenery and the entrepreneurial folks seeking the best place to hatch their next innovative idea or grow their tech business.
To learn more about the CompTIA Tech Town Index as well as details on median salary, top tech employers, in-demand IT positions, and more, download the full report.