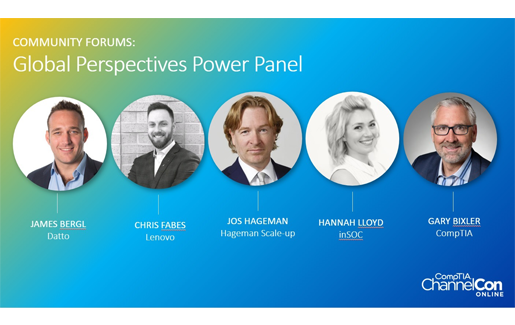 The global impact of COVID-19 is still significant both economically and socially, but the future looks bright for many companies in the business of technology. Emerging technologies, cloud, and cybersecurity are among the growth areas available to tech vendors, distributors, and solution providers around the world, according to IT leaders in a "Global Perspectives" panel during ChannelCon Online.
"A lot of our partners had their best March and April ever," said James Bergl, regional vice president of sales, APAC, at Datto, and chair of CompTIA's ANZ Business Technology Community. "The channel has been a savior in a lot of this. MSPs and the IT channel have been leaned on to get businesses up and running, more so than in the past."

In the UK, tech companies have been a thriving part of the economy, with remote work solutions and security also leading to record revenue for some solution providers, said Hannah Lloyd, vice president of channel sales at inSOC UK, and vice-chair of CompTIA's UK Business Technology Community.

"It's driving new opportunities and new services. It's been a lot of hard work for MSPs, but they're generating new revenue they didn't have before," Lloyd said.

Likewise, the Benelux region of Europe has seen strong demand for tech solutions, especially from existing customers, said Jos Hagemen, founder of Hageman Scale-up and chair of CompTIA's Benelux Business Technology Community.

"Getting new contracts has been more difficult, but also positive has been digitalization [business] where the focus is on government and education," Hageman said. "There are big plans for investment there. It's a hopeful time as well for IT in general."
Chris Fabes, Canadian channel leader at Lenovo and chair of CompTIA's Canadian Business Technology Community, noted that even though many research firms and economists predicted negative double-digit growth for the economy, the tech industry has responded well and provided some much-needed light in otherwise dark times.

"Even in a cautious market, there's an unintended positive where IT has benefited because it's needed," Fabes said. "But there's still a cautionary tale of haves and have nots. Who is prepared, who is taking risks will come out on the right side. For our partners and those looking at industries that needed to spend, they were well insulated, and the expectation is they are performing well as we exit [COVID-19]. Those not taking risks, we're seeing those impacted a little more."

Silver Linings Help Tech Companies Through Pandemic
Another silver lining? COVID-19 accelerated adoption of new technologies, new solutions, new projects—and the tech channel led the way, according to Bergl.

"What we've gone through the last three or four months is what we probably should have gone through in the next five years," Bergl said. "There's going to be a lot of businesses out there that need support, cloud migrations, systems to work together, to work remotely. The channel needs to help them adapt their model to new business plans."

Meanwhile, tech companies and their customers also forged or strengthened their business relationships in 2020, by necessity at first in order to help companies pivot through the tumult.

"What we've gone through, everything is based on trusted relationships. This only solidified trust, relationships, and community," said inSOC's Lloyd. "Everyone comes to lean on each other. If someone succeeded in something, they helped others. If someone had a hard time, someone else came to help. That's something that will stand the test of time, through recovery."

Many Regions on the Road to Recovery
While many parts of the U.S. still are coping with keeping COVID-19 under control, other regions where CompTIA has established international communities are further along in their return to normalcy, executives said.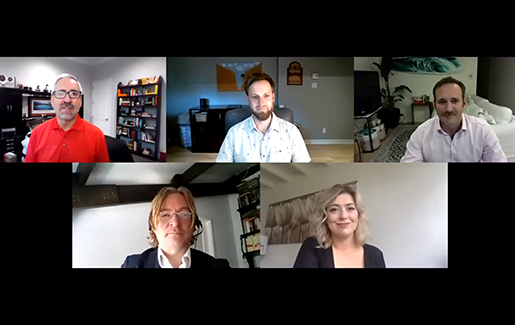 In the Benelux region, things slowly started to open in the middle of May and although the region is currently in its annual summer holiday period, the outlook is positive, said Hageman. "After August, things will start up as normal. The lockdown was short and painful, but at least it was effective," he said.

The UK took a while to respond to the pandemic, but a lockdown also helped prevent the situation from getting worse, Lloyd said.

"We've seen a lot of businesses start to reopen. Lots of channel companies are going back into offices. We're on the road to recovery," she said. "We're not out of it yet but it's starting to get to business as usual. Walking down the street, you wouldn't notice much different, but it's been a long and painful road to get there."
Canada has long been known as a cautious country and treated COVID-19 the same way, said Fabes. "We shut down quickly. The curve has flattened and been going downwards. For June, we had one million jobs created. We're a country of 37 million, so that's a substantial amount," he said. "We've started to see businesses open, but it's still very cautious."

Australia and New Zealand have all but shuttered any travel in or out of their respective countries, a decision that seemingly will extend into 2021, Bergl said.

"The philosophy has been to protect those within the country," he said. "Unfortunately, there's been a little spike in Melbourne and they're back into lockdown. But in Sydney, you can walk down street and you can't really tell too much is going on."

Overall, tech companies have a responsibility now to share their knowledge, expertise and experience to help businesses through the current chaotic climate, Fabes said.
"The old jobs that folks left will not be the jobs they come back to. We have to educate and prepare for a new world and new requirements. That's rather exciting," he said.