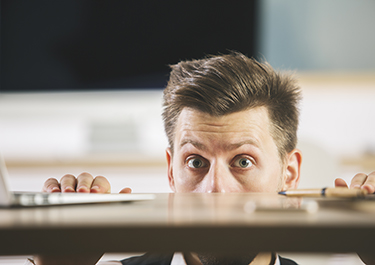 People are optimistic about the future of IT — including nearly half of respondents to CompTIA's new Seventh State of the Channel: Trends In The Technology Ecosystem research study — because emerging technologies are broadening opportunities for people working in the business of technology. At the same time, there's apprehension related to emerging technologies like artificial intelligence, blockchain, virtual reality and IoT because channel firms have their own learning curve to overcome.
At 42 percent, the skills gap for emerging technologies is the No. 1 reason for a pessimistic outlook for the future, according to respondents to the State of the Channel report, and that's up 12 percentage points from 2016. Read the full report here.
Robert Senatore of Data2Go Wireless said you shouldn't let those fears stop you. You can add emerging tech to your portfolio and bring in new clients, even if you aren't building new AV devices or writing AR programs.
"There are different ways you can reinvent yourself and get into the marketplace," said Senatore, speaking at ChannelCon 2018. "There's an opportunity to reinvent yourself."
Whether customers are asking for IoT solutions or ways to track data with drones, you can take an indirect or an enablement approach and start building solutions. Look at opportunities in hardware, software and data delivery services – plus customization as a service.
"You don't have to create the cool stuff to be part of emerging technology," Senatore said. "You can be part of the enablement and an integral part of the solution because it takes more than just the technology to bring something to market."
On the plus side, it gives you a larger market to go after, and you are part of the vertical solution. On the other hand, it's less specialization and there's more competition, he said.
People IoT
In the State of the Channel report, IoT solutions ranked at the top of the list of emerging technologies that respondents are either experimenting with or currently offering. Forty-seven percent said they had significant familiarity with IoT, and another 39 percent said they had at least some knowledge of the technology.
Many firms have at least begun working with IoT in some fashion, chiefly selling and installing devices along with providing some managed services around those devices. Other people have ventured into the more specific world of People IoT, which includes things like workplace safety, biometrics, student safety and wearables.
"You need to be able to make the data useful for people," said Senatore, "and you need to be able to transmit the data to an area where you're going to make use of it."
Clean Energy
Solar companies and wind farms need people who can gain data from devices in the field and get it back to a central location so they can manage their business and product.
You can help them create efficiencies in business, like using computerized sensors and artificial intelligence to track collection rather than having a fleet of paid employees doing it by hand. When you're doing field work, consider adding some of the other pieces of emerging technology that are rising in popularity, like drones and AI.
"The intellectual property in your head is very valuable," Senatore said. "You have to be able to leverage that."
The CompTIA report suggests you hedge your bets in emerging technology because by 2021, according to research firm IDC, emerging technologies, including IoT solutions, robots and drones, augmented reality and virtual reality headsets and 3-D printers, will account for almost a quarter of total information technology spending.
SD WAN Solution
The multiple transport mechanisms of a software-defined wide-area network (SD WAN) solution are appealing to some, as are the lower costs compared to multiprotocol label switching. Help people build out their solutions, understand the hardware and explain their options, and train them to manage the wireless component.
"You can't just give the keys to somebody," Senatore said. "You have to show them how to use it as well." Rack up consultation hours, hardware work and training to give them management and control of an SD WAN solution.
"You don't have to create but there's still ways to get involved in emerging tech by providing other pieces that are necessary for the pie," he said.
Read the full State of the Channel study here and learn more about emerging tech through CompTIA's Emerging Technology Community.
Michelle Lange is a writer and designer living in Chicago.