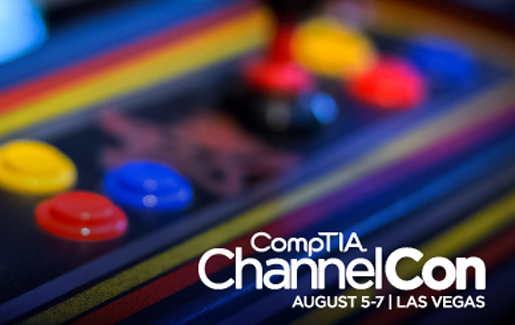 ChannelCon, the annual tech and IT industry conference, kicks off August 5 in Las Vegas, boasting three days jam-packed with the latest and greatest in the business of technology. Held at the Bellagio Hotel, ChannelCon is a hub of information and a marquee event for the industry with more than 1,500 tech leaders, media representatives, vendors and speakers, including Shaquille O'Neal (!!!), in attendance.
With so many activities, opportunities and events available, new attendees might wonder how to get in on the action. We talked to a few veteran attendees for their tried-and-true ways to get the most out of the event. Read on.
Plan, Plan, Plan
Like Las Vegas, ChannelCon is not for wallflowers—it's for getting involved and soaking up every last drop. It's like the all-you-can-eat buffet, but for tech industry information! Experienced attendees agree: Preparation is key to optimizing the weekend. Study the agenda, the vendor list, and scheduled sessions and panels to plan out your days and maximize your time.
"I went with my partner who runs an MSP business in the UK. We went to some sessions together and some we chose separately, so that we could get the most out of the event," said Rachel McGuinness, a London-based IT consultant for Pensar.
Nellie Scott, global channel development manager at the SAS Institute, who has been attending ChannelCon for 15 years, notes that when it comes to prepping for the conference, "I have two rules of thumb: Try to get more skills or info in the particular area where I make my livelihood. And I try to learn something new to me, to the industry, to another aspect of tech."
She added, "If you're making the investment of travel, time away from responsibilities and family, then you want to come away with a substantial experience."
Comfort is Key
ChannelCon is a marathon, not a sprint. Be realistic about what you can feasibly manage and make sure to give yourself breaks to stay healthy and engaged. A few more conference hacks:
Bring a backpack so you can stay hands-free. It also allows a place to stash all the swag you'll gather from exhibitor booths.
Packing a few granola bars, a pack of mints or gum, and a water bottle can go a long way when it comes to keeping your energy up and staying fresh for the day.
Dressing appropriately and professionally while maintaining cool comfort can be a tricky area to cover so keep your wardrobe to items that are easy to wear, breathe comfortably, and make you feel confident and pulled together.
Attend Everything
Or at least, try to see and experience as much as you physically and mentally can handle. Yes, it can seem overwhelming to be "professionally on" for an extended period of time, but with smart planning (see above), being present at as many sessions, lunches, networking events and after-parties adds up to a worthy jackpot. Attending ChannelCon is an investment and you're there to make the best use of your time and expense—invest in it smartly and you can't lose.
"CompTIA offers a wealth of options; I can go and learn something new and use the information to grow my career or relationships or knowledge base down the line," said Scott. For example, a few years ago, CompTIA started talking about big data as an emerging industry at ChannelCon. Scott attended a session and talked about it at networking events and grew that interest by following the industry discussion and maintaining connections. Several years later, she found herself working for a big data company because she already had the base knowledge and network. "ChannelCon was and is and can be a huge launching pad."
Try Something New
The scope of ChannelCon is far-reaching, and it's tempting to stick to the sessions and lectures that pertain exactly to your corner of the industry. However, tech is constantly evolving (often at breakneck speed) and ChannelCon is one of the first indicators of the biggest issues and trends blooming on the horizon. Seminars and workshops offer hands-on experience and education on all the latest tech and IT trends.
Volley podcast hosts Carolyn April and Seth Robinson recently talked about some of the hot topics they expect to see at ChannelCon this year.
"I think the topic of emerging tech is going to be on peoples' lips…. From AI to IoT—which I think is actually pretty front and center for a lot of channel companies," said April. "I expect there will be some discussions about the economy, people getting wary that it's almost time for things to throttle back. I wonder if that will be something that comes up in the hallway discussions."
Robinson said, "I'm going to be emceeing our entire track around future trends and emerging tech. Hopefully I will get a good sense of this either from the IT pros that are at their companies working on these things or the channel partners that are working with clients to try to get these things implemented."
Make Some Friends
Even for the most introverted amongst us, mingling and chatting with fellow ChannelCon attendees doesn't have to be awkward or forced. Everyone is there with common goals—to learn as much as possible from one another and to enjoy the conference. Having a few engaging questions in your back pocket for any conversation can help break the ice and be meaningful conversation starters.
Scott offered her personal secret: "When I'm in a networking environment, I pretend I'm the host. I have a set of questions ready, such as: What business challenges do you see? What do you think are the opportunities, where do you want to take your business? People respond in kind and show interest and great conversations get started." Scott added, "I'm there to gather as much info, practices, opinions, resources, data reference points, and at the same time, I'm also there to contribute back and share my expertise and opinions as well."
Past attendees agree: ChannelCon's biggest benefit is the interconnectivity—people from every aspect of the tech industry are represented, so building a stable of connections not only enhances your own knowledge, but creates a fabric of helpful people looking out for you. That kind of personal and professional development is priceless.
"Once you establish your connections, those continue on for years and years," said Scott. "It's a very close community, many people have known each other for decades…there's always an association, an exchanging ideas or sharing information."
Digest and Follow-up
Yes, what happens in Vegas stays in Vegas, but not when it comes to ChannelCon. Even in a digital age, old-school business cards can go a long way in creating lasting relationships. Scott said jotting notes or reminders directly on the card is a good way to keep track of who you meet and how to follow-up. Another option is to connect digitally via LinkedIn broadcast or scanning their code. Whatever method, the key is to make connections. Then, Scott says, "feed the network, grow the relationships."
Simply attending is like sitting at the blackjack table and never playing a hand. Like Vegas, the ChannelCon is a go-all-in experience. But unlike Vegas, the odds of winning are always in your favor at ChannelCon. So roll the dice and have a great time!