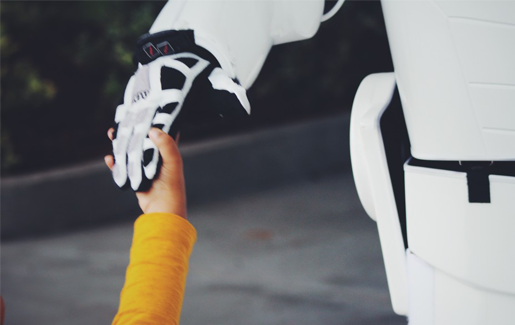 In 2017, the UK Government earmarked £84 million for research and innovation around AI, robotics and smart energy, with a hefty chunk of that amount dedicated to opening four new university-affiliated research hubs in Manchester, Birmingham, Surrey and Edinburgh. Here's an overview of the UK's emerging tech landscape and the hotspots where innovation is happening.
Social Impact is the Name of the Game
Once upon a time, emerging technology may have evoked notions of far-out laboratory inventions with little apparent or immediate utility. Today, however, customer-centric tech with immediate relevance and a socially conscious bent is more important than ever.
"Tech change is being driven more than ever by customer demand and the need to be more agile and responsive, while processing ever greater volumes of data," said Tracy Pound, member of the CompTIA Board of Directors and managing director of Maximity, a Birmingham-area company that helps clients gain competitive advantage through technological advancements.
Emerging tech developments in the UK cover a spectrum of potential utility. In the health-tech space, for example, UK-based Thriva brings power to the patient using home testing kits that yield highly personalised health advice, with results readily integrated into NHS databases. Recycleye—a spinout of one person's thesis at Imperial College London—uses machine learning and automated recognition and sorting of waste to "accelerate the transition toward a circular economy."
"Emerging technologies like AI, the internet of things, drones and blockchain are enabling customers to find solutions to real-world problems," said Pound.
A Shifting Tech Landscape
But where tech is developed may be just as interesting as what it is and may be indicative of shifting global norms. While "high-tech" has often been synonymous with urban areas, smaller towns are proving that emerging tech can thrive anywhere with a Wi-Fi connection, generous investors and a talented workforce.
As supported by last year's UK Tech Town Index data, emerging tech hotspots are popping up all over the UK, with London still vitally important in some sectors, but no longer the epicenter of all things IT. Where are the tech minds flocking?
Robots & Aerospace: At Home in Bristol
Bristol—named the second-best place for IT pros to live and work in 2019—is a prime example of the shifting population centres of the IT workforce. In 2018, the city's tech sector brought in a combined £7.9 billion, employing around 25,000 people. Robotics and aerospace have made a big mark in Bristol.
Since 2004, Bristol has been home to the Bristol Robotics Laboratory, which is the UK's largest robotics research centre, and a powerhouse collaboration between two universities. Their recent partnership with North Bristol NHS Trust is exploring how assistive robots can be used to support patients, either at home or in the hospital, as well as to provide follow-up visits and care tasks like food delivery. In a similar partnership, nearby Southmead Hospital is already using AI algorithms to assist with predicting seasonal variations in hospital admissions, among other medical uses.
On the aerospace front, Bristol's new Rolls-Royce facility is developing carbon-fibre composite technology to make lighter aircraft engine fans, with an eye to burning less fuel and ultimately, reducing emissions. This was made possible by a partnership with Bristol's esteemed National Composites Centre, which is also home to engineering behemoths Airbus and GKN Aerospace. Bristol also has one of the largest clusters of aerospace firms in Europe, with 14 of the world's 15 biggest represented.
In Cambridge, Capital is King
The UK Tech Town Index showed Cambridge (aka "Silicon Fen") to be a powerhouse of tech investment, with hundreds of university-linked startups emerging annually, and established giants like AstraZeneca and Raytheon already in town. One thing is clear about Cambridge: Its tech sector is well-heeled, with an estimated value of £2.4 billion, and some £583 million invested in its scale-up tech between 2015 and 2018. Clearly, there is no shortage of good ideas to match the capital.
Cambridge-based scaleup ThoughtRiver, for example, puts AI into practice to pre-screen dense legal contracts, saving lawyers time and effort. Prowler.io has built a general decision-making platform, with AI that pulls from three different branches of mathematics to generate decisions. FiveAI, on the other hand, is working to deliver a safe and eco-friendly autonomous shared transport service to European cities.
Go North for Green-Tech
Perhaps it's the vast and inspiring windswept green spaces, or maybe it's the lower cost of running a business, but green-tech/clean-tech seems to thrive north of London. Scotland-based MacRebur, for example, is solving two problems with one solution: processing waste plastics heading for the landfill and turning them into asphalt for road construction. Also in Scotland, Sunamp has developed a compact and intelligently designed heat battery that provides clean and cost-effective thermal energy storage. Meanwhile, Manchester's Upside Energy is using AI to match energy demand with available supply, all while helping to support the grid, lowering emissions, and reducing consumer costs.
And the Future?
With the rapid pace of technology change and the sheer volume of startups emerging, what has potential today may be mainstream tomorrow.
"Internet of things is still the area that excites me the most, both in the UK and globally, because it has the capacity to revolutionise the way manufacturing works," said Pound. "But it's closely followed by 5G, if the infrastructure can feasibly be installed in a sensible timeframe and at a sensible cost."
In most cases, infrastructure plays a big role. With a well-documented skills gap and political turmoil threatening national competitiveness, just having the technology isn't enough. Even the most promising and powerful innovation means little without a well-trained and capable IT workforce. If the UK can continue to offer a world-class education and training landscape, and incentivise young people to pursue a career in IT, there is no reason it won't continue to be an emerging tech hotspot.