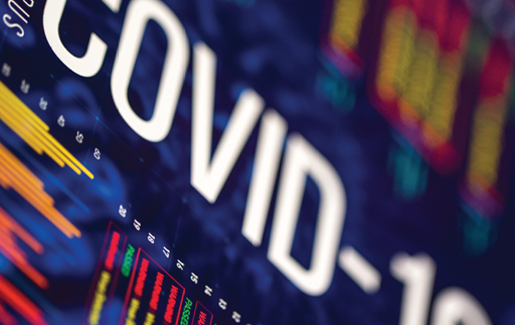 This story first appeared in CompTIA World magazine, Issue 8.

During the COVID-19 pandemic, technology has connected work, families, friends and communities like never before—solidifying its value during this unprecedented time in history. But beyond doing the important work of moving applications to the cloud and implementing collaboration platforms, the tech industry is playing a critical role in the front line fight against COVID-19.
From keeping health care workers safer to providing the economic and social data necessary to make timely decisions about critical resources, emerging and cutting-edge technologies are making a difference when it comes to combatting COVID-19 and the far-reaching social and economic effects of the pandemic. Here, we highlight four examples of how technology has risen to the occasion.
Blockchain Helps Health Care Workers Stay COVID-19-Free
Is there a scarier job than being a health care worker during the COVID-19 pandemic?
The constant risk of possible exposure to the deadly virus has taken a grueling toll on those working the front lines. With so much at stake, it's imperative that medical professionals feel safe and empowered to work and that their employers and patients also have confidence that doctors, nurses and other staff are doing everything they can to stay healthy.
In the early stages of the pandemic, TerraHub Technologies, a Calgary, Alb.-based developer of automated verification solutions, realized its blockchain solution originally developed for the oil and gas market could be leveraged for health care workers. The Credential Link solution uses the immutable, distributed ledger properties of blockchain technology to allow hospitals and health care workers to verify and track the COVID-19 test results and self-assessments of employees.
For example, if a doctor tests negative for coronavirus, he or she can prove they're healthy in a verification-based app that connects to a back-end platform used by the hospital or other third party. The verified test results allow the doctor to continue working without risking the health of patients or co-workers.
"It's a way to ensure that workers have a way to return to work and that they should be allowed to return to work because they can prove healthy and current credentials for whatever profession they're in," said Elena Dumitrascu, CTO of TerraHub Technologies and a member of CompTIA's Blockchain Advisory Council.
Verifiable test results also allow a doctor to be temporarily assigned to another hospital or COVID-19 testing location. Of course, a doctor could be become infected with coronavirus after being certified, but subsequent testing would alter his verification and provide authorities with a more accurate record of who the doctor was in contact with and when.
Individual users also have control over how much information is shared and with who, ensuring that HIPAA and other standards and regulations are followed.
"It's not a silver bullet for coronavirus because people can remain asymptomatic for so long, but at least you have a record of when things happened that can be used to stop the spread," Dumitrascu said.
It's also about enabling trust, she said. As an immutable ledger, blockchain is basically tamper-proof and 100% verifiable to those that have access to the data.
"That's a big part of our society right now, right? How can you enable more trust? How do you trust that the person standing in front of you has done everything in their power to ensure that they're OK," Dumitrascu said. "A verification solution can go a long way towards that. It's not just someone saying 'I'm tested and I'm healthy.' It's being able to prove it with the right credentials and show that the credentials are current. That's extremely valuable."
Geospatial Data Informs Healthcare, Economic and Social Effects of COVID-19
With approximately 150 satellites, Planet, a remote sensing company based in San Francisco, can image the entire surface of the world nearly every day as well as provide high resolution images of targeted areas. According to Mark Mozena, senior director of government affairs at Planet, the geospatial data collected by these satellites is supporting its customers as they are adapting to business during COVID-19--providing critical information about the global healthcare response, economic conditions, and social factors that contribute to the spread of the disease.
"Geospatial data has great potential in helping not only to understand the spread of the current epidemic and the patterns of life that can guide decisions in the healthcare community and elsewhere, but it also provides insight into what the economic activities are, what the agricultural impact is as well as the impact on social behavior," said Mozena during a virtual event hosted by the CompTIA Space Enterprise Council.
By capturing satellite imagery, Planet has been monitoring changes from space to see how health services around the world are reacting and responding to COVID-19. For example, in New York City's Central Park, satellite images show temporary testing facilities built as part of the response. This data, combined with other information sources, can help agencies identify what responses have been most successful in containing outbreaks of the disease.
Planet is not only monitoring the healthcare response, but also economic and public activity, which Mozena says, shows how regions reacted to stay-at-home orders and will help determine the effects of recovery efforts. Health officials can use this data as well to monitor where resources may need to be allocated based on increases in social activity.
"As we use this data around this world, health officials are monitoring public places and potential for where the disease can start to spread again and therefore, move resources to help combat it when it starts to spread," said Mozena.
According to Mozena, another use case for geospatial data during COVID-19 is its ability to provide information to regulatory agencies that are not able to visit domestic or international facilities. Monitoring infrastructure and tracking assets is becoming increasingly difficult as remote work becomes the new normal.
"When planes and UAVs are grounded, satellite imagery can help carry on inspections and verify compliance to certain regulations from space. Space assets can fill the void," said Mozena.
With so much potential, tracking geospatial data has become a United Nations priority.
"The impacts of a pandemic like COVID aren't just from the pandemic itself, it's the reverberation that will now come as a result for months and years," said Mozena. "Geospatial data provided by satellites can help guide decision making and see these impacts before they occur so we can plan for them."
Solving a Health Care Problem, Not a Technology Problem
Sirius Computer Solutions, a San Antonio-based solutions integrator, has a large, dedicated health care practice with C-level executives from across the industry to help them better understand the challenges facing doctors, hospitals, and administrators, and develop technology solutions to alleviate those pain points.
That experience served the company well this year when a large health care network in Southern California had a unique request to help them stand up temporary, remote COVID-19 testing facilities in just a matter of days.
Sirius knew the project could provide a template for other providers—and more importantly, it could also help save lives.
"We're always looking at what's important from a clinical perspective. We're looking to solve a health care problem, not a technology problem," said Imran Salim, senior vice president of health care strategy and solutions at Sirius. "They told us what they were experiencing, and we jumped in to start working the right tech stack for them."
The primary mission was to create an environment in which medical staff could administer COVID-19 tests and send the data securely and wirelessly back to a data center for analysis and response. The solution would require exceptional security, redundancy, and flexibility, and was likely to be temporary.
Sirius assembled a project team of security engineers, infrastructure engineers, network engineers and health care experts to go over requirements and develop a plan. They analyzed current equipment and connections and proposed a solution that would provide a secure connection, meet bandwidth needs, and offer a user experience that would allow medical professionals to function efficiently in a stressful environment.
"This isn't just about connecting laptops, carts and printers. We needed to have power available at the site, and we needed the devices to connect securely over a connection to a primary data center," said Marty Momdjian, a health care solutions advisor at Sirius. "The No. 1 priority was giving clinicians secure, consistent and reliable access to core clinical systems from the field."
Expediency was also a factor. The client needed the testing facilities up and running immediately, so Sirius went to its tech partners and distributors to find out what was available and what could be used as alternatives.
The first testing facility was ready within 48 hours, Salim said. That was partially possible because Sirius keeps full-time engineers at the client's main facility, who were very familiar with their existing infrastructure.
Since going live with the first remote testing facility, the client has stood up more than 20 additional units, allowing their team to better manage the intake and handling of COVID-19 patients.
According to Momdjian, "We wanted something we could test, verify and roll out as soon as possible. As the equipment came in, we started testing VPN, user access and workflows to make sure we were not missing anything. We also had to make sure we could build it offsite from any location, so that way we could reproduce it for any other health care organizations facing the same challenge."
Analyzing Information to Leverage to Improve Emergency Strategies, Decisions
The acceleration and proliferation of COVID-19 caught many organizations and industries by surprise, including those in health care, emergency and first responders. "Many organizations have been completely overwhelmed understanding where their assets are," said Andy Sheppard, vice president of government operations at Coolfire, a St. Louis-based application developer and CompTIA member. "It started with ventilators and PPE, and now it's about trace tracking and how to control situations. Now that we're into a new normal, people are looking at leveraging technology to improve some practices. In some cases, things they were doing before, but now there's an accelerated tempo or more scrutiny—and that's where technology can help."
Aware of the chaos enveloping almost every industry, Coolfire refocused one of its emergency and crisis management solutions to help those organizations gain better control of their operations.
Initially targeted to help border patrol and counter-narcotics organizations, Coolfire adapted its RONIN application to help health care organizations and other first responders, giving the solution to several organizations and agencies to pilot for free.
"Early February, we started refocusing our efforts on how we could respond and how we can help customers in health care and public safety sectors," Sheppard said.
Coolfire created an emergency and crisis solution, RONIN ECM, to analyze collected data from IoT devices such as cameras, sensors and phones, as well as data inputted manually by users to provide real-time situational awareness. Team leaders can then use the analysis to better deploy resources and new strategies accordingly.
"When something happens—say you need to put up a COVID testing point—you know what people are in the area that you can allocate as resources and generate an event-driven session with appropriate actions," Sheppard said. "We can put dots on maps to navigate from one point to another, send directions to people, create chat sessions and customer workflows. It allows more resources to focus on the task at hand but also be mindful of the common operational picture to have a more holistic view of what's going on."
Research firm IDC expects IT spending worldwide to decline 2.7% in 2020, an economic impact due to COVID-19, but IT spending in healthcare will grow slightly as providers respond to new demands created by the pandemic.
For many businesses and organizations, COVID-19 created a wave of change, a trend that will continue for some time, Sheppard said. "The pandemic environment is a new way of operating and caught many unprepared. They didn't know what to do, and they didn't know how to do it," he said. "Technology is a driver to make that change, to enable them to know how to affect change within their own organization."
Read more use cases and learn more about how tech firms are meeting challenges, evolving their business models and entering new verticals.