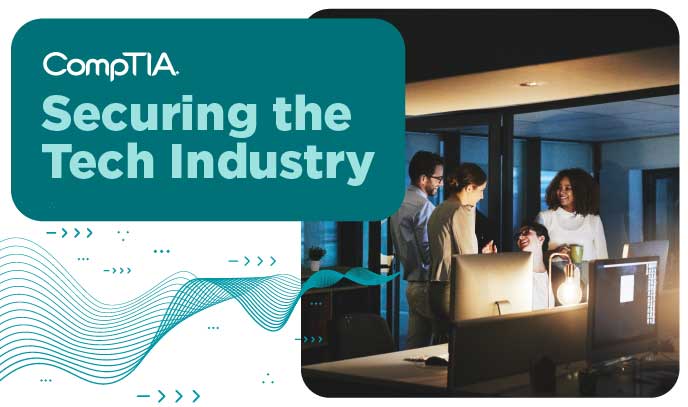 It's October, which means it's also Cybersecurity Awareness Month! Throughout the month, CompTIA will be releasing resources and thought leadership, hosting webinars and virtual events, and sharing videos and podcasts—all focused on the cybersecurity topics that are most relevant to you, your technology business, and our industry. Here's a look at what's happening now and what's to come. Check back throughout the month for updated information and new resources.
Read: The Latest in Cybersecurity Trends from CompTIA Research
CompTIA's just-released 2021 State of Cybersecurity research report assets that cybersecurity trends are being driven by increased complexities around policy, process, people and products. Based on a recent survey of business and IT professionals in the United States, the research provides insight into the current cybersecurity strategies and tactics needed to elevate a cybersecurity presence that meets today's threat landscape.
More from CompTIA
Watch: Shoering Up Security is Back for Season 2

MJ Shoer, senior vice president and executive director of the CompTIA ISAO, welcomes CompTIA ISAO members and cybersecurity thought leaders to the second season of the YouTube series, Shoering Up Security. Watch and learn how solution and service providers are making their businesses and their customers' businesses more secure. New episodes drop every Wednesday. Watch the first episode and learn how Matthew Lang, CISO, IND Corporation, utilizes the CompTIA ISAO at his MSP.


Subscribe to the CompTIA Connect YouTube Channel and get reminded when new episodes become available.

Listen: All-new Cyber 5 Podcast Will Prepare You for the Week Ahead
Get the latest scoop on all things cybersecurity—news, threat information, program updates, and more on CompTIA's newest podcast, Cyber 5: This Week in IT Security. Every Monday beginning Oct. 11, MJ Shoer, senior vice president and executive director of the CompTIA ISAO, details the top five things that tech vendors, distributors, managed service providers, and IT security pros need to know—and what they mean for your business and your customers.
Listen to the trailer and subscribe now.
Watch Now: New Trend Watch Episodes Take a Deep Dive into the State of Cybersecurity
Seth Robinson, senior director of technology analysis at CompTIA, shares insights from the newly published 2021 State of Cybersecurity report in a series of four Trend Watch videos. Don't miss the first video covering zero trust cybersecurity.
Watch the video.

And catch the latest Volley podcast on YouTube: How Companies Can Improve Cybersecurity
Don't Miss: Our 'Best of' Cybersecurity Content—Exclusively on the CompTIA App
This month, we are sharing our top cybersecurity blog posts, resources, videos and podcasts of 2021 on the CompTIA app. Plus, we'll be rounding up the biggest cybersecurity news of the year and hosting weekly polls about your business's approach to security. Members and registered users have access to the app.
Download the CompTIA app for free in the App Store and Google Play.
Get Social: Join Us on LinkedIn All Month
Share your opinion on cybersecurity topics and tune into LinkedIn Lives featuring CompTIA cybersecurity thought leaders. Mark your calendar for our first LinkedIn Live on Monday, Oct. 4 at 3:30 p.m. CST and go behind the scenes of Shoering up Security Season 2 with MJ Shoer and Kelly Stone, senior director of digital strategy at CompTIA.

Watch: Behind the Scenes of Shoering up Security Season 2

Join Us: Learn How MSPs Can Deal with Expanding Attack Surfaces
How does an MSP tasked with protecting sensitive data succeed if the tools required to provide that service are now being attacked? What does it take to balance security and functionality? Where is the path to protect small businesses from threats that require large budgets? Join the CompTIA Cybersecurity Community on October 13 for a virtual community meeting and you'll hear from our volunteer leaders in a panel session addressing these critical questions.
Get Informed: Cybersecurity Events and Resources for the Public Sector
Join us for upcoming virtual events that dive into cybersecurity issues in the public sector.
October 21: Strengthening Our Nation Against Cyber Threats: Modernizing the Security, Resiliency and Reliability of Our Nation's Cyber Framework | Hosted by the Federal Cybersecurity Committee | Register now.
October 26: Protecting the Higher Ground: Advancing Space Cybersecurity | Hosted by the Space Enterprise Council | Register now.
October 27: Cyber Leader Summit | Hosted by the CompTIA Public Technology Institute (PTI) | Register now.
And don't miss the Sharkbytes podcast, hosted by CompTIA Public Technology Institute (PTI) executive director Alan Shark. This month, Shark will be welcoming guests to discuss the latest cybersecurity news and a first-hand account of a ransomware attack.
Stay Tuned: There's More to Come
We'll be updating this post throughout the month with links to new content, resources, videos, and blog posts covering the cybersecurity topics that you need to know about!