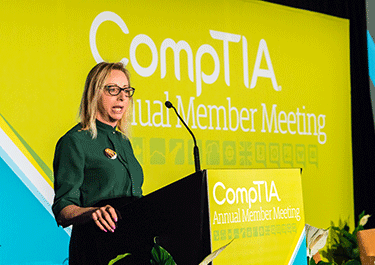 CompTIA's awards recognize the full spectrum of those in the business of technology; from young people already making an impact in the tech business to members with well-established legacies in our industry. The CompTIA Member of the Year award honors a member who has demonstrated superior engagement with the association, while the ChannelChangers award recognizes future leaders in IT.
Our 2017 Member of the Year was Tracy Pound with MaximITy, who was profiled for the cover story of the inaugural issue of our new biannual magazine CompTIAWorld. Our 2017 ChannelChangers were Heather Ptak, community manager at ConnectWise; Melissa Lyons, global channel programs manager at Sophos; and Brandon Garcin, senior content strategist at Continuum Managed Services – all of whom were also profiled in CompTIAWorld.
We caught up with Pound and our previous ChannelChangers to learn what life and work have been like for them as CompTIA award winners.
Pound humorously noted that winning Member of the Year was uncomfortable given her nationality. "It's quite unexpected as a Brit to have people fist-pump you and tell you 'You rock'!" she laughed. "People don't tend to do that in the U.K., but I had a fantastic response from my business networks, customers and peers at home, and was presented with another award locally in recognition of the work I do as a result of this."
Pound said winning Member of the Year has given her a new platform to operate from with potential clients as it gives her and her business a credibility boost. "When working with vendors, it's added a kudos to them in having me train or present at events for them, and in working with end-users it's helped win support for business transformation projects, as people are more inclined to listen to what I have to say," Pound said. "It's helped remove a degree of cynicism."
Pound stressed that all members – large or small – are eligible for this honor. "It is possible to win without having a big ticket, well-known company title," Pound said.
Ptak shared that being named a ChannelChanger meant increased networking opportunities. "I'm passionate about helping the channel grow their communities, networks and companies, but what has stood out for me is the people," she said. "Being named one of the CompTIA ChannelChangers has allowed me to meet new people in the CompTIA organization, connect with people in our industry and even share my advice on industry topics on panels and breakout sessions."
For Melissa Lyons, her ChannelChangers rep carried over to her attendance at CompTIA's new event – the CompTIA Community Forum. "I had a few people find me during the CCF event in March and tell me how much they enjoyed hearing me speak during ChannelCon, which was great feedback to receive months later," she said. "This award is and will continue to be a door opener to starting new conversations, building new relationships and growing my overall network."
Like Ptak, Lyons sees being named a ChannelChanger as an opportunity to shape our ever-changing industry. "I see this as a challenge to continue to live up to the award's name by helping to change and shape the future of the channel and the future of the IT industry," she said. "We all know the market is shifting. Cloud computing is transforming how customers are delivering IT services and support, and while this is creating massive opportunities for those in the IT space, it also requires change from the channel and vendors that work with the channel. CompTIA helps me stay connected to what's happening in the industry and allows me to network and build relationships with other channel executives and partners who are all part of this change."
Both Member of the Year and ChannelChangers will be awarded at ChannelCon 2018, scheduled for July 31 to August 2 in Washington, D.C., so the time to nominate yourself or an outstanding colleague is now! Nominate for Member of the Year here and for ChannelChangers here!