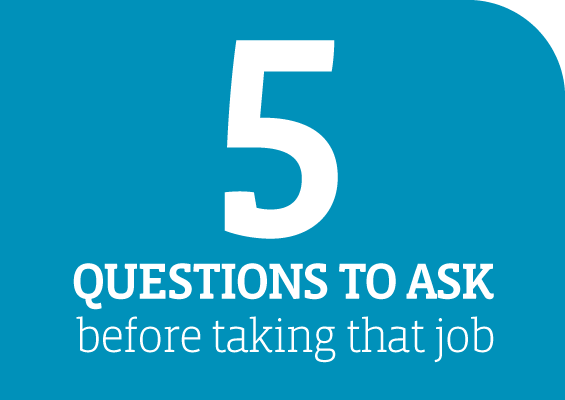 Selecting an employer in the technology field can be challenging, especially for young professionals. No one, regardless of age, wants to take a position only to find out a few months into the job that it simply isn't the right fit. Yet, we often choose to take a leap of faith, hoping what we saw and heard during the interview process is the reality we'll experience throughout our employment with the company.
The fact is, these firms aren't always a better option when it comes to selecting an employer. Looking back, you won't remember how many free lattes you got from the on-site barista, but rather, the relationships and experiences you've built throughout your time in a job.
Here are five questions young professionals and future leaders should ask themselves when deciding if an employer is the right fit for them.
Does the employer offer an inviting work environment?The physical and cultural environment speaks volumes about the organization. Are there a lot of bright, open and collaborative workspaces? Or, are desks closed off within a decades old cube farm? It's important to observe the people too. Do employees seem excited and filled with purpose, or tired and disengaged? Sometimes, grabbing a coffee with an employee for 20 minutes provides way more insight than four hours of interviews. Make sure you get a good feel for the culture and the people, because regardless of whether the company has been in business for 30 years or 30 days, working in an environment and with people that inspire and engage you will help you be more successful.
Is there opportunity for career growth? Find out when and how often employees are promoted. Be direct and ask up front how hard work is rewarded. What is required of employees to grow their career? Additionally, find out if the company has an active mentorship program. Knowing there are managers and executives interested in mentoring younger employees is a good indication of how committed a company is to its employees' career growth and longevity within the organization.
How much and how often does the employer invest in its employees?Management training programs and reimbursement for classes demonstrate that an employer is committed to helping its employees thrive. It is also important to ask if a bonus program, profit sharing or other incentives are available. Tying your success to the company's success will help you develop a stronger sense of ownership over your role and responsibilities.
Does the company have a social conscience? As many young professionals (especially millennials) can attest to, one of the key characteristics of our generation is a high sense of social awareness. We don't want to just work for a company that's focused on making money. We want to work for a company that creates meaningful change and stands for something beyond its products and/or services. During the interview, ask what causes or charities the company donates to and whether it offers paid volunteer hours. Decide whether or not its mission matters to you or is aligned with a cause that is near and dear to you. If so, this will help you better identify with your potential employer and may even sway your decision in its favor.
Does the company offer flexible work hours?This is a pretty big deal, especially for younger generations. Millennials are very plugged in. We are comfortable working whenever and wherever we need to, and we desire the flexibility that affords us. Ask if the company has a work-from-home policy. When and how often are employees allowed to work remotely? Are data and key business applications accessible outside of the physical office? Is it okay to work outside of what are perceived as normal business hours?
Asking these questions may or may not land you the perfect job the first time out the gate, but it will get you closer to finding an employer that offers the environment, tools and resources you need to forge a fulfilling career path.
On a similar note, employers looking to add more young professionals to their ranks can use these questions to guide them in making their company more attractive to millennials and younger generations. There are many ways to build excitement around your company, regardless of how large or small – even without the big, bold and potentially costly incentives used by today's "new economy" firms. Demonstrate what your company stands for, what you are doing to foster career growth among your employees and why candidates should want to come work for you, and you'll be well on your way to hiring and retaining the best young talent.
On May 31, Nate and Brittani Von Roden, both of the CompTIA Future Leaders Community, will host a webinar titled Company Culture on a Budget: How to Attract, Retain and Grow Valuable Talent Without Breaking the Bank. They will discuss key aspects that influence company culture and share practical, yet highly effective, ideas on the topic.
Nate Teplow is a senior marketing programs manager at Continuum, where he oversees partner communications initiatives and works closely with the sales team to drive demand for Continuum's solutions among the company's partner base. He co-hosts and produces MSP Radio, Continuum's weekly podcast, to provide partners and prospects with hot topics, business tips and industry news. Nate also chairs the CompTIA Future Leaders Community and has been recognized as a CompTIA ChannelChanger and as one of the Top 50 Most Influential People in Sales Lead Management in 2014 by the Sales Lead Management Association. Out of the office, Nate enjoys staying active and traveling to new places. He was pumped to see the Patriots win another Super Bowl!