CompTIA Trustmark Directory
Welcome to the CompTIA Trustmark. All of these organizations have demonstrated commitment and adherence to IT industry best practices.
To search for an organization, click the "Select Trustmark" arrow to narrow your search or scroll through the alphabetical listing. Clicking an organization's name will display more information about the credential they have completed and their contact information.
Kite Technology Group
Website: www.kitetechgroup.com
Address: 10989 Red Run Boulevard Suite 209 Owings Mills, MD 21117 USA
Contact Name: Dillon Fornaro
---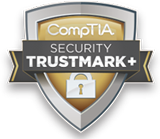 The CompTIA Security Trustmark+ is based on the NIST Cybersecurity Framework and provides a cost-effective path for demonstrating compliance with key industry regulations such as PCI-DSS, SSAE-16, HIPAA, and others reliant on the NIST Framework. ISO, the International Organization for Standards, also currently maps into the NIST Cybersecurity Framework and is reflected in elements of the CompTIA Security Trustmark+. By pairing an internal audit with a 3rd party assessment of the policies, procedures, and operations in place to identify, detect, protect, respond to, and recover from security incidents the CompTIA Security Trustmark+ provides immense value and daily applicability.