Information Technology is for Everyone
This webinar is sponsored by CompTIA and DeafTEC, an NSF Resource Center housed at Rochester Institute of Technology's National Technical Institute for the Deaf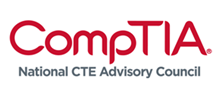 Job prospects are great for those desiring a career in IT. The need for tech talent is increasing not only in tech companies, but in every company. Better yet, IT job roles are "inclusive" as companies aim to build cultures focused on competency and ability---for everyone. Still unsure if an IT career is for you?
Join us for an all-Deaf panel as they share more about "a day in the life" of an Information Technology expert. Explore varying perspectives on why careers in IT are "inclusive" and learn what it takes to be successful in the field. What competencies, abilities, certifications, and experiences matter? Discover various pathways taken by our Information Technology experts that led them to where they are today.
Your key takeaways include:

•Understanding why Information Technology careers are for everyone
•Learning how Information Technology experts landed their first jobs
•Knowing why continuous learning, professional development and networking is important
•Exploring the challenges and opportunities for Information Technology careers
•Being inspired by our all-Deaf panel as they share their unique stories of success
Register your classroom today!
*This event is designed as a broadcast for your classroom, with one registration per class. Or, if students are over 18, they may register individually to attend this event.
*Sign language interpreters will join us for the event ensuring access for all attendees.
Harry Wood, STEM Trainer, NTID Regional STEM Center at the Alabama Institute for Deaf and Blind
Michele Halleran, Application Developer Senior, PNC
Johanna Lucht, Software Developer, NASA Armstrong Flight Research Center
Scott Van Nice, Director of Cybersecurity, Procter & Gamble
Mary Rose Weber, Technology Leadership Program Engineer, Target