Introduction
U.S. information technology exports reached an estimated $335 billion in 2020, a decrease of -4.9% from the previous year. The pandemic put the brakes on three consecutive years of positive U.S. exports growth. Despite the severity of the pandemic, however, U.S. exports of tech products and services held up relatively well. The chart at the bottom left depicts a few minor dips during April and May, but for the most part tech exports were steady during the year.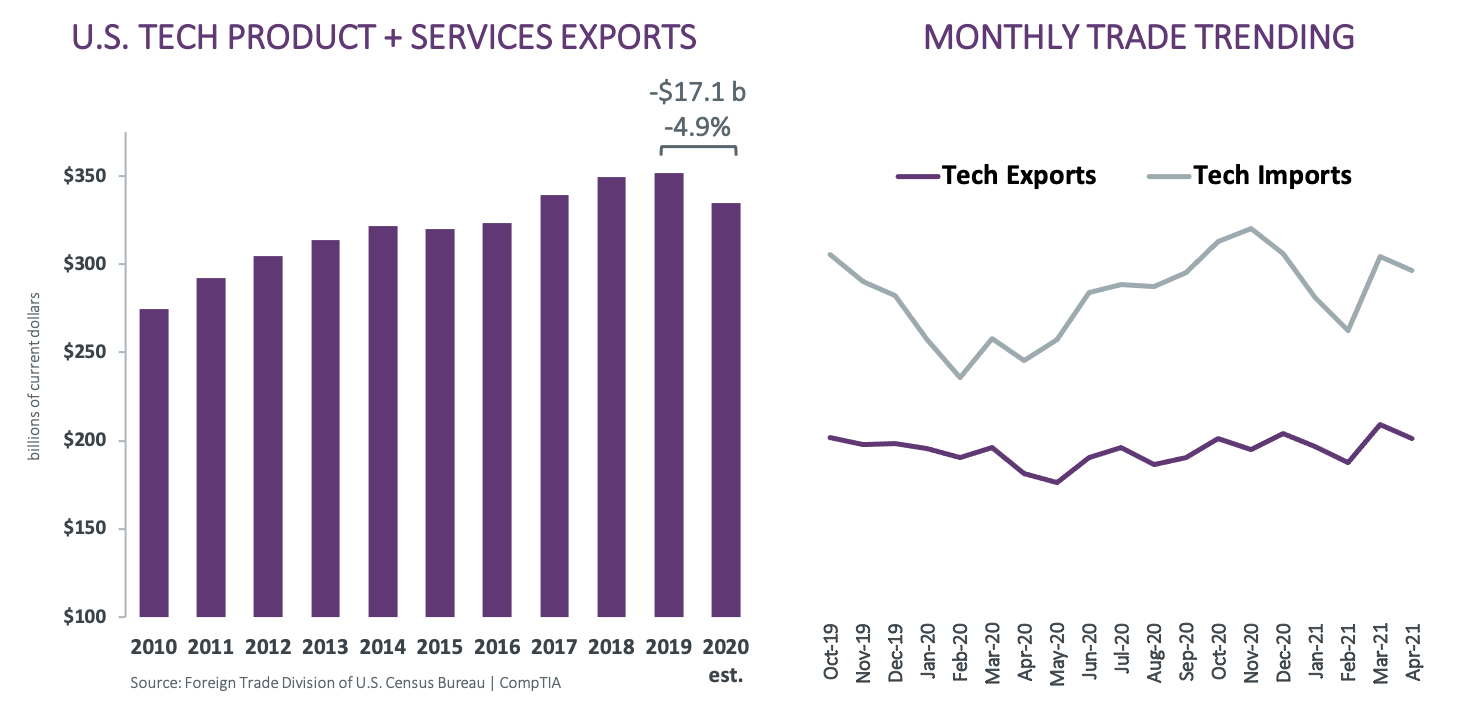 The growth in tech services and the "everything-as-a-service" model have been driving forces in the tech sector over the past decade. The migration to cloud platforms, the modernization of legacy applications and workflows, and the mission-critical importance of data – and soon artificial intelligence (AI), translate to demand for expertise in integration, software development, data management, cybersecurity and related competencies categorized as technology services. Combined, these categories generated an additional $33.3 billion of net-new revenue for U.S. companies over the past 10 years.
On a percent change basis, the services category encompassing custom software development services, cloud computing and data storage services and IT services led all technology export categories in growth at approximately 11.9% year-over-over. See full report PDF for details.
Technology Is One of The Largest Categories of U.S. Exports
Exports are a measure of buyer perceptions of quality, value for money, and the degree to which the product or service aligns with business or user objectives. With these basic criteria in mind, the data confirms that technology is one of the most desired offerings among all U.S. exports.
In the manufactured goods category, technology ranks third, trailing the chemicals category and the transportation and motor vehicle. To help put into context, the dollar value of U.S. technology product exports is more than double that of the high-profile oil and gas products category.
In the services category, tech ranks second, accounting for 16% of total U.S. services exports. As noted previously, this affirms the macro trend toward a services orientation in the delivery of technology, as well as the market-leading position of many U.S. technology firms.

Assessing The Employment Impact Of Trade
U.S. technology exports directly supported an estimated 918,500 American jobs in 2018, the most recent year of available data at time of publication. During that period, export-supported jobs grew by 21,620 positions, an increase of 2.4 percent year-over-year. Tech products accounted for 69% of exports-supported jobs, while tech services accounted for the remaining 31%. See full report PDF for details.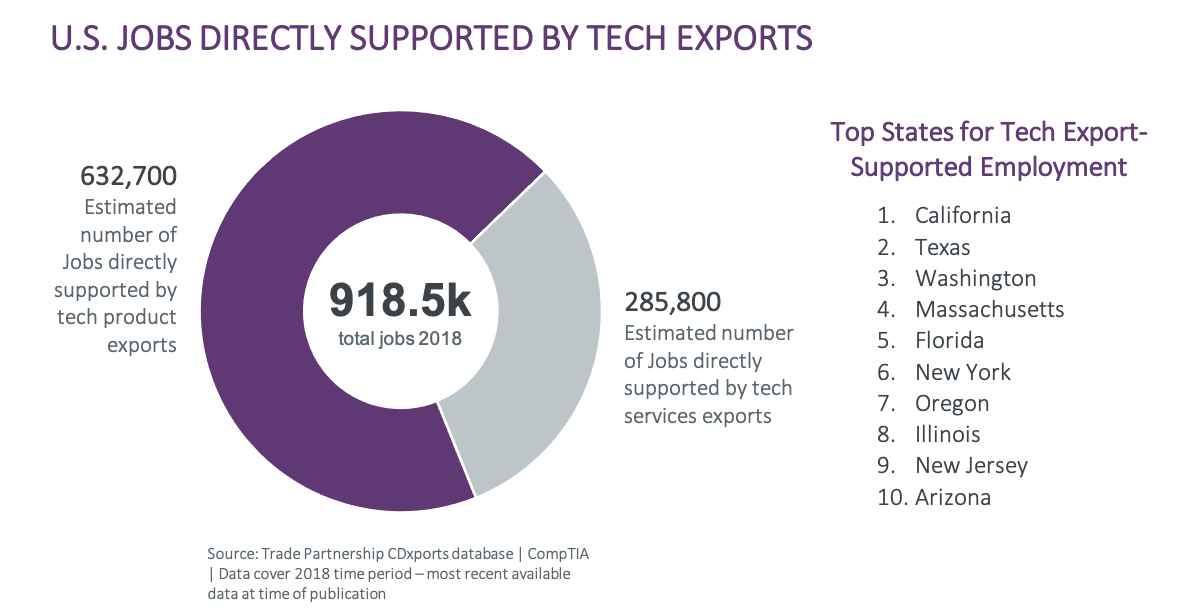 Read more about Industry Trends.