It's a strategy described as digital transformation. Organizations that are successfully executing this strategy use automation and information technology to improve existing business processes and create new business opportunities.

The year 2016 will reveal the state of digital transformation. Are business leaders launching their organizations on the path they'll take through the next few decades, or are they instead scrambling to keep up appearances and remain moderately competitive?

The strategy of digital transformation will test whether the platforms in place today become part of the future, or relics of the past. As information technology represents a growing share of the global economy, this report tracks both the causes and the implications of this trend, for IT markets in the U.S. and the world as a whole. Here are some of the facts we'll explore in this report:
Key Points
IT labor growth is robust. Posted job notices in the U.S. IT field grew in 2015 by an annual rate of nearly 40%, although the posting rate for Q4 2015 had declined over the previous quarter. For December 2015, according to the Bureau of Labor Statistics, U.S. unemployment in the IT sector remained at a steady low of 2.6%, well below the general rate. These public figures underpin CompTIA's projections that the size of the U.S. IT workforce grew by a healthy 3.1% annual rate last year.
IT industry confidence remains solid. CompTIA projected its IT Industry Business Confidence Index for the second quarter of 2016 to climb to historically high levels. As it stood in Q1 2016, the BCI was just a fraction of a point off its all-time high, at 64.0 points. From there, however, the Index began a slight downward tick, to 63.1 points in Q2, and then another 1.7 points to 61.7 in Q3.
Cloud computing is still the driving force. The cloud leads CompTIA's list of Technology Trends for 2016. In just a few years' time, hybrid cloud has become the principal infrastructure model of the world's data centers. With cloud resources such as computing power and bandwidth having already become commoditized, a new IT economy is taking shape around them, just as the industrial revolution was made feasible by ubiquitous energy. Nearly all the other trends in the IT sector are actually triggered by the cloud: for instance, the rise in demand for real-time analytics, the reconsideration of security models, and the industry refocusing on software and hardware above hardware as the principal growth driver.
IT Industry and IT Workforce Overview
Key Points
According to the research consultancy IDC, the global information technology (IT) industry market, encompassing hardware, software, services, and telecommunications, is expected to reach $3.8 trillion in 2016, up from $3.7 trillion the previous year. The U.S. market accounts for approximately 28% of the total, or slightly more than $1 trillion. Over the past decade, the biggest shift in global industry allocations stems from growth of the Asian region, fueled primarily by the rise of China.
The IT channel plays an integral role to facilitating the flow of information technology goods and services from producer to customer. The channel ecosystem, consisting of solution providers, MSPs, VARs, vendors, distributors, cloud service providers, and more, work in concert to supply and support customers' technology needs. Estimates suggest upwards of two-­‐thirds of IT products and services sold to U.S. businesses flow through or are influenced by indirect channels in some way.
There are two distinct elements of the IT workforce: 1) Employment in the IT sector, and 2) IT occupations spanning all industry sectors. In the aggregate, the U.S. IT sector employs an estimated 5.9 million workers in technical (e.g. software developers, network administrators, etc.) and non-­‐technical (e.g. HR, finance, marketing) positions. The second element of the IT workforce, IT occupations, consists of an estimated 5.04 million workers as of yearend 2015 found in IT departments across businesses in every industry sector of the economy. Based on how 2015 data is tracking, the year could record the highest IT job growth rate in over a decade.
Defining the Information Technology (IT) Industry
The term technology commonly refers to society's application of scientific knowledge to solve practical problems in industry or commerce. Technological innovation, or the application of technology, takes many forms and often involves the interplay of expertise across multiple disciplines and industry verticals. One framework for categorizing technology entails the use of five distinct groupings.

Each segment of this technology framework has contributed to economic growth and the well-­‐being of society. The magnitude of advances in medicine, transportation, safety, manufacturing, agriculture, media and communication are almost difficult to comprehend.
Since the turn of the millennium though, the one segment that arguably has had the greatest impact on businesses, consumers and other industry sectors is information technology (IT).
Information Technology (IT) can be defined as the utilization of computing via hardware, software, services and infrastructure to create, store, exchange and leverage information in its various forms to accomplish any number of objectives. Additionally, the term encompasses the workers that develop, implement, maintain and utilize information technology directly or indirectly. Its elements include:
The remainder of this information technology research report focuses on the information technology (IT) portion of the technology ecosystem. For additional details of the CompTIA definition of information technology (IT) based on U.S. NAICS codes, please see the Appendix.
Sizing the Information Technology (IT) Market
According to the research consultancy IDC, the global information technology (IT) market surpassed $3.7 trillion in 2015 and is on track to reach $3.8 trillion in 2016 (constant currency). This covers revenue generated from hardware, software, IT services, and telecommunications.
The vast majority of spending stems from information technology industry purchases made by business or enterprises, with a small portion coming from consumer spending. With the increasing blurring of work and personal life, especially in the SMB space, along with the BYOD phenomenon, it is difficult to classify certain types of technology purchases as being solely business or solely consumer.
The U.S. market represents about 28% of the worldwide total, or slightly over $1 trillion.
Over the years, market proportions have gradually shifted due to the emergence of rapidly growing markets in Asia, Latin America, and Africa.
For 2016, CompTIA's consensus forecast projects 4.9% worldwide IT industry growth and 4.7% growth in the U.S. market. See Section II of this report for detailed 2016 growth forecasts.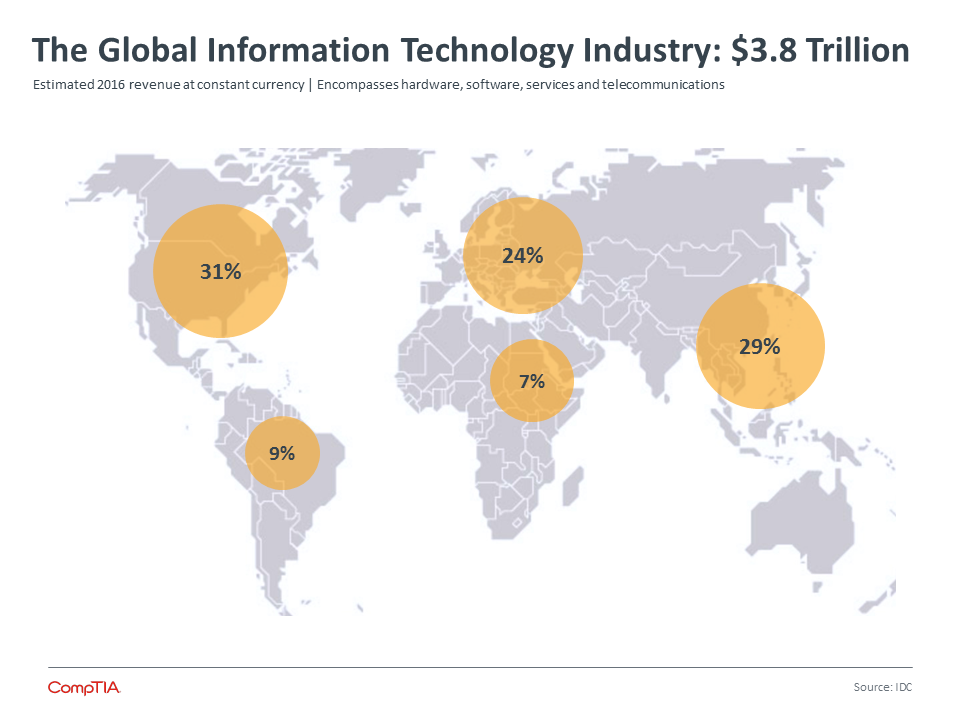 Breaking the IT market down into its core components provides a mechanism to better understand industry dynamics. On a global basis, the hardware, software and services categories – core IT, account for 59% of the industry, with telecom services accounting for the remaining 41%.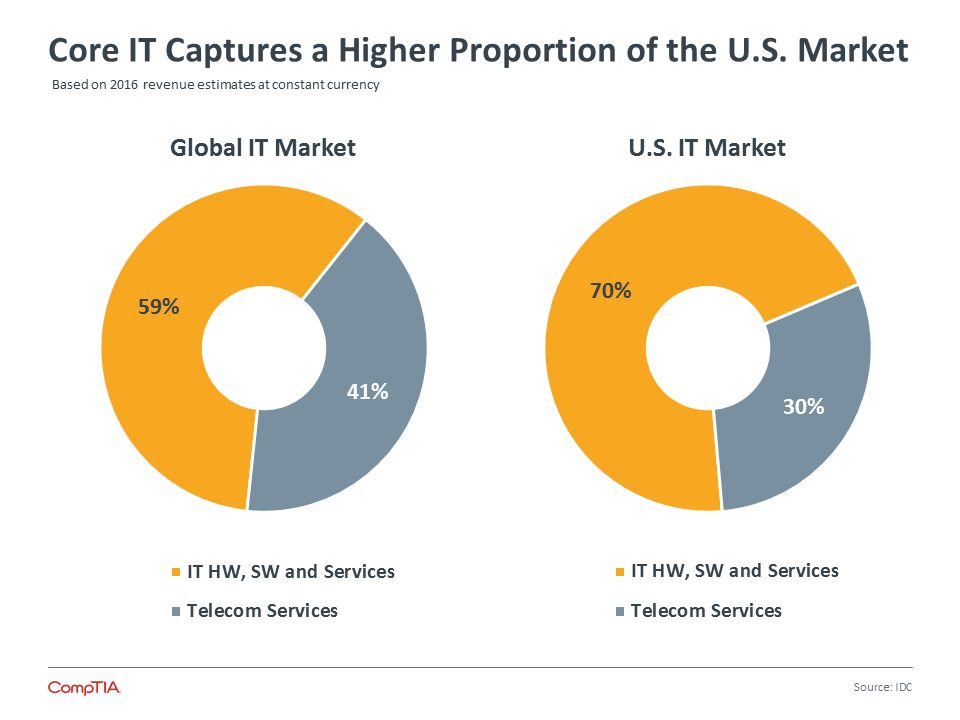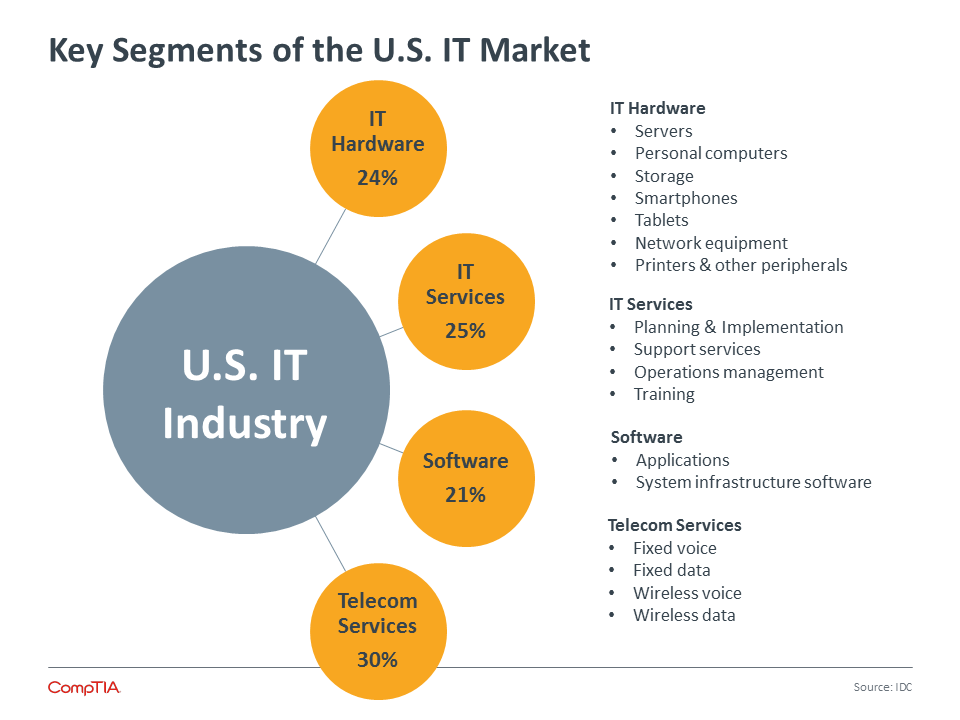 The allocation of spending tends to vary from country to country. Some markets may be relatively immature in the traditional categories of computers and software, and yet relatively advanced in the areas of mobility and wireless communication. As result, their spending allocation may skew towards telecom and data services, while they play "catch-­‐up" n the other categories.
Conversely, the U.S. information technology market features a large installed base of hardware, software and services. Not that telecom services are unimportant in the United States, but rather, the spending on the aforementioned categories is much higher relative to the global benchmark. In the U.S. market, IT services and software capture larger shares compared to the global market: 25% vs. 18% and 21% vs. 12%, respectively.
Within each category several dynamics may be at play that affect the ratios. In hardware, for example, as the number of units increases and manufacturers reach economies of scale, prices tend to fall. As prices fall the product may attract more buyers, which helps offset the lower average per-­‐unit price. At some point, however, the total revenue generated for the product plateaus and eventually enters a period of decline. Because the ratios in the chart above are revenue-­‐based, categories prone to pricing pressure can lose share, even when turning over high volumes.
When considering the IT market, it is worth taking note that other sectors are steadily incorporating more information technology elements (e.g. IoT farm equipment), blurring the lines between the IT sector and other industries.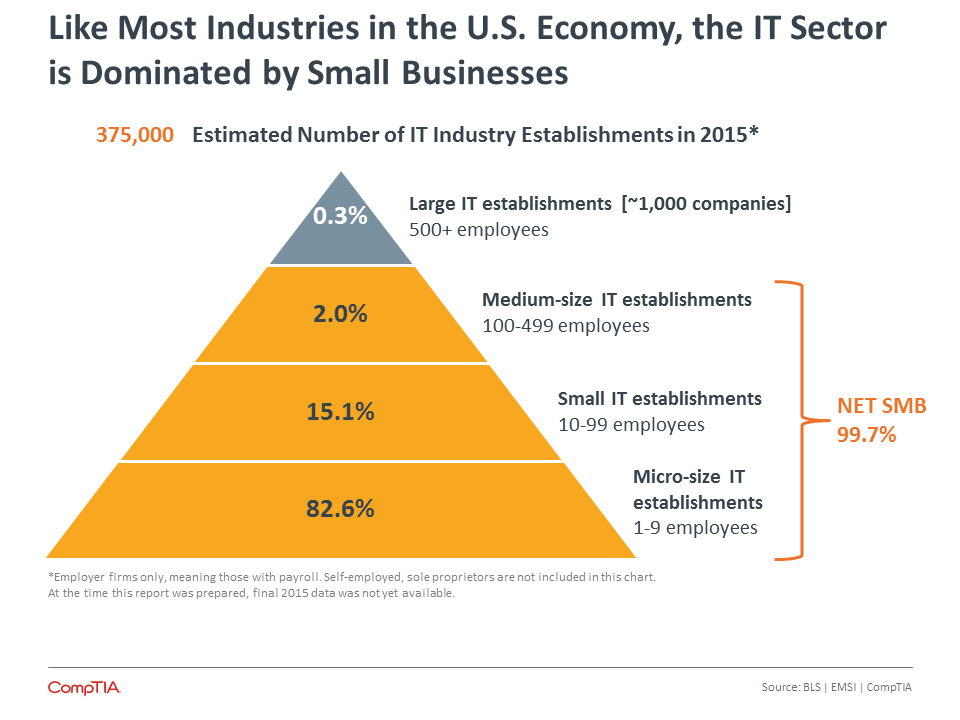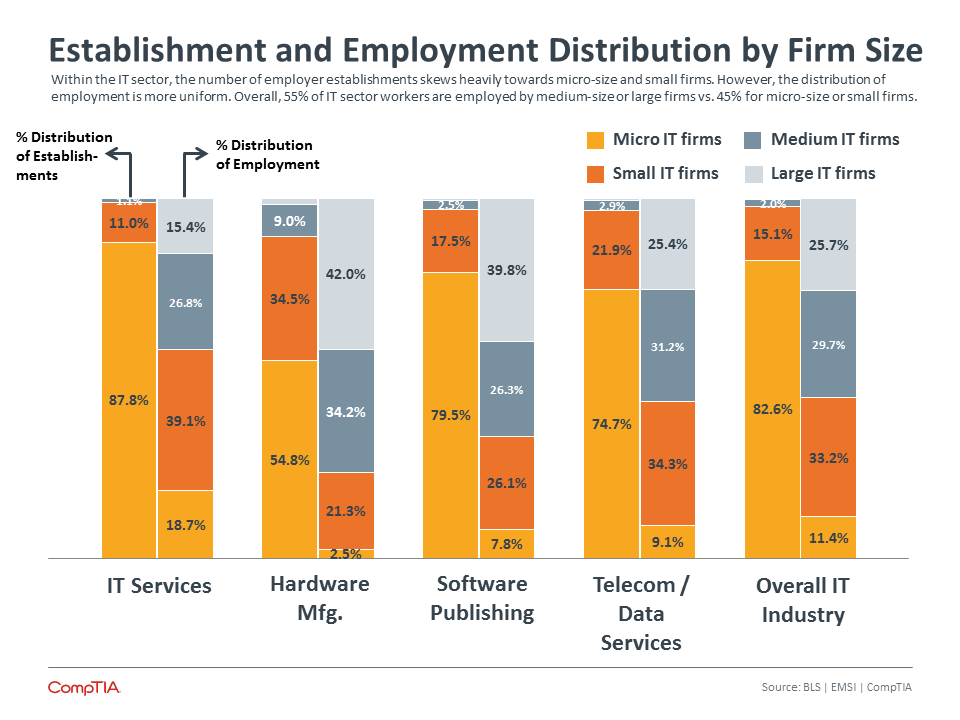 Defining the IT Channel
Every industry sector across the economy has a distribution mechanism to connect customers to products and services. While some producers or manufacturers of goods sell direct to customers, most rely on intermediaries, or indirect channels, that can more efficiently or effectively deliver products and services to customers.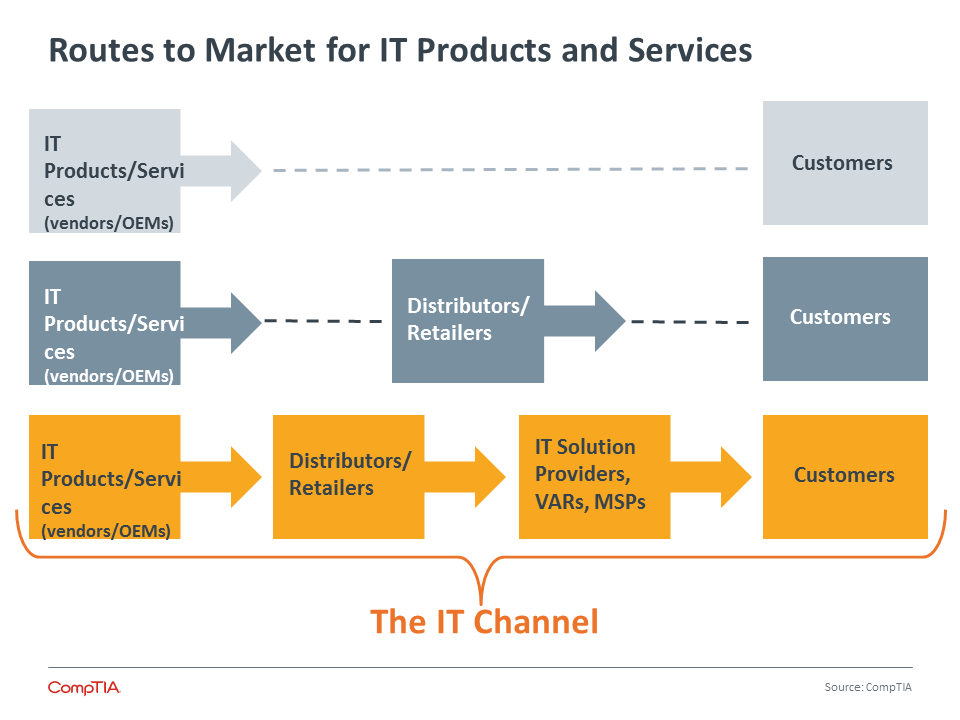 In the information technology sector, this mechanism is referred to as the IT channel. As depicted in the chart to the right, technology vendors or OEMs develop a product, which may then flow through a distributor and/or a value added reseller (VAR) before reaching the customer.
Among those outside the IT industry, it is not uncommon to wonder why vendors do not simply sell directly to customers. In some cases, vendors do sell directly to customers. A small software vendor may sell direct to customers via the software-­‐as-­‐a-­‐service model. Or, a hardware vendor may sell a large order of servers for a datacenter directly to an enterprise level customer. In many cases, though, vendors see value in working through their channel partners. Estimates suggest upwards of two-­‐thirds of core IT products flow through or are influenced by indirect sales channel. The primary benefits of the channel model include:
Implementation/Integration – many IT products require set-­‐up, integration, testing and in some cases, custom development. Even for sophisticated customers, this can be a challenging endeavor. By relying on channel partners, such as solution providers, for implementation, vendors can focus on innovation and design. This is especially critical for small customers, such as a small law firm, that need IT expertise, but do not have the scale to be able to work with a large IT vendor.
Support/Maintenance – customers expect a lot from their IT investments. They demand maximum uptime, ease of use and security safeguards. Even with advances in remote monitoring and support, a technical problem may require a visit to a customer's office. The large number of solution providers and MSPs spread across the country are well equipped to meet customers' need for local service.
Specialization – IT has entered the era of specialization. The needs of one customer segment are often quite different from another segment (think healthcare technology vs. manufacturing technology vs. retail technology). Because vendors cannot be experts in every sector, solution providers fulfill this need. Channel partners are often well positioned to develop deep expertise of a sector's operations, regulations and challenges, resulting in technology solutions optimized to meet customers' needs.
Sizing the IT Channel
Size estimates of the U.S. IT channel tend to vary. This may be a function of definition, methodology or limitations in the ways technology companies are classified.
Using the U.S. Commerce Department's North American Industry Classification System (NAICS), there are three primary categories associated with the IT channel. The sum of these categories, as outlined in the chart below, equates to 133,114 establishments with employees. This can be viewed as one interpretation of the size of the U.S. channel by the count of establishments.
An even broader interpretation may include the large pool of self-­‐employed, sole-­‐proprietors. These could be individuals providing IT consulting services, web design, mobile app development, or technical support services. Some individuals engage in these lines of business on the side, further complicating the sizing process. The self-­‐employed segment adds another 203,380 individuals (or about 336,500 in total), resulting in an even broader interpretation of what could be considered the IT channel.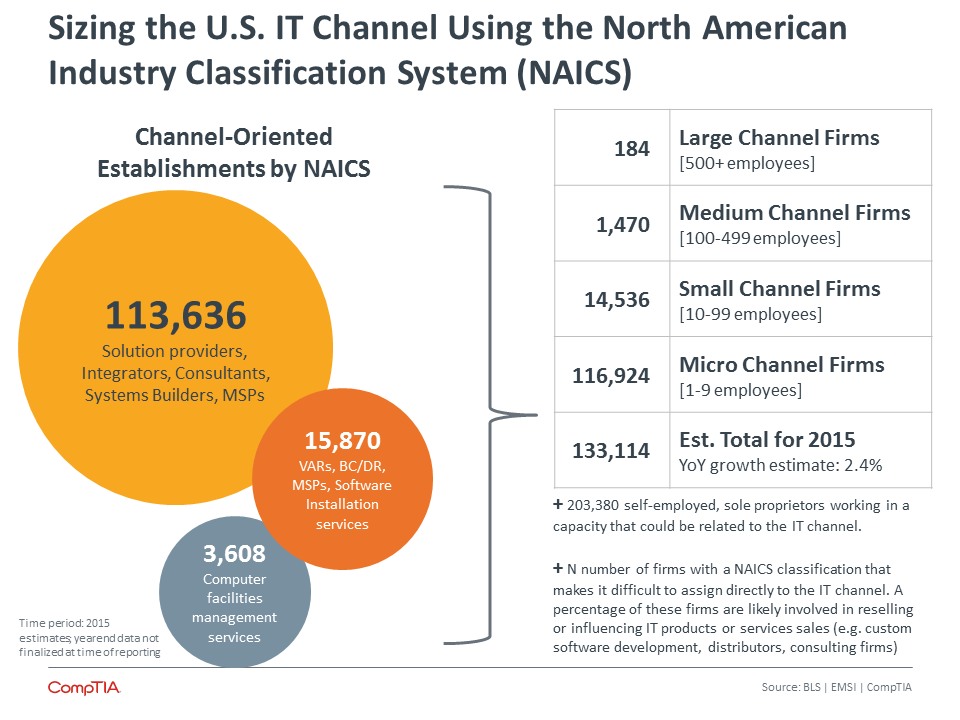 Conversely, among hardware, software or telecom vendors seeking partners to resell their products or partners to engage with customers on their behalf, many require channel partners of a certain level of scale and sophistication. In this scenario, a vendor may focus on the sub-­‐ segment of channel firms with 10 or more employees, which equates to 16,190 establishments. Following the 80-­‐ 20 rule, some vendors may focus their efforts on even a narrower slice of the channel, leaving the large remaining segment for less formal engagement (often referred to as the unmanaged channel).
The other component of channel sizing entails estimates of the revenue flowing through or influenced by the channel. The traditional rule of thumb is about two-­‐thirds of non-­‐consumer IT hardware and software is sold through indirect channels. This covers the different types of channel partner firms, such as VARs, solution providers, integrators, MSPs and related, as well as distributors, retailers and any other type of intermediary involved in providing the product or service to the customer. Applying the 66% figure to an estimate of U.S. hardware an software sales, yields a ballpark figure of $260 billion flowing through or influenced by the channel.
Information technology industry services can also be resold or distributed through intermediaries. For example, a vendor providing their channel partners a turnkey managed print services solution they can offer their customers. Some portion of the $250 billion+ U.S. IT services market can be applied to the IT channel sizing calculation.
Defining the IT Workforce
There are two distinct elements of the IT workforce: 1) Employment within information technology companies, and 2) IT occupations.
IT Occupation Employment
Includes technical occupations, such as software developers, network engineers, computer support specialists, etc. working in a range of industry verticals, such as healthcare, education, manufacturing, professional services and others.
Beyond core IT occupations, there are a range of technology-­‐intense positions on the periphery, typically referred to as knowledge workers. For the purposes of this report, CompTIA excludes this class of worker from core IT occupations figures (see next page for additional detail).
IT Industry Employment
Includes technical occupations, such as software developers, network engineers, computer support specialists, etc.
Includes non-­technical professions, such as sales, marketing, HR, finance, operations and general management that support and facilitate the operation of IT companies.
Typically, technical positions account for 25% to 75% of an IT company's workforce. There are a number of factors that affect this rate. For example, a start-­‐up may initially be comprised of nearly all software architects, programmers and other technical workers. When firms scale, they may add sales and marketing staff, thereby reducing the percentage of technical workers.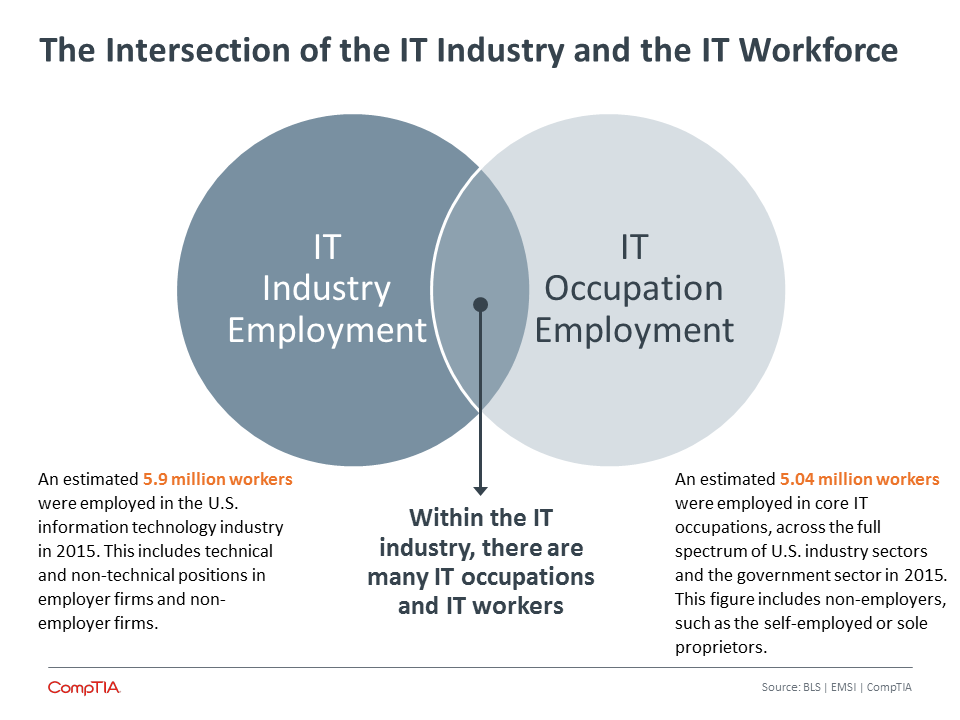 IT Occupation Employment – this segment of the information technology industry workforce employed an estimated 5.04 million workers as of year-­‐end 2015. This translates to job growth of 3.1%, or nearly 152,000 additional IT jobs. If this rate holds upon the final tally of 2015 data, it will be the highest annual growth rate for IT jobs in over a decade.
IT occupation employment spans every industry vertical. For example, the IT department within a hospital will employ a range of senior-­‐, mid-­‐ and staff-­‐level IT workers to ensure physicians, nurses and administrators have reliable access to computers, networks, applications and so on.
Top IT Growth Occupations in 2015 (Percent Change)
Cybersecurity Analysts
Web Developers
Software Developers, Applications
Software Developers, Systems Software
Systems Analysts
IT Support Specialists
IT Managers / Directors / CIOs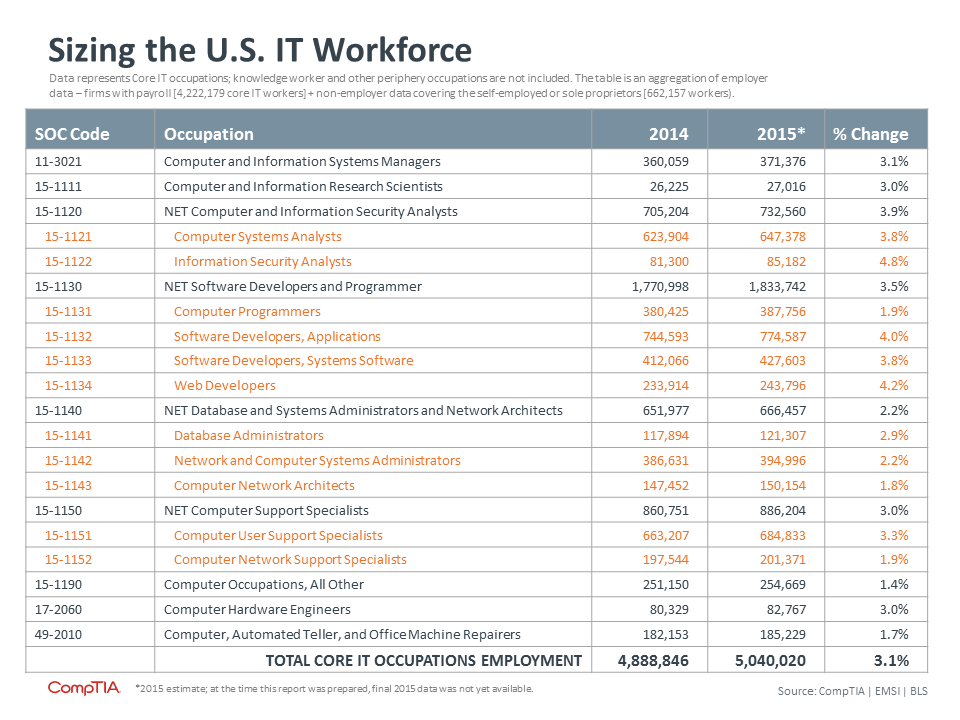 In addition to core IT positions, there are many technology-­‐intense occupations on the periphery. For example, occupations such as IT project management, health information technicians, audio/video technicians, technical sales, technical writers, automated manufacturing computer operators and IT training positions, all require significant expertise and experience with various aspects of technology. While these positions are not typically found in an 'IT Department' they are an important component of the IT workforce. Depending on the criteria used, peripheral or knowledge worker-­‐type positions may number between 1 million and several million additional workers.
Because the need for technology is so pervasive among businesses of all types, it follows that information technology industry jobs are spread across every region of the country. While tech clusters do exist – think Silicon Valley or Silicon Alley, with high concentrations of IT workers, many unassuming regions have large numbers of IT workers as well. For example, more than 325,000 IT workers can be found in the Mountain states region.
On a percent change basis, the states with the fastest IT job growth in 2015 include: Utah, California, Kentucky, Oregon, Florida, Idaho, Massachusetts, Nevada, Wisconsin, South Carolina, Louisiana, and New York. Each of these states experienced estimated job growth of 4.0% or higher. In comparison, overall core IT job growth was in the neighborhood of 3.1%.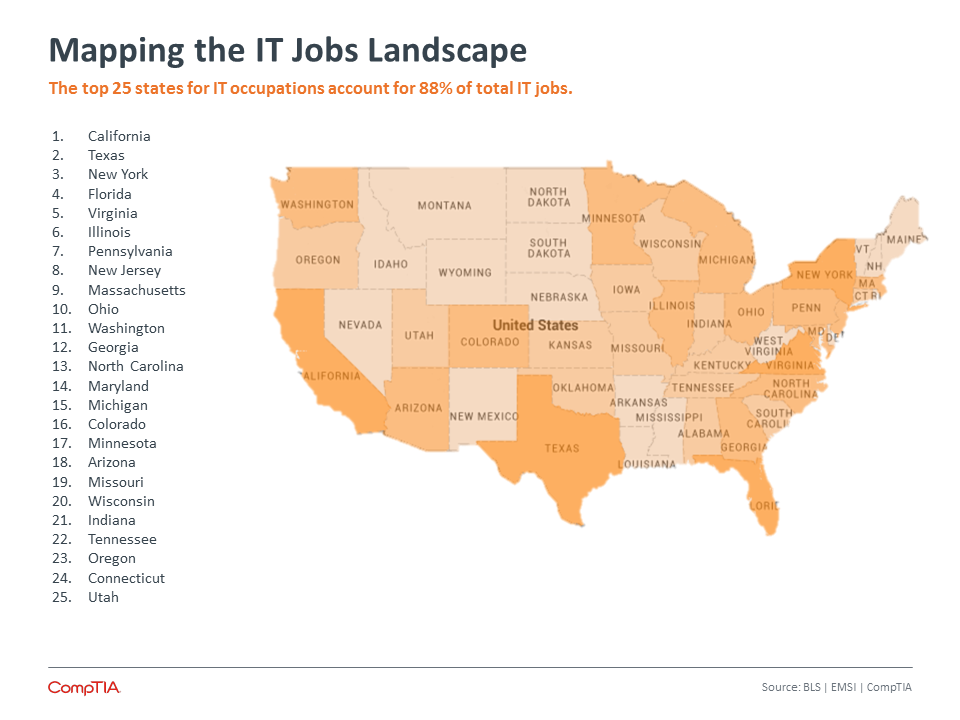 This map represents an aggregation of data for employer firms – those with payroll, and the self-­ employed. The states with the highest concentration of self-­employed IT workers include: Wyoming, Nevada, Hawaii, Louisiana, Montana, Idaho, and Vermont. In each of these states, he percentage of self-­employed IT worker exceeds 19% of the state's total IT occupation workforce.
IT Employment Outlook
According to the U.S. Bureau of Labor Statistics (BLS), the national unemployment rate stood at 5.0% as of December 2015, down from 5.6% during the same period in 2014. The U.S. employment situation has slowly and steadily improved over the past 36 months. The official BLS unemployment rate does not include discouraged workers – those that have stopped looking for work, as well as those working part-­time but seeking full-­time employment. When considering these segments, the more expansive unemployment and underemployment rate portrays a less rosy job landscape.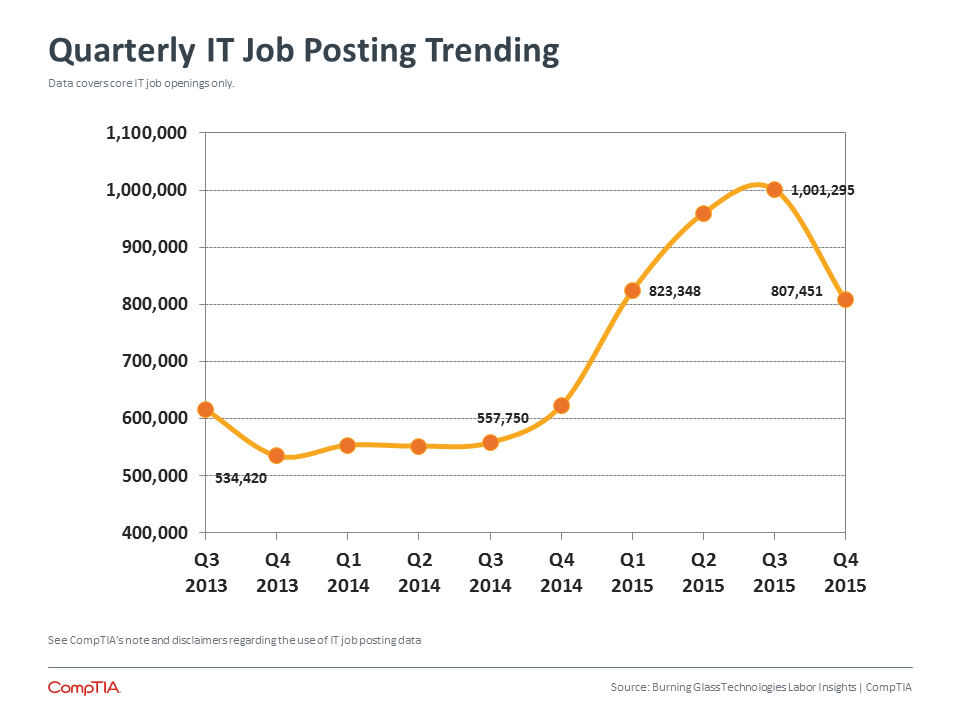 The unemployment rate for the BLS computer and mathematical occupation category, a reasonable approximation of IT occupations, continues to remain far lower than the national rate. For December 2015, the category recorded an employment rate of 2.6%, about half the national rate. This recent percentage is in line with the 2014 average rate of 2.6%.
The low unemployment rate for information technology industry workers combined with strong demand for certain skill sets can make for a challenging hiring environment. A majority of IT company executives confirm a challenging or very challenging hiring environment for technical positions.
According to Burning Glass Technologies Labor Insights, U.S. businesses posted job notices for approximately 807,450 core IT jobs during Q4 of 2015, an increase of 39% over Q4 2014.
As indicated previously, the total core IT occupation workforce increased by an estimated 151,200 jobs in 2015. This explains a portion of the job posting data. Companies may be expanding or moving into new areas and need to employ more workers.
The other factor at play is workforce churn, also referred to as labor turnover. This may include separations due to workers that retire, leave to pursue other employment opportunities, leave to pursue additional education, leave for family reasons, or are fired or laid-­‐off. This helps explain why the number of job postings exceeds the number of new IT jobs created.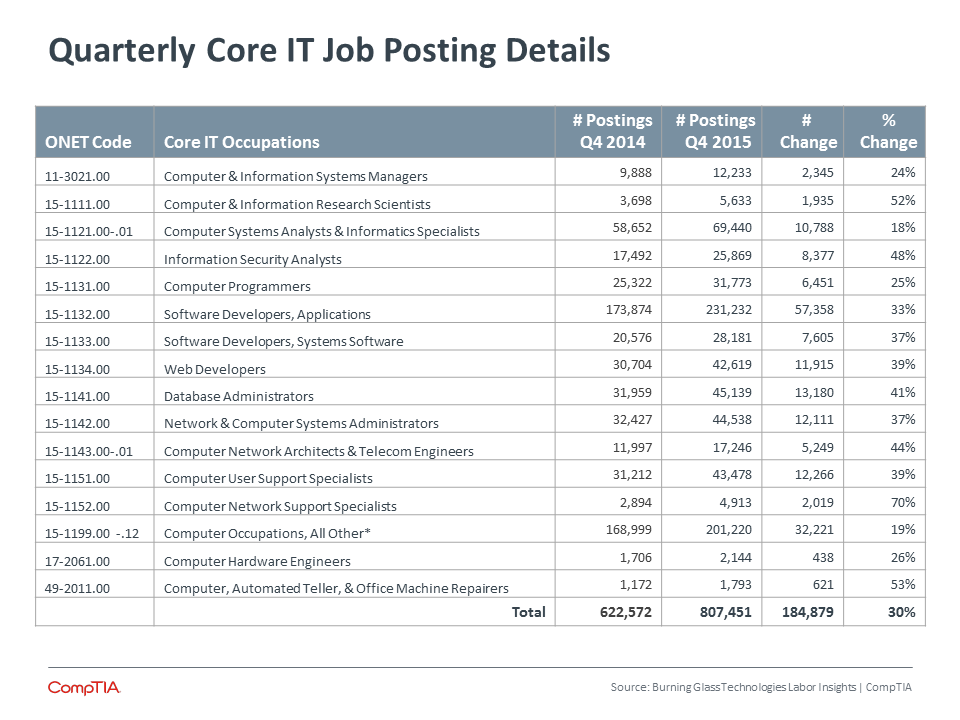 Job posting data is a useful, but an imperfect proxy for job demand. Not every posting translates to a new job; hiring firms may change their plans, post multiple times for the same job, hire internally, try different approaches to find the right candidate and so forth (see Notes area). Also, one ad may be posted for multiple openings. Burning Glass Technologies Labor Insights addresses many of these issues, but not all. Additionally, within a time period, there may be situations where a worker is hired, the person isn't the right fit and is let go, and a firm starts the process over again. In the aggregate there is single position, but using job posting data, it may appear there are two positions (see labor turnover data to gauge the frequency of this practice).
CompTIA recommends using job posting data in conjunction with BLS data to get a more complete picture of labor dynamics for a given occupation category.
Appendix | Frequently Asked Questions
Click here for Appendix images
How large is the information technology (IT) sector relative to other industry sectors in the U.S. economy?
The IT sector, including telecommunications, is one of the larger industry sectors in the U.S. economy. To put into perspective, the gross output of the technology sector exceeds that of the legal services industry, the automotive industry, the airline industry, the motion picture industry, the hospitality industry, the agriculture industry and the restaurant industry, just to name of a few examples (source: U.S. Bureau of Economic Analysis). In comparison, the IT sector is smaller than sectors such as financial services, healthcare, retail and education. On the measure of employment, the IT sector does not crack the top 10 in numerical terms. However, the IT industry has one of the highest median wages of any sector, indicating a heavy concentration of high-­‐value, high-­‐quality jobs.
What are growth expectations for the IT sector over the next year?
CompTIA uses a consensus forecasting methodology, also referred to as a "wisdom of the crowds" approach. For 2015, CompTIA projects worldwide IT industry growth of 4.9%, with upside potential of 7.1% and a downside of 2.7%. See Section II of this report for more details.
Why does the IT sector matter? Aren't all industry sectors in the U.S. economy equally important?
All industry sectors in the U.S. economy provide value on some level, or they do not last very long. Some industry sectors, though, provide value in a way that has a cascading effect, delivering downstream benefits to other businesses and consumers. The information technology sector typifies this scenario. Beyond the revenue generated and workers employed, information technology benefits the entire U.S. economy, helping sectors improve productivity, operate more efficiently and innovate faster. Moreover, because of the relatively high median wage of IT industry workers, they often help anchor local economies. According to EMSI's economic model, computer system design firms have a jobs multiplier factor of about five, meaning every job at a computer system design firm (the term the BLS uses to describe IT services) helps to directly and indirectly support five other jobs in the economy.
Is the number of channel partners growing or shrinking?
Industry pundits have been predicting contraction in the channel for some time. While there have certainly been shifts, such as traditional VARs evolving into solution providers or traditional break/fix services firms evolving into MSPs, government data suggest the number of firms that could be classified as channel partners has been relatively stable over the past few years. Even if the Great Recession forced some IT firms to shutdown, new firms have come into existence, leaving the net roughly unchanged. Emerging trends such as cloud and mobility will certainly further challenge segments of the channel universe, which could result in a shake out or consolidation, but so far, that does not appear to be the case. From CompTIA's annual State of the Channel IT research, 6 in 10 channel executives indicated they felt generally optimistic about the future of the U.S. As discussed in the channel sizing section of this report, there are certain limitations to developing a precise size estimate of the channel. With the data available, there does not appear to be evidence of contraction in the U.S. IT channel as defined to encompass solution providers, MSPs, integrators, consultants and other types of firms beyond traditional VARs.
What percent of U.S. IT companies conduct business internationally?
According to CompTIA IT research estimates, approximately 1 in 3 conduct at least some business internationally. This may include trade with a single country, such as Canada, or more extensive dealings across a range of global markets. Large and mid-­‐size IT companies account for the majority of cross-­border business.
How have IT occupations performed relative to other types of occupations?
Job growth since the peak of the Great Recession has been stagnant across the U.S. economy. Relative to many sectors, the IT industry has faired well. The 2015 year-­‐end unemployment rate for IT occupations stood at roughly half the national rate. According to Burning Glass Technologies Labor Insights, job postings for IT occupations experienced large gains compared to 2014 postings. CompTIA's Business Sentiment research indicates a degree of pent-­‐up demand for hiring IT workers.
How will waves of automation and the rise of the cloud computing model impact employment opportunities for IT workers — negatively or positively?
At this point in the cloud cycle, the answer entails elements of job creation and job destruction. Additionally, many IT occupations have undergone a makeover, becoming more cloud-­‐focused. Determining the net effect is difficult because of the challenge in isolating the effects of cloud computing versus other factors. Bureau of Labor Statistics data indicate no significant contraction of occupations most affected by the cloud. The consultancy IDC predicted the cloud will create 7 million jobs during the 2013-­‐2015 timeframe. As noted above, this estimate likely includes existing positions re-­‐ engineered with a heavier cloud focus. As cloud adopters progress towards cloud optimization, evaluating policies, operations and staff capabilities along the way, some will hire new workers, some may shed workers and others will re-­‐deploy workers. Time will tell how this IT trend will play out.
What industry sector employs the most IT workers?
Outside of the IT industry itself, which is the largest employer of information technology industry workers, other sectors that hire significant numbers of technical and knowledge workers include: information, finance and insurance, government, manufacturing, and management consultants. See table below for more details.
Which states are home to businesses that employ the most IT workers?
The top five states are: California, Texas, New York, Florida, and Virginia. These figures often correlate to the size of the state's economy and population, but not always. For example, Massachusetts ranks 14th in population and yet ranks 9th for IT worker employment, primarily due to its Boston-­‐based tech hub.
Does CompTIA have additional market sizing or trending insights on specific product categories such as cloud, mobility or big data?
Yes. The CompTIA IT research and market intelligence library contains over 100 documents covering a wide range of technology, channel, workforce and business trends. Many of the reports drill down into specifics on the market size, outlook, growth drivers and related.
How large is the Canadian IT industry? How many IT workers are employed in Canada? What about the UK market, or other international markets?
See CompTIA's IT Market Summary for Canada or CompTIA's IT Market Summary for the UK for these and other details on the Canadian and UK markets. See CompTIA's IT research International Tech Adoption and Workforce Issues for coverage of other countries.
What other CompTIA resources are available to help me understand some aspect of the industry, IT workforce or Channel?
For channel-­‐related education and training, a good place to start is the CompTIA Training Catalog. On the CompTIA website, the Insight & Tools page provides a mechanism for searching through a range of research studies, market intelligence, buying guides and more. For additional state-­‐level insights on the size and shape of the tech industry or tech workforce, see CompTIA Cyberstates report.
Click here for Appendix images
IT Growth Projections
Key Points
For the first time in almost a decade, the Federal Reserve raised interest rates during December. While the increase was a very modest quarter of one percent, it was viewed as a vote of confidence in the health of the U.S. economy. CompTIA's IT Industry Business Confidence Index, suggest industry executives share this sentiment. CompTIA's Index increased 1.2 points to 64.0 on a 100-­‐point scale, marking a degree of momentum heading into 2016.
Consistent with positive business sentiment, CompTIA's consensus forecast projects the U.S. IT industry will grow at a rate of 4.7% in the year ahead. Should the always-­‐unpredictable global economy pick up steam, IT industry growth could tilt towards its upside potential of 7.0%. Conversely, volatility, spending slowdowns, dollar appreciation, or any number of other factors, could inhibit growth, dragging the rate of change down closer to the pessimistic outlook of 2.4%.
The global IT industry is expected to add about $100 billion in new revenue in 2016, taking the total from $3.7 trillion to $3.8 trillion. Hitting this figure will involve a mix of foundational product categories, such as personal computers or servers, supplemented with emerging categories adding new streams of revenue. IT industry executives are most bullish on cloud applications, cloud infrastructure, security, mobility, and data analytics. Strong customer demand for expertise in integrating, optimizing, and managing their ever-­‐expanding technology portfolios should help propel IT services to higher than average growth.
IT Industry Business Confidence
Measures of business confidence provide insight into the state of the economy, business conditions and growth prospects. CompTIA's IT Industry Business Confidence Index reveals a degree of momentum heading into 2016.
The Q1 reading increased 1.2 percentage points to 64.0 on a 100-­‐point scale. While the index now sits at roughly the same point as this time last year, it does reflect steady improvement in sentiment over the past two quarters. Despite the stock market pullback to start the year – which may or may not be indicative of looming economic trouble, the forward-­looking projection of the index suggests further improvements to IT industry business sentiment are anticipated.
Among the three components of the index, ratings of the overall economy continue to lag the ratings of the IT sector and company self-­‐assessments. This gap has narrowed due to strengthening economic fundamentals in areas such as employment and spending. Of course, as is often the case, improvement in one area is quickly offset by deterioration elsewhere, such as the slumping growth of the Chinese economy.
While the IT sector has outperformed many other industry sectors during the past five years, lingering concerns over volatility and customer spending habits inevitably weigh on business sentiment. No industry sector operates in a vacuum.
A note of caution, the Q1 reading of the index has historically produced gains, which then sometimes diminish as the year progresses. This may stem from the optimism many companies experience with the start of a new year (aka the clean slate mentality).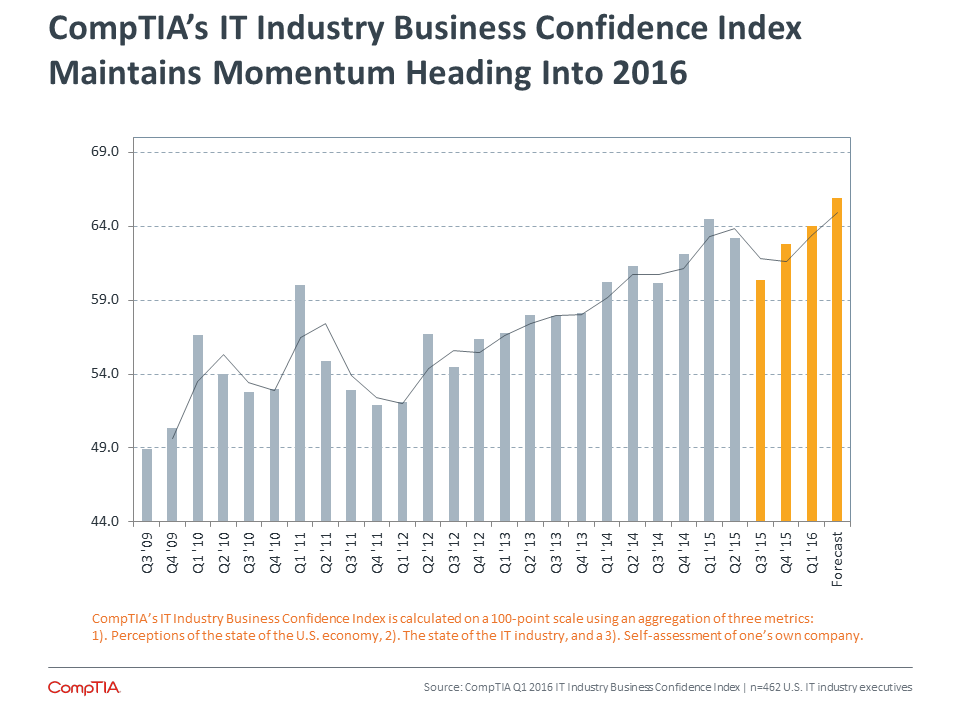 Sentiment measures from other sources provide additional context: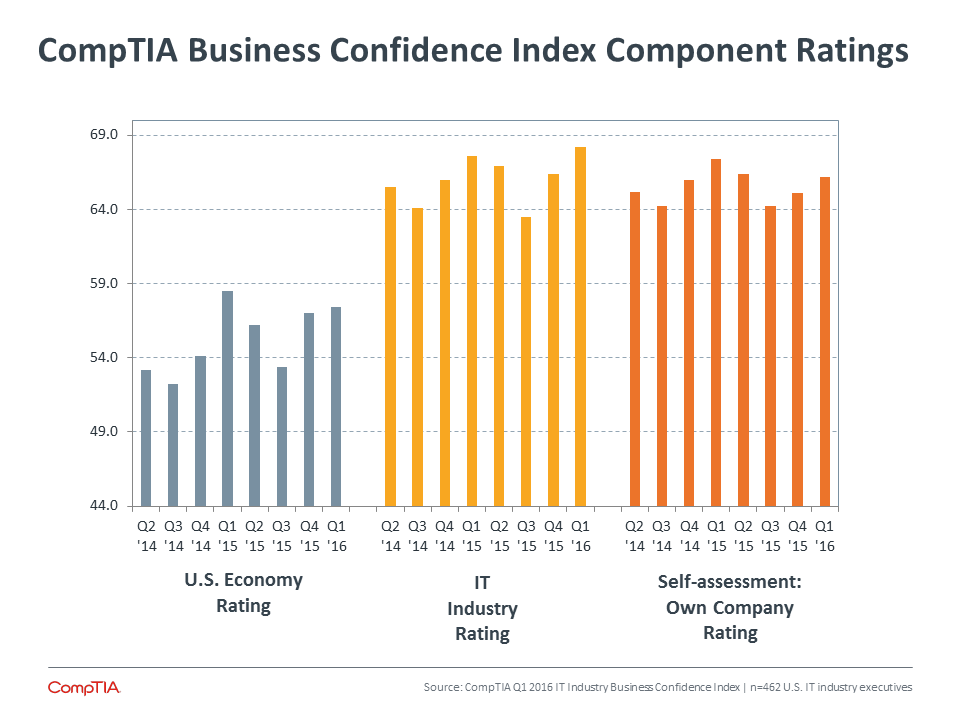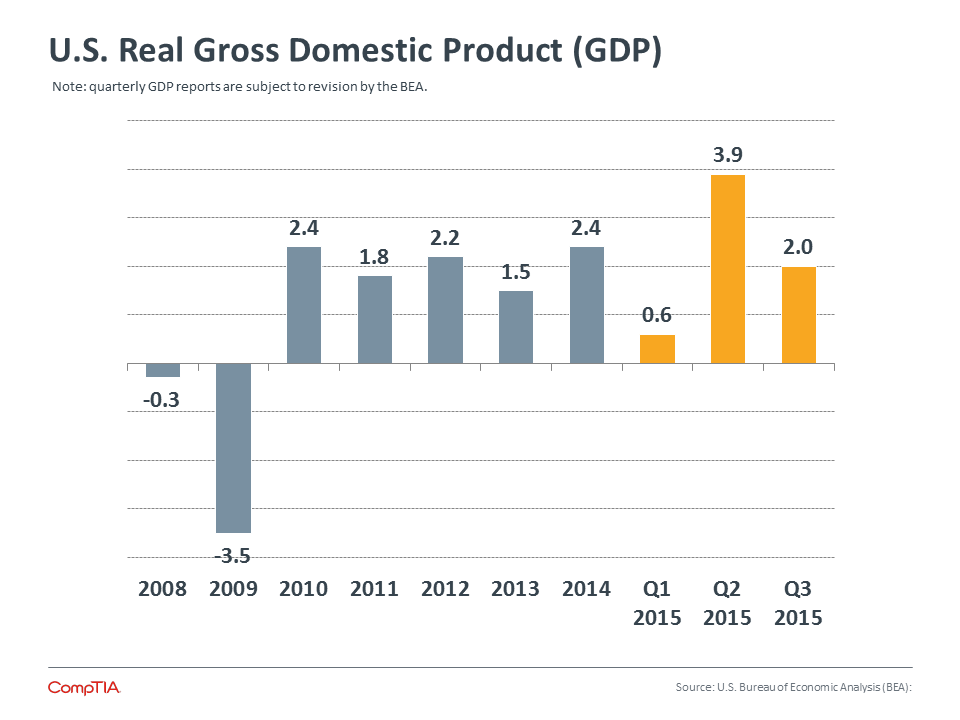 Small Business Sentiment
The Index of Small Business Optimism, issued by the National Federation of Independent Business (NFIB), edged up 0.4 points in December to 95.2. While an improvement, the measure is at the low end of the range for 2015: 94.1 to 98. Gains in the Index were driven primarily by expectations of sales volume growth.
Consumer Sentiment
The Conference Board's Consumer Confidence Index, which had declined in November, improved in December. The Index now stands at 96.5 (1985=100), up from 92.6 in November. According to the Conference Board, consumers' assessment of the current state of the economy remains positive, particularly their assessment of the job market.
Manufacturing Sentiment
The Institute for Supply Management (ISM) reported a modest decrease of 0.4 points in its most recent December reading. According to ISM, the measure of overall economic activity grew for the 79th consecutive month. The new orders component of the index recorded a gain of 0.3 points and the exports component increased 3.5. While manufacturing represents a smaller portion of the U.S. economy than in previous eras, it still commands attention due to its size – around $1.7 trillion, and multiplier effect on other segments of the economy.
Housing
According to the U.S. Commerce Department, U.S. housing starts rose to a near eight-­‐year high in November 2015 as builders ramped up construction of single-­‐family and multi-­‐family homes. As a bellwether indicator, housing market stability bodes well for the many other sectors affected by it.
IT Industry Growth Forecasts
CompTIA uses a consensus forecasting approach to its industry growth projections. This "wisdom of the crowds" model attempts to balance the opinions of large IT firms with small IT firms, as well as optimistic opinions with pessimistic opinions. The results yield a best-­‐fit forecast that reflects industry sentiment. Additionally, CompTIA publishes a high-­‐low range, providing insights into the best-­‐ and worst-­‐case scenarios for industry growth for the year ahead. During the past few years this methodology has held up reasonably well when compared to actual industry growth rates.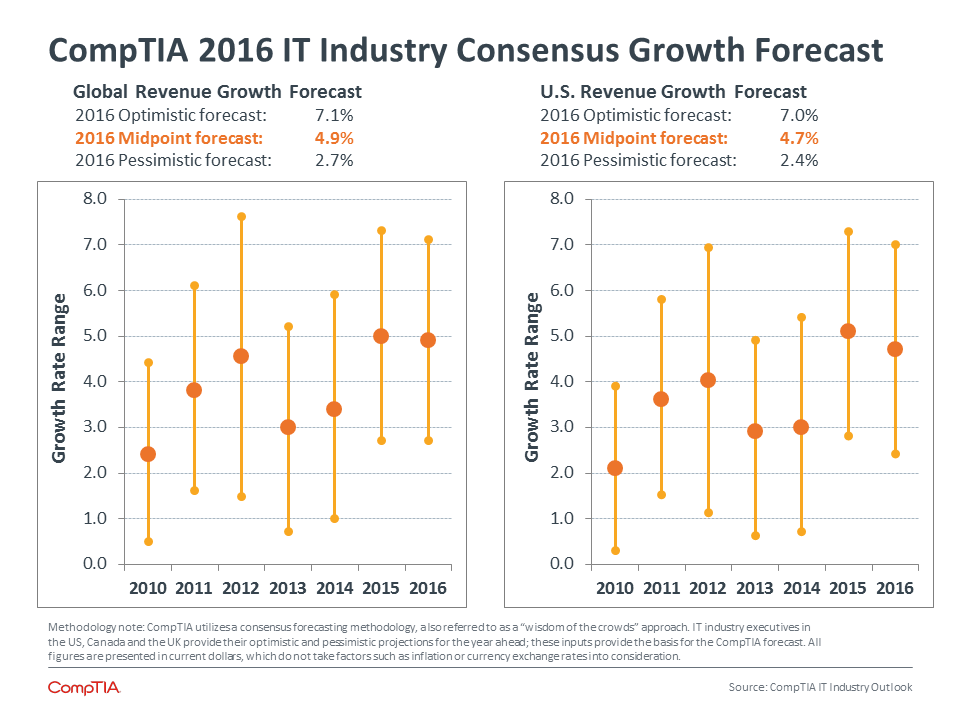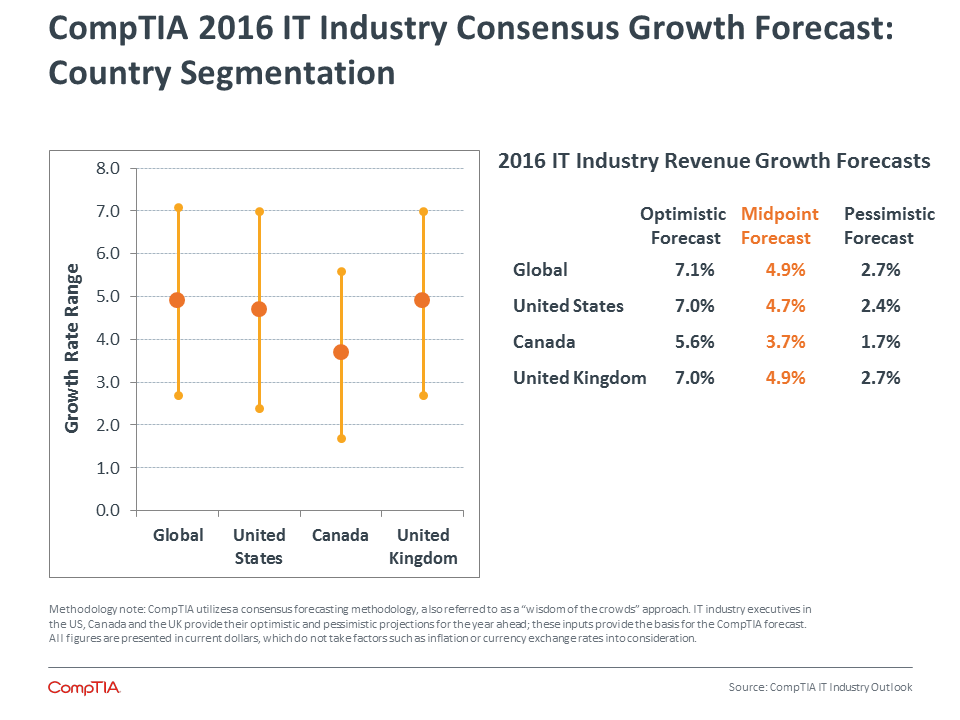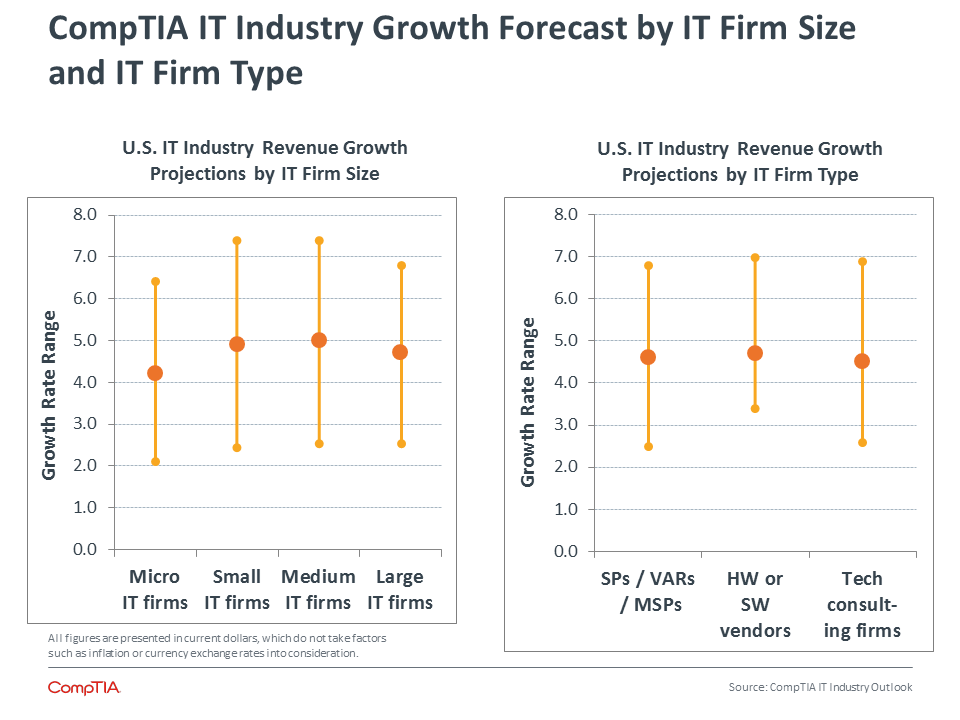 For 2016, CompTIA projects a worldwide IT industry growth rate of 4.9% in current dollars, with upside potential of 7.1% and a downside floor of 2.7%. These figures are slightly lower than the projections from a year ago. Growth expectations for the U.S. market are in line with the global figures. As the largest market in the world for IT products and services, U.S. forecasts and global forecasts will always be inextricably linked.
According to IT industry executives, the factors most likely to contribute to hitting the upside of the forecast include: reaching new customer segments, a pick-­‐up in business from existing customers, and successfully launching and selling new product lines (see charts on following page 7).
Forecast methodology note: CompTIA's industry growth projections are depicted as current dollar forecasts. They do not factor in the effects of inflation or currency movements, which can impact the relative value of goods sold from year to year. As a forecast of revenue, other distortions may occur as well. For example, scenarios where unit sales of a product may increase significantly, but the average selling price falls, could result in flat revenue growth even though market share is expanding.
To complement global and U.S. projections, CompTIA includes examples of two key international markets: Canada and the United Kingdom. Using the same consensus methodology, executives from Canadian and British IT companies shared their views on where growth may be headed in the year ahead.
As depicted in the chart to the right, Canada recorded the most bearish forecast at 3.7%, based on a range of 1.7% – 5.6%. This appears consistent with the lower GDP projections for Canada compared to the U.S. and U.K. markets.
When analyzing the U.S. results by company size, the data reveals only minor differences. Unlike business confidence, where micro-­‐size IT firms (<10 employees) recorded slightly more bearish sentiment, companies across the size spectrum share nearly identical opinions about growth prospects for 2016.
A similar pattern exists for the data segmentation by company type. Solution providers, VARs, MSPS, vendors, consultants, telecom providers and distributors appear to share approximately the same industry growth outlook for 2016. Keep in mind, averages can be skewed by extreme optimism or extreme pessimism.
2016 IT Industry Growth Projections from Other Sources:
Gartner: 1.7% worldwide [constant dollar forecast]

IDC: 3.0% worldwide [constant dollar forecast]

Forrester: 4.5% worldwide [vs. 5.1% for U.S. market]
Note: research consultancies tend to update their forecasts periodically to reflect new information, so these figures should not be viewed as static. Additionally, differences in forecasting methodologies, such as using current or constant dollars, should be taken into account.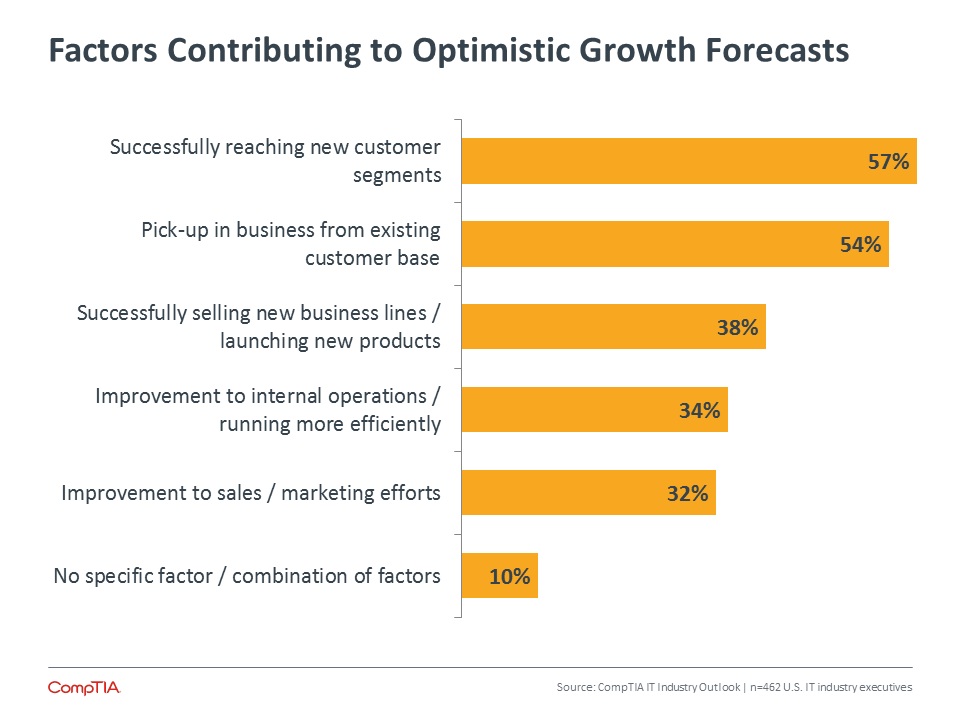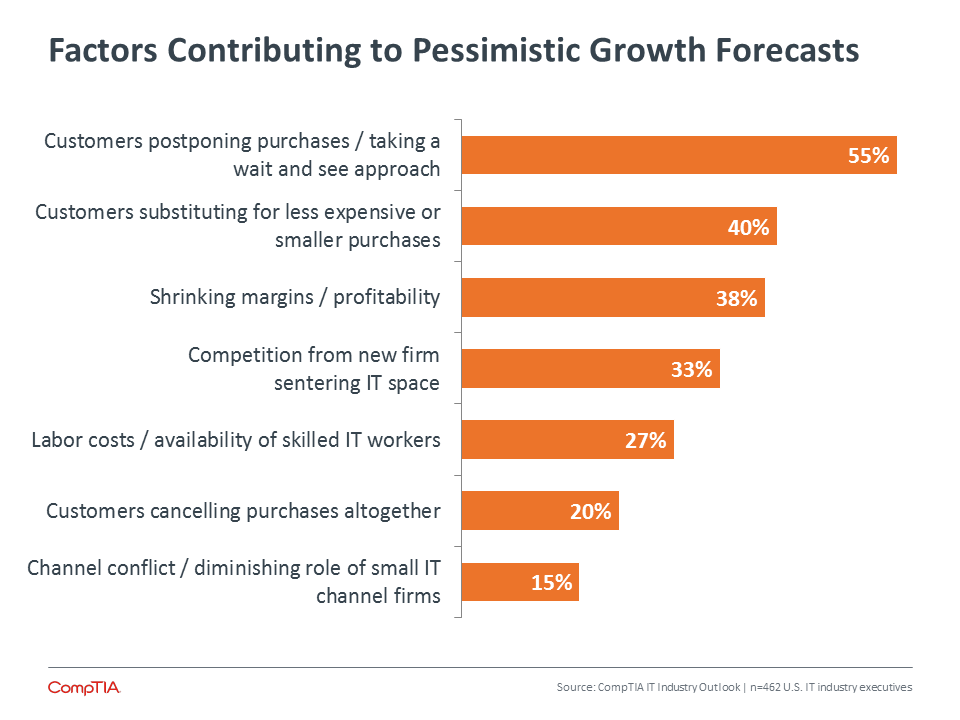 Consistent with last year's forecast, the IT services category is projected to grow at the fastest rate. On the optimistic side, growth could hit nearly 7.0%. And, as explained previously, when interpreting average rates, an allowance must always be made for firms that may greatly exceed the 7.0%. As depicted in the chart below IT executives see the most upside potential in integration services and managed services. In many cases, though, these services will be driven by customers needing expertise in pursuing digital business initiatives. As covered in Section 3 of this report, there are many moving parts to digital business initiatives.
Expectations are most bullish for cloud applications and cloud infrastructure to over perform. This sentiment is corroborated by other CompTIA research of end users and channel partners. Customer demand for IaaS and SaaS cloud components will accelerate as they pursue digital business strategies. On the supply side, solution providers and other channel partner types will continue to expand their cloud offerings, along with expertise in services areas such as integration, APIs, and customization, to bring it all together.
As a reality check, the pessimistic side of the IT services forecast could be closer to 2.8% (see Appendix for details). Even though IT services are in high demand, tend to command higher margins, and may have the potential for greater levels of customer stickiness, economic sluggishness or new forms of competitive pressures could inhibit growth.
For deeper dives into IT services, such as managed services or cloud services, see the dedicated CompTIA research studies covering these topics at CompTIA.org.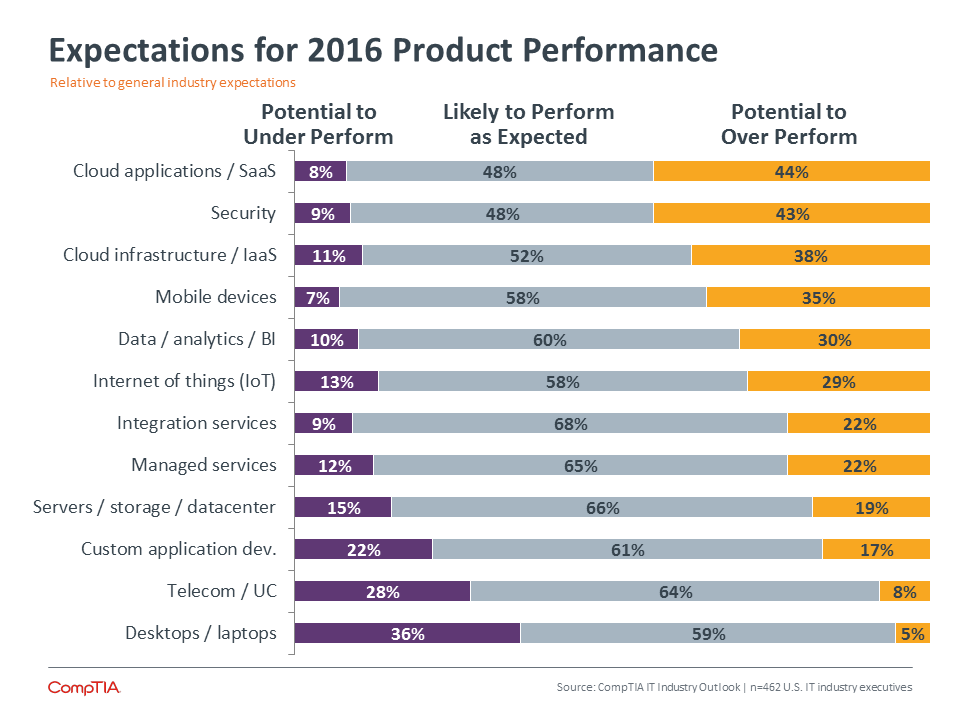 Another product well positioned for upside potential is the umbrella category of security. This category is no longer narrowly defined in the traditional sense of firewalls or antivirus, but rather, a broad suite of tools and safeguards designed to combat the ever-­‐expanding universe of security threats. Similar to cloud, expectations are already high for security so it is notable that 43% of IT industry executives believe there is the potential for the security category to over perform. See Section 3 of this report for additional insights into emerging security trends.
Relatedly, the broad category of software can be difficult to assess. Because software is now woven into the fabric of every device, system, or service, it can be challenging to identify where the software category ends and other categories begin. For the year ahead, CompTIA projects average growth of 4.7% for software, with upside potential of 6.7%.
There will undoubtedly be software "gazelles" that generate growth rates well into double digits. However, there are also offsetting factors. Customers increasingly have a range of options to meet their software needs, including open source solutions, lower cost alternatives to traditional enterprise applications, freemium solutions, and building block-­‐like API components that allow users to stich together their own custom solutions.
For hardware, industry executives expect another year of status quo growth. Because PCs and mobile devices account for about half of the revenue generated in the hardware category, any softness in these segments will limit growth upside. As a reminder, this is a revenue forecast, so even if the number of units sold increases, if prices fall at a faster rate, revenue will be negatively affected. According to CompTIA projections, the hardware category is looking at a constant-­‐dollar growth of 3.5%, with optimistic growth of 5.3% and pessimistic growth of 1.3%.
With the Internet of Things (IoT) trend gaining momentum and bringing with it a renewed focus on devices, segments of the hardware category could be poised for robust growth. One of the big questions surrounding IoT is the 'when' and 'how' products in this category will move beyond niche uses to broader levels of adoption.

With the Internet of Things (IoT) trend gaining momentum and bringing with it a renewed focus on devices, segments of the hardware category could be poised for robust growth
The final major category, telecommunications, is projected to grow at a rate of 3.4% in 2016. Wireless and data services remain strong, but in many ways can be thought of as mature markets – just about any business or consumer that wants some type of telecom service already has it. Some telecom providers have had success diversifying into cloud services, managed services or security. However, these new revenue streams typically represent a small percentage of the overall base of telecom revenue.
Looking ahead, the appetite for bandwidth shows no signs of slowing. Beyond the existing installed base of Internet-­‐enabled devices, if lofty IoT projections come even close to materializing, billions of new "always on, always connected" objects will come online. With spectrum and network infrastructure already at capacity in some markets, this additional demand could stimulate telecom spending.
Appendix
Click here for Appendix images
Technology and Channel Trends
Key Points
2016 will be a pivotal year for organizations pursuing digital transformation strategies. While companies large and small have embraced cloud and mobile over the past five years, it will take more than the adoption of these technologies to realize the benefits of digital business. The pressure will be on for C-­‐suite executives to drive the realignment of business models and workflows to ensure harmony with existing technology investments, while incorporating new data analytics, social, and automation elements. Beyond the nuts and bolts of the technology itself, expect the year ahead to see greater emphasis on enhancing end-­‐to-­‐end user experiences.
As businesses continue to take a cloud-­‐first approach with new technology initiatives, expect this mindset to further push "cloud" to the same place as "electricity" or "Internet"—so prevalent that it simply becomes the system of record. While the degree of cloud adoption is often viewed as a key indicator of digital business sophistication, there is much more to the transformation story. Many organizations now recognize that building digital workflows requires attention to every layer of the software stack. From integration and custom development, to APIs and emerging software-­‐defined hardware solutions, organizations will be forced to rethink their approaches to software. In the backdrop sits the ever-­‐present cyber threat landscape. In the year ahead, expect greater numbers of companies to go on the offensive with security, increasing activities such as penetration testing, external audits, and end user evaluations that lead to investments in new security training platforms.
Have IT channel operations and business models evolved at the same pace as technological innovation? Most channel pundits would answer with a resounding no. This may be changing though. Intensifying competitive pressures from within and outside of the channel may drive more vendors and solution providers to strive to reach escape velocity – that is, breaking free from legacy practices. The challenge ahead for many will be overcoming the inertia of an apparatus that has served the industry well for years. One of the most intriguing factors at play is the relationship between customers and the channel. In some ways, the channel seems increasingly vulnerable as customers are more equipped to procure and manage their own technology. On the other hand, customers' technology needs now go well beyond basic uses, requiring greater levels of expertise, specialization, and alignment to business objectives. Solution providers, MSPs and other channel partners with the strategic imperative to 'get closer to the customer' will be well positioned to capture this business.
Overview
The interplay of macro business trends, technology trends, and channel trends shape the information technology (IT) landscape in the short-­‐term, while setting longer-­‐term developments in motion.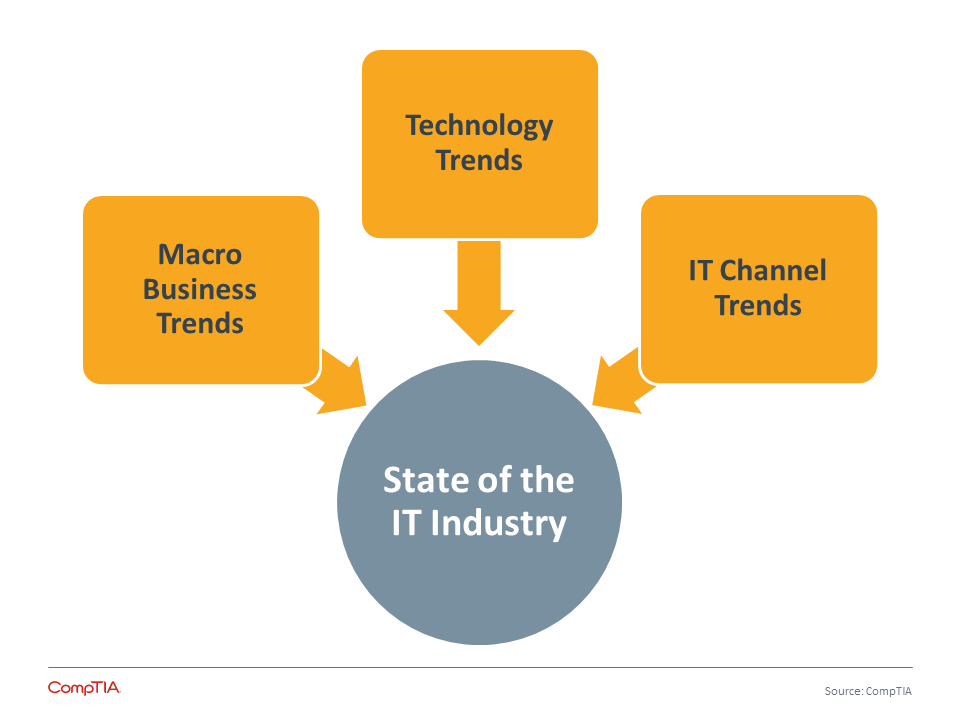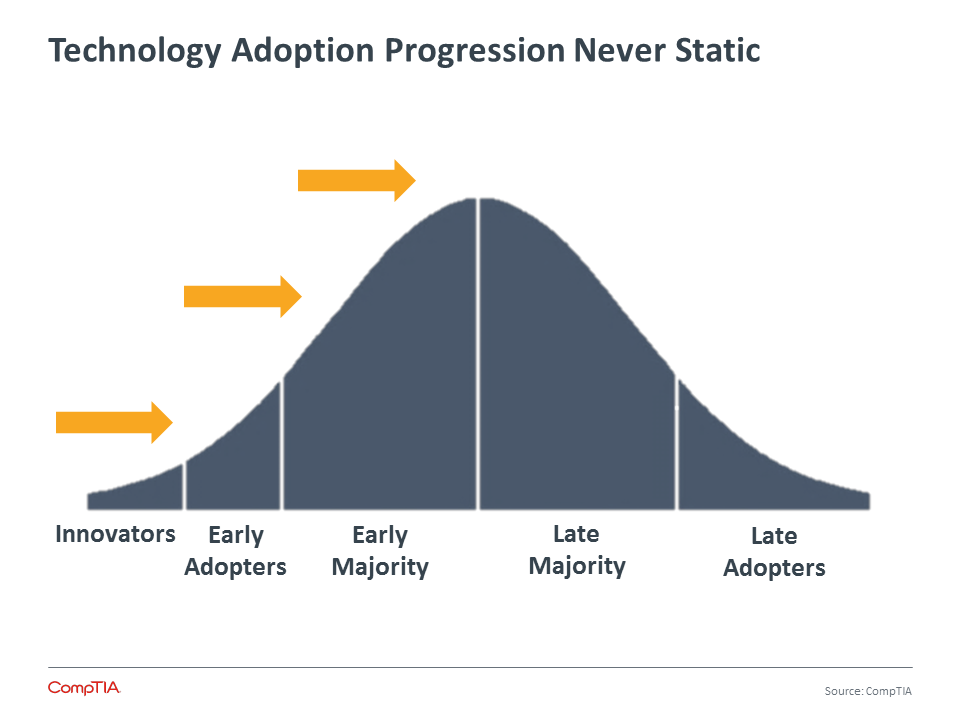 Building on Sections 1 and 2 of this report, CompTIA views 2016 as another year of momentum and continuation, as incremental advancements in a number of areas make their mark on the IT industry and broader economy. Notable disrupters, including cloud, mobility, social, workforce automation, big data and the Internet of Things will continue to shake things up. Many of these innovations will move beyond the experimental early adopter stage into full production, resulting in digital business transformations across every sector of the economy.
CompTIA also recognizes the risk of over-­‐hyping new developments, while understating present realities. Trends take time to progress through the stages of adoption – often taking longer than many expect. The year ahead will certainly feature its share of surprises, but realistically, it will be one of evolution and progression, rather than revolution and quantum leaps. To ensure a balanced approach to the future and the present, CompTIA will present key trends, as well as counter trends, factors overlooked, taken for granted or counter to prevailing hype.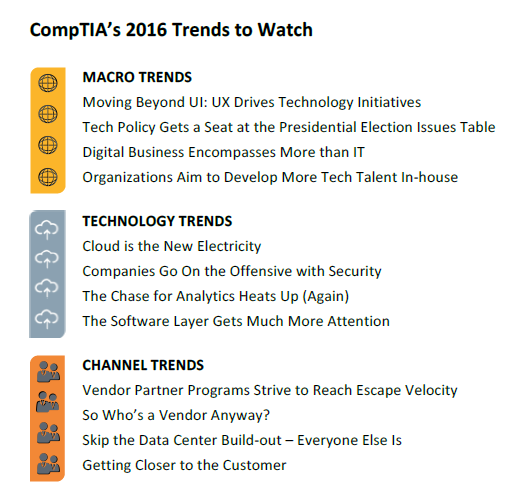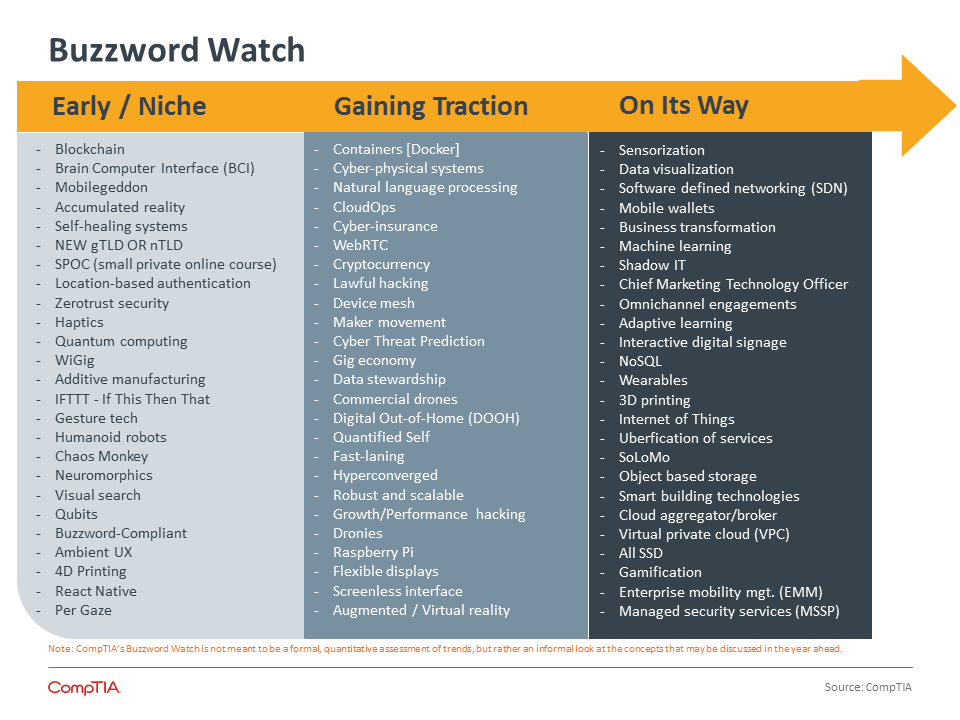 CompTIA evaluates trends for its IT Industry Outlook based on their recent or imminent impact. For developments that are just emerging, or trends that are still on under the radar, Buzzwords Watch provides a glimpse of terms that could gain traction. Of course, many will also fizzle out.
Note: CompTIA's Buzzword Watch is not meant to be a formal, quantitative assessment of trends, but rather an informal look at interesting concepts that may be worth paying attention to in the year ahead. See Appendix for larger version.
MACRO TRENDS
Moving Beyond User Interface: User Experience Drives Technology Initiatives
Trend: As technology becomes increasingly important to all facets of business, efforts will intensify to provide better and better end-­‐to-­‐end user experiences (UX). Some of these efforts will be 'pushed,' whereby technology providers or employers want to encourage or influence certain user behaviors. Other initiatives may result from 'pull,' whereby users accustomed to user-­‐friendly consumer applications will exert influence over corporate IT to replicate those same experiences. These efforts will need to go well beyond user interface (UI). Technology providers and organizations will have to factor in elements such as mobile, cloud, data, social, and more.
Drivers/Opportunities: While difficult to quantify, it is a generally accepted premise that technology capabilities are underutilized. Organizations may have a small number of power users that are able to fully leverage advanced features and capabilities, but the average user may tap into only the basics of a computer, mobile device, software, system, or mobile app. One important driver of the UX trend is the desire to get more out of technology investments. Improving user experiences through more intuitive designs, work flows, and support mechanisms pays dividends in not only higher satisfaction and utilization rates, but also higher levels of productivity. And, this is not limited to UX in the traditional sense of applications. It applies to services and workflows as well, such as the delivery of healthcare, government services, or managed IT services. With the advancement of innovations such as those referenced above, organizations will have many new avenues for improving user experiences.
Counter trend: Achieving optimized UX means getting a lot of things right. When faced with tight deadlines and budget ceilings, UX goals may revert back to UI-­‐centered approaches focused on wireframes, cosmetics, or feature sets. The trickier elements of UX involving orchestration across platforms, or the streamlining of workflows, may be too difficult for some organizations to manage without outside expertise. Moreover, there is the inherent tension of the innovators dilemma. That is, listening only to the customer is not a guarantee for attaining desired UX outcomes. Customers may request features or experiences within the range of what they know, oblivious to next generation advances.
Tech Policy Gets a Seat at the Presidential Election Issues Table
Trend: The early stages of the 2016 presidential election have featured plenty of fireworks and eyebrow-­‐raising antics. As serious policy discussions ramp up, expect tech policy to take a more prominent place at the issues table. While technology has been critically important to the U.S. economy over the past two decades, discussions of tech policy during previous election cycles remained largely in the background. With a number of high profile, high impact issues up for debate, the stakes for tech policy will be higher than ever.
Drivers/Opportunities: The rapidly increasing importance of all things related to cybersecurity, which includes topics such as privacy, surveillance, lawful hacking, cyber-­‐espionage, state-­‐sponsored cyber-­‐ attacks, and the cybersecurity talent pipeline, requires attention on many fronts. Candidates will be expected to take positions and convey their vision. Secondly, tech policy will have an even greater impact on commerce. Issues such as patent reform, trade restrictions, and the rules governing disruptive business models such as Uber or AirBNB will require intense debate and the weighing of the benefits to society versus the cost to those displaced or negatively affected by innovation. Lastly, emerging areas such as autonomous vehicles, drones, IoT, and artificial intelligence loom large as regulatory bodies have a number of thorny issues to work through. The companies creating and supporting these innovations, as well as industry consortiums and trade associations representing these sectors, will have an important role to play in guiding policymakers through the many intricacies of these technologies.
Counter trend: Tech policy is complicated and nuanced. It almost always involves a set of fairly predictable variables, along with many more unpredictable ones. Add in the incredible speed of change across the tech landscape and it makes for a challenging environment for policy makers, regulators, and private sector stakeholders. Even when consensus forms around identifying tech policy problem areas, there is typically nowhere near a consensus on the solution. While a number of signs point toward more meaningful tech policy discussions during this election cycle, complicated and nuanced topics can quickly take a back seat to other issues.
Digital Business Encompasses More than IT
Trend: The notion of elevating technology discussions to C-­‐suite and boardroom levels of importance has been percolating for some time. As with many aspects of innovation, however, advances on this front occur in fits and starts, often taking longer than expected. With technology-­‐driven business transformation now mission critical for so many organizations, expect ever greater numbers of CEOs and boardrooms to finally embrace their role of ensuring these strategies are fully baked into the DNA of the business. Realizing maximum benefits from these transformational opportunities requires efforts that go well beyond the IT department.
Drivers/Opportunities: Cloud computing, mobility, big data, automation, and social technologies have reshaped businesses large and small over the past five years. According to CompTIA research, adopters of these innovations move through four distinct stages on the path toward optimization. The early stages of experimentation and non-­‐critical use are typically 'sandbox' type initiatives limited to specific functions or departments (e.g. implementation of a SaaS-­‐based project tracking tool for the marketing department). The maturing of these emerging technologies coupled with process enhancements and the building of internal skills put many organizations in position for the final stages of full production and digital transformation. Because these steps often entail re-­‐architecting legacy systems and processes, the degree of difficulty can be quite high. For IT solution providers and vendors, opportunities beyond the technology itself will revolve around integration, customization, business process automation, and consulting services.
Counter trend: The degree of difficulty increases with each step along the digital business transformation ladder. It's not uncommon for progress to stall as organizations encounter unfamiliar technical or process challenges. Additionally, there will always be a segment of CIOs resistant to change, as well as a segment of C-­‐suite executives lacking the expertise or vision to develop and execute on a digital business strategy. At the other end of the spectrum is the segment of companies that see little value in remaking their business as a digital business. In some cases, this may be a completely rational decision, such as for a profitable company with a stable base of customers, and a degree of insulation from market disruption. Although as seen time and again, things can change rapidly and by that point it may be too late to react.
Organizations Aim to Develop More Tech Talent In-­‐house
Trend: As companies continue to work to get the right mix of technology to achieve their business objectives, they will also seek to get the right mix of tech talent. The past few years have seen robust growth in nearly every category of IT occupation. Heading into 2016, Burning Glass Technologies reported slightly over 800,000 postings for IT job openings (see Section 1 for details and caveats). While the IT industry itself remains the largest employer of IT workers, industries across the U.S. economy have ramped up their investments in internal software development, IT support, cybersecurity, data analytics, and related skills. As noted in the previous trend, realizing the full benefits of digital transformations requires the coordination of many moving parts. While third party experts, such as solution providers and managed services providers, will continue to be a part of the mix, many organizations view the further development of tech talent in-­‐house as a strategic imperative.
Drivers/Opportunities: During September 2015, Fortune 500 retailer Target announced it was reducing its reliance on IT outsourcing – primarily in the area of software development, and bringing 1,000+ new IT workers on staff. The firm cited the need for greater speed and agility, as well as the advantage that comes with having staff that know the business inside and out. Granted, this is only one example. However, it does provide a frame of reference for understanding some of the factors at play. Another component of this trend as confirmed by CompTIA research is the desire of business executives to shift more IT budget and staff time to innovation, reducing the sometimes-­‐heavy outlay for managing routine IT operations. This may entail working with a managed services provider to help with monitoring IT infrastructure, freeing up the company to develop in-­‐house tech talent through hiring, training, and certifications with an eye towards innovation and business objectives.
Counter trend: According to the U.S. Bureau of Labor Statistics the unemployment rate for IT occupations is nearly half of the national rate (2.6 vs. 5.0). Demand for many types of tech skills greatly exceeds supply. While there can be significant variance in tech occupation wages due to location or specialization, the general trend points to higher labor costs; which only makes sense given the ROI companies earn from high performing IT professionals. For these reasons, even when small and mid-­‐size businesses want to expand their internal IT capabilities, they may be unable or unwilling to make the necessary investments to land sought-­‐after candidates. Beyond hiring, many organizations will also pursue a strategy of further leveraging existing IT staff through training and professional development. This approach poses similar challenges in that it requires resources and time – two constraints that can quickly derail plans.
TECHNOLOGY TRENDS
Cloud is the New Electricity
Trend: Cloud computing has been a dominant force in the IT industry, thanks to the way it has transformed IT operations and technology strategies. Companies have considered many cloud-­‐specific aspects of business systems, from migration to integration and security. As the questions around cloud are answered and the benefits are becoming obvious, businesses are adopting a cloud-­‐first strategy as they plan new technology projects. In time, this will drive "cloud" to the same place as "electricity" or "Internet"—so prevalent that it becomes a standard part of any planning. On the front end of the computing spectrum, mobile devices will follow a similar pattern. The ultimate goal is the complete solution.
Drivers/Opportunities: The fear of cloud computing has diminished greatly. Even government agencies, a segment that initially had great concern around cloud, have adopted a cloud-­‐first mandate. Companies recognize that cloud systems offer benefits far beyond potential cost savings (which may not even materialize depending on the application). Flexibility, maintenance, and—surprisingly—security are all reasons that companies utilize cloud components, and widespread adoption will soon drive cloud systems to simply be the systems of record.
Counter trend: Heavy investments in cloud products and advertising along with continued questions from late adopters will keep many cloud-­‐specific discussions going. In particular, monitoring and management of a multi-­‐cloud architecture will be a challenge for many companies. As companies move into later stages of adoption, other issues will also come up, such as movement between cloud providers or restructuring of workflow to take advantage of cloud applications and mobile devices. These cloud discussions will continue to highlight differences between modern cloud systems and other infrastructure options.
Companies Go On the Offensive with Security
Trend: The mindset around security has been shifting in recent years due to a number of factors, such as the adoption of new technology models and the reliance on digital data. This year, ongoing security breaches across a wide range of industries and companies will add a proactive element to the security approach. Companies will increase activities such as penetration testing, external audits, and end user evaluations that lead to investments in new security training platforms. As metrics are developed around these areas, companies will also begin to publicly disclose the results of their tactics. As the security balance shifts further away from prevention and more towards detection, active measures will be needed to keep ahead of the curve.
Drivers/Opportunities: All the security breaches making headlines in the mass media reveal the changing nature of IT security: attacks now happen for a variety of reasons (rather than primarily focusing on financial information or IP) and target companies of all sizes (rather than focusing on large enterprises). In the digital economy, corporate reputations are at risk if best security practices are not followed. Most major security breaches have not yet exploited cloud systems or mobile devices, so the threat landscape will continue to change and companies will need proactive focus to maintain a secure position.
Counter trend: Security defenses can't be ignored as companies build new offensive practices. Most companies view security defense as a technology pursuit, with firewall and antivirus as the main weapons. These remain critical pieces for on-­‐premise data and corporate devices, and companies must also consider tools such as Data Loss Prevention (DLP) and Identity and Access Management (IAM) as they adopt cloud and mobility. Before setting up a technology strategy, companies must determine their policies on security and perform risk assessments. Once all the pieces are in place, the proactive evaluation and testing can begin.
The Chase for Analytics Heats Up (Again)
Trend: Big Data first came on the scene a few years ago, but there is renewed interest in gaining insights from data and making data-­‐based decisions. The competitive advantage gained from intelligent use of data has separated early adopters from their counterparts, and everyone wants to quickly follow suit. The spectrum of data tools includes initial storage and the processing stage, but analytics and visualization will be the dominant areas of interest.
Drivers/Opportunities: After the initial burst of enthusiasm, the Big Data trend saw some backlash since many companies did not have data management practices that allowed them to adopt newer tools for storage and analysis. The situation has improved, with companies getting their data in order and being more ready for new adoption. Companies without strong data practices have also realized that existing data tools can help them improve their analytics capability without having to explore the cutting edge. Finally, the concept of abstraction driven by cloud computing has led to a greater degree of accessibility, especially for the end goal of analytics and visualization that so many companies are interested in.
Counter trend: The ability to access certain analytics tools does not replace the need for end-­‐to-­‐end data solutions. As with cloud computing, companies can gain some level of benefit from initial adoption of these tools, but the full benefit will only be realized with a comprehensive approach. Many companies still have data silos and need to perform data audits to determine their starting point. From there, improvements to data storage, backup, monitoring, and policies will strengthen any existing analytics activity.
The Software Layer Gets Much More Attention
Trend: The definition of software has changed, as the concept of packaged applications with licenses is moving to an app or SaaS model. The importance of software has also grown, as manual, paper-­‐based processes are replaced by digital equivalents. To build a digital workflow, companies are quickly recognizing the need for some level of development to customize or integrate applications. In turn, development efforts are being streamlined through the use of PaaS environments and containers that allow for greater app independence. Integration also hints at the growing demand to virtualize and automate infrastructure. More programming skills are needed as companies pursue software defined data centers (SDDC) or, at the very least, a higher degree of automation.
Drivers/Opportunities: Hardware is still the foundation for IT systems, but in a different way than ever before. Companies are owning lower percentages of their hardware infrastructure as they move to the cloud, and the infrastructure that exists either on-­‐premise or in the cloud is increasingly made of commodity components stitched together virtually. APIs are the key to accessing this new infrastructure and providing applications. As more applications make their way to mobile devices, businesses are investing in mobile app development to make custom adjustments for their specific purposes.
Counter trend: Hardware is not going away anytime soon. Very few companies will take 100% of their architecture to the cloud, choosing to keep some systems local for security, performance, or other reasons. The major hardware activity, of course, is taking place at the end user level. While BYOD has not taken over to the degree that was once expected, many employees still use personal devices and create security concerns that must be addressed. Regardless of a company's stance on BYOD, the diversity of choice in end user hardware is a challenge in managing support and user experience. Add in the fact that Internet of Things is turning everything to a computing device, and the need for hardware skills is likely to remain very strong.
CHANNEL TRENDS
Vendor Partner Programs Strive to Reach Escape Velocity
Trend: In a cloud-­‐based "as-­‐a-­‐service" world, the main source of channel profit – vendor margin – is changing. In many cases, vendor-­‐provided margin now plays second fiddle to what the partner earns on his or her own raft of services. And with more channel firms calling consulting services their primary business model, this trend will only continue. As a result, vendors need to be thinking differently about partner program compensation models, which run the risk of becoming antiquated if not updated to reflect how partners make money today. Staples such as upfront discounts and back-­‐end rebates are declining in relative importance to channel partners while newer cloud vendors with no heritage in legacy hardware or software are wisely building partner programs that recognize this.
Drivers/Opportunities: Forty-­‐eight percent of US-­based channel firms recently described the state of their vendor relationships as either "exploratory" or "shifting," which means they are taking a look at new vendors to work with or they have made a definitive switch already. Cloud has a lot to do with this, as new, more nimble vendors have emerged and are beginning to build out indirect channels. How the channel makes money from cloud solutions – recurring revenue, referral fees, consulting – has them rethinking the value of some of the more conventional ways that vendors structure their programs and financial rewards.
Counter trend: Many business models in the channel will continue to rely on traditional arrangements with vendor partners, including placing a high value on vendor-­provided margin on product and services. While half of the channel might be evaluating new vendors to potentially work with – or have even dropped some old for new – it remains that a net 93% of them express satisfaction with their most strategic vendors.
So Who's a Vendor Anyway?
Trend: A range of factors is blurring the lines today between vendor and channel roles. For one, the playing field of competitors has expanded beyond traditional vendors and partners to other operators. Pure cloud players, telecom providers and digital agencies are now in the mix. There are even corporations outside of the IT industry that could pose threats to traditional IT vendors. Take the electric carmaker Tesla, for example. After trying mainstream ERP solutions, it decided instead to develop its own, reasoning it would get a leg up on competitors. But what's stopping the carmaker from offering that software as a tech product to other companies in others industries? Likewise on a smaller scale, end-­‐user businesses such as accounting firms are providing IT services on their own too. And then there's the channel itself. The public cloud is enabling some solution providers today to create their own IP – chiefly SaaS applications, but also less product-­‐centric items such as proprietary methodologies and processes. Consider a recent CompTIA study that found 6 in 10 channel firms expect considerable growth in their own custom application development practices. This is notable in that app dev is a business line not typically in the channel's wheelhouse and one that carries potential for churning out IP.
Drivers/Opportunities: The need for partners to differentiate and create their own brand is driving much of this channel behavior in this regard. With cloud becoming a ubiquitous platform for delivering IT, the playing field is leveling as to who is serving the customer. And the channel is always looking for other sources of revenue; by developing their own products and/or services to sell in conjunction with vendor brands or via the cloud, they both build up their revenue stream and lock in customers that are happy with these solutions.
Counter trend: The great majority of the channel is not going to morph into a vendor and start peddling its own IP. Relationships with vendors will continue to be crucial to the channel business model, and will include selling both vendor products and services. In fact, CompTIA research finds that many channel firms are moving to a predominantly consulting business model, which means they are making referrals to their customers, advising on implementation strategies and such decisions as on-­ versus off-­premise. In this role, the channel serves more as an ambassador for various vendor solutions and services and not a product-­‐building competitor.
Skip the Data Center Build-­out – Everyone Else Is
Trend: Face it, even Verizon and HP are reportedly thinking about throwing in the towel. And if players of their size are considering an exit from the cloud data center business, it's a good bet that nobody in the everyday channel is going to fare better against the low compute pricing, scalability and reach of the major public cloud providers. A better bet for the channel is to look toward juggernauts in the market such as Amazon Web Services, Microsoft Azure , IBM and a few others as the back engine for their own cloud solutions to end customers. Building out your own data center thinking it a differentiator will be a money drain and many partners are realizing this and skipping the internal NOC.
Drivers/Opportunities: Commodity pricing and scale. The average partner simply cannot expect to compete with public cloud players that can drop pricing quarterly and manage thousands of customers across a complex system of data center infrastructure. Amazon's latest price cut was as recent as the turn of the new year. Partners are better off taking advantage of those low prices as a customer of AWS versus a competitor.
Counter trend: Infrastructure decisions will continue to play a key role in the channel's embrace of a services-­‐based business model. For those that have transitioned to managed services, for example, operating a NOC is often a critical foundational piece. For those MSPs that are already running their data center for current customers, it will be a logical step to provide cloud services from that same infrastructure and not to scrap the capital investment. MSPs are not shut out from public cloud usage, however. In fact, they are uniquely positioned to provide customers the best of both worlds, a hybrid scenario where certain workloads and data sets reside in the public cloud and others remain in private cloud mode in the MSP's data center. This scenario is a win-­‐win for companies that have specific security or compliance mandates that necessitate the level of oversight found in a private cloud set up, but who also want access to public cloud flexibility and pricing for less security-­sensitive needs.
Getting Closer to the Customer
Trend: Trend: Along with all the changes triggered by new technologies and platforms such as cloud and mobility, the end customer is changing as well. The end customer today is quite likely to be the chief marketing officer, for example. The end customer today often knows quite a bit about the technology they want to buy and possesses a fair amount of leverage in terms of price transparency and deal negotiation. The end customer knows that long-­term contracts for managed services don't follow the more open-­ended commitments that cloud-based solutions often entail. As a result, how channel firms interact and appeal to end customers will need to adapt. This could mean more business outcome-­centric sales and marketing messaging to woo non-­IT LOB buyers. Or it could mean getting serious about specialization in a particular vertical to stand out to customers heavily steeped in their own industry idiosyncrasies.
Drivers/Opportunities: Not to overstate it, but cloud has opened up new worlds for end customers. They are growing accustomed to quick, easy access to free SaaS applications. Ubiquitous mobile devices are in everyone's clutch. Confidence about the ins and outs of technology among non-­IT workers is driving new types of decision-­making around procurement. Buyers today want to know how a technology will drive business outcomes, and they want fast, scalable access to services and solutions.
Counter trend: The "trusted advisor" is not dead. While cloud might have opened up new doors for end customers in terms of what they demand from delivery models for IT or even pricing, cloud has also added a layer of complexity in terms of choice. Myriad cloud solutions exist today – many from vendor unknowns – and the channel is uniquely positioned to be a gatekeeper. From vetting cloud solutions pre-­purchase to managing them once implemented, many customers will continue to value this type of relationship with a provider. Additionally, no matter how much end users think they know about technology, there are always gaps. And security is the biggest one. CompTIA research finds the No. 1 growth area channel firms expect over the next two years to be in the security field – and that's no surprise.
Appendix
Recap of past trends to watch from CompTIA:
Click here for Appendix images
2015 Trends
Technology Extends Its Global Reach
The Push to Simplify: Battling Complexity on Many Fronts
The Democratization of Technology Creates New Opportunities for Small Businesses
The Stakes Get Higher for Tech Policy
The New Business Systems Get Built
Data Handling Becomes a Core Competency
The Internet of Things Drives Innovation
Security Gets a Makeover
Remodeling the Channel
Customers Holding the Reins
Business Transformation is NOT the End Point
Channel Skills Gaps: Marketing and Beyond
2014 Trends
Technology Becomes a Core Competency for More Businesses
Mass Customization Gets More Sophisticated
Processes and Workflow Get a Makeover
Technology Increasingly Embraced as the Remote Control of Life
Cloud Wars Intensify
Diverse Devices Flood the Market
Big Data Has a Little Sibling
Software's Appetite is not Satisfied
When It Comes to Your Channel Business, It Can be OK to Stay in Two Lanes
Time to Rebrand the 'Trusted Advisor'
Back to the Basics: Reinvesting in Technical Expertise
Channel Dynamics: Partner or Competitor?
2013 Trends
Progress Along Innovation Learning Curve Pays Dividends
Expectations Reset: The Push for Faster, Larger, Easier and Safer
Open and Transparent Further Displaces Closed and Hidden
The Distributed Economy Deepens
Technology Continues Its Transition from Supporting Tool to Strategic Driver
Mobility Becomes a Way of Life…for Employees and Customers
Companies Begin Taking Cloud Computing for Granted
The Big Data Phenomenon Will Force Companies to Review Data Practices
Communications and Collaboration Get a Boost from the Cloud
Managed Services: Upping the Game
Navigating the New Channel Ecosystem
Specialization: Tackling Growth Markets
Convergence Creates Strange Bedfellows
2012 Trends
Disintermediation – the Drive to Simplify
Automation Pushes Into New Areas
The Enterprise Digital Divide
The Ever-­Shifting Regulatory Environment
Employees On the Go…Expect Their Data to Follow
Cloud Computing Expands IT Department Toolbox
Social Tools and IP Communications Change Collaboration
Everything Gets an IP Address
Business Transformation: Evolution or Revolution?
Vendor-­Channel Relationship: Show Me the Love
Specialization: Blessing or Curse?
Considering the Customer
Appendix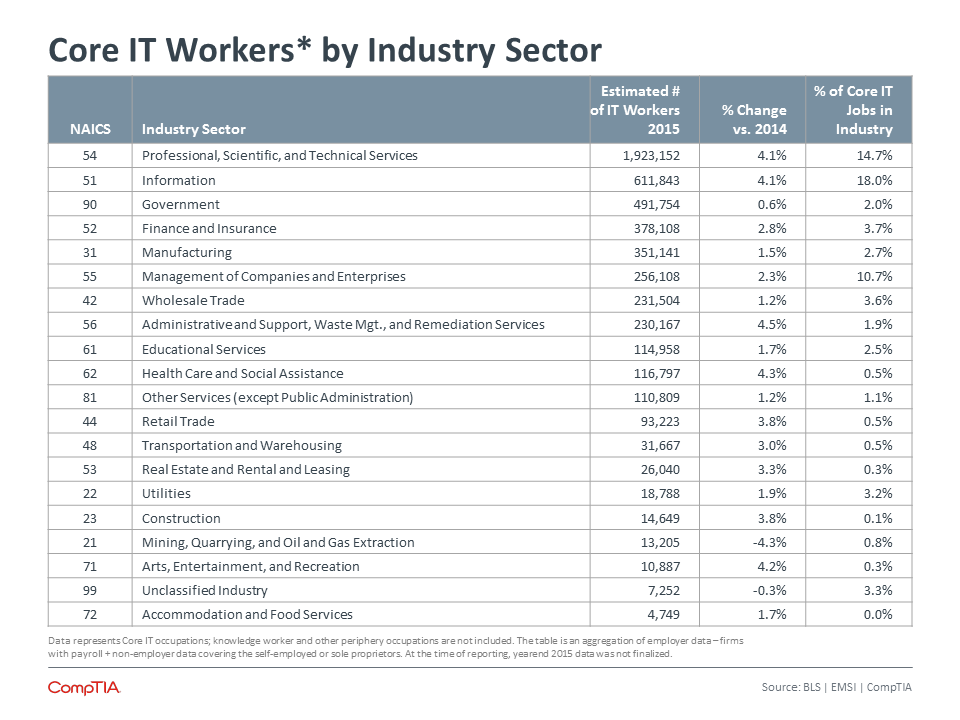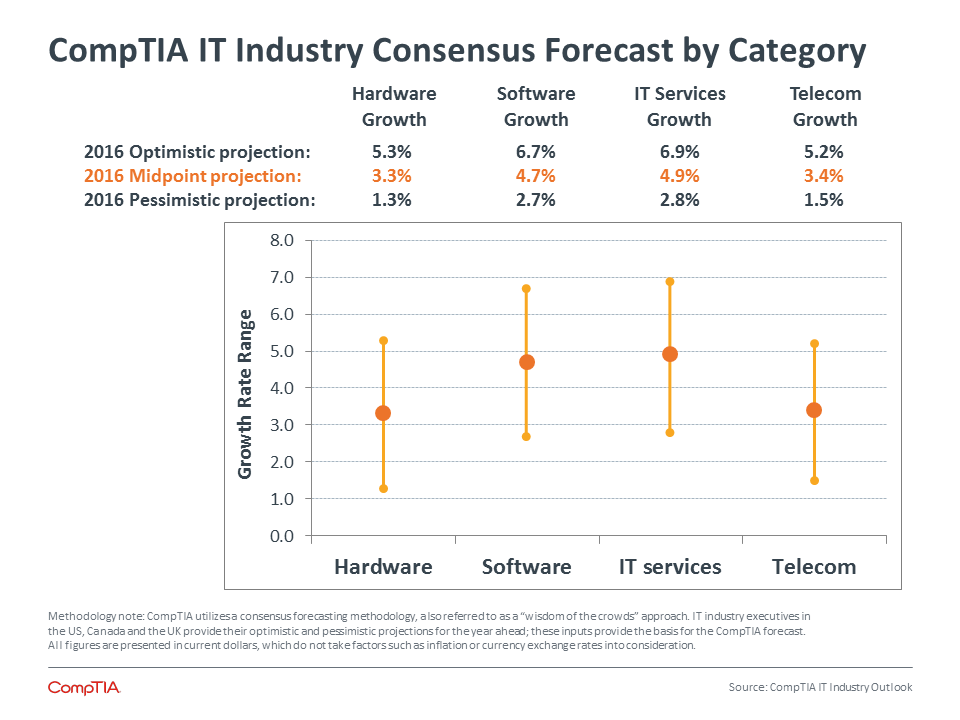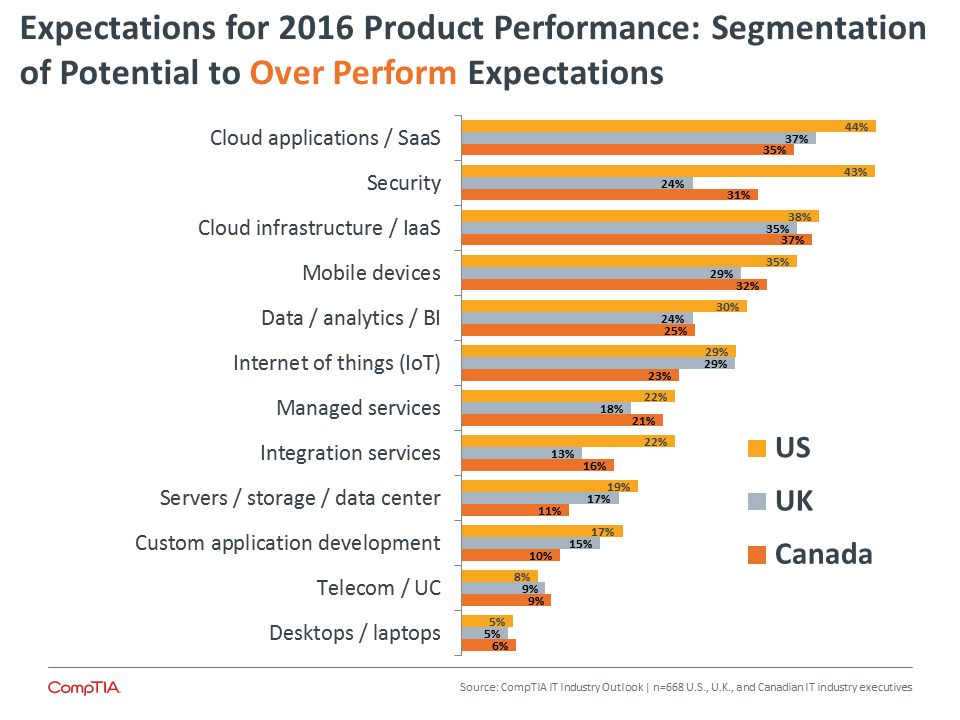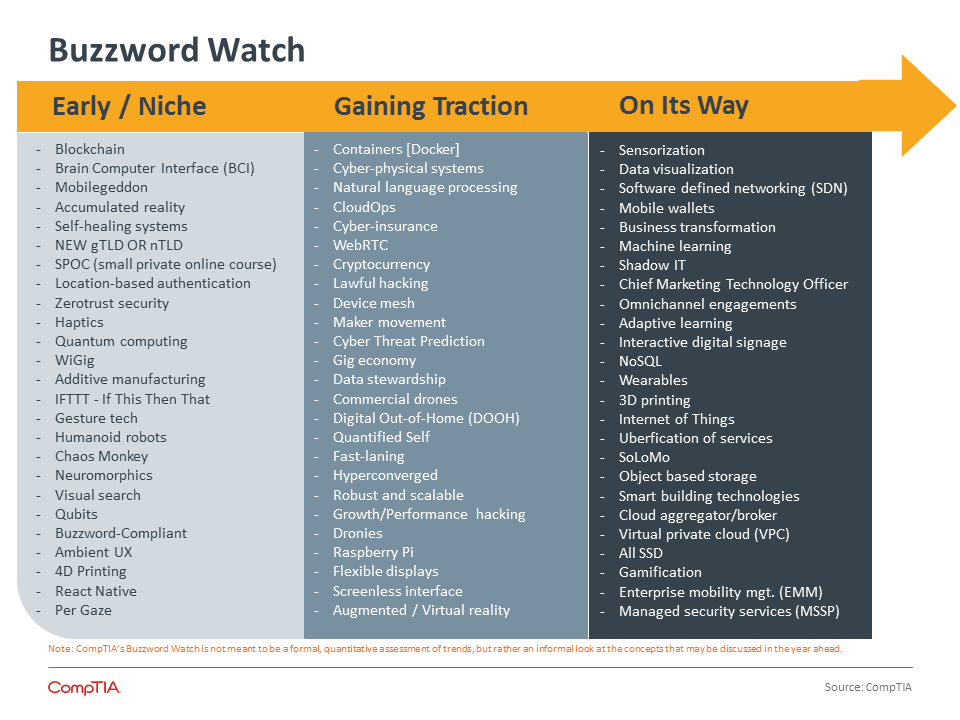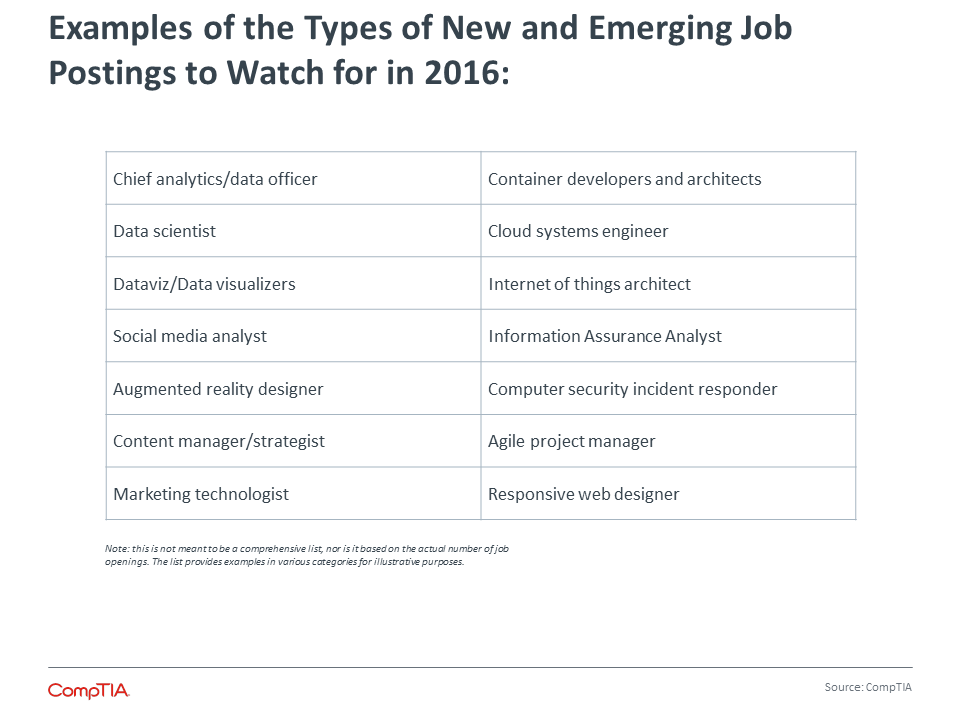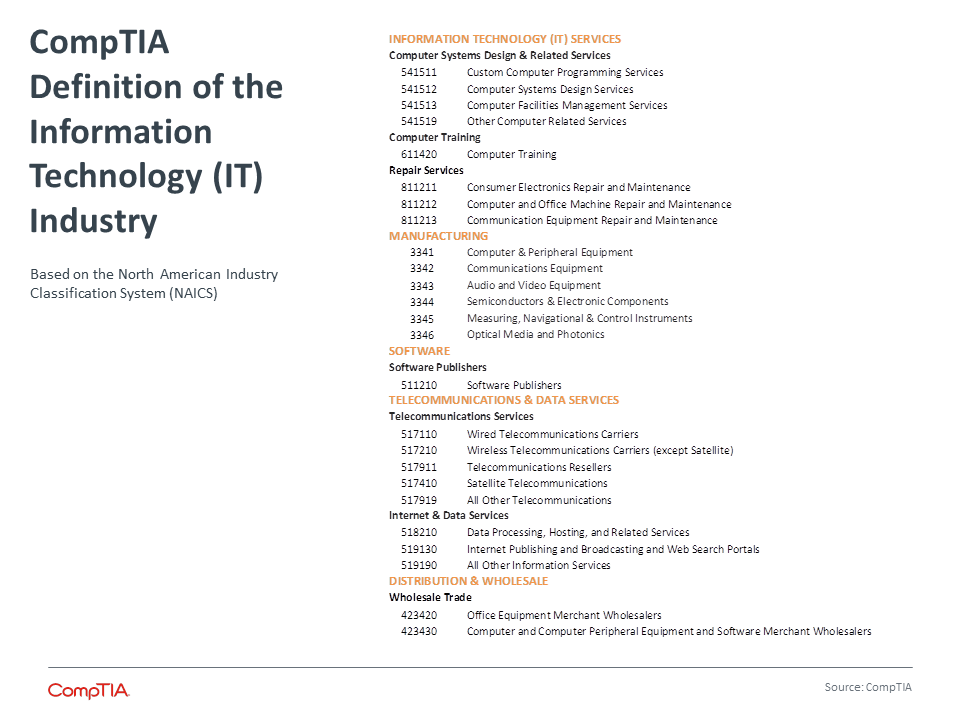 About this Research
CompTIA's IT Industry Outlook 2016 provides an overview of the size, shape and growth factors of the information technology (IT) industry.
The study consists of three sections, which can be viewed independently or together as chapters of a comprehensive report.
Section 1: IT Industry, IT Channel, and IT Workforce Overview

Section 2: Growth Projections

Section 3: Trends to Watch for 2016
This quantitative study consisted of an online survey fielded to IT industry executives and professionals during late December 2015. It was conducted as part of CompTIA's quarterly IT Industry Business Confidence Index. A total of 673 IT industry companies participated in the survey, yielding an overall margin of sampling error at 95% confidence of +/-­‐ 3.9 percentage points. Sampling error is larger for subgroups of the data. Data was collected in the following countries: United States, n=464; Canada, n=106; and, the United Kingdom, n=103.
As with any survey, sampling error is only one source of possible error. While non-­‐sampling error cannot be accurately calculated, precautionary steps were taken in all phases of the survey design, collection and processing of the data to minimize its influence.
Additional data sources cited throughout the report include: IDC, EMSI, Burning Glass Technologies Labor Insights, U.S. Bureau of Labor Statistics, U.S. Bureau of Economic Analysis and others.
CompTIA is responsible for all content and analysis. Any questions regarding the study should be directed to CompTIA Research and Market Intelligence staff at [email protected].
CompTIA is a member of the Market Research Association (MRA) and adheres to the MRA's Code of Market Research Ethics and Standards.
Read more about Industry Trends.