SECTION 1: MARKET OVERVIEW
key Points
The small and medium business market is a key part of the American economy, both in terms of the revenue produced and the workforce employed. It is significant enough that special organizations within the government and standing committees in both the House and Senate have been established to monitor the health of small business and ensure its continued success.
Technology plays an integral role in the life of a small business. Modern technology products and services have reached a point where they are not cost-prohibitive and yet provide substantial benefits in productivity and efficiency. Like the government, large technology vendors have groups focused on sales and support for small businesses.
Within small and medium businesses, IT is handled primarily by internal staff. In medium-sized businesses, this is typically a dedicated IT department, while in smaller businesses the IT function is performed informally by staff with other principal duties. Few SMBs employ outsourcing, signaling an opportunity for service providers.
The Small and Medium Business Market
Although large companies tend to dominate the headlines and have a greater effect on trends due to their size and scope, small and medium businesses account for the vast majority of American organizations and drive significant economic activity. Consider the following statistics from the Office of Advocacy of the U.S. Small Business Administration (SBA):
Small businesses:
Represent 99.7% of the six million U.S. employer firms. (In addition, there are over 21 million non-employer firms, many of which are businesses run by a single owner.)
Employ just over half of all private sector employees.
Pay 44% of total U.S. private payroll.
Create more than half of the nonfarm private GDP.
Have generated 64% of net new jobs over the past 15 years.
Hire 40% of high tech workers
The small and medium business market is also very dynamic. According to the SBA Office of Advocacy, the most recent Census data showed 627,200 employer firms beginning operations in 2008 and 595,600 firms closing that same year. Seven out of 10 new employer firms last two years, and about half reach their five-year anniversary.
In times of economic uncertainty, the small and medium business market is keenly watched as an indicator of employment and spending trends. A recent survey by Manta, an online community for promoting and connecting small businesses, shows that 57% of small businesses expect to hire in 2011. This is an encouraging sign, showing that these firms are bringing in resources to handle expected increases in workload.
Thanks to the impact on the economy of small business, the U.S. government takes special note of this segment. Both the House and Senate have committees focused on small business. These committees were created in the 1940s and have been permanent standing committees for at least three decades. Their purpose is to evaluate all legislation passing though Congress for effects on small business, giving weight to the concept that small businesses have distinctive needs yet substantial economic bearing.
SMB and Technology
Small and medium businesses have a unique relationship with technology. Without an abundance of capital to invest on technology initiatives, they have to make every dollar count. However, they are still willing to spend that money, especially since many technologies available today can significantly increase the abilities of a smaller business, giving capabilities on par with a larger enterprise.
As with hiring, small businesses are expected to spend more on technology this year. According to IDC, U.S. SMBs will spend over $125 billion on technology in 2011. This is an increase from $120 billion in 2010 and continues a trend of increased spending from a low point in 2009. Furthermore, IDC predicts that worldwide IT spending by small and medium businesses will reach nearly $630 billion by 2014, with annual growth averaging 5.5%, consistent with CompTIA's SMB IT spending projection of 5.2% for the 2011-2012 fiscal year.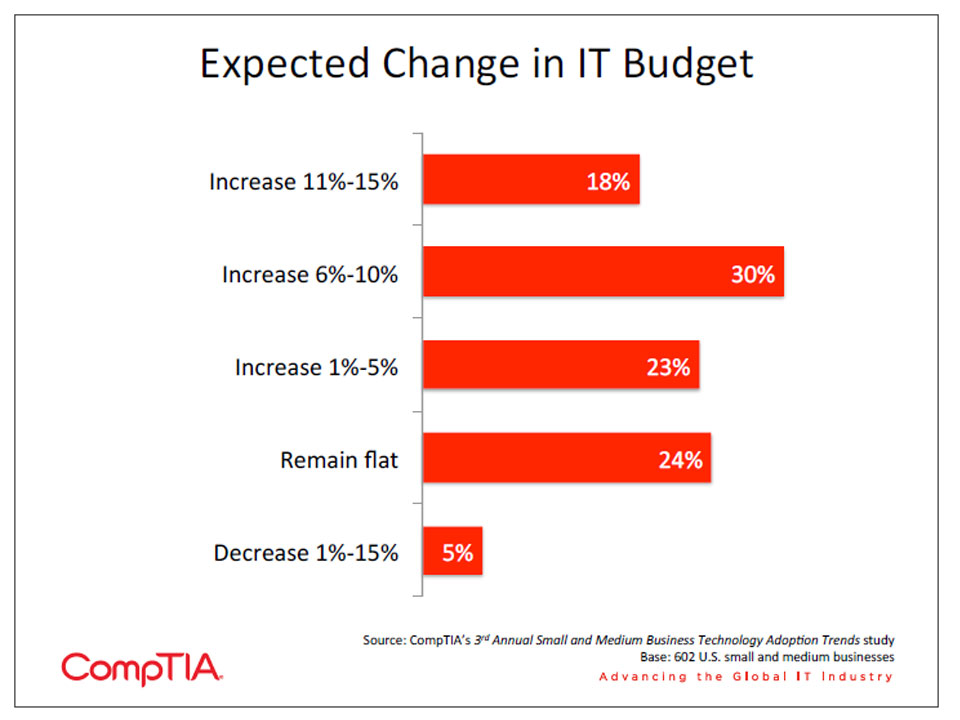 Our research also confirms this trend. When asked how their IT budget would compare to last year, 71% of respondents indicated an increase. An additional 24% expect their IT budget to remain flat, leaving only 5% that expect a decrease. The increases were evenly distributed among businesses of all sizes, though IT budgets certainly grow with company size. Excluding the 13% of companies with IT budgets in excess of $1 million, the average IT budget was approximately $165,000. While small increases in larger budgets certainly result in significant amounts of money, companies with smaller budgets also appear to be planning substantial increases. A full third of all companies responding expect to increase their IT budget by 10% or more. This likely indicates large one-time purchases, but it is still a good sign for vendors and resellers.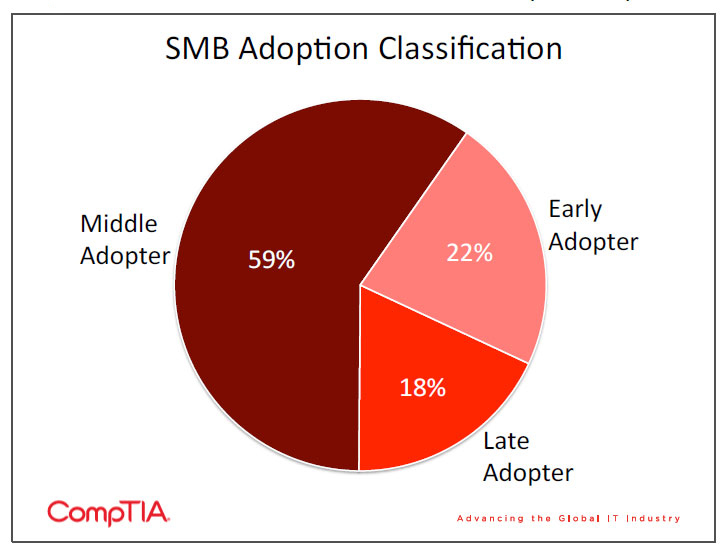 Another data point to consider is where SMBs see themselves on the continuum of technology adoption. The 2011 data follows the trend seen in previous years: the majority of SMBs place themselves in the middle of the range when asked how quickly they adopt new technology. More than one in five companies classified themselves as an early adopter. As in previous years, a minority of the sample placed themselves in the "late adopter" category. This indicates that while SMBs have limited budget and staff to devote to technology, it remains critical to their business that they remain up-to-date.
Looking at businesses of various sizes, technology adoption follows a predictable trend: the very smallest businesses are slower in technology adoption. Only 5% of micro firms identified themselves as an early adopter, as opposed to 20% of small firms and 29% of medium firms. Likewise, 36% of micro firms put themselves in the late adopter category, at least double the percentage of small or medium firms. Micro firms may have the least resources to devote to technology, but since this also includes staff resources, there may be opportunity to provide the benefit of advanced technology through a managed service offering.
As with the U.S. government, large technology vendors have realized the potential of the small business market as well as the unique challenges. IBM, Microsoft, Dell, HP, and many others have created specialized areas within their companies that focus on sales and support for small businesses. These groups highlight affordability and efficiency in products and services.
Small Business IT
To deal with technology, SMBs take different approaches to IT, mostly falling into one of two camps. Medium-sized businesses tend to have dedicated IT staff. This makes sense, as larger organizations require more internal controls to maintain efficiency and productivity. Meanwhile, both small and micro businesses also tend to use internal staff, but these employees are not dedicated IT professionals. Rather, they perform IT support in addition to their main job function.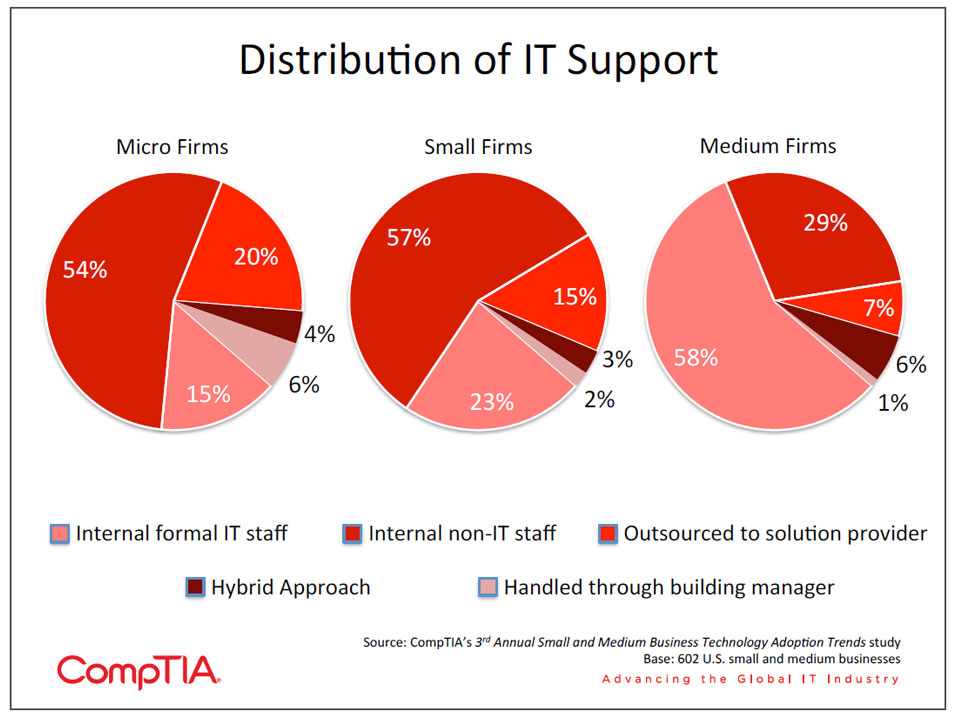 Interestingly, relatively few SMBs outsource their IT work. For any size company, at most there are one in five that primarily handle their IT needs through outside service providers or consultants. The number of companies that have a hybrid approach, supporting parts of their IT internally and outsourcing other parts, is far lower. This substantiates the view that many SMBs view IT consulting as prohibitively expensive.
Solution providers should take advantage of the opportunity here. Keeping in mind that smaller businesses have little time to devote to IT analysis, providers should present concise descriptions of products or services that will bring rapid return on investment. Since so few companies utilize a hybrid approach to IT support, choosing strategic service offerings to offload specific items may prove beneficial. In addition, laying out the opportunity cost of having non-IT employees spend time in IT support may demonstrate the value of outsourcing and open the door for future investment.
SECTION 2: CURRENT TECHNOLOGY TRENDS IN SMALL AND MEDIAUM BUSINESSES
key Points
With technology playing a prominent role in many small and medium businesses, it is no surprise that many firms have a wide range of equipment in their office. However, networking components do not seem to be as prevalent, especially those components that would be used in a unified communications solution.
Small and medium businesses have network issues near the top of the list of IT concerns to be addressed, along with online and mobile customer interaction. As they address these concerns, SMBs have plans to use emerging technologies such as social media and cloud computing. However, there is unfamiliarity with other emerging technologies, such as green IT and unified communications, that could save costs and increase productivity.
Small and medium businesses have started using several emerging technologies, such as business intelligence, cloud computing, and social media. Many firms also have plans to adopt these technologies in the next 12 months. However, other technologies—such as virtualization, unified communications, and green IT—are not as widely used and are even unfamiliar to many companies.
Current Status of SMB Technology
As described in section 1 of this report, technology plays a key role in the life of a small or medium business. Modern technologies have become more accessible in both price and function, and utilizing these technologies allows a smaller business to have capabilities on par with a larger enterprise.
When asked to identify the products currently in place at their organization, the companies in our survey validate this dependence on technology. Other than tablets and videoconferencing equipment, each product in our list is adopted by over half of the sample. Not surprisingly, computers have the highest adoption rate, with desktop computers in place at 90% of firms and laptops in place at 81%. Printers, copiers, and fax machines are installed at most locations, with standalone printers and all-in¬one devices the most popular models. Smartphones are more widely used than standard cell phones, but clearly cell phones of some type are being used to either supplement or replace on-premise voice systems.
At small and micro businesses, the adoption rates suggest two different trends. First, smaller businesses appear to have had fewer concerns about a mobile workforce. Laptops, tablets, and smartphones all have lower adoption rates in firms with fewer employees. Tablet adoption is particularly segmented—while 50% of medium-sized businesses have deployed tablets, only 35% of small businesses and 7% of micro businesses have done the same. The second trend is a greater emphasis on efficiency in smaller businesses. For printers, copiers, and fax machines, standalone devices see adoption rates similar to mobile devices. Even standalone printers, which are in place at 79% of medium businesses and 77% of small businesses, are in place at only 60% of micro businesses. However, all-in-one devices have nearly the same adoption rate at businesses of all sizes.
The installation of technology validates companies' self-assessments as early, middle, or late adopters. For more mature products, such as desktop computers or standalone printers, adoption rates are relatively constant across all three categories. However, newer technologies—such as tablets and smartphones—have much greater penetration in early adopter firms and much lower penetration in late adopter firms. Clearly, those firms that see themselves on the cutting edge of technology are exploring ways to incorporate new devices into their workplace.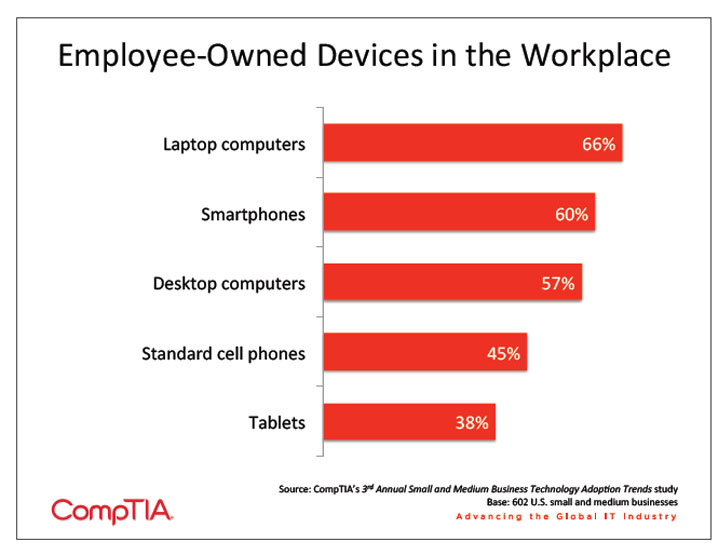 Tablets
Laptop computers
Smart phones
Video conferencing equipment
Desktop computers
A/V equipment
All-in-One printer/copier/fax machines
standalone printers
n addition to standard productivity equipment, networking components are a key piece of a company's IT strategy. Adoption of various networking technologies seems to correlate directly with company size. Micro businesses are far less likely to employ on-premise equipment such as servers or storage, but these components are in place at more than 60% of small businesses and over 70% of medium businesses. Wireless LAN installation is fairly constant for all companies. Across the board, adoption of networking technology that would be used in a unified communications solution is quite low. Even at medium-sized businesses, fewer than four out of ten companies have installed power over Ethernet, VolP infrastructure, or videoconference infrastructure.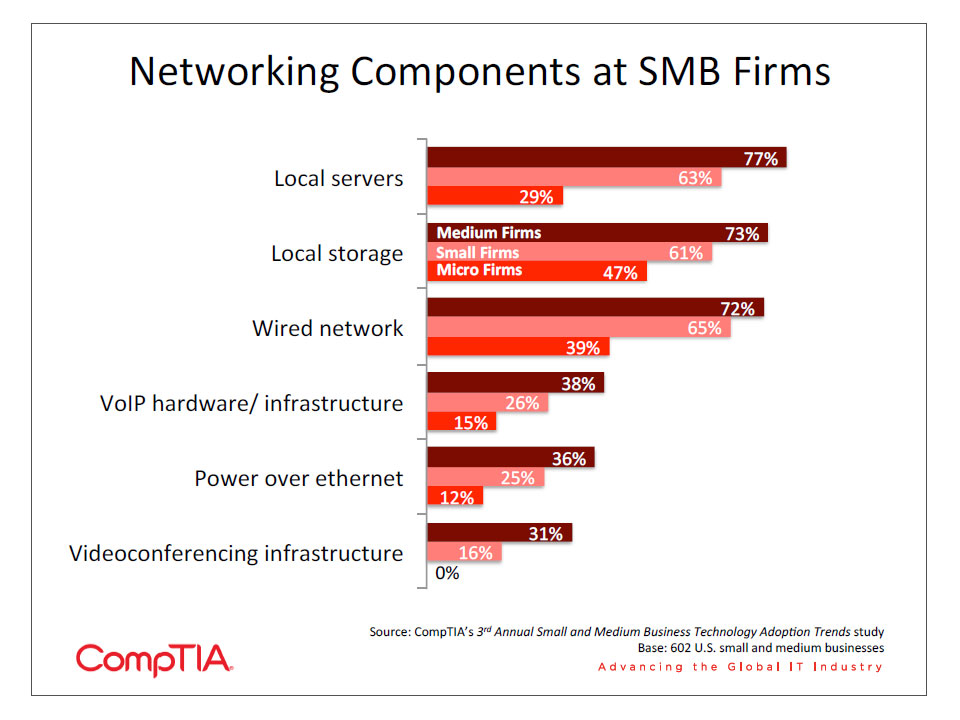 SMB IT Trends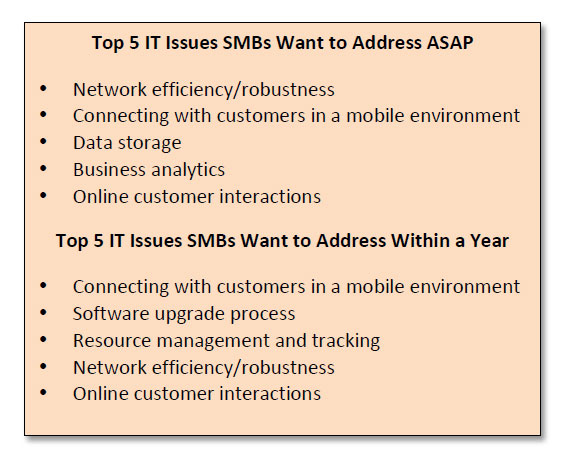 The state of the company network is apparently an issue that small and medium businesses recognize and want to address. Among a list of IT concerns, network efficiency and robustness appears near the top in both the list of items that companies want to address as soon as possible and the list of items to address within one year.
Two other items also appear in both lists: online customer interactions and connecting with customers in a mobile environment. These two items go hand in hand, and while they both have implications in terms of hardware or software, there are also major to make that presence more dynamic. Skill gaps will need to be closed with training or hiring, and business flows will have to be altered to account for online or mobile interactions.
The trend towards mobile solutions is also evident when companies are asked about plans for emerging technology. For medium businesses, 42% currently use mobile solutions, and another 33% plan to start use in the next 12 months. For small businesses, though, only 25% currently have mobile solutions, but the number jumps to 43% that expect to start in the next 12 months. Even micro businesses expect to significantly increase usage of mobile technology, with current usage at 12% and planned usage at 22%.
The other emerging technology that shows a similar pattern of use was cloud computing. Nearly one-third of SMBs have adopted cloud computing technology, with medium businesses showing the highest utilization at 42%. Cloud computing is also the most popular choice in company plans, as 35% of all businesses surveyed expect to start using cloud in some form in the next year.
Interestingly, while cloud computing and mobility show the highest planned adoption rate, business intelligence is the emerging technology with the highest current adoption rate. This survey did not explore the details of usage, but it makes sense that many small and medium businesses would apply some sort of data analysis to understand their market better. Business analytics also appears in the list of items SMBs want to address immediately, and with analysis getting more sophisticated and available data growing exponentially, this is likely to be a key area for smaller firms in the years to come.
At the other end of the spectrum, virtualization has the highest incidence of companies (13%) reporting they are not familiar with the technology. Since virtualization is a key technical component of many cloud solutions, especially Infrastructure as a Service or Platform as a Service, solution providers would be wise to explain the mechanics of cloud computing to keep their customers well informed.
Two other emerging technologies that have a high rate of unfamiliarity are green IT and unified communications (UC). As the installed base of network components shows, many companies are not prepared for a unified communications solution. Providers selling UC solutions can start by explaining
the technology and benefits, then discussing the necessary capabilities of the network. For green IT, energy efficiency may not rate as a high priority for many SMBs, but a lack of understanding of the technology also indicates a lack of awareness of the cost savings. Here, providers can give education that will lead to informed purchase decisions.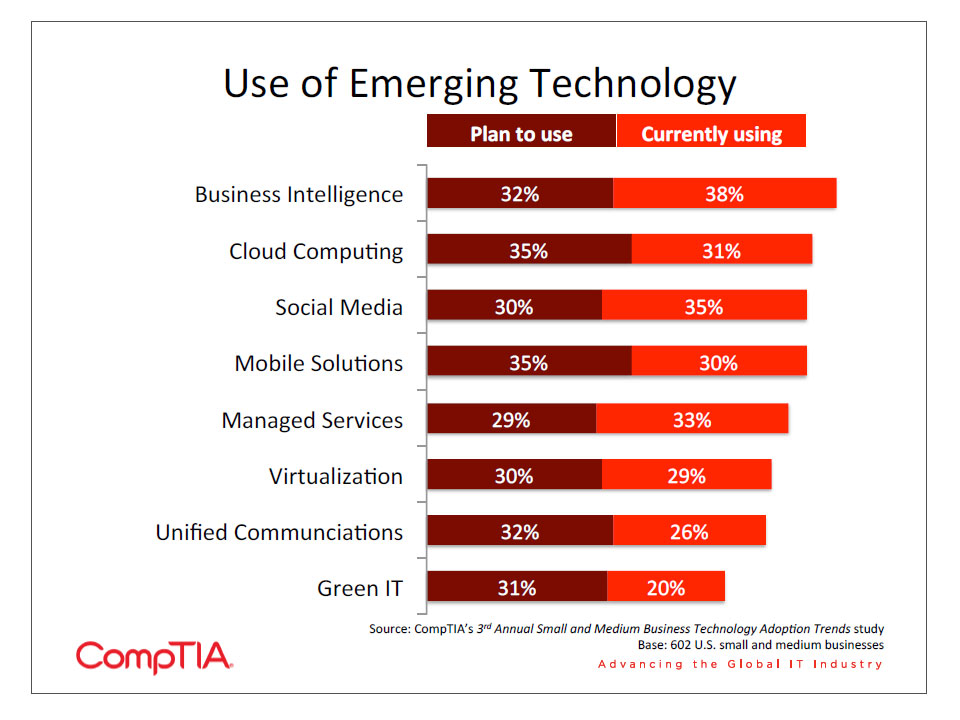 A final area to consider regarding IT trends is the method for introducing technology into a company. Technology may be introduced as either a solution to a problem or a mechanism for enhancing productivity, but the noteworthy aspect of technology introduction is how it happens within an organization. While independent operation within departments—both IT and lines of business—is generally the least likely scenario to occur, the most likely scenario is departments—both IT and lines of business—communicating directly with executives. Even companies that have IT in-house as opposed to outsourced see a higher incidence of non-IT staff going directly to executives.
The implication is that departments still solicit approval for their IT plans, but not necessarily from the IT department. IT staff can help to counter this trend by being more engaged with the various lines of business within an organization and being proactive in solving their needs with technology. This will not only make the IT department a more trusted resource, it will give the IT department a chance to keep technical solutions in line with their established policies.
SECTION 3: TECHNOLOGY PURCHASE CONSIDERATION FOR SMALL AND MEDIUM BUSINESSES
Key Points
The top challenges related to IT at small and medium businesses are budget constraints, maintenance of aging products, and training on new technology or product function. In addressing these concerns, solution providers should keep in mind the overall IT experience at a firm, which only 22% of our sample rate as very close to ideal.
Overall, the top driver for IT purchases is general upgrades, although more people (55%) selected speed and performance improvements as a major driver. IT purchases are typically postponed for different reasons depending on the type of company or the staff involved in the decision, so it is important to keep the audience in mind when selling.
Most small and medium businesses handle IT support internally, so there is ample opportunity for service providers to market the benefits of outsourcing. While most companies are familiar with the concept of a managed service, it would appear that helping analyze an individual business for specific areas of outsourcing possibility would have the most impact towards making a decision.
Current Challenges for SMBs
Many large technology vendors have sales processes specifically tailored to meet the needs of small and medium businesses. Understanding these challenges is a key foundation when considering the purchase process at an SMB.
With the economy improving but by no means robust, it comes as no surprise that the top challenge for these firms is financial. One-third of companies in our survey cite IT budget constraints as a major challenge, with another 39% citing budget constraints as a minor challenge.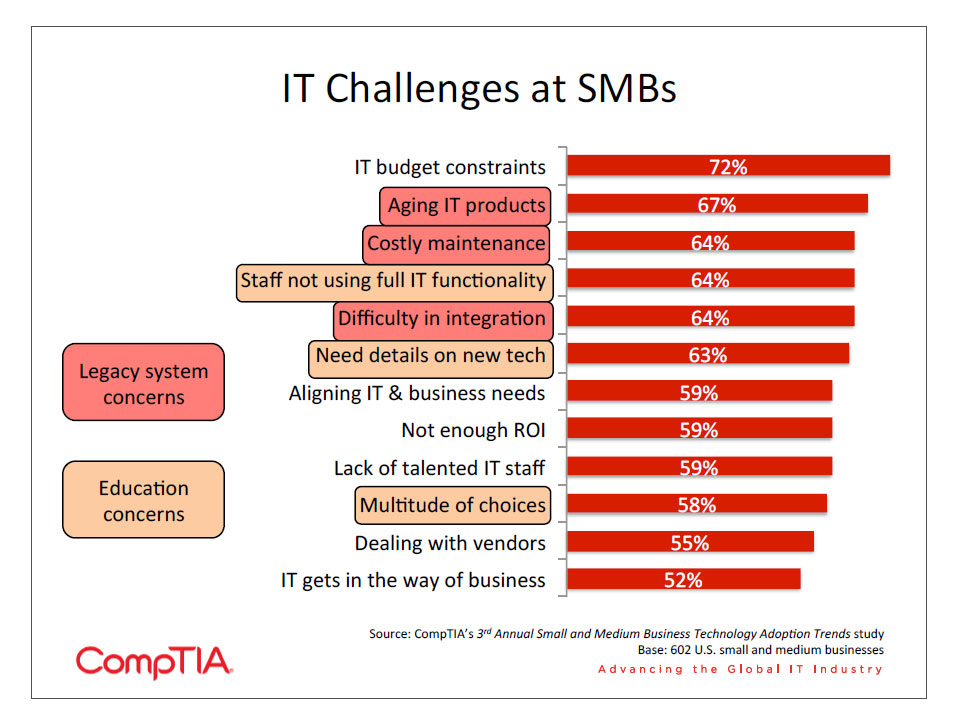 Beyond budgetary constraints, there are two areas that solution providers should focus on. The first is legacy systems. Many SMBs have aging products in place that have high maintenance costs. When considering replacement hardware, customers are looking for products that install easily and do not require significant maintenance to operate. Furthermore, customers have concerns about integrating any new products with their current systems.
A second area providers should be aware of is education. With the wide range of technology products on the marketplace today, customers have concerns about understanding all the details of new technology. Discussions of products within a given category should start with basic foundational concepts of that category, then move to product specifics. In addition, new products are often feature-rich, and end users do not always take the time to understand the full function, which results in lower productivity gains. Training should be offered along with new products so that all staff can fully use the product.
These challenges need to be addressed in light of the overall priorities that SM Bs have. Section 2 of this report discussed specific IT topics of concern for small and medium businesses, including network efficiency and online/mobile customer interactions. In addressing specific concerns, it is important to keep the overall IT solution in mind. Point solutions must be part of a holistic approach. When considering the overall IT experience at their company, only 22% of our sample report that experience to be very close to ideal. The majority of respondents categorize the experience as close to ideal (35%) or somewhat close to ideal (33%), indicating room for improvement.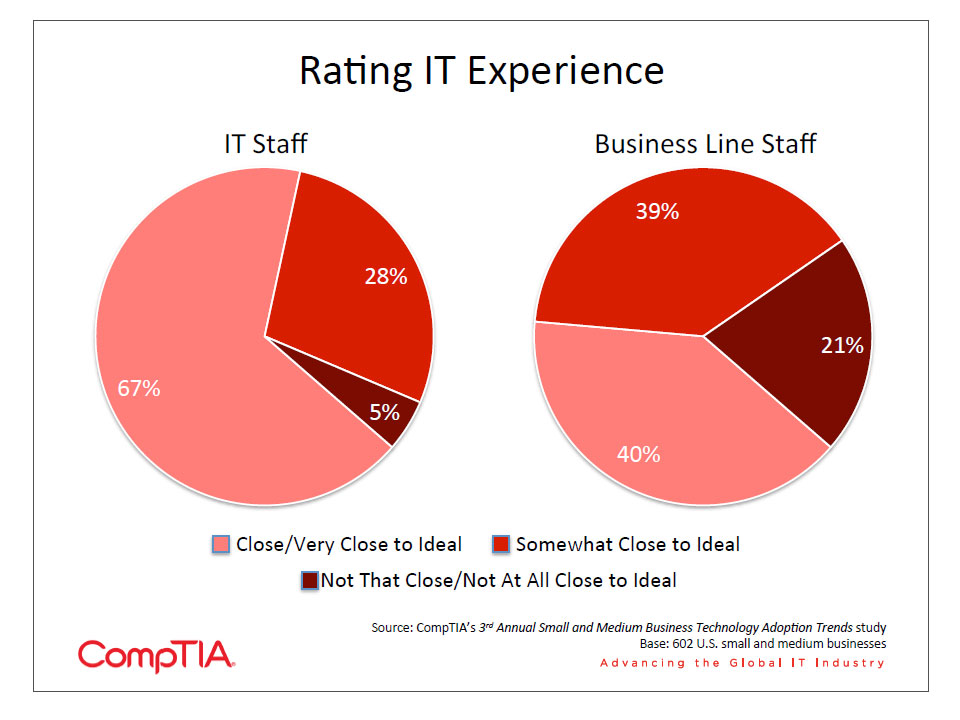 However, there is disparity in the responses between IT staff and other staff, including executives. Only 8% of non-executive staff outside the IT function report the IT experience as being very close to ideal. Forty percent of IT staff categorize the experience as close to ideal, but only 33% of non-executive staff outside IT and only 27% of executives. IT staff have a greater understanding of technology and are more likely to believe that all the pieces are working together as well as can be expected. Solution providers who are working with IT staff should ensure that executives and other lines of business are included in the discussion to highlight any areas of inconsistency.
Understanding the Purchase Process
When asked how the purchase process for new IT products or services could be improved, the responses reflect the same issues that are brought out when asked about general challenges. Nearly half of all respondents are looking for ways to stay on top of new products and easier ways to compare options. Again, discussions on any product should be structured so that the technical basics are described up front, especially for emerging categories such as unified communications or cloud computing. This will lay the groundwork for product comparisons.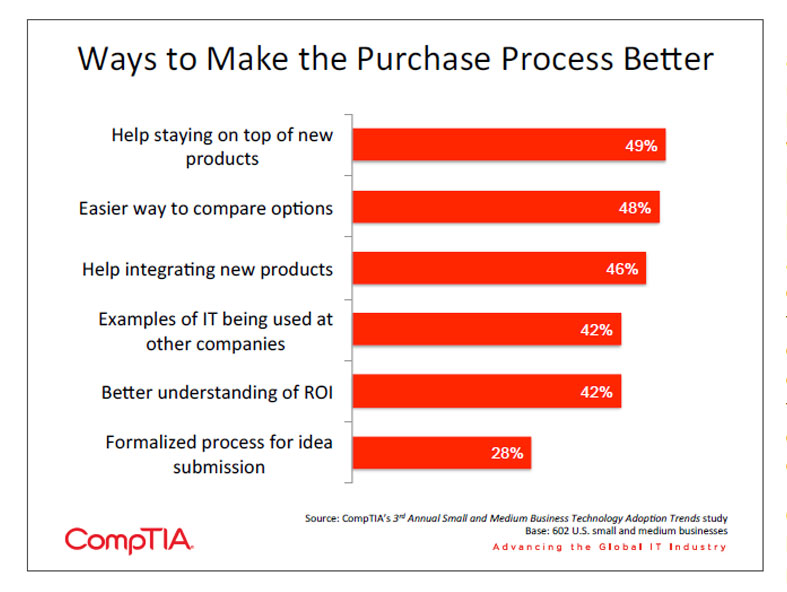 Likewise, customers are asking for a better understanding of how new products will work with their existing infrastructure. From an IT perspective, staff limitations dictate the amount of support that can be given to products that do not tie in to current systems. Outside of IT, users are looking for an overall experience of consistency and ease of use.
Customers also need help understanding the return on investment for products and services. Especially when discussing productivity gains, this can be difficult to quantify. Since 42% of businesses feel that case studies at similar companies would be useful, this may be a useful tool in presenting ROI. /p>
In general, the IT purchase process is primarily conducted by IT staff. Each suggestion for improving the purchase process received a higher response from those in an IT function, whereas executives and those outside the IT function were more likely to respond "None of the above." Technology pitches should include all areas as much as possible to ensure buy-in and agreement on how the product ties in to the overall IT experience.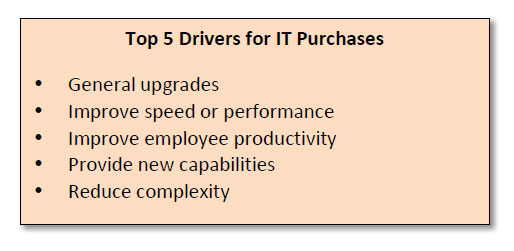 The main driver behind IT purchases is general upgrades, selected as a minor or major driver by 92% of the sample. As companies continue to emerge from the recession, spending on deferred upgrades will continue as long as SMBs have adequate access to capital. Improving speed or performance is rated second highest as a driver, but this choice had the most respondents selecting it as a major driver (55%). Budget constraints and staff reductions are driving companies to look to technology for productivity gains and ways of making workers more efficient.
IT investments may be postponed for many reasons, and the reason may differ greatly depending on the size of the firm, the staff who are considering the investment, or the tendency of the company to adopt technology.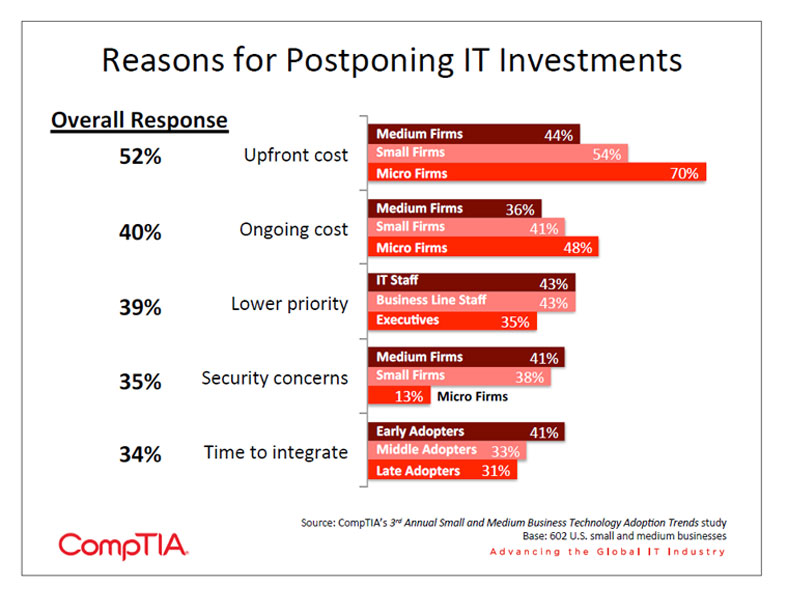 As expected, cost is the major reason why companies postpone or decide against IT investments. However, while company size plays a major role in upfront cost as an inhibitor, ongoing cost has a much more even distribution. Beyond cost, 39% of respondents say that investments are put off because they are viewed as a lower priority. This response was predictably lower among IT staff than executives or other lines of business. Security is a much greater concern for medium and small firms; these firms are more likely to have sensitive IP or extremely confidential customer information. Finally, the time spent integrating products is a higher concern for early adopters, who have to work out any imperfections in the technology while also building best practices where none exist.
The differentiation in the data points to the importance of understanding the customer—how they use technology, who is making the decision, and what technology is most cost-effective given the size of the company. Tailoring the product pitch to address the correct pain points will result in a more receptive audience and a greater likelihood of a sale.
Addressing Current Technology Needs
Section 2 described the equipment that small and medium businesses currently have installed and the equipment those companies are planning on purchasing this year. Examining the current state of technology and the future purchase plans leads to some overarching themes that solution providers can focus on in customer engagements.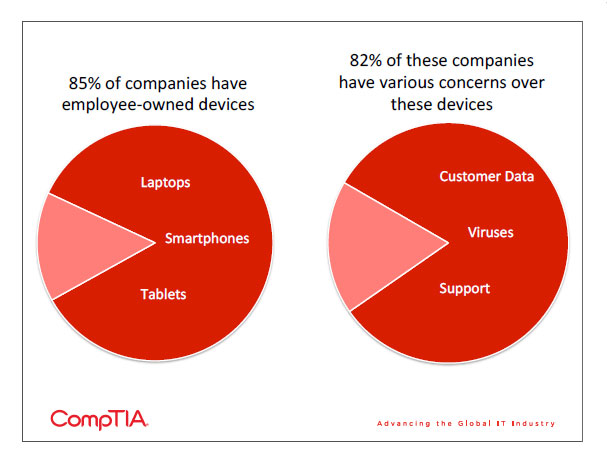 To begin with, small and medium businesses are not immune to the impact of consumer IT on the corporate environment. Eighty-five percent of the sample report that employees utilize some type of personal device, and of that group only 18% report no concerns with this trend. The top concerns are security-related, whether in the form of a virus being brought into the company network from a personal device or in some breach related to customer data. The time supporting these devices is also cited as a concern by 35% of companies. This could be time spent by the IT staff or by the individual employee in attempting to access corporate networks or applications.
Companies may be seeking to mitigate these risks by purchasing the devices their employees are using and bringing them under corporate control. Tablets, laptops, and smartphones—the same devices that are most commonly brought in by employees—are the leading candidates for purchase this year. In addition, companies are showing interest in mobile solutions—whether to connect to their customers in a mobile environment or to allow for a more flexible workforce.
The opportunity in the mobile space is larger than simply selling the correct types of devices to customers. Many companies are discovering that their security and data protection policies are difficult to implement on mobile devices. If SMBs are showing a tendency towards mobile solutions, it would be good to start with a discussion on overall mobile strategy. This will help the customer think through the issues fully rather than purchasing a set of devices and then finding out that there are ramifications.
Another theme to be aware of is unified communications (UC). UC is a field that many expect to be critical to the success of smaller businesses, but 12% of the sample indicated they were unfamiliar with the term, making it one of the least familiar emerging technologies. It may be that companies are unfamiliar with the term, but are still pursuing the various components of a solution. Network upgrades were a key issue SMBs wanted to address either immediately or within the next year, and videoconferencing equipment was relatively high on the list of purchase plans. Sellers of UC solutions should ensure that companies understand the value UC provides in bringing together various forms of communication, opening the door for further sale possibilities for products or integration.
Managed Service Opportunities
Small and medium businesses may be most focused on purchases that directly relate to problems they are facing, but managed services should be considered as an indirect method of achieving business results. As section 1 of this report described, SMBs tend to use internal staff for IT support. In medium businesses, this is typically a formal IT department. For small and micro business, certain staff members handle IT support informally in addition to other responsibilities. Managed services can help those companies with IT departments utilize the IT staff in a more creative way, and those companies without an IT department would clearly find benefit in allowing their business line professionals to focus on their primary job.
With limited resources available to explore various options, many businesses simply may not have fully considered using a managed service for IT support. The issue is not one of familiarity. Seventy-three percent of firms with in-house IT support report that they are familiar or very familiar with the concept of managed services. There is also a fairly even distribution of responses when asked which benefits of managed services are most appealing. Lower total IT costs was cited as the most appealing benefit, and while some companies may not realize this is a possibility with a managed service, the level of familiarity would suggest that it is a known advantage.
Companies may not be considering how a managed service can help alleviate some of the pain points in the purchase process. Requests for information on new products or option comparison can be given to a service provider. A clear response to these requests will bring value to the customer by itself, and it will also allow for discussion of managed service among the options. Likewise, integration with legacy systems is a problem that can be turned over to a consultant for advice or to an integrator for the actual work. Outsourcing specific problems related to the purchase process is definitely an idea worth considering for both SMBs and service providers.
The primary reason for low managed service use would appear to be a low level of comfort in handing over control of IT operations. Forty-six percent of those not using a managed service say that an ROI analysis would be helpful in considering outsourcing. Furthermore, 42% would find an analysis of business operations helpful. While companies understand that ongoing costs may be lower with a managed service, there is anxiety in understanding which pieces can be moved most efficiently and how quickly the startup cost will be recouped.
The conclusion is that service proposals should be tailored to fit individual businesses. This represents additional effort and attention on the part of the service provider, but it is effort that customers may not prioritize highly if they are not convinced of the returns.
Selling in the SMB market involves a unique set of challenges and requirements, but advances in technology are widening the range of products and services that can prove valuable to these businesses. A good understanding of IT needs and a willingness to work directly with individual customers will pay dividends in this market that makes up a large part of the U.S. economy.
SECTION 4: EMERGING TECHNOLOGY WITHIN SMALL AND MEDIUM BUSINESSES
Key Points
Cloud computing is a key technology for firms that may not be able to invest in their own equipment. Companies who are already using cloud solutions have overwhelmingly found it beneficial, though the transition may have proven more difficult than planned. For both companies that have already transitioned to the cloud and companies planning a transition, expanded capabilities are the primary benefit.
Social media is an important tool for small businesses to use as they plan to increase their online customer interactions. The majority of companies who are already using social media have found it worthwhile, likely as a result of a proactive social media strategy and staff who are focused on using the technology.
Companies are planning to buy tablets more than any other piece of equipment, having found a wide range of uses in the workplace. These devices are planned for use in conjunction with laptops and cell phones, indicating that the trend is toward a three-device system for many employees.
Emerging Technology in the SMB Market
While the majority of small and medium businesses polled classify themselves as middle adopters of technology, the pace of change in the IT landscape mandates rapid knowledge and utilization of the latest tools and methods. Failure to plan ahead and quickly move to a game-changing technology could impact the ability of a business to compete in the marketplace.
By definition, any list of emerging technologies is very fluid. It can also be somewhat lengthy, with various pundits guessing which new technologies will have an impact on business. In our survey, three trends stood out as significant influences to the future of small and medium businesses: cloud, social media, and tablets.
SMB In the Cloud
Among SMBs who are already using cloud computing, the overall experience has been good: 92% of firms say that their cloud experience has been positive or very positive, and the remaining 8% report mixed results. Not a single company reports an experience without some positive aspect. Furthermore, 97% of companies report that the transition to the cloud has produced the desired benefit, and 89% of companies expect to increase their cloud usage over the next two years. The actual transition to the cloud is one area that companies highlight as less than ideal: 31% report that their transition was more difficult or costly than expected. Solution providers may be able to assist here if companies are attempting transitions with in-house staff that may not have the proper skills.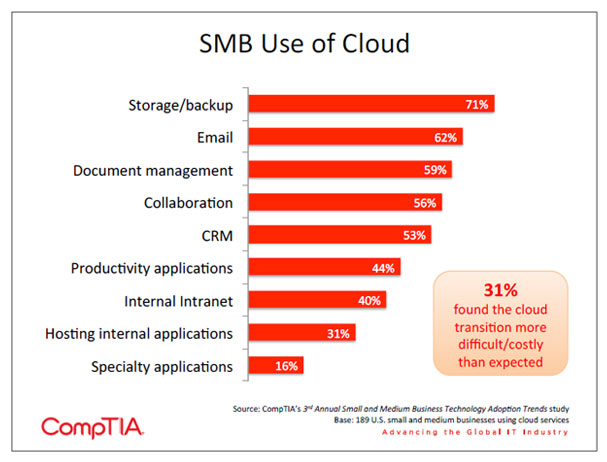 Storage/backup in the cloud is the most heavily used application. Anecdotal evidence suggests that backup is the main function used, since there are currently issues with primary storage in the cloud, such as latency and interoperability. Along with any emerging opportunities in cloud primary storage, solution providers can focus on disaster recovery plans, ensuring that companies have a full strategy in place that goes beyond simple cloud applications for backup and email. For these popular uses of cloud, micro firms have higher utilization than small or medium businesses, which makes sense given their lack of on-premise equipment.
Using Infrastructure as a Service (IaaS) or Platform as a Service (PaaS) to move specialized applications or development into the cloud is still not widely done. This may indicate either a lack of need for those services or a lack of willingness to expand cloud usage beyond easily obtained solutions such as Software as a Service (SaaS). However, 31% of firms who have moved to the cloud have done so mainly to gain access to new applications or systems. By using services only as needed, it is much more economically viable for companies to access features that once required a large investment. As the trend continues, more companies may begin using IaaS and PaaS for custom development, especially as more online and mobile applications are desired.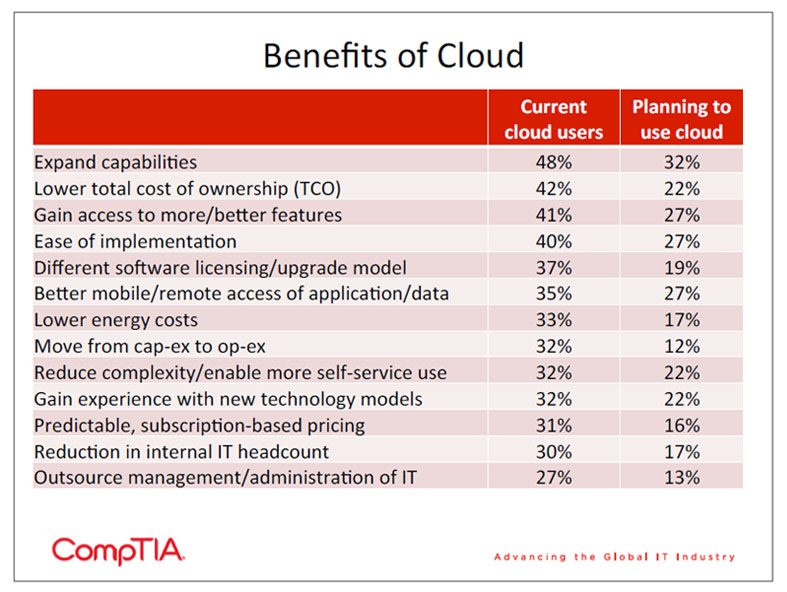 Cost and flexibility are frequently cited as benefits to a cloud solution. These areas are given as important factors for companies who have already adopted a cloud solution, but the top factor is actually the opportunity to expand capabilities. Cloud computing solutions typically have rich feature sets, and they also give the ability to move IT staff from supporting on-premise equipment to activities that contribute more directly to business results.
For the companies expecting to move to the cloud in the next 12 months, storage/backup and email also top the list of cloud applications they expect to use, along with document management. Again, expanded capability is the benefit firms are most attracted to. One benefit that is higher on the list for firms moving to the cloud than current cloud users is better mobile/remote access, which ties in to the desire of organizations to improve their mobile solutions.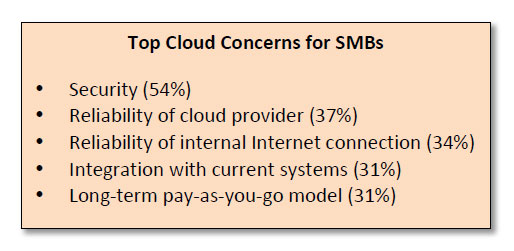 Companies moving to a cloud solution typically have an assortment of concerns, and SMBs are no exception. By far, security is the greatest concern—recent security breaches have aggravated this topic and caused customers to examine their relationship with the provider more closely. Indeed, a recent survey of cloud providers by the Ponemon Institute shows that 69% of providers believe security is primarily the user's responsibility, and only 29% of public cloud providers believe their offering is secure. Customers need to modify their current security policies to account for cloud services they may be using.
Reliability is a concern that users understand to be a shared responsibility. Nearly the same percentage of respondents report concern over the reliability of the cloud provider as those that report concern over their own network's reliability. Especially for customers who are planning to use cloud services for real-time communications (such as VolP), an internal network analysis is a crucial part of the decision. Service providers with certified technicians can assist here if SMBs do not have their own qualified staff.
One particular concern to highlight is a lack of understanding over the cloud model. This is cited by approximately one-third of those companies who have already made the decision to move to the cloud. Executives showed a slightly higher rate of concern in this area, but those working in other business functions and even in IT listed this as a concern as well. Solution providers should be sure that they are fully answering any questions clients may have as they move into the cloud.
Getting Social
For those companies who list improved online capabilities as a top concern, social media is a critical component towards reaching this goal. Thirty-five percent of small and medium businesses in our survey are already using social media, with another 30% planning to begin use in the next 12 months. As with cloud, the vast majority of the SMBs in our survey who are already using social media find it to be very beneficial. Eighty percent of firms using social media say that they have had a positive or very positive return on investment, with another 16% reporting mixed results.
Perhaps some of this positive experience can be attributed to companies viewing their upfront investment as minimal since Facebook and Twitter accounts are free to create. However, even without capital expenditure, there is a cost in employee time in being active in social media. While senior executives and IT staff are the most likely participants, 44% of respondents have staff whose primary job is social media. Though one would expect this to be found primarily in medium-sized businesses, small businesses are the most likely to have this type of staff and 29% of micro businesses have this type of employee as well. This emphasizes the unique skills needed for proper social media utilization.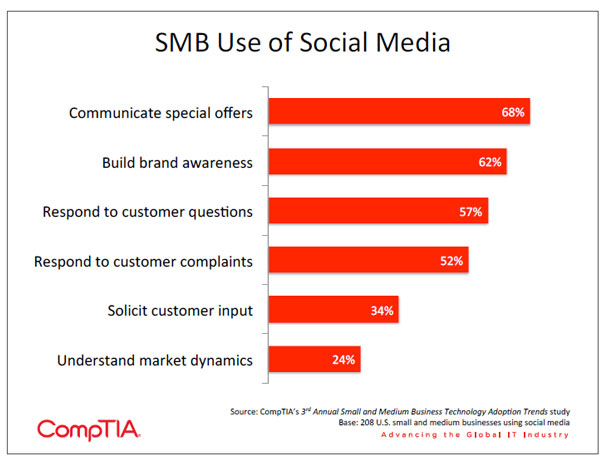 Positive experience correlates well with the number of companies who have taken the time to establish a social media strategy. Social media is a different style of communication, and it must be used in different ways than traditional marketing or collaboration plans. Establishing a plan for a social media approach is critical for a company to understand if it is achieving the desired results.
For those with no plans to use social media, nearly half do not see a clear benefit to the technology. Approximately the same amount believe that the products and services of their business do not lend them themselves to social media. However, when presented with potential benefits of social media, 41% say that improved communications with customers would make social media valuable. Given that a large percentage of companies using social media use it in just that way, case studies would be a good tool to use when pitching social media offerings.
Trending Towards Tablets
Many companies are trying to decide if tablets have a place in the enterprise, and the indication from our study is that this is a trend that is gaining momentum. Thirty-seven percent of companies already have tablets in place, an impressive adoption rate for a recently introduced device. Another 37% expect to purchase tablets this year, making tablets the most popular purchase choice for companies, even with constrained budgets. Smaller businesses may be more open to experimenting with tablets if they can roll them out to a select few employees and determine the optimal situations for the device.
Companies appear to be finding a wide range of uses. Given a range of possible cases, each option received a strong indication of use from companies using tablets or planning to use them. Some of the choices, such as note taking during meetings, are simple and relate to the convenience of the user. Other options, such as product demos or point-of-sale transactions, indicate a deeper use of the unique characteristics of the tablet. As both types of use become more prevalent, tablets will likely become even more viable for corporate use and customizing software or business flows to include tablets may be an area companies are interested in exploring.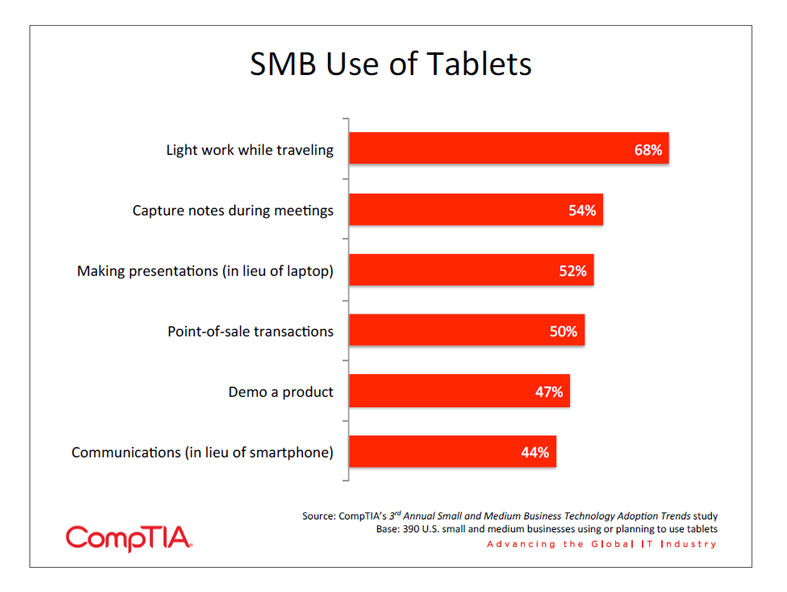 While the use of tablets includes many functions that can also be performed by laptops or smartphones, 66% of firms say that a tablet would be mostly complementary to these other devices. Another 28% said that the device would be partly complementary, with only 6% reporting that tablets would mostly be replacing other devices. Although companies do not plan on replacing computers or smartphones, the corporate strategy for equipment may still change in some way. Companies may consider all devices together when choosing features, opting for lower-end models if multiple devices are deployed. Additionally, keeping all types of devices drives demand for integration or possible outsourced device support.
Taken together, it would seem that small and medium businesses are finding unique uses for tablets that justifies their existence in the corporate toolset. As business applications and cloud solutions continue to mature, it is likely that tablets will be used in conjunction with laptops and smartphones in a three-device system. Indeed, laptops and smartphones are the next highest options for purchase intent after tablets.
About this Research
Corn pTIA's 3rd Annual Small and Medium Business Technology Adoption Trends study consists of four sections, which can be viewed independently or together as sections of a comprehensive report.
Section 1: Small and Medium Business Market Overview
Section 2: Current Technology Trends in Small and Medium Businesses
Section 3: Technology Purchase Considerations for Small and Medium Businesses
Section 4: Emerging Technology Within Small and Medium Businesses
To view other sections of the report please go to the small and medium business research page on the CompTIA website.
The data for this study was collected via a quantitative online survey of 602 IT and business professionals in small and medium businesses in the United States. CornpTIA worked with the research firm Research Now to facilitate data collection using an independent panel. Data collection occurred during May 2011.
The margin of sampling error at the 95% confidence level for the U.S. results is +/- 4.1 percentage points. Sampling error is larger for subgroups of the data. As with any survey, sampling error is only one source of possible error. While non-sampling error cannot be accurately calculated, precautionary steps were taken in all phases of the survey design, collection and processing of the data to minimize its influence.
CompTIA is responsible for all content contained in this series. Any questions regarding the study should be directed to CompTIA Market Research staff at [email protected].
CompTIA is a member of the Marketing Research Association (MRA) and adheres to the MRA's Code of Market Research Ethics and Standards.
Note: CompTIA uses the following definitions for businesses throughout this report:
Micro: 1-9 employees
Small: 10-99 employees
Medium: 100-499 employees
The U.S. Small Business Administration defines a small business as having fewer than 500 employees, which covers all businesses in our sample.
Read more about Industry Trends.