Five Best Practices for Managing Your Business Through a Crisis or Disaster
When faced with a crisis or disaster, whether it's a fire, flood, pandemic, cyberattack or security breach, it can be daunting for solution providers and other channel firms to know where to focus their efforts. Issues that need immediate attention may range from restoring networks and service to evaluating staffing to troubleshooting IT supply chain problems, but other, longer-term challenges may also require resources and consideration as well.
Successfully managing through a difficult situation requires some deft handling of customers, employees, and other business concerns. Developed by members of CompTIA's communities and Industry Advisory Councils, here are five best practices for channel leaders to guide their decision making through the process.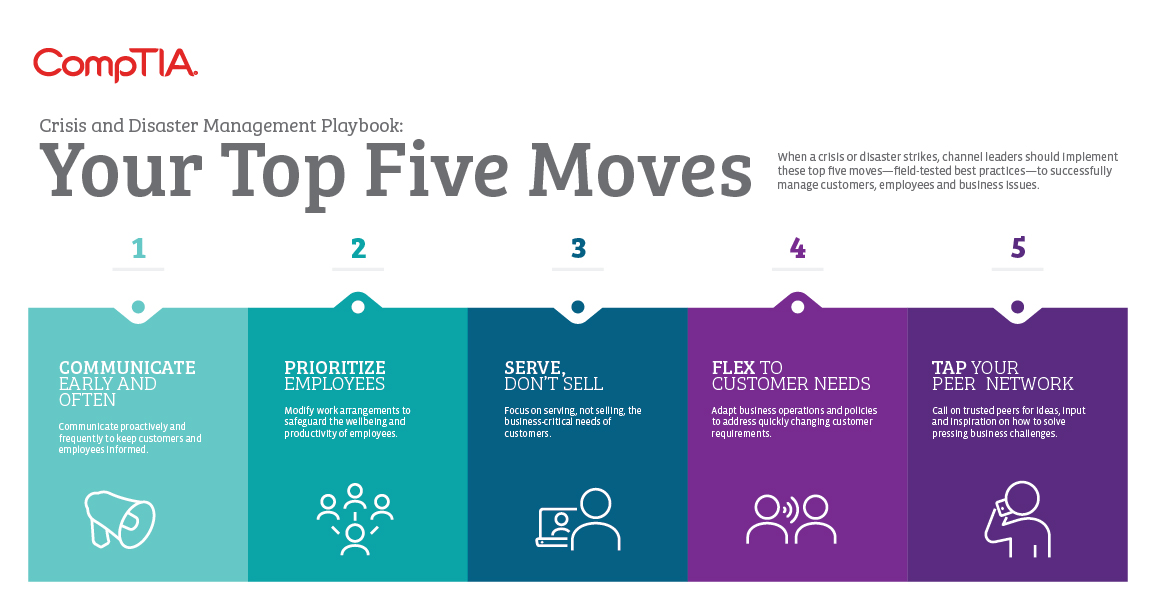 1. Be proactive with communication.
Customers and employees need to know the status of the business in any sort of emergency, so early and frequent communication is key. By clarifying what services are impacted, what is still running, and what steps are next, solution providers establish a baseline for managing internal and external expectations. Frequent communication—whether the business updates are positive or negative—demonstrates an ongoing commitment for keeping everyone informed.
2. Make employees a top priority.
Industry leaders agree on this: Employees are a top priority in times of major business disruption. The nature of the crisis or disaster will dictate the accommodations that employers need to make for employee safety and productivity. Equipment, connectivity and remote work arrangements allow employees to pivot on the fly and work safely. Crises and disasters of all stripes typically result in longer work hours, so MSPs and solution providers need to be proactive about employee mental and physical health and wellness.
3. Focus on helping, not selling.
The stark reality of major crises or disasters is that many customers lack business continuity plans—detailed guidelines for keeping critical operations running. Lean on your communication skills, an empathetic attitude, and active listening to help customers prioritize business-critical needs and then follow through with exceptional service. Create resources—webinars, articles, checklists—that reduce customer stress and solidify your reputation as a trusted partner and resource.
4. Adapt to changing customer requirements.
Channel partners that demonstrate an ability to adjust to customers' changing needs in a crisis or disaster benefit from stronger, longer-term relationships. Ramping up hours of operation to address emergency work and site visits, donating business-critical hardware or support tools or offering flexible payment arrangements go a long way in reducing customer stress and anxiety in difficult times and won't be forgotten when business as usual returns.
5. Reach out to your peers.
Stumped on how to troubleshoot a customer infrastructure issue or need inspiration on how to maintain employee morale in tough times? Tap your peer network for ideas, input and inspiration. MSP and solution provider communities offer reassurance that we'll emerge from a crisis or disaster stronger and together.