CompTIA Quick Start Guide to Managed Print Services
Although the overall market for printing is mature and is expected to slowly decline over the coming years, Managed Print Services continues to grow, offering your customers additional cost savings and operational efficiencies, as well as a new source of recurring revenues for you…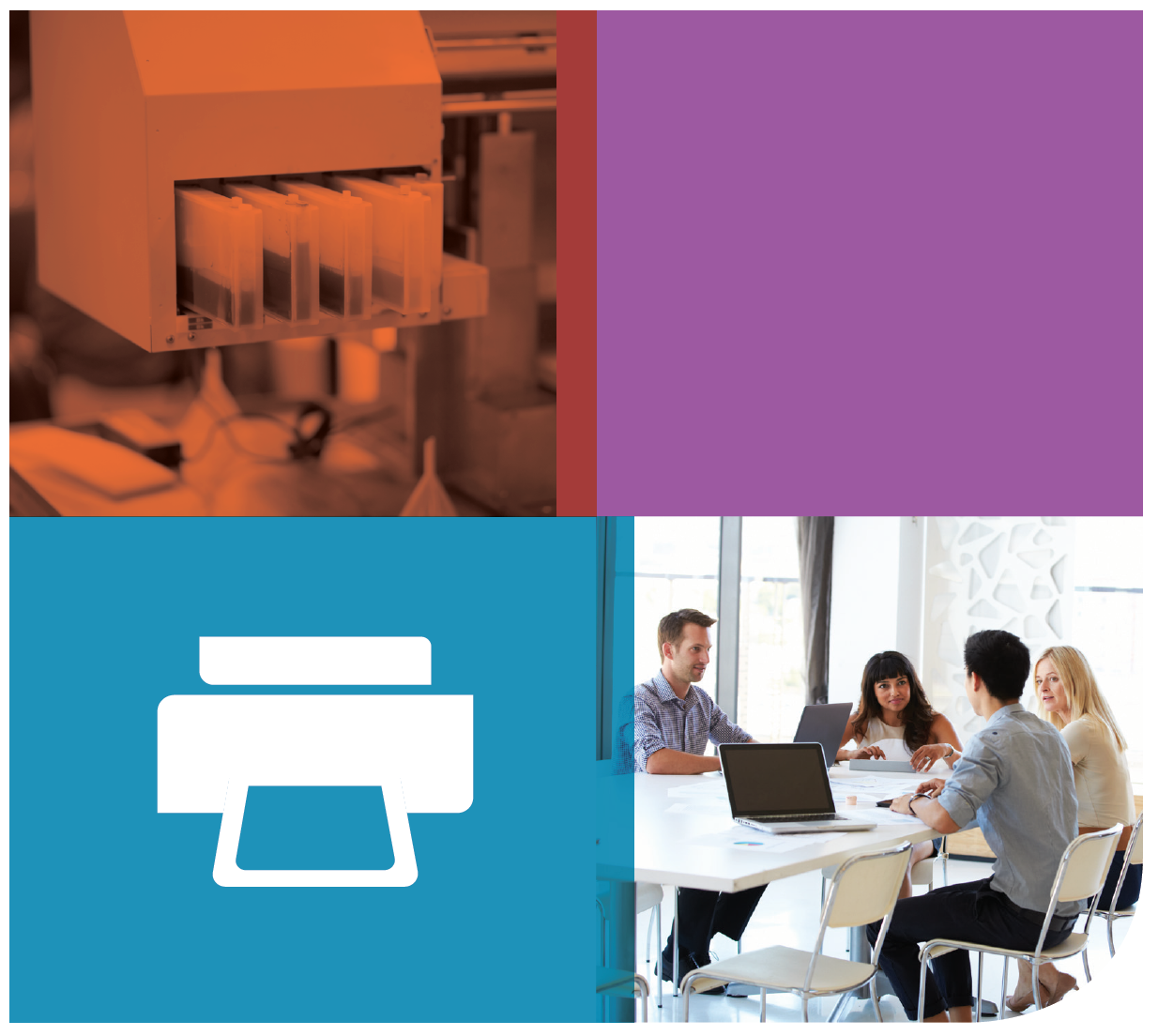 THE MARKET
Although printing volumes for businesses in the U.S. are in a slow decline, recent CompTIA research shows that 98% of workers printed at least once in the last quarter. Clearly, printing remains an essential component of many business processes. And, printing costs are not inconsequential. InfoTrends has reported for many years that printing costs can be up to 6% of your customer's annual revenue. Paper intensive vertical markets—customers where print is an even more important part of their workflow—can have even higher costs. Examples of paper intensive verticals include:
Medical/Dental
Legal
Finance
Insurance
Banking
Real Estate
Also, printing costs are often scattered throughout the customer's environment. Because of this, 9 out of 10 customers do not understand their total printing costs.
These three primary factors (ubiquity of printing, total printing costs, and lack of customer knowledge of these costs) create the opportunity for a Managed Print Services (MPS) offering. A study by Gartner Group showed that an MPS offering enables customers to gain control over this often large, unmanaged expense and can reduce a customer's total cost of printing by up to 30%. This core value proposition has driven the growth of MPS since its inception.
And, the growth of MPS is expected to continue over the forecast period. Research and Markets estimates that the Compound Annual Growth Rate (CAGR) for MPS at 10.75% between 2012 and 2016. And, by 2017, InfoTrends estimates the global MPS market to exceed $28 billion. Meanwhile, the overall market for printing is expected to decline between 3 and 5% during this same timeframe.
56% of firms with high print volumes report being MPS adopters.
Although the market for MPS is large and maturing, CompTIA research indicates 1 in 3 Managed Print Services providers expect significant growth (defined as 10% or more) over the next 12 months. And, another 53% expect modest growth during that same period. Although the market is large, CompTia research shows that the self-reported penetration rate of Managed Print Services is 36%. The chart below shows penetration is highest in large companies and declines in percentage in smaller companies.
The size and growth of MPS indicates this is a business model you should consider adding to further expand and solidify your customer relationships. With the opportunity for multi-year contracts and margins that can range from 25 to 40%, with the right investment and focus, adding MPS to your offering portfolio may be right for you.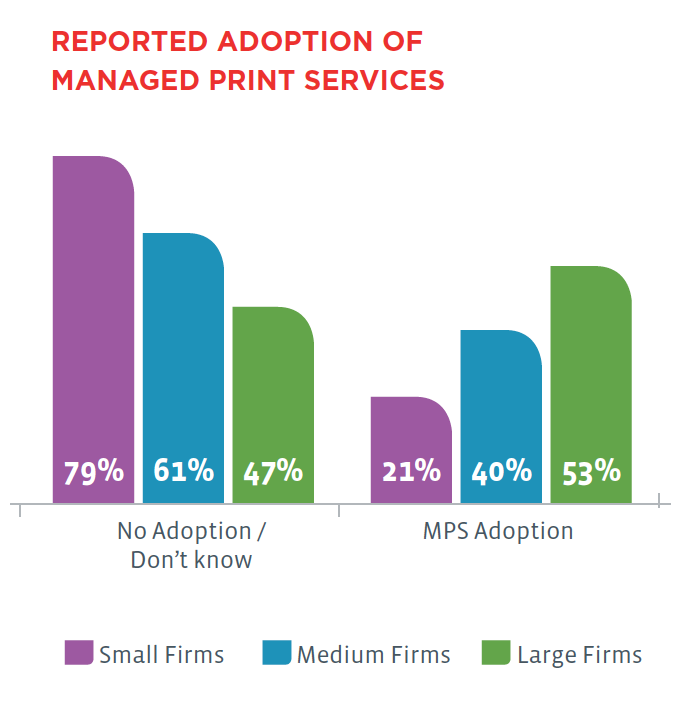 YOUR OPPORTUNITY—A TRUSTED ADVISOR
Managed Print Services is very much like any other outsourced services model in that your customer outsources activities and functions within their company to you to lower costs and increase operational efficiencies. If done properly, you also become their trusted advisor for their print-related needs. However, if as we noted earlier, printing costs are high and the savings potential is great, why would your customers rely on you for this service and not just create these efficiencies and cost savings internally?
First, customers can't keep up with the printing trends in the market. They often don't know how (or when) to efficiently and cost effectively print in color. They may not understand the total cost of ownership of a device over time, and therefore buy low cost printers with high consumables costs.
Second, and maybe this is obvious---this is not their core competency. Their organization structure is built around managing their business, not around optimizing document output costs. Printing is an important activity, but is often supported in a very reactionary way inside the company.
Adding to the difficulty is that costs for printing are scattered throughout the organization. IT or facilities managers might specify the equipment. Individual departments often have consumables costs buried within an office supplies budget. IT or purchasing might set up maintenance contracts for service, or might just try and fix them on their own when they break. All of these factors enable you to leverage and extend your outsourced IT service value proposition model to MPS.
Finally, many customers attempt to control printing costs by optimizing each of the cost categories. How often do you see RFPs or RFQs for toner? Or maintenance agreements? Or for a list of single function and multi-function printers? And, these processes and decisions are often taken by department heads or functional managers against a fixed annual budget. These strategies may lower the cost of that category of spend, but the hallmark of MPS is that printing costs are evaluated as a system, not as individual components.
MPS—A DEFINITION
With all of this discussion on Managed Print Services, the market size, customer needs, etc. you may be asking, "what is the definition of Managed Print Services?" The most common definition is that Managed Print Services is "the active management and optimization of document output devices and related business processes." As an outsourced service, the customer is relying on you to actively manage these devices on their behalf. Since these devices are electro-mechanical and consume ink and toner, active management ensures the devices "just work" and the customer no longer has to manage the care and feeding of their printer fleet.
Later in this guide, we will discuss in greater detail the primary variations of MPS offerings typically provided, but they all include:
Software to remotely monitor the devices within the customer's environment
Fulfillment of supplies
Maintenance and repair of the devices
Sold and billed to the customer primarily as a cost per page, with all of the agreed upon services included in the page calculation.
In addition, most MPS engagements include some analysis of the customer's current costs, which establish the benchmark for your proposed savings and optimization plans in your proposal.



Finally, printing is not a static activity within your customer's environment. Overall printing may go up or down. They may begin to print more in color. They may add or reduce employees. All of these factors and more mean that your MPS engagement with your customers will need to change as their needs change—leveraging your role as their Trusted Advisor.
CHALLENGES/COMPETITIVE THREATS
While the market data paints a picture of opportunity, there are a number of challenges and competitive threats you should consider as you look evaluate this opportunity for your business.
First, as the market for printing has matured, we've seen a significant change in how resellers compete for customers spend on printing. Ten years ago, an office equipment dealer selling copiers, an office products dealer selling consumables, and an IT VAR selling printers would all coexist within a given customer account. Then, each of these types of dealers or resellers began to broaden their transactional offering to get more of that customer's printing spend. And now, selling MPS has enabled all of these channel types, as well as relatively new entrants like IT Services providers, to generate contracted business and lock out these reseller competitors in their key accounts.
Second, the proliferation of resellers and reseller types entering the MPS space has muddied the value proposition significantly for the customer. Many Managed Print Services offerings today are little more than repackaged transactional offerings or leased printer or multi-function devices, none of which truly attempt to create visibility and control over printing costs, lower those costs, and improve operational efficiencies. As a result, many customers have had bad experiences with these "MPS" offerings and may be wary of your new MPS offering.
Third, engaging in the development and delivery of a Managed Print Services offering requires investment, focus, and expertise your company may not have today. As the old saying goes "if it were easy, everyone would be doing it." This could not be more true with Managed Print Services. The primary purpose of the remainder of this MPS QuickStart Guide is to provide you with the key steps you will need to complete to properly assess the MPS opportunity for your company, develop and/or partner to acquire necessary assets and competencies, and build a plan to deliver a high quality Managed Print Services offering to your customers.
SEVEN STEPS TO SUCCESS
Hopefully by now we've established the market opportunity and provided information to assist you in considering adding MPS to your portfolio of services to gain share of your customer's spend, increase your margins, and protect your customer base. In this section, we will discuss the seven key steps to successfully develop, sell, and manage a compelling MPS offering in your market, starting with the first step—Determining Your MPS Offering.
1. DETERMINE YOUR MPS OFFERING
In today's market, there are many "flavors" of Managed Print being offered under the umbrella of MPS. Each level of offering requires a specific set of assets and competencies to successfully sell and manage the offering. Knowing the requirements of each level and your company's current capabilities (along with Step Two discussed next) will help you optimize your success with MPS. This first step describes four general levels of MPS offerings.
Level One is a Walk In, Take Over (or WITO) approach. Under this approach, resellers install data collection software to "see" connected devices, walk the environment to ensure all connected devices are properly captured, and put together a proposal to manage the "care and feeding" of those devices. This level does not involve a full assessment of current costs and relies on widely available industry data to estimate current costs. Locally attached devices may not be included if they cannot be read by the data collection software. The offering may be a bundle—a toner cartridge bundled with break/fix service, a cost per page, or even an aggregated cost for all black and white pages and another for all color pages, depending on both the customer needs and your MPS capabilities.
Level Two is Assess and Optimize the Existing Fleet. In this approach, the reseller assesses current costs, maps devices to a floor plan, evaluates individual device usage and volumes, and builds a proposal that moves and/or removes devices to lower the total cost of printing without impacting document workflow. Like Level One, the offering focuses on the care and feeding of the fleet, with similar page-based billing options. By monitoring the environment, devices are also moved and/or removed as needed to maintain optimization of the current fleet. Both Level One and Level Two require access to at least the IT Manager or Purchasing Manager, depending upon the customer's organization structure and their roles and responsibilities.
Level Three is Assess and Optimize. This level builds upon the second level, but adds new devices (often via 3rd party financing) that are rented, along with moving and removing existing devices to optimize the environment based on the customer's workflow. This level may also include buying back the customer's existing fleet at book value to create a more flexible rental fleet for the customer. Contracts under Level Three are usually 3 to 5 years in length, and most often are re-written and extended every 18 months, depending upon the amount of change in the customer's environment.
Level Four, a relatively new Level, builds upon Level Three and includes the addition of end user data collection software to understand individual end user printing behavior to further optimize the fleet, reduce wasteful and/or unnecessary printing, and can be billed on a per seat or per user basis (vs. the per page model often used for the Level One through Three). Both Level Three and Level Four (and sometimes Level Two) require access to the C-level—typically the CFO. This is because to successfully sell Managed Print at these levels, you need to sell an ROI-based solution to a decision maker who has oversight and responsibility for all of the costs (or spend) associated with printing, can and will sponsor you internally in the company for your assessment, and can sign a multi-year agreement.
As you have probably ascertained from the description of each Level of MPS, the sophistication increases significantly from Level One to Level Four. If you are new to MPS and your company does not have existing printing device competencies, we would recommend you start with Level One or Level Two.
2. DEVELOP ALLIANCES/PARTNERSHIPS
Now that you've determined which MPS Level or Levels are of most interest to you, it is important to develop the necessary alliances and partnerships that will enable you to successfully sell and manage your MPS offering. Before you can evaluate the partnership and alliance options in the market, you first need to review the assets and competencies needed for the level of MPS you've selected. Assets include tools, resources, and systems and competencies include skills and knowledge. Detailed descriptions of these assets and competencies (by Level) can be found in CompTIA's MPS QuickStart PowerPoint presentation.
Once you have a good idea of the assets and competency requirements, a thorough review of your current business will help you understand which of these you have today and which ones you don't have. Then, of the required assets and competencies you don't have today, which do you want to invest in internally? Those assets and competencies that you do not have nor intend to build internally become the "shopping list" of capabilities you will need to seek out in the market.
Fortunately, there are now many options in the market to support your sales and operational needs for your MPS offering. Software providers today have device data collection software, end user data collection and management software—some even providing both in one solution. There are CRM software providers to help you with sales funnel management and tools to help you develop proposals and contracts. Consultants can offer strategic consulting on your business strategy, sales training, service training, and even coaches to help you build MPS deals. Distributors can offer everything from "components" like MPS-priced consumables or printers to full programs that provide the entire operational infrastructure. And, of course almost every printer or multi-function device manufacturer offers programs, infrastructure, and/or special products and pricing for MPS engagements at each of the four levels.
Partnering is smart for a number of reasons. First, it is the quickest, lowest cost, and least risky way to go to market. Most programs are variable with revenue and require little or no up front investment. These partnerships and alliances can complement the capabilities you have today as well has helping you "bridge" to your long term capabilities strategy by providing capabilities until you've developed the necessary internal expertise. All of this enables you to scale more quickly and become the Trusted Advisor to your customers without having to become an in-depth expert on every aspect of the MPS offering day one.
3. WRITE A BUSINESS PLAN
Once that you've established your MPS offering and evaluated and determined the partnerships and alliances you need for success, it is now time to write a business plan to document your strategy. A business plan doesn't have to be an exhaustive, 20+ page document. Rather, it should only be long enough to succinctly describe your plans for your internal team and external partners. In addition, once you've started your MPS efforts, you can modify this document based on your learning in your market and keep everyone on the same page as your MPS business evolves.
A business plan should start with the purpose of this business effort and a high level view of the objectives you would like to accomplish over the next three years. The objectives should be realistic given your internal capabilities and external partnerships, but be aggressive enough to stretch both internal and external resources to accomplish them.
Next, describe your target markets and customers for your MPS offering. This may include some discussion on key paper intensive verticals, as well as current and/or new customers you plan on targeting with this solution. Describing key competitors in the context of these target markets is also valuable. It will help you understand where the potential strengths and weaknesses of your offering are compared to the competitors who are likely to target those same customers.
In the next section, describe your MPS offering, including the assets and competencies necessary for success, which ones you have today, which ones you plan on developing and over what time horizon, and what capabilities you plan on outsourcing to partners. Following this section is a brief description of which partners and alliances you have or plan on setting up to complement your own capabilities.
Finally, describe your first year plan, including financial expectations quarter-by-quarter. Ideally, you would update this plan do always have a forward-looking four quarters in your business plan. As mentioned earlier, this business plan doesn't have to be exhaustive, just complete enough to capture the elements we discussed above.
Here is a summary of the key steps to writing your MPS Business Plan:
Purpose, 3 year objectives
Target markets and customers
Key competitors
Your MPS offering
Capabilities needed for success
Partnerships and alliances
First year plan with financials
4. DETERMINE YOUR SALES APPROACH
With a business plan and partnerships established, the next step to success with your MPS offering is to determine how to sell your solution and how to compensate your team for this type of business model.
Typically, resellers like you take one of two approaches. The first is to designate or hire an MPS Specialist. This person would be responsible for selling your MPS offering to your customers, leading or performing all of the key tasks for each step of the sales cycle. The role requires a broad skill set, including the ability to communicate effectively at most or all levels of the organization, can gather data, interview key stakeholders, analyze data, and develop a compelling, ROI-based proposal and contract for services.
This role can at times be difficult to fill given the range of tasks, but is far more effective than training all of your sales team to sell MPS as part of a portfolio of services. When sales people have many options of what to sell, they often migrate to what they are comfortable selling, and therefore it can take a long time (years) to become comfortable selling MPS. An MPS Specialist, on the other hand, has an accelerated learning curve given this is ALL they sell. This means you will become effective selling MPS as a company much more quickly.
Often, you may not have the money or resources to invest in an MPS Specialist to start. Or, you may want to see what is working and not working with your MPS program before hiring dedicated resources. In these cases, a team approach can be very effective. Under this model, often you or members of your executive team do the initial conversation with the customer. Then, as you go through the tasks, which as you recall from earlier vary based on which Level of MPS you are offering, you leverage existing resources on your team to gather data, analyze costs, and develop resources. Matching skills and capabilities to the tasks you need to complete is a key exercise to ensure success.
5. STRATIFY YOUR CUSTOMER BASE
After completing Step 4, you are almost ready to begin selling. However, to improve your likelihood for success, you should first stratify your customer base to find those customers that best fit the Level of MPS you plan on offering. First, look at your customer base and evaluate them on the following criteria:
The Customer
Level of relationship you have today (dept. head, functional, C-level)
Type of relationship (transactional, services-based)
Quality of the relationship
Size of the account
Now, combine that with Your Company's MPS model from the work done in Steps 1 through 4:
Your Company
Level(s) of MPS offered
Current MPS knowledge/experience
Current organization capabilities (assets/competencies)
Sales approach (team or MPS Specialist)
What does the ideal customer target look like? It depends on three factors. First, the Level of MPS you are offering will impact the opportunity you have for customer's current share of spend on printing. And, as you move from Level One to Level Two and so on, the complexity and length of the sales funnel will increase.
Second, the level of relationship you have with a given customer will impact whether you have or can get to the right level to share your MPS value proposition. The type of business your customer has can also change the priority of that customer; with paper intensive verticals creating more opportunities for spend and cost savings than others. And, if your customer is already outsourcing services, the likelihood they would outsource their printing activities is much higher, which would also move that customer up in your priorities.
Finally, looking at the first two factors, the key to the third factor is to align them. You want to make sure you can reasonably deliver to your promise, that the impact on your customer is large enough you can cause them to move to an MPS engagement from their current self-management (or outsourced strategy), and the revenue and margin opportunity for you is substantial enough to justify the investment in time and effort by your company. This means that there must be enough page volume for the Level of MPS you are offering to meet both of these criteria.
6. BUILD A CONSISTENT SALES FUNNEL
Selling services-based offerings and MPS in particular requires a longer, more complex sales cycle than transactional selling. The typical MPS sales funnel includes the following steps:
Getting the Appointment with the key decision maker
Conducting the Appointment
Conducting the Assessment (when applicable)
Creating the Proposal
Completing the Contract
Implementing the Deal
Managing the Client (including Quarterly Business Reviews)
Re-writing and Extending the Deal
7. ACTIVELY MANAGE YOUR MPS CLIENT
Finally, now that you've sold your first MPS engagements, you have to manage these customers well in order to retain them for the long term. Many think the process is complete once the contract is signed. With MPS, the process has only begun. Providing your customers with quarterly business reviews highlight performance, demonstrate savings, and the opportunity to make needed changes to further improve the environment. In addition, an annual review with the original decision maker and other key stakeholders helps ensure you remain the incumbent when or if the contract nears renewal.
Many MPS engagements are lost to competitors solely because of a lack of active customer management after the sale. Putting the proper resources in place to manage the customer means a long-term annuity of revenue and margin for your company. It costs much less to retain an existing customer than it does to go get a new customer, so spend the proper time and effort to actively manage these MPS engagements.
GETTING STARTED
This CompTIA MPS QuickStart Guide has covered a lot of information in a few pages. If you are new to MPS, this is a lot to digest. Here's a list of steps we would recommend you undertake to get started:
Take the time to understand and internalize the Seven Steps for Success described in this Guide.
Thoroughly evaluate partnerships and alliances based on your needs.
Identify customers in your base, with particular emphasis on:

Paper intensive verticals
Right level and quality of customer relationships
Large enough in size, based on the Level(s) of MPS you offer

Be involved in selling the first MPS engagements to better understand workflow, access your team's talent and skill sets, and map MPS deal financials to your initial projections.
Stay focused
Be patient
Leverage the extensive CompTIA MPS resources available to you, including research, presentation, MPS Trustmark, and participation in the MPS Community.