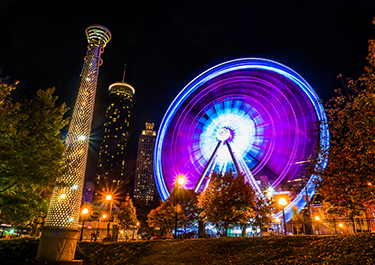 This article originally appeared in CompTIAWorld magazine's fourth issue. Click here to view the full issue.
It also originally appeared on our associated blog IT Career News.

When talking about the tech job market, the tech industry has – like most industries – places that everyone expects to come out on top. Silicon Valley, with its headline-grabbing startups and venture capital culture. New York City, with its long-established status as a destination that, of course, extends to the tech workforce. Seattle, with Amazon HQ and all that comes with it. But one of the many insights that can be drawn about the U.S. tech workforce from this year's CompTIA Cyberstates report is that the tech world – and the tech job market – is as broad, varied and diverse a place as the country itself.
Each year Cyberstates gives a detailed breakdown of the trends driving the tech job market throughout the 50 states. And this year's survey, more than ever, demonstrates that plenty of U.S. cities, big and small, are experiencing their own individual tech renaissances that contribute to the global whole. And each location in the report has a tech scene with a personality as unique as its city's architecture or its local cuisine.
To get a true sense of the tech culture, we spoke with IT professionals from two of the up-and-coming tech cities featured in Cyberstates. The following first-hand observations, experiences and testimonials about what's going on in two Southern tech scenes should give you a window into the unique strengths of these cities. Whether you're planning to move next week, putting together a long-term plan or just want to know what other cities have to offer, keep reading to learn about why Atlanta and Nashville are great tech cities.
Nashville, Tennessee: A Good City to Grow In
Mike Calhoun, chief technical officer at Life.io, took his first real steps into the tech workforce as a developer in the high-pressure New York City tech job market. Just recently he's settled down to start a family in Portland. But between the Big Apple and PDX, Calhoun was in Nashville, where, hitting the city's rising tech tide, he had an unparalleled opportunity to boost his skills in the direction they needed to go.
Nashville also gave him the chance to do some all-important tech-networking – positioning him to pursue new areas of programming that would make him a shoe-in when the founders of the nascent, Philadelphia-based Life.io were looking for their first real employee – remotely.
The Tech Workforce Is the Social Scene for Developers (And Everyone Else)
When Calhoun first moved to Nashville, he was excited to find others who – like him – had come out of enterprise-sized organizations and were looking to do their own thing. He was also excited to find an enthusiastic community of Ruby developers to help him in building his skills. But whether for a Ruby coder or someone working in another programming language, hanging out, Calhoun found – was synonymous with learning.
"There is a lot of cross-pollination of languages and ideas, which allows for great support and incubation," Calhoun said.
A Big Health Care Industry with Big Tech Needs
The startup Calhoun helped build, Life.io, provides a solution that delivers targeted content for health insurers. Having Nashville's significant health care industry adjacent to the tech community helped Calhoun start learning about the data privacy concerns and other tech issues trending in the health IT world.
In Calhoun's case, it gave him a command of the industry vernacular that set him up as a perfect tech foundation as Life.io got off the ground. For those tech pros who work in Nashville, the big health care presence lends itself, in Calhoun's approximation, to a particular skill-set.
"That puts a premium on enterprise infrastructure and security engineers," Calhoun said.
This observation is borne out in numbers by this year's Cyberstates survey, which places IT services and customer software as the leading tech industry sector in Nashville.
Flexibility, Self-Starting Attitude Are Musts for Nashville Tech Hopefuls
According to Cyberstates, average tech salaries in Nashville are in the neighborhood of $88,430, which is certainly a draw. So, for those setting out to Nashville in hopes of moving into and up in tech circles, there are a few things to know.
"You'd have to move there with the knowledge that what you're moving there for and what you'll be doing in a year may not be the same," Calhoun said. "There is a great community in Nashville around technology, but the entry points to access aren't immediately obvious, so you have to be involved and seek them out."
But Calhoun also noted that the emergence of organizations like the Nashville Software School can give aspiring Nashville tech pros a place to start.
Atlanta, Georgia: A Real Tech Scene in a Real City
Matt Lowen, alliance manager at Verenia, spent a few years in Austin, Texas, before moving east to Atlanta. By day he was establishing himself as an expert in CPQ solutions, and by night he was availing himself of the unique, immersive world offerings offered by Austin's tech world – from video game industry networking events to coffee shops built to spec for a remote tech workforce.
But recently, he accompanied his wife to Atlanta, Georgia. There, Lowen has found a tech territory that's less well-trod – and with that he's begun to see many advantages of a startup scene and accompanying tech job market that's just getting started.
It's Not All Tech, and That's Not a Bad Thing
With nine percent of Atlanta's workforce in tech, the city doesn't have the sense of tech immersion like Austin does, where tech is the community. Atlanta has the strength that comes with a highly varied community, and a highly varied workforce.
"Atlanta is a much more diverse city," said Lowen. "In every sense of the word."
The number of tech occupation jobs – doing tech work for any company – is about equal to the number of tech industry jobs – doing any kind of work for a tech company – and almost 50 percent of those jobs overlap, where IT pros are working for tech companies.
A High Level of Skill, A Low Cost of Living
Lowen has recognized another big advantage in Atlanta that's common to some other cities experiencing startup booms – the cost of living. But given that the city is trending for technology, that might not always be the case.
"Atlanta is – for now – cheaper than Austin," Lowen said.
Cheap living costs can be a boon for anyone starting out, and Atlanta draws plenty of tech-minded young people doing just that. The city's numerous colleges, including Georgia Institute of Technology, all feed talent into the tech community.
Tech industry wages in Atlanta are nearly double that of the overall average wage, at $102,600 for tech industry wages and $57,800 for all wages, which makes the low cost of living an even greater benefit for IT pros.
A Place to Innovate
While Atlanta comes in tenth in terms of overall tech employment on Cyberstates, Georgia as a whole comes in fifth for innovation. This ranking takes into consideration the number of tech startups, tech business formations and venture capital investments in the state.
Coming up behind big-name tech hubs like Texas, New York and California, Georgia's high ranking is doubtless in part to the vibrant startup culture emerging alongside the universities. And Atlanta has the added bonus of a city that's moderately priced and authentic in character.
"It's a real city," Lowen said. "It's really a quality of life thing."
Learn more about the U.S. tech workforce with Cyberstates. Download the full report here: cyberstates.org