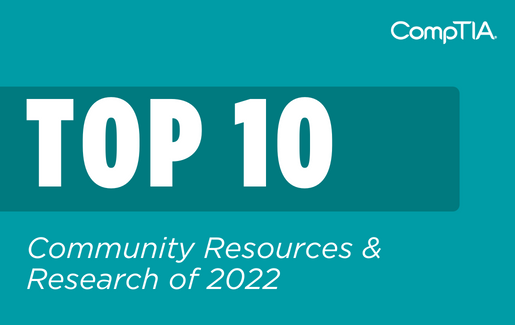 CompTIA's research team and leaders from our communities and Industry Advisory Councils had a very busy year, producing many high-level pieces of content in 2022, all available on our main resources page. Each one provides valuable data and insights into the IT industry and popular themes included cybersecurity, emerging technology, workforce trends, and managed services.
Our Top 10 list for the year is a mix of research, toolkits, guides, and playbooks—all created to help our member tech businesses and IT pros improve their businesses and careers. Check out the list below, but don't forget to hit the link above to see the full list.
CompTIA's flagship research report annually examines how tech firms and professionals feel about the IT industry. The 2023 Outlook details the latest workplace trends, worker-employer relationship gaps, cybersecurity metrics, priorities for new investments, and much more. "Heading into 2023, the signs of progress that appeared over the past year continue to blossom. The organizations that have made it through recent and ongoing turmoil are using their newfound resilience as a springboard into the future," according to the report.
CompTIA's 2022 State of Cybersecurity report examines the disconnect between the root cause and symptoms. It is important to find balance in employee flexibility and corporate culture. Since we've entered the post-pandemic world, some restructuring may in order. Find out which trends to watch and which issues are driving cybersecurity.
Managed service providers are constantly evolving to keep up the pace with the complexities of today's technology landscape. Since the COVID-19 pandemic, there have been many positive and negative effects in tech. The macroeconomic crisis is the biggest concern for managed service providers amongst others. Learn more about the latest managed services trends in this report.
There are many cybersecurity questions for business leaders to ask potential MSP partners. The decision to select an IT service provider or MSP is crucial for any organization. It is important to prepare yourself with the right questions. This guide is also a great resource for MSPs to ask themselves the tough questions and see where their cyber strengths and weaknesses may lie.
In a competitive B2B technology marketplace, videos can be a very powerful tool. You can use this tool to tell your brand's story, attract talent, and so on. Finding the right message to send it can help take an organizations marketing to the next level. Learn how to leverage video marketing to compete and grow your business.
With companies in every industry leveraging artificial intelligence (AI), or at least wanting to, it has never been more important for technical practitioners and non-technical decision makers to understand how AI can benefit their business as well as the associated risks of implementing AI. Check out the two types of AI best practices.
This Legal playbook focuses on setting up and running your own IT/tech business in the United Kingdom. This playbook will explain a couple of business issues that may occur and what the best way to manage them are. The U.S. version of the legal playbook may share similarities, but it is important to differentiate common business structures and more.
This whitepaper guide focuses on fundamental cybersecurity for managed service providers. Allow this guide to help those seeking guidance by implementing sounds, best practice cybersecurity operations, technology and behavior. The following topics of password policy, two-factor authentication, protective filtering and more are explained throughout this guide. Read more about some resources that could help.
When you're ready to take the next step with your cybersecurity, this guide is your key. This paper addresses topics considered more advanced, yet essential to a strong cybersecurity program. It will follow important topics such as, IT risk management, access control, internet of things, threat hunting, and so on.
Find the top organizational strategic objectives, focus areas for tech budgets, technology satisfaction ratings, and emerging technologies in the latest tech buying trends. Through the help of CompTIA's research team, this quantitative study allowed us to study different surveys which lead us to the latest buying trends in every related area. Read more.
Get the latest business-building insights and analysis!