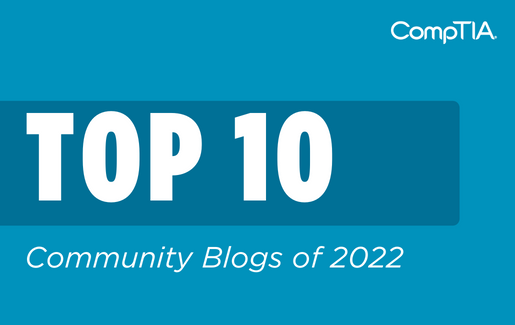 From content focused on developing a better workforce and staying safe doing so, to business-building insights and tips on integrating innovative technologies into your portfolio, CompTIA published more than 100 community/membership-focused blogs in 2022. Along the way, we were able to highlight the latest research and resources to help expand any curiosity in the IT world.
Our goal—as always—is to help our audience of managed service providers, solution providers, technology vendors, distributors, and other influencers improve their businesses and their customers' businesses.
The following list of our Top 10 blogs for the year includes a diverse mix of all of the above. Look for more meaningful content in 2023 as well! Thanks for a great year, and in case you missed something check out our full blog library.
It's time for MSPs to harden defenses and implement viable and tested plans for continued operations after a cyberattack. With the world evolving, we must continue to keep a look out for any cybercrimes and keep our defenses up. Check out this checklist of 14 things you should be doing to safeguard yourself and your clients from the latest threats.
CompTIA offers a number of programs dedicated to helping businesses optimize their workforces. Whether it is from apprenticeships and a tech career academy, or programs targeting young and underrepresented groups, development of the tech workforce is a critical objective for CompTIA. Learn how you can benefit from optimizing and diversifying your workforce.
As you start thinking about the next year, remember that marketing and sales are critical to a good business plan. Whether it is writing down your plan or working with others to figure out the best effective sales strategy, find out more about these 10 steps that can help you develop an effective sales strategy for 2023.
When it comes to choosing a new workplace, it is important to have a safe and helpful environment to help boost an employee's experience. One of the best ways to recruit and retain employees is to foster a great environment for your current staff, creating an experience that makes your team want to work for you and want to succeed. Read more.
Find out everything you may have missed (or just want to relive) from CompTIA's ChannelCon 2022 conference, including sessions focused on cybersecurity, enhancing your tech workforce, and innovative technologies. Check it out.
Many of the 40 million U.S. adults that want or need a career believe that technology is too difficult a field to pursue. That's a problem we need to fix, says CompTIA CEO Todd Thibodeaux. Read more to learn what CompTIA is doing—and how you can help—to train the next generation.
Statistics reveal that 127 new devices are connected to the internet every second. Technology is growing fast, and we have to know how to keep up with it. this list of important IT statistics and technology facts can help you determine how to better serve your customers.
With compounding cyber risks, businesses must begin to take a holistic approach to cybersecurity that starts with people and process—then technology. We have the power to change anything, starting with cyber resiliency. Learn about the three pillars of cyber resilience and about how you're not alone when it comes to learning the difficulty of cybersecurity.
When it comes to cybersecurity, preparedness only goes so far. Read more from two MSPs who learned firsthand how vulnerable you are when you get hacked. The MSPs share their experiences with the hope others can learn from their cyber incidents and the unexpected challenges that may occur and how you can stop them.
Innovative technologies have practical applications but a limited talent pipeline that can execute those functions—a combination that presents a perfect opportunity for enterprising MSPs to get involved. Innovative technologies may seem futuristic, but their being used every day by business now. Read more on how to learn how you can start to take advantage of the opportunity.