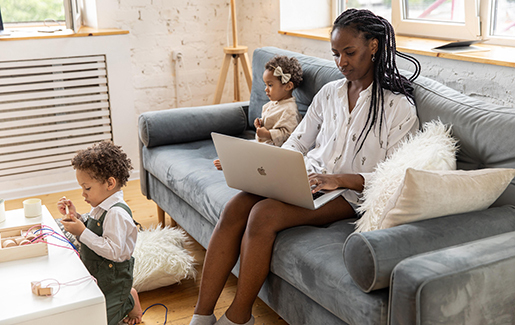 As local governments navigate the "new normal" a few things come to mind in both thought and action. The concept of work and the office has forever changed and so too has the role of information technology. Empirical research demonstrates that those in government, especially those in IT, miss the human socialization that the workforce always provided.
One IT director said, "I never realized the need for human contact until I found myself isolated in my home office. Sharing broadband with an entire household, trying to avoid obvious home repairs that cried out for immediate attention took more discipline than I could at times muster." Workers of all ranks miss the rumors, jokes, simple camaraderie. And as many IT directors tried, Teams, WebEx, and Zoom became worthy substitutes – but had their drawback and limitations. One city manager speaking at a council meeting explained why he was calling off any new building expansion plans until he and his team could assess the future of the office.
Technology played a pivotal role in supporting a workforce that had been firmly attached to a physical office and had to shift in ways and speed not ever contemplated. After a stressful and unpredictable year or so, senior local government managers are now assessing the impact of the pandemic on their workers and citizens. Temporary and emergency fixes are now under consideration for a much longer horizon.
Listening to government technology leaders and other senior public managers a few but certain predictions can be made.
Hybrid – is here to stay. While it appears many more workers used to working from home have come to enjoy the freedoms it brings, however, it must be recognized many also long for the office and the clearer separation of work and home. Some workers are more productive working remotely while perhaps just as many say they are more productive working in an office setting without household temptations and distractions. A hybrid approach appears to be gaining attention in "no one size fits all" approaches where flexibility will be the goal. Among the options being actively discussed – working at an office 2 to 3 days per week and the rest of the week from home.

Open office concept is dead. According to leading office planners, the once-favored "open concept" office has quickly fallen out of favor. Open cubicles were never popular with staff but with the pandemic and the fear of germ spread there were now health reasons that weigh against it. There were too many distractions stemming from open space concepts that saved money but cost loss productivity and morale.

Virtual has its limits. It was not uncommon to hear people say they were "Zoomed out" referring to endless and often longer than needed virtual meetings. Yes, they served a critical function during an emergency – but the experience left many folks frustrated in regard to getting things done. Surprisingly, collaboration took an unexpected toll as online meeting dynamics wound up not being as effective as simple one-to-one and live group meetings. The human interpersonal factor counts for productivity.

Focus on collaboration and shared space. According to expert space planners, offices are being reconfigured to be more conducive to collaboration, meetings, planning sessions, with traditional office space used for individuals who come to work on a scheduled or space-available basis. The laptop and tablet become the inseparable continuity tools of choice between work and home.

Broadband is an essential utility. As government pivoted to a mobile environment, the focus quickly shifted to the receiving end – the citizen. The lack of affordable and available broadband exposed a more public digital gap among certain portions of the population. Public managers devised clever ways of helping those without reliable broadband in several ways. Many have concluded that in today's environment, broadband has become an essential means of communication with citizens and as importantly a critical means of conducting government business – such as signing up for COVID vaccines, etc.

Digital services expand. Many government agencies were well ahead when it came to providing digital services but many more were not. The slow ramp-up of digital services to citizens went into high gear during the pandemic. By all accounts, the public (with broadband and some degree of digital literacy) embraced it. Digital services have proven not only to be a huge convenience – they save a ton of money in the long run too.

Remote work force support improved. The IT department had to learn how to better serve a mobile workforce environment. This has led to solving problems with applications, connectivity, security, all performed remotely. This also implies that IT helpdesk staff have had to adjust not only their tools and skillsets, but to requests that may occur any time of day and night.

IT promotes professional skills as importantly as technical skills. IT staff have done an amazing job adjusting to change in an emergency. Now IT managers need to focus on professional (soft) skills as never before. This includes customer service, emotional intelligence, communication – both written and oral. In the past some IT staff could get buy lacking in those qualities mentioned above – but when you are dealing with employees from afar – staff need to be extra careful to listen to staff problems and challenges. Ongoing training needs to address these new requirements.

The workday is remeasured by hours worked - not 9 to 5; more flexibility in when and how one works. Given the many long and sometimes longer hours employees work, there needs to be a recognition that work needs to measure by productivity and not simply traditional office hours.

Repetitive Process Automation (RPA), Robotics, and Artificial Intelligence (AI) gain traction. Already embraced in the private sector, RPA has gained a foothold in government using chatbots for example as a means of augmenting the customer-facing workforce. RPA holds the promise of eliminating jobs that require repetitive motion which can be easily performed by a combination of robotics, machine learning, and AI. As with callers calling about COVID symptoms, chatbots can act exactly as a staff person by asking specific questions in sequenced order and offering responses were needed. Early success in the use of chatbots strongly suggests they are here to sat and will grow in importance to the government enterprise.

Goodbye desktop computers. Given the need for greater mobility as well as flexibility, the desktop is being decommissioned almost everywhere when possible in favor of mobile-only devices. While less expensive, it no longer makes sense to maintain separate monitors and CPUs that take up permanent space.

Work life balance is re-imagined. Senior public managers report they have been pleasantly surprised by the way their employees embraced working remotely. The biggest complaint was the difficulties staff encountered trying to balance work and home. This has led to cases of burnout and decline in morale. Now there is a growing recognition that public employees must be given time and options that allow them greater flexibility in workload expectations and the timeframe when work is expected to be completed. Work-life balance becomes an operational goal.

Managers re-evaluate how true productivity is measured. Work was easily measured when one could simply see that an employee clocked in his or her hours. Now with a pivot towards greater workday flexibility, new ways need to be found that can better measure performance and productivity. In many cases employees have exceeded expectations by doing more as well as spending more time on work then they would if they were in an office setting. But many of these same people claim they are unhappy and are burnt out!

The stigma of telework is forever changed for the better. Telework had always been looked at with great suspicion. Why were some people able to "work" at home when others were not? Today attitudes have been replaced with "gratitudes". The pandemic proved beyond a doubt the viability of telework at all levels of government.

Recognition that continuous learning, professional certifications are a must. While much was learned during the pandemic, the need for continuous self-improvement became forever evident. The world is fast-changing in all quarters and relying on a degree or certificate a decade ago may not hold up given today's needs. Professional certifications and specialized short courses will be the new norm.
These are but a few predictions that are already unfolding in the state and local government universe. There are of course many more, like what will the future work dress code look like in the years to come? And then there are our household pets. Our pets have never been happier with increased human companionship and vice versa. Most household pets were never meant to be left all alone. The pandemic has made for happier pets and conversely happier pet owners. Cats and dogs remind us of the value of unconditional love and companionship. While not everyone is a pet owner, those who do have pets are truly blessed as their pets are overjoyed at having their owners spend more time with them – a win-win. Yes, being human is still good, still valued, and still important!