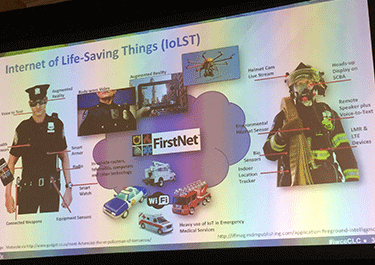 One of the more intriguing sessions at CES 2018 was on the Internet of Life Saving Things (IoLST). FirstNet is an independent authority within the U.S. Department of Commerce with a mission to develop, build and operate a nationwide broadband network that equips first responders to save lives. The panel looked at ways different innovative smart devices and technologies can be integrated in the FirstNet network. Examples were sensors in buildings that would report fires prior to anyone needing to call 911. This also included sensors in firefighters' masks that designate their location in a burning building in addition to measuring density of smoke and its effect on the pulse, breathing and other health-related data to determine the safety of the firefighter.
An area of the show floor was dedicated to Ericsson's Connected Urban Transportation, which allows city planners to adopt systems so traffic flow can be redirected based on a series of sensors, cameras, end-point devices and data incorporated in traffic lights, parking meters, buses, taxis, firetrucks, police cars, train stations and highways to determine incidents or events and plan to redirect traffic and transportation accordingly. As revealed by Brenda Connor of Ericsson, Dallas is the first city in the U.S. that has recently implemented its Connected Urban Transportation system. Dallas made this decision coming off a successful use-case and deployment in the Netherlands.
Various innovative devices were on display at CES with regard to antennas, broadband and end-point electronic devices. However, it was the truly fascinating use-cases and the collaboration of the IoT products that made for the excitement in continuing future planning and implementation of smart cities. CES 2018 was truly at the pulse of futuristic implementations.
When discussions turned to selling these devices, smaller organizations were not as astute as to long-term sales strategies. For instance, in speaking with the channel sales director for a navigation software geared towards implementation for smart cities, she mentioned her company was more focused on direct sales and will bundle with other company products. Multitech was there with their traditional communications products. However, in speaking with Sara Brown, senior director of marketing for Multitech, they are now repositioning and participating in the LoRa Alliance as part of the Wide Area Networks for IoT. In speaking with an autonomous vehicle manufacturer, they were looking to receive 500 orders to put the prototype into production. Xfeng displayed an electric vehicle manufactured and sold in China with no immediate plans for distribution in the U.S., which is surprising.
AR and VR at CES
Augmented reality and virtual reality were also front and center at CES 2018. According to Steven Kan, Google's global AR/VR strategy leader, AR/VR is the next evolution platform after mobile. Steven Kan of Google along with John Cutter, IBM Watson Labs, Alex Hern Co-CEO of Tsunami, James Carwana, VP GM sports for Intel, and Brian Mullins, CEO of DAQRI, participated in a panel discussion hosted by Allen Cook, head of digital strategy at Deloitte.
When asked about the key takeaways for 2017 for AR/VR, there was agreement that 2017 represented movement in the market, where there was a significant increase in common companies producing research on AR/VR. To add, Steven Kan of Google sees 2017 as the birth of a new, commercially viable AR/VR.
For 2018, there was much excitement around life-saving applications. For instance, two use-cases were shared.
The first was IBM Watson partnering with DAQRI voice for Naval training. Airmen need to learn to land aircraft on Naval carriers, which is expensive due to the level of danger and precision involved. The use of AV/VR has lowered the cost of this training to $10,000 per person.
The second use-case involved an IBM Watson and DAQRI project for a not-for-profit organization that enabled a user to experience a day in the shoes of a girl in Nigeria walking to get water. Once this came to life for the user, it was easier for donors to understand and thereby raised more funds for this cause.
John Cutter of IBM Watson sees the future of AR/VR to include visual and vocal recognition, more of a series of inputs and outputs versus using separate devices. He can envision walking into a room and interacting with a room, versus interacting with a device.