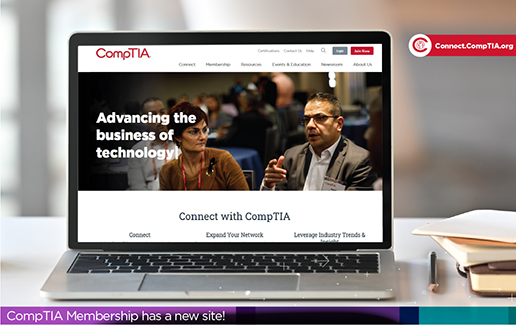 In a world where human interactions are increasingly virtual and sometimes brief, making a meaningful connection has become a challenge. Of course, it's CompTIA's job to help our members and our industry build connections with one another. That's why we've created a new website designed to help you navigate the tech industry and engage with CompTIA members, peers working in the business of technology and industry thought leaders at connect.CompTIA.org.
2021 is the year to start connecting, expanding and leveraging everything CompTIA has to offer technology solution providers, MSPs, vendors, technology consultants, and other tech businesses. Here are a few highlights you won't want to miss.

Expand Your Network

One of the most popular benefits your industry association offers is access to people. At CompTIA, the people you meet and build relationships with can help you succeed in the business of technology as partners and trusted advisors.

CompTIA members come from all walks of life. They may be small business owners, big tech executives, tech gurus, sales and marketing stars or even rookies just beginning to explore what a career in the tech industry has to offer. But regardless of experience and expertise, we have one thing in common: We all want to advance our industry. To start building these important relationships, you have to first get involved, and connect.CompTIA.org makes this easier than ever.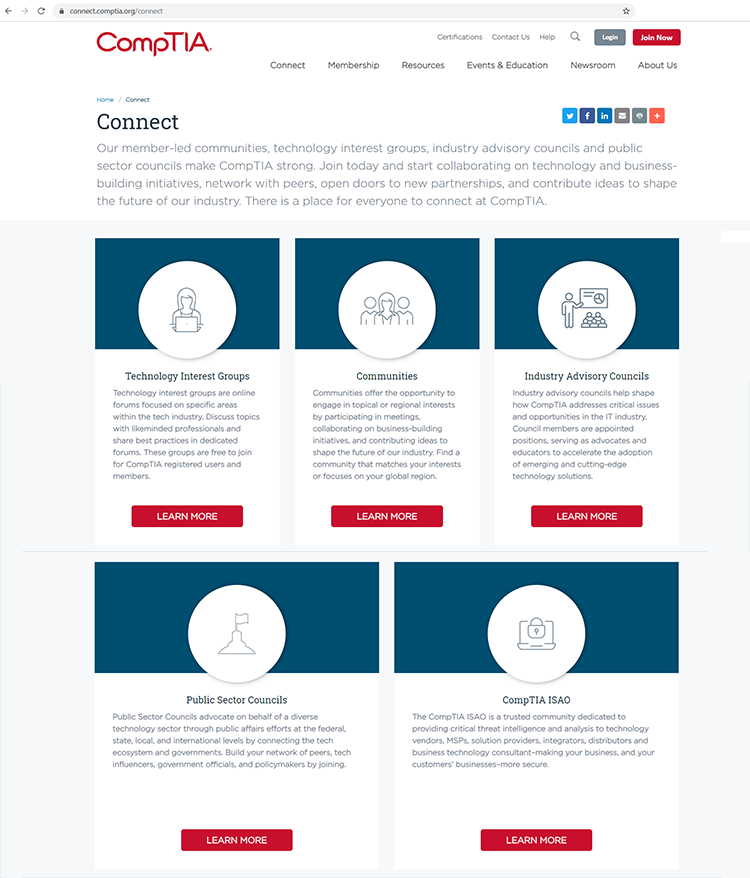 >>Technology Interest Groups & Communities

An easy way to get one foot in the door is by joining one (or more) of our member-led
communities
or
technology interest groups
. Simply find the group that aligns with your interests and join. It's really that easy. Once you're in, you'll start to get notifications about upcoming meetings, resources and can immediately join the conversation. Our communities and technology interest groups are
free to join for registered users
and members.
>>Industry Advisory Councils

If you're looking to dive deeper into member-led thought leadership, you can learn more about our
industry advisory councils
. These groups help shape how CompTIA addresses critical issues and opportunities in the IT industry. Council members are appointed positions, serving as advocates and educators to accelerate the adoption of emerging and cutting-edge technology solutions, but the content, tools and resources they create are available to members and in many cases, anyone in the tech industry.
>>Public Sector Councils
Many of our members work with federal, state, local and international government officials to connect the tech ecosystem to government programs.
CompTIA Public Sector Councils
advocate on behalf of these folks to not only provide knowledge and education, but also to help build a network of peers, tech influencers, government officials and policymakers.
>>CompTIA ISAO
While our tech businesses are diverse in nature and scope, we're all tied together by our need to be secure. The
CompTIA Information Sharing and Analysis Organization (ISAO)
tailors proactive threat intelligence and actionable analysis to meet the cybersecurity needs of technology vendors, MSPs, solutions providers, integrators, distributors, business technology consultants and their customers.
There's a place for everyone to connect. In fact, there are 24 different groups to choose from! Find your place now.
Hone Your Expertise
Whether you're an industry veteran or just beginning your tech career, you know how important it is to stay ahead of the knowledge curve. Becoming an expert in anything tech means a dedication to constant and continuous learning. Just when you think you're ahead, something new comes along that knocks your expert hat sideways and challenges your humility. It's all a part of our innovative industry and we wouldn't have it any other way.
Our events have something for everyone. Big or small, virtual or in-person, these meetings foster the collaboration, learning opportunities and resources you need to absorb, analyze and capitalize on trends, and plan for the future. See every single opportunity at connect.CompTIA.org.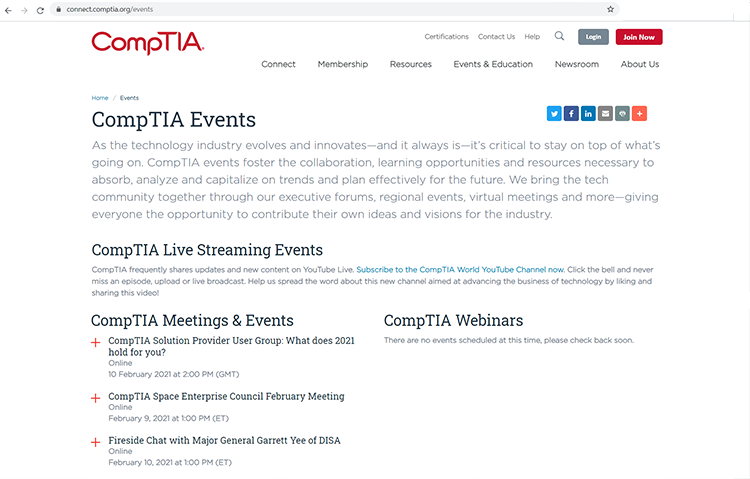 >>Events
You may be aware of our larger, signature events like CompTIA ChannelCon in August, the CompTIA Communities & Councils Forum (CCF) in March and our EMEA Member & Partner Conference in October, but are you also taking advantage of smaller gatherings and educational webinars that provide just as much impact throughout the year? Although many of our 2021 events will be virtual for the time being, there's still plenty of opportunity to network and build important partnerships.
>>Webinars
Of course, many of our online meetings are recorded for future viewing if your schedule doesn't allow for live participation. We keep webinars for 90 days after their original presentation available to you as recent on-demand webinars.
>>Channel Training
Corporate members can take advantage of CompTIA's channel account manager or CAM training training, a very popular and highly-rated member benefit. Members can utilize CompTIA's vendor-neutral training to fill their learning portals with recorded sessions or live virtual training to educate staff, partners and prospects on business topics relevant to today's ever-evolving technology industry. Want to learn more about what happens during CAM training? You can read about that here.
CompTIA events and education brings the tech community together—giving everyone the opportunity to contribute their own ideas and visions for our industry.
Get even more: CompTIA regularly posts videos and live broadcasts on YouTube. Join the CompTIA World YouTube Channel and click the bell to stay in the loop. Subscribe now.
Leverage Our Resources

Sometimes you may need information about the tech industry that you can trust. You might be charged with creating a presentation, writing a business pitch, developing staff training, crafting new business policies or even updating your resume. You can find credible, trustworthy research, analysis and tools on connect.CompTIA.org. Our resources not only help you stay informed but can help you do your job.
Resources
are plentiful at CompTIA, and now everything we have to offer is easier to access.
>>Tech Industry Resource Hubs
Our resources are organized by topic. For instance, if you are searching for cybersecurity information, you simply click on the topic heading and your page will load the relevant content that we offer. You'll see the most recent content up top and have the option to drill down and search for something specific. These resource hubs have been curated with a business of technology audience in mind a mix of innovative tech topics and ways to grow your company.

Take a look for yourself. Explore our resources:

>>Use Cases
To help accelerate the adoption of emerging technologies, CompTIA has created a series of use cases and success stories that highlight examples of how our members leveraged emerging and cutting-edge technology solutions to solve real-world business problems. Browse the use case library for such examples—and learn how you can do the same.

>>Podcasts
CompTIA podcasts feature thought leaders and member-experts discussing a variety of timely business and technology topics. Listen in for industry insight, workforce trends, public sector issues, practical advice and more when you subscribe.

CompTIA is constantly adding new resources too, so this section of the website will never be static as new research, business tools, guides and more become available.

Stay in the loop. The CompTIA blog is a great resource to keep you in tune with what's making headlines and the tech industry is reacting. Read the blog.

Get More with my.CompTIA.org

Membership has many perks and access to
my.CompTIA.org
will ensure you get more value. When you login with your member username and password, you are greeted with a personalized dashboard that houses everything from notifications from groups you have joined, events you are attending and resources you have bookmarked. Registered users, technology interest group members, community members and corporate members all have access to
my.CompTIA.org
.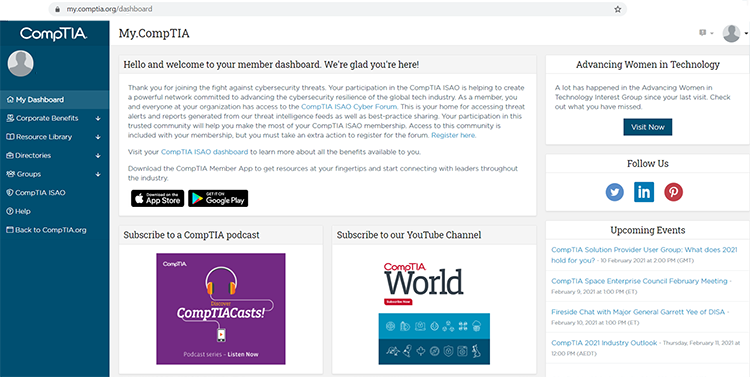 CompTIA members and registered users have access to their own personalized dashboard including exclusive resources and tools. Not a member?
Become a registered user for free right now
. Don't miss these features of your customized
my.CompTIA.org
experience:
Resource Library: Remember all the relevant content we talked about earlier? When you see something that you want to come back to later, simply save it to your personal library for convenient recall.
Group Management: You've taken the plunge and joined a few groups—fantastic! The Group Management page on your dashboard makes coordinating those efforts easy. From this page you not only see every group you have joined, but you can view any upcoming events, projects or initiatives that group is working on.
Directory: Your dashboard includes links to the CompTIA corporate directory and individual directory. To access the directory, you must be a CompTIA corporate member. Learn more about corporate membership.
Remember, connect.CompTIA.org has been created for you. We want your experience to be as user-friendly and valuable as possible. If you have any questions, please contact us at [email protected].