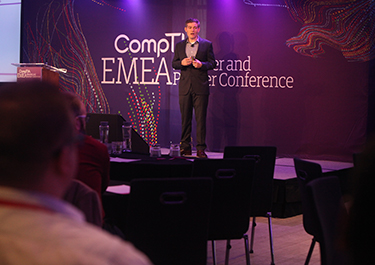 At the EMEA Member and Partner Conference, which took place 16, 17 October in London, Tim Herbert, senior vice president of research and market intelligence at CompTIA, led a deep dive into the results of our newly released report Assessing the IT Skills Gap in the UK.
Herbert began with a reference to the popular sci-fi series Black Mirror, drawing on its ability to take a simple technology or idea and make people think about it in a complex way. He compared the hit Netflix show with the UK skills gap, suggesting the phrase is far from a straightforward story of not simply having the talent to meet today's demand; it's far more nuanced and a number of things contribute to the skills gap. It might be a case of a pay gap or location gap or even a confidence gap.
Globally, the IT industry is valued at around £3.6 trillion and in the UK alone it's a £151 billion industry that has grown between four and five percent over the last year. Herbert explained that emerging technologies will be a major driver of growth, predicted to add another £180 billion by 2020.
Skills Gap Perceptions
Diving into data from CompTIA's new UK skills gap report, Herbert set the scene for the industry's awareness of the skills gap by revealing that 9 in 10 employers have witnessed it first-hand. Furthermore, almost half of employers believe that the gap is growing, with three-quarters expressing a level of concern over the skills shortage.
This is not just limited to the traditional IT industry, Herbert said. With technology blending into all sectors of business today, other positions are suffering. Marketing and business development are feeling the pressure of the skills gap due to new focuses on digital strategies and implementation of automation to help with tasks.
While 4 out of 10 people surveyed agreed that there's an insufficient talent pool to fill jobs, Herbert pointed to the fact that a further 35 percent of respondents actually recognised that employers contribute to the perception of the skills gap because of unrealistic expectations and high-specification job descriptions that make candidates believe they are not right for the role. In relation to emerging technologies, some roles are looking for five years' experience with a technology that is just two years old!
But all of this is relative, Herbert said. While the skills gap for emerging technologies might be the biggest, when these technologies do not matter to your overall business objectives and functionality, they aren't as significant. Skills gaps in core technologies are likely to mean more to your bottom line, so filling these roles is much more pressing.
Identifying the Skills Gap
Despite all these concerns, many organisations do not have a formal strategy to address skills gaps. Forty-three percent of those surveyed do not have a good handle on identifying and addressing the skills gap and 16 percent of businesses do not even have a strategy in place for beginning to address it.
One of the main challenges is quantifying financially what the skills gap costs, Herbert said. It's easier to find how it is affecting companies, with the report's results showing that low staff productivity and innovation deficiencies came out on top – both things that can incrementally affect revenue.
The Confidence Gap
Herbert then went on to break down the perception of the IT industry and explained that a confidence gap could be the major contributor to the skills gap. He revealed that 7 out of 10 employers see it as a factor in discouraging someone to pursue a career in tech, with 50 percent believing this comes down to a concern over skills deficiencies. To address this, Herbert suggested that it was up to the industry and employers to ensure the way in which technology as a career is considered is changed. With less focus on the need for a university degree and more discussion around the different ways to get into the industry, including the fundamental soft skills needed, Herbert explained that this would help to start bridging the confidence gap and, ultimately, the skills gap.
The Future Has Yet to Come into Focus
Herbert finished by saying that the industry is at an interesting point in its workforce development journey. Long term projections suggest that the industry is on the brink of change, with Herbert citing McKinsey's report that suggests 6.6 million UK jobs will be displaced by 2030 and most of future tech jobs have not yet been created. While there is a need to ensure the next generation of IT talent does have the skills to work with emerging technologies, the need right now is to educate the industry on the technologies that are impacting businesses today.
To download the UK skills gap report, click here.
Click here to learn all about the CompTIA EMEA Member and Partner Conference
and
here to learn about the CompTIA UK Channel Community.