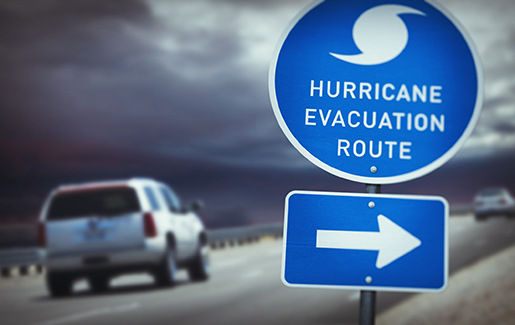 As Hurricane Idalia rolls up the Florida Coast, it serves as a valuable reminder of the immense power that nature holds and how fragile lives, homes, and businesses can be.
For solution providers and MSPs, it also serves as impetus to dust off disaster recovery plans and have conversations with customers to make sure business continuity expectations and processes are still reasonable and achievable. When it comes to taking proactive steps to protect your business and your clients through a potential disaster, it's best to be as prepared as possible, according to Harold Loving, CEO of TeamLogic IT Jackson, a Jackson, Miss.-based solution provider that helped clients recover in the aftermath of Hurricane Ida in 2021.
"I felt like we were as ready as we could be for Hurricane Ida," Loving said. "Some of our clients who procure continuity products from us were in better shape than those who don't. Power outages are the main concern in our area of Mississippi, so for our clients with generators, we followed up with them to make sure their generators have been serviced/fueled. That's not necessarily our responsibility, but I suggest MSPs apply their knowledge and problem-solving skills to helping their clients in a comprehensive manner. The goal would be to prepare your clients to the level you have prepared your own business at minimum."

CompTIA previously published a series of blogs that detailed how to help tech companies manage their business, employees, and customers through a disaster. Here's a look at some highlights:
How to Manage Employees
You can't help your customers if you can't help yourself. Managing employees through a crisis is paramount to success. If your business and your customers' businesses have been disrupted by a disaster, there's a good chance that your employees' lives have also been impacted greatly. Help them first to make sure you're able to assist your customers.
"One of the biggest things to remember after a disaster is: this too shall pass," said John Motazedi, president of SNC Squared, a Joplin, Mo.-based solution provider that had his headquarters destroyed by a tornado in 2011. "It's really hard for six days, six weeks, six months, but you will get through it. A lot of it comes down to attitude. Your presence and your attitude as a leader go a long way to determine how well your team will adapt and work through it all."
Four things to consider:
Make sure your employees are safe, available to help
Practice, prepare for multiple scenarios
Stick to a plan, but be flexible
Communicate early and often
How to Manage Customers
Cloud and other technologies help customers prepare, secure, and recover business data faster than ever, but tech providers should always ensure that their business clients are ready for the unexpected—and worst-case scenarios. After all, disaster can strike anywhere, any time.
"It's a conversation for now but for the future too," said Jennifer Mazzanti, CEO of eMazzanti, a Hoboken, N.J.-based solution provider that was impacted by the 9/11 attacks and Hurricane Sandy. "What happens when you can no longer remain in the same space? What are your options when staying put is no longer an option? Those are conversations to have with customers. You will get judged by clients on how you perform in an emergency."
Four tips to consider:
Review expectations, parameters ahead of time
Prioritize your response based on customer needs, value to your organization
Be transparent, honest to alleviate concerns and doubt
Treat your clients like they are family too
How to Manage Your Business
Surviving a natural disaster depends a lot on developing a business continuity plan—but also practicing and drilling that plan to ensure that it is executed properly, no matter what happens. For example, hold tabletop exercises to play out different outcomes and what your response would be.
"If you haven't revisited in your plan in a while, do so," said Vince Gremillion, president of Restech, a Metairie, La.-based solution provider that survived Hurricane Katrina. "Make it real. Put pressure on the group. That's the best way to predict how prepared you are. Don't tell me what you'll do, show me."
Five tips to consider:
Invest time, resources to be prepared for anything, everything
Be a rock that customers, employees can count on
Remember that everyone will react differently, and that's OK
Engage with peers, ask for (and accept) help
Help out in your community, when it needs you most
For more infomation, consider this checklist of how to prepare for, and survive, a hurricane or other emergency situation.
Note: This article was originally published in 2022 and updated Aug. 30, 2023.