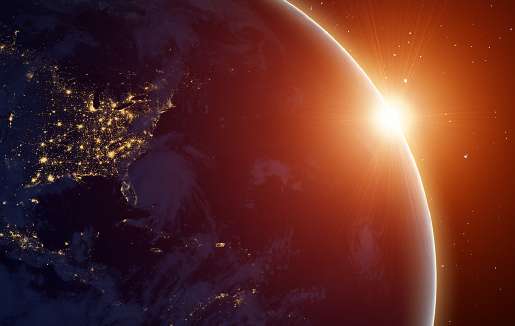 This article first appeared in the Spring 2020 issue of CompTIAWorld magazine.

On November 17, 2019, CompTIA staff and representatives from six American companies—all members of CompTIA's Space Enterprise Council—gathered at a Starbucks at San Paolo's International Airport to begin a six-day journey that would give them an unprecedented look at Brazil and Chile's growing commercial and government space programs. Among the member companies were some of the largest and most innovative companies in the U.S., including SAIC, KBR and SpaceX, as well as smaller businesses such as TriSept, a privately held satellite launch and integration services company. The goal of the mission, CompTIA's second to Brazil, was to find untapped opportunities for member companies looking to expand their satellite and space businesses into international markets.
"Our members are looking at the launch market—to launch both U.S. and Brazilian satellites. They are looking to the manufacturing market to see if there are Brazilian programs where the United States can win a contract or two. They are looking at the services market to see if they can provide end-user services to the Brazilian market," said David Logsdon, executive director, Space Enterprise Council at CompTIA, who led the trade mission.

But why has CompTIA launched itself into the space… well, space? And how does the Space Enterprise Council fit into the association's broad mission? The obvious need for technology to underpin anything related to space travel or exploration might seem to answer these questions, but for an association committed to creating an environment where businesses working in tech can flourish and continually innovate, space actually provides a means to an end, making it critical to CompTIA's mission and vision.
According to Logsdon, CompTIA offers businesses operating in the space industry the understanding that they are tech companies—not space companies—something that other associations don't differentiate.
"CompTIA has a unique proposition for Space Enterprise Council members. For many of these companies, you're not space companies. You are data companies that are utilizing a satellite platform to deliver data services—satellite imagery, broadband communications, value-added GPS services. We are focused on membership from a technology perspective and we see space as means to an end. It's a much larger conversation," said Logsdon.
A Brief History of Space
Laying the groundwork for the 2019 trade mission to Brazil and Chile entailed far more than booking a flight from the U.S. to San Paulo. It began 20 years ago when the Space Council was initially created at the U.S. Chamber of Commerce. From there, it moved to Tech America, which was acquired by CompTIA in 2014.
"CompTIA has provided a perfect home for the Space Enterprise Council. People—many of our members even—don't realize that CompTIA is involved in the space industry, but without satellites, there isn't a business of technology. Without satellites, there's no GPS, there's no IoT—we can't connect the dots for these emerging technologies," said Nancy Hammervik, executive vice president of industry relations at CompTIA.
Since the council arrived at CompTIA six years ago under Logsdon's leadership (who also oversaw the council at Tech America and the U.S. Chamber of Commerce since 2003), it has facilitated business relationships and networking opportunities between member companies and Washington policymakers; formulated policy and budget positions; and played a key role in promoting U.S. businesses to Brazil and forging partnerships between the two countries.
Currently, the council has 25 member companies. According to Dean Blom, launch liaison at TriSept and a current council member, CompTIA's ability to help U.S. businesses navigate both domestic and international space regulations, policies and technology issues has proven extremely valuable.
"The Space Enterprise Council provides a small, agile space-focused company like TriSept the ability to gain insights and information on both government and commercial strategic plans and goals through informal, yet meaningful and effective conversations with government, business and technical decision makers," said Blom, who represented TriSept on the Brazil-Chile trade mission.
Strengthening the Bond with Brazil

CompTIA and Brazil began its space-focused relationship several years ago. In November 2017, the Space Enterprise Council hosted the then-Brazilian Minister of Defense Rual Jungmann. In December of that year, the council embarked on its first trade mission to the country, visiting the Alcantara Launch Facility, located in the state of Maranhão on Brazil's Atlantic coast.
In 2018, the council took the lead on creating private industry partnerships between the U.S. and Brazil, cultivating a strategy of engagement and nurturing senior-level contacts at the Office of the President, the Ministry of Defense, the Ministry of Science and Technology, the Brazilian Space Agency (known as the AEB), the Brazilian Air Force, and the Federation of Industries of the State of Sao Paulo—contacts that would provide the 2019 trade mission participants with unprecedented access.
After landing in San Paolo on November 17, 2019 and gathering at the terminal's Starbucks, CompTIA's group of 16 business and association representatives boarded a single-engine plane for a 10-minute ride to the Alcantara Launch Facility—a trip that would have taken four hours or more through the Amazon rainforest by Jeep.
The behind-the-scenes tour of the launch facility began with a briefing from Commander Marco Carnevale and Major General José Vagner Vital of the Brazilian Air Force followed by dinner with Senator Roberto Rocha. Access to these government officials was a key highlight for trip participants. Senator Rocha provided background on legislative activity impacting the launch site, including legislation that proposes a deep water port and would allow launch vehicles to be brought to the site via barge from the U.S.—a major development for companies interested in expanding their space business to Brazil.
On November 18 and 19, the group participated in Brazil's Space Industry Day, which included panels, meetings and conferences. Members met with representatives from Brazil's space agency, AEB, including Carlos Moura, president of the agency, and Paulo Vasconcellos, director of space transportation and launch, who spoke about the opportunity for council members to provide input on Brazilian space policy. On the final day in Brazil, council members participated on a panel during the Bilateral Space Industry Meeting, giving them the opportunity to not only learn about Brazil's programs, but also lend their expertise to international industry conversations.
The Brazil portion of the trip, according to members, was a success. "Brazil has a great spaceport in an area well-suited for Equatorial launches. We see several opportunities for our launch and integration services business to support the country's development and growth," said Blom.
A Start of Something New in Chile
Flanked by Chilean special forces due to the ongoing riots, CompTIA's trade mission participants traveled to Santiago, Chile on November 20 with new goals for the Space Enterprise Council.
"Brazil is focused on opportunities for launch and launch activities. Chile is focused on satellite services—broadband communications, satellite imagery. They are already a global leader in astronomy. They want to work closely with America as they build out their space capabilities and create space policy—it's a big opportunity for CompTIA and our Space Enterprise Council members," said Logsdon.
The first day in Chile included briefings from the Charge d´Affaires Baxter Hunt and Cristián Rodríguez Chiffelle, director, Invest Chile, the trade arm of Chilean government, who provided an overview of the space and technology sectors. Colonel Luis Saez, assistant director of space, Chilean Air Force, gave an overview of the Chilean space program.
On November 22, the final day of the trade mission, members met with additional government officials, including Manuel Sigala, head of project evaluations from the Chilean Ministry of Defense, and Undersecretary of Telecommunications Pamela Gidi. The group was provided an overview of the country's infrastructure plans, including 5G, and space capabilities and services.
Blom said his biggest takeaway from the trip was that both Brazil and Chile are committed to growing their space programs and economies. "Chile is more focused on space-based technology and manned space flight, which aligns with TriSept's space systems engineering, operations and security capabilities. We see both countries as having complimentary goals and objectives that mesh well with U.S. space plans," said Blom.
The Next Frontier
Ultimately, Brazil and Chile are part of a growing international community looking to space for a variety of economic, technical and social benefits, and CompTIA's Space Enterprise Council is committed to connecting U.S. companies with business opportunities around the world. Plans are already in the works to expand the council's presence to Australia, Argentina, Mexico, New Zealand, South Africa and Poland—to name just a few countries—allowing businesses large and small to gain access to new marketplaces.
"CompTIA's Space Enterprise Council offers a unique opportunity to interact with U.S. and international governments and businesses in a way that goes beyond traditional business pitches," said Blom. "We would not have been able to have this level of access nor fidelity of communication with senior leadership had we made the trip to Brazil or Chile on our own, and we're looking forward to more opportunities like this in the future."
Whether it's South America, Europe or other areas of the world, CompTIA's strong international relationships and world-class certification programs make the association uniquely positioned to lead the U.S. private sector for space industry cooperation—not only to address the business opportunities but also the training needs of the emerging technology workforce. Ultimately, the work the Space Enterprise Council is doing is complimented by the work of the entire association.
"Space enables all of the connections we need to drive innovative solutions. No other association is focused on space as a platform for technology," said Hammervik.
"We want CompTIA to be the global super connector that drives space cooperation. We have the business of technology partners for space solutions, and we have workforce training for building the skills for the jobs that will be necessary—CompTIA covers all of it."

Read the latest issue of CompTIAWorld magazine.