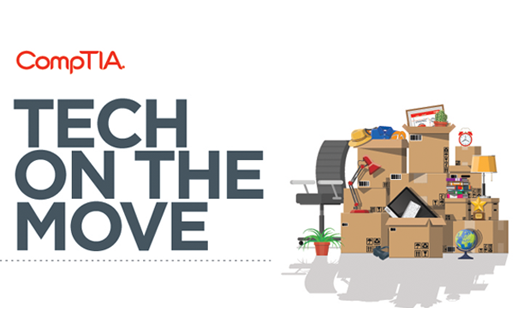 The time has come to finally stop focusing entirely on Millennials… and start focusing on the next entrants to the workforce: Generation Z employees.
Born between 1997 and 2012
, people who are currently between 18-22 years old are the first wave of Gen Z employees. They may be fresh from high school or college, have a few years of work experience under their belts, or be navigating through a labyrinth of internships, part-time jobs or freelancing—or all three.
The hustle and vibrancy of Gen Z candidates is attractive to tech companies looking to find and retain the best new talent. But how to strike the right chord for the next innovators can be tricky. In fact, much of CompTIA's emerging technology research shows that business owners are concerned about finding skilled tech talent.
In our recent Tech on the Move study, we asked 918 IT professionals about their top factors and important considerations for choosing where to live and work. While Gen Z might be the newest kid on the block, businesses could do well to pay attention to how the youngest candidates are faring against current hiring practices, and how to include employees from across a few generations into the company's culture.
Who is Generation Z?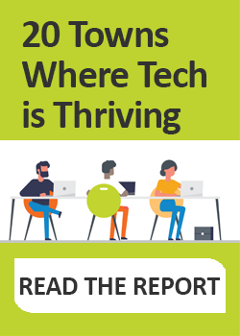 According to a recent podcast from Top Employer Institute, "In the U.S. alone, there are 70 million Gen Z's … about 25% of the population entering the workforce over the next 15 years." Fortunately for them, the national unemployment rate has stayed low at 3.7%, according to the US Dept of Labor, Bureau of Labor Statistics, and 11.6 million tech jobs were recorded in 2018, according to CompTIA's 2019 IT Industry Outlook report. It's a good time to be jumping into a fruitful career in the tech industry.
Gen Zers who are interested in tech careers seem to be cautiously optimistic. Because many members of the Gen Z were children during the Great Recession, and witnessed how the economy issues and subsequent aftermath affected their parents, their friends and their community, Generation Z may have developed the long view when it comes to their future jobs and locales.
In the Tech on the Move study, 82% of Gen Z respondents said that overall cost of living as a very important factor when considering where to begin their professional lives. They also favor job location (48%), flexibility and autonomy (48%), and creativity and innovation (37%) more than Millennials. Compared to 74% of Millennials, this shows that Gen Zers are looking at the bigger picture of how their job prospects will affect their lives, holistically. In other words, they don't want to put themselves in a position they can't afford.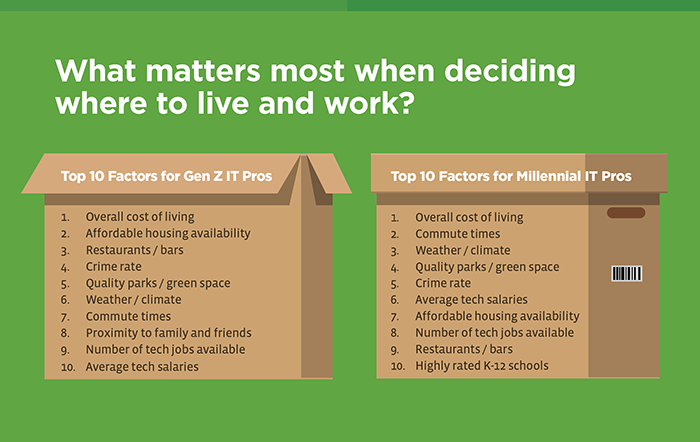 However, the number of tech jobs available in an area and job salaries of an area were lowest on the scale of most important factors for Gen Zers (numbers 9 and 10, respectively). The study also reports that 48% of Gen Zers surveyed noted that having meaningful work that positively impacts others is a top factor when determining where to put down their roots (compared to only 38% of Millennials). There's an optimism in those ideas: The study suggests that for Gen Zers, it's not just about making money or climbing the ladder as fast as possible or being in most desirable location; it's more of a live to work, not work to live attitude. After decades of wondering how to achieve the elusive work/life balance, Gen Z just might be offering an answer.
How Can SMBs Attract Gen Z Employees?
Business managers, hiring managers, recruiters, CEOs and anyone looking to tap into this fresh, vibrant talent pool—and you certainly should be—would be well served to listen to the Gen Z candidates' long-term goals. Flashy signing bonuses and in-office office perks like round-the-clock access to snacks and ping-pong tables, aren't as novel to the Gen Z employee. They want to talk about their autonomy, their ambition, growing their tech skills, and the positive impact of a company is making.
Also, Gen Zers want you to trust them. Shaara Roman, founder and managing partner of The Silverene Group, recently said on the Top Employers Institute podcast, "Millennials are tech savvy; Gen Z are tech native." Gen Zers have always known a world that includes social media, smartphones and smart appliances, apps, and online infiltration of real-world events—whereas Millennials grew up parallel to those innovations, learning as it happened. As a result, Gen Zers are hyper-efficient about finding information, navigating the Internet and resources, and multitasking effectively. While there's always a learning curve to a new job and company, Generation Z employees want their supervisors to know that they know what they're doing when it comes to technology.
Another important takeaway is that hiring practices and company culture is not one-size-fits-all. In fact, a healthy company will evolve with the mainstream culture, adapting to be inclusive, equal and diversified in background, education, ability and emotional intelligence.
According to a Glassdoor report about Gen Z workers, "The competition to catch the attention of the newest generation of workers and potential applicants will likely favor employers who can demonstrate—via their job descriptions, interview processes and other online forums—that they value culture, career opportunities and trust in senior leadership, along with a balance of benefits that appeal to Gen Zers."
Generation Z employees are resourceful, practical and competitive. They want the space and trust to do their work independently, relying on themselves or small groups to get a job done. Be careful, however, not to mistake an eagerness for autonomous work for anti-collaborative tendencies. Gen Zers are still new to the workforce and those who are encouraged to find mentorships with more experienced colleagues will be future foundational employees for your company.
Generation Z may be new but don't make the mistake to think they are naïve. As they steadily flow into the workforce over the next decade, disruptions to the status quo and improvements for more efficient and integrated practices can be expected. To see positive impact for your own company, the best course of action is to embrace, encourage and energize the talent pool, at every age and stage of their career.
Want more insights into what Gen Z employees look for when deciding where to live and work? Download the Tech on the Move report.