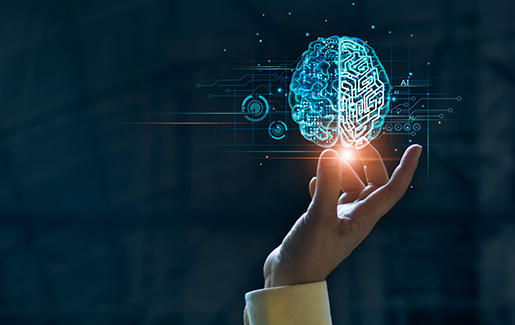 Artificial intelligence is a hot topic for businesses. AI capabilities are expanding the possibilities for how businesses approach real-time engagement with their customers, manage their operations and ensure business continuity through the pandemic. As the technology advances, companies are finding new ways to innovate and expand. Here are some artificial intelligence statistics to help you understand AI usage in 2022.
The State of AI in Business
Everyone loves to talk about AI and the potential for business growth and enhancement—but what's the general outlook for business use?
86% of CEOs report that AI is considered mainstream technology in their office as of 2021.
91.5% of leading businesses invest in AI on an ongoing basis.
Gartner also tells us that customer satisfaction is expected to grow by 25% by 2023 in organization that use AI.
Forbes reports that 50% of enterprises plan to spend more on AI and machine learning in 2021 and 20% report significant increases to their budgets.
Overall, there is a widespread adoption of AI in business, but most companies aren't using it for world domination, but rather to automate processes, enhance customer service and personalization, increase output, and analyze data. Overall, businesses are trying to obtain a competitive advantage.
Learn common AI terminology
.
AI Priorities and Plans
McKinsey reports the following risks and urges companies to prioritize the following when it comes to AI:

Cybersecurity
Compliance
Explainability

Personal Privacy
Voice Search and Artificial Intelligence Stats
With the prevalence of technologies such as Amazon's Alexa and Apple's Siri, (most frequently used on smartphones) picking up speed, voice search has certainly taken its place in the emerging tech space. According to Tech Jury:
40% of adults use voice assistants to search on a daily basis.
50% of all searches were the result of a voice search in 2020.
43% choose digital voice assistants because they are faster than type search.
Machine Learning and AI Stats
Taking part in machine learning, AI and big data is at the top of the priority list for many organizations. Forbes tells us that:
76% of enterprises surveyed in Algorithmia's 2021 report plan to prioritize AI and machine learning initiatives over other IT goals in 2021.
83% of organizations have increased their AI and machine learning budgets YOY since 2019.
The entertainment giant Netflix is also known for its use of machine learning and AI software in content recommendations, which the company reports as saving $1 billion per year.
Impact of AI on Jobs and Employment Market
Many have expressed concern for their job status with the impending growth of AI and machine learning. Semrush revealed that:

38% of employees expect their job to be automated by 2023.
13% expect AI to eliminate positions entirely in their industry.
Despite the negative perceptions,

AI technology was expected to create 500,000 more jobs than it was expected to replace in 2020.
Jobs are anticipated to be in high demand with 97 million specialists needed in the AI industry by 2025.
One O'Reilly report broke down usage by industry. They show the following:

Other: 22%
Technology: 17%
Financial Services: 15%
Healthcare: 9%
Education: 8%
Government/Public Sector: 6%
Telecomm: 5%
Manufacturing 4%
Retail: 4%
Media: 3%
Energy: 3%
Defense/Security: 3%
Stats About AI in The Retail Industry
Currently, the retail market is embracing the use of AI due to its ability to hyperpersonalize and make recommendations based on product selection.

AI spend in the retail industry is expected to reach $20.05 billion by 2026, a compounded annual growth rate of 39% since 2019.
80% of retail executives expect their companies to adopt AI-powered intelligent automation by 2027.
Juniper Research reports a growth of 230% in machine learning spending between 2019 and 2023.
Chatbots and Artificial Intelligence Facts and Figures
Many companies are embracing AI to support their customer service, most notably when it comes to customer interactions via chatbot.

A survey by Forrester revealed that 89% found chatbots to be useful or very useful for personalizing customer interactions.
69% reported reduced operational costs due to chatbot usage.
63% preferred to speak with a chatbot over a human, according to G2 Crowd.
Despite these gains, chatbots don't come without challenges, with
48% reporting customer frustration and churn due to chatbot usage.
47% finding that significant IT involvement is needed to personalize experiences with chatbots.
AI Market Statistics
The AI market is experiencing robust growth.

Statista reports a global market size of $327.5 billion in 2021.
AI market share in the US is expected to value $190.61 billion by 2025.
Other countries are expected to make significant gains in the AI industry. In fact, Forbes reports that China is expected to become an AI industry leader in the coming years.
Artificial Intelligence Growth
The numbers don't lie. The market size of AI is gaining momentum.

Gartner predicts AI software will reach $62 billion in 2022 alone, an increase of 21.3% from 2021.
According to Semrush, the forecasted annual growth rate of AI between 2020 and 2027 is 33.2%.
Obstacles to AI Adoption
Despite the snowballing adoption rates of artificial intelligence and advancements in AI technology, there are some barriers that are preventing organizations from implementing AI. CompTIA has identified the top obstacles to AI adoption as being

Lack of skilled individuals and hiring shortages.
Unclear ROI metrics.
Complexity of AI systems.
Lack of governance.
Fear of job replacement.
Benefits of AI Adoption
Adopting AI can have positive benefits for business, including (but not limited to):

Reduced operational time
Greater business insight
Reduced human error
Automation of rote tasks
Enhanced productivity
Better customer service
Virtual Assistants
Disruptions in the workplace have given virtual assistants a boost as workers find more efficient ways to work in a decentralized environment. Gartner predicts that:

50% of knowledge workers will use a virtual assistant by 2025.
Spend on virtual assistants will reach $3.5 billion in 2021.
AI in Customer Service
AI certainly has been beneficial in the customer service realm. Semrush reports the following AI statistics:
80% of marketers in 2020 already had chatbots as part of their customer experience strategy.
40% of businesses say that customer experience is their top motivator for using artificial intelligence.
85% of customer service interactions were responded to by chatbots.
AI in Marketing
There are so many use cases for applying AI when it comes to marketing. Semrush reports that marketing and sales prioritize AI and machine learning more than any other department.
48% of marketing leaders cite AI as making the most significant different in how customers interact with them.
51% of ecommerce companies use AI to provide a seamless experience.
64% of B2B marketers consider AI to be valuable in their marketing strategy.
FAQs
There are some questions about AI and machine learning that pop up frequently. Here are a few FAQs about AI that your customers may ask:
What is AI capable of?
Will AI replace my job?
How is AI being used today?
What should we worry about when it comes to AI?
Is AI safe?
How does AI impact cybersecurity?
What is the difference between AI, machine learning and deep learning?
What are the three types of AI?
There are three types of artificial intelligence:

Artificial Narrow Intelligence (ANI): The only form of AI on the market now. ANI can solve for a single problem and perform one task to satisfaction, such as suggesting a related product for a shopper.
Artificial General Intelligence (AGI): A form of artificial intelligence that mimics how a human reasons, still only a theoretical concept to date.
Artificial Super Intelligence (ASI): Also only conceptual in nature, ASI is the stuff of movies involving highly complex and logical artificial intelligence which is capable to reasoning beyond human capabilities and which has the ability to build emotional relationships.
Where is AI used today?
AI is being used around the world, with the US taking a significant lead. The O'Reilly report shows usage by country, in descending order.
United States
India
Canada
Germany
United Kingdom
Spain
Brazil
Mexico
Australia
Italy
France
Japan
What is the future of AI?
AI continues to advance. Companies such as IBM and Google are paving the way for the future of AI. IBM has recently made headway by enhancing natural language processing to enhance their AI platform, Watson. IBM also is anticipating fluid intelligence, a more complex use of AI that will allow technology to combine different forms of knowledge to solve more complex problems.

Who has the most advanced AI?
The
most advanced AI system in the world
was installed in New Zealand in April of 2021 at the University of Waikato. The installation follows a pledge by the country to become a world leader in AI research and development. This AI system can quickly and efficiently process huge amount of data which allows AI and machine learning intelligence to solve complex problems.
Want to learn more about AI? Join our AI Technology Interest Group!
Want even more interesting IT and AI statistics and facts?
Check out CompTIA Quick Stats, a library of data from CompTIA's research team to use in presentations, strategic documents and market research.