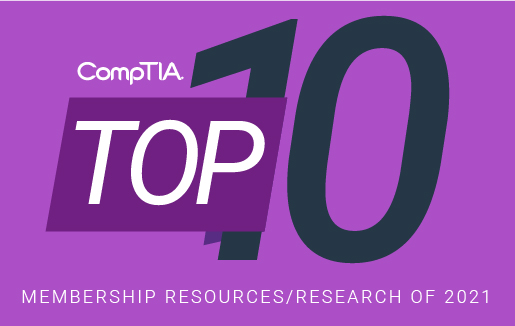 CompTIA's research team and leaders from our communities and Industry Advisory Councils had a very busy year, producing 50—fifty!—pieces of content in 2021, all available on our main Resources page. Each one provides valuable data and insights into the IT industry and popular themes included cybersecurity, emerging technology, workforce trends, and public sector.
Our Top 10 list for the year is a mix of research, toolkits, guides, and playbooks—all created to help our member tech businesses and IT pros improve their businesses and careers. Check out the list below, but don't forget to hit the link above to see the full list.
CompTIA's flagship research report annually examines how tech firms and professionals feel about the IT industry. The 2022 Outlook details the latest workplace trends, changes in business travel, the impact of regulation, tech budget expectations, and much more. "History tells us that you can't stay in bunker mode forever. At some point, you must climb out. Encouragingly, signs point upward and onward as we head into 2022, with a level of cautious optimism creeping back into the technology industry," according to the report.
The first resource ever produced by our Cybersecurity Advisory Council proved immediately popular with CompTIA members as a piece of collateral to share with end-user customers. It includes a series of 11 questions CEOs should be asking their own teams in order to better understand their current cybersecurity resiliency and what needs to be done. Ranging from "Do we keep a live inventory of assets?" to "What types of risks are currently threatening our networks/systems?", the questions can be used by MSPs and other tech companies to keep customers engaged and educated on all things cybersecurity.
This top 10 list produced annually by CompTIA's Emerging Technology Community took on a new life this year, as the community focused on highlighting 10 use case examples for artificial intelligence (AI) and internet of things, with a downloadable infographic detailing how each is transforming business and how MSPs can turn the promise of these technologies into profit.
Refreshed for 2021, this toolkit includes more than 90 pages of marketing best practices, downloadable templates, and other resources, all dedicated to help MSPs assess their current marketing efforts, gain a better understanding of what they need to do, and then advice on how to do it. The guide also explains how to put together different marketing tactics to your advantage, including website marketing, email marketing, pay-per-click advertising, search engine optimization, content marketing and social media.
It's imperative for small businesses to received proper legal advice and guidance in order to protect themselves from liability. But finding the right resources can be expensive and time consuming. To help, CompTIA Education and CompTIA's in-house legal team collaborated on Legal Resources for Tech SMBs. The guide includes essential legal information and operating considerations for tech SMBs, a master services agreement template, a checklist for finding and hiring legal counsel, common IT business legal questions, and a list of CompTIA-reviewed legal service providers.
CompTIA's research team surveyed more than 400 IT industry professionals, revealing four primary trends impacting MSP businesses: This document details the four trends—higher-level services, improved customer experience, new pricing models, and mitigating cybersecurity risks—and offers tips and advice on how to help you evolve your business.
In order to facilitate greater success in the market, technology vendors utilize a channel of solution providers, managed service providers and other partners to
CompTIA's Channel Development Advisory Council developed the Vendor Channel Readiness Assessment tool as a means for tech vendors to better understand their ability to support MSPs and other channel partners. Leveraging channel partners helps vendors to accelerate market share growth and territory expansion, reduce go-to-market and route-to-market costs, and address critical gaps, including technical expertise and access to target customers.
Scores are calculated in five key categories: strategic planning, strategic alignment, finance, enablement, and operations. After taking the assessment quiz, users received a report that demonstrates their strengths and weaknesses with guidance on next steps. Early results yielded some interesting findings, including the notion that vendors are willing to share customer ownership with partners, but that executive buy-in to channel initiatives still needs to trickle down through the company.
Businesses of all sizes are increasingly using SaaS-based applications to run their businesses, but many vendors are still struggling on how to work with MSPs and other channel partners—and vice versa. CompTIA's Business Applications Advisory Council created The Cloud Applications Playbook as a resource to offer guidance to both IT solution providers and SaaS vendors looking to partner with each other. SaaS vendors can use the playbook, as well as the Channel Readiness Assessment above, to determine their IT channel readiness and which IT channels to use. Meanwhile, IT solution providers can use the playbook to determine their readiness to go-to-market with a new cloud application.
For close to a decade, CompTIA-PTI has surveyed city and county IT executives to identify pressing cybersecurity issues, including questions regarding budgeting, policies and procedures, access management, cyber insurance, and leadership support. The 2021 National Survey of Local Government Cybersecurity Programs and Cloud Initiatives reveals a number of management and policy issues that are impacting the cybersecurity posture of local governments. For example, while 59% of IT executives said their cybersecurity budget increased from last year, 58% felt their cyber budget is not adequate to support security and cloud initiatives.
Many small businesses have identified that they want to take on substantive diversity and inclusion efforts within their organizations, but they don't know where to start or have the resources to do so. CompTIA's Advancing Tech Talent and Diversity Community created a plan to help tech SMBs successfully develop, implement and prioritize D&I programs. The guide includes details on how to draft recruitment efforts, including getting buy-in from senior management and training current employees, and how to retain employees in a more diverse workplace culture.
CompTIA produced a lot more great content this year.
Check it all out at the Resources hub!