Chair
CTO,
Credivera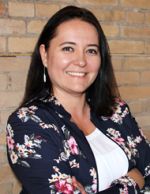 Elena Dumitrascu
CTO, Credivera

Elena as a computer scientist and ecosystem builder, is a driving force in driving global blockchain adoption. Recently recognized as an expert and a national leader in Canada and the United States, Elena is a pioneer in private blockchain education and software development. Elena as a Co-founder of TerraHub compliments the company's ability to spot emerging trends and cross industry boundaries.
Previously an executive in software development and sales for supply chain, energy, automotive and e-commerce, Elena brings an enormous breadth of experience in identifying what, and determining how, new technologies best serve an organization.
Her passion is growing the capabilities of the next generation of innovators. She serves on the Board of the A100 and Chic Geek, is a Founding Business Mentor with Technovation and an Entrepreneur in Residence at Platform Calgary, where she co-created the Junction program for new entrepreneurs.